Magnumstone gravity retaining walls, Wet-cast interlocking concrete block system advice
MagnumStone Gravity Retaining Walls – Changing Up the Game
18 May 2021
MagnumStone boasts of being a revolutionary wet-cast interlocking concrete retaining wall block system. Built with sustainability in mind, retaining wall blocks are environment-friendly and versatile when it comes to retaining wall designs.
Its hollow core design comes with many benefits that are changing up the retaining wall game. Both the engineer and contractor find it absolutely easy and amazing to use it for their retaining wall projects. It provides high strength at a relatively lower weight, great freeze-thaw durability, and low absorption.
Learn more about how MagnumStone by CornerStone Wall Solutions Inc. is providing a simple yet highly effective production and installation process that is turning all construction heads towards it.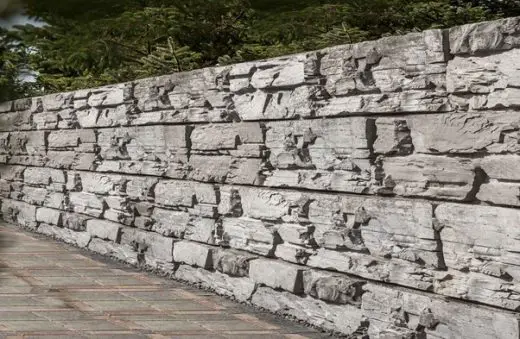 MagnumStone Big Block Retaining Wall
Retaining walls have several purposes, but they all boil down to one quality; integrity. We rely on retaining walls to keep bridges intact, the roads in place, and to separate property into different sections.
The roles played by retaining walls are very vital. Therefore, when it comes to constructing one, you just have to go with solutions that have stood the test of time, walls that you can depend on to carry out their functions properly while still looking good. All these qualities in one product? It may seem like a pipe dream, but MagnumStone thinks otherwise.
MagnumStone has an array of design options that you can choose from. These blocks are made with so much love and passion; they are elegant and perform their function optimally. MagnumStone Big Block Retaining Wall is made with the expertise you'd expect from CornerStone Wall Solutions, and with the versatility to fit into virtually any situation.
The design options offered by MagnumStone are:
Geogrid wall
Gravity wall
Planter wall
Positive connection
Soil nailing
Steel grid
Cantilevered
These blocks are created with an eye for style and beauty. Adding it to external spaces makes properties burst to life.
Environmental Friendliness
Transforming raw materials to finished products uses up energy. This process often leads to CO2 emission and water pollution problems. This is one of the main reasons why concrete is an enemy to the environment.
MagnumStone is changing this narrative by tremendously reducing the amount of concrete used up in the process of manufacturing retaining wall blocks.
Compared to traditional solid walls, MagnumStone is producing blocks with 40% less concrete through its hollow core design that takes the weight off the center of the unit while maintaining the level of strength required for a retaining wall. It even offers flexibility by its ability to be manipulated to achieve different designs.
This is what the reduction in the amount of concrete means to the environment. The production and delivery process of these units produces less CO2 to the environment, promoting a more eco-friendly production process.
Production Efficiency
The hollow core design allows the MagnumStone production facilities to maximize their output while reducing their carbon footprint.
The units are lightweight since lesser concrete is poured. The amount of money spent on cement is cut down by almost half. These production facilities save on costs. They also reduce the number of greenhouse gases emitted into the air by almost 40%.
Transportation and Installation Advantages
MagnumStone provides a lightweight design that is easy to handle during transportation to the site and when being moved about on-site.
The lightweight design maximizes each truckload, hence reducing the number of trucks or trips required to transport the units to the site. This reduces their carbon footprint. The amount of time and labor needed to load and unload the units is also reduced.
Their installation process is also quick and the units can be easily installed to take various shapes as desired by the contractor. Smaller equipment and less labor are required during the installation process.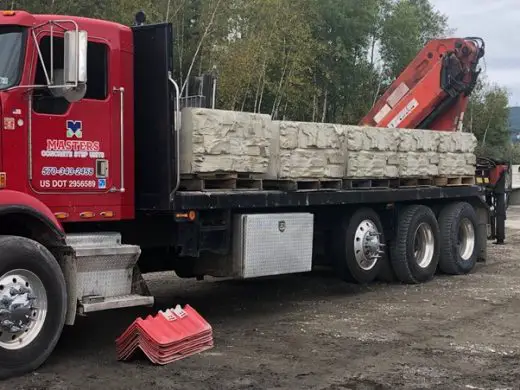 Intuitive Designs
The large vertical and horizontal cores provide retaining wall designers with the flexibility of creating various retaining wall solutions.
They provide beautiful plantable terraces to maximize green areas. This reduces the 'heat island' effect that usually occurs due to large masses of solid concrete surfaces. If you're seeking an environmentally friendly retaining wall solution, go MagnumStone; you won't regret it.
Why The Number 40
MagnumStone considers the number 40 their magic number. Here's why.
Compared to solid blocks, MagnumStone blocks use 40% less concrete. The vertical and horizontal core is left hollow during the production process. This makes the units lighter and saves production facilities some of the money they would have spent on raw materials, among them water, cement, and aggregate.
Additionally, every truckload is able to accommodate more retaining wall blocks during transportation. Since the weight of the units is 40% lesser, this basically means that every truckload can accommodate 40% more retaining wall. The face square footage of the units is also increased by approximately 40%.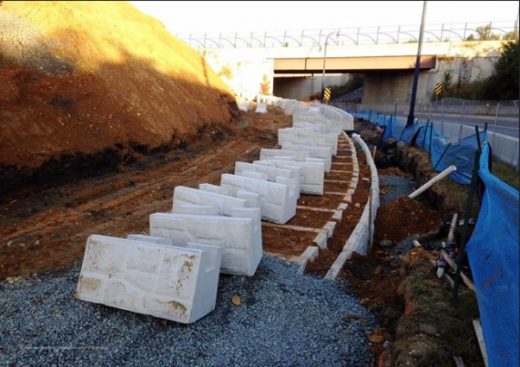 The integrated horizontal and vertical drainage zone in the hollow core of the MagnumStone units makes the resultant walls 40% more permeable. The improved permeability makes the wall less susceptible to hydrostatic pressure that is usually exerted on the infill zone of the retaining wall.
MagnumStone retaining wall is 40% more environment-friendly. This is because of the 40% reduction in the amount of cement used to produce the units compared to a solid wall system.
MagnumStone Gravity Retaining Walls – Final Words
MagnumStone is the king of retaining walls. With sustainability at the core of its production and installation processes, it provides the elegance and strength that has not been seen in any other retaining wall system. The MagnumStone units are eco-friendly, beautiful, and strong enough to optimally play their structural roles.
It is very rare to get all these amazing qualities in just one product. MagnumStone has challenged the status quo and brought in a whole different dimension in the retaining wall game.
Comments on this MagnumStone Gravity Retaining Walls – The Company Is Changing Up the Game article are welcome.
Stone and Walls
Stone and Wall Architecture
Why choose natural paving stones for patio
How to choose the right art for your walls
How To Protect Floors, Walls and Carpets When Moving
Building
Residential Architecture Articles
Comments / photos for the MagnumStone Gravity Retaining Walls – How The Company Is Changing Up the Game page welcome