Juliet Balcony Designs, Building Facade Feature, Architecture, Property, Construction
Juliet Balcony Design
Exterior Design Feature: Architectural Element in Facades
10 Sep 2016
Juliet Balconies
What to Consider Before Building a Juliet Balcony
Get the expert low-down on this most romantic of architectural features
Article first published on Houzz
Michael Parinchy, Houzz Contributor
Easy to install, and wonderful for letting more light into a room, a Juliet balcony is the kind that doesn't protrude very much from the wall. It consists of a safety railing or balustrade across a door opening on a higher floor – most commonly outside, but you can install them inside, too.
Juliet balconies make beautiful design features, especially at a great height, but there is, of course, quite a lot of health and safety to get your head around before you proceed, handily compiled here…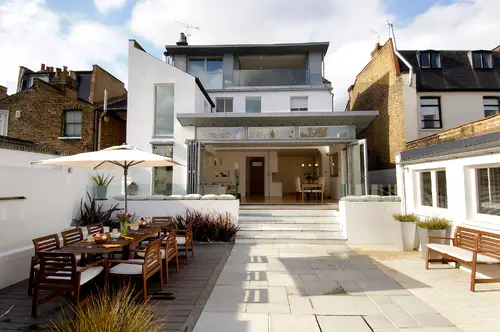 Juliet Balcony Design – Think safety first
The first port of call, as with any construction work, is Building Regulations. Juliet balconies fall under Part K of the Building Regulations Act 2000.
Also, you can prefer Juliet Balcony that make your home more luxurious.
There are two important points to consider:
1) Gaps in any railings are to be no more than 100mm.
2) The top of the balcony must be a minimum of 1100mm from standing floor level.
This is essential knowledge when choosing and installing a new Juliet balcony. A railing that doesn't conform to these regs is not up to British Standards and is unsafe. Moreover, should an inspector ever see it, they will require it to be corrected at your cost.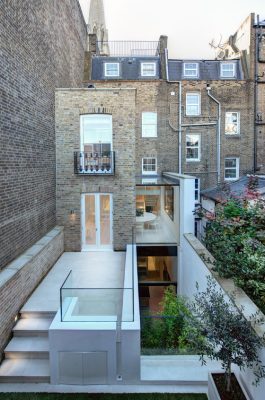 Pick your position
Generally, if you've made the decision to install a Juliet balcony in your home, the first thing you'll need to do is create the opening, as you're not likely to already have French windows high up without an existing railing (although this balcony has been fitted across a sash window).
It's very important to carefully select the position and size of the opening. Firstly, there should be no clash with any service or utility lines. Consider the location of rainwater downpipes, soil and vent pipes (outside or inside the wall), water and heating pipes, and cables. Also make sure you allow enough room either side of the opening for fixing the railing. Don't plan these too close to the edge of a wall or another opening, such as a window.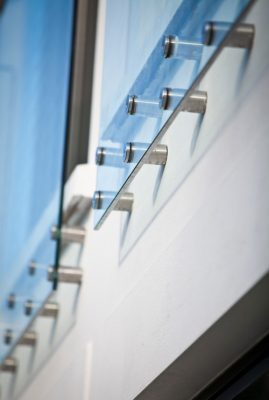 Get a grip
It's highly advisable that only an experienced builder should carry out the installation of a Juliet balcony for you, since it's a feature that must be safe, above all other considerations. However, it's worth understanding the fixings to be used for the railing or balustrade you choose.
The manufacturer of the railing system must have a fixing system they produce and supply, or one they specify for the installer. This may be something like M16-M20 bolts with a chemical resin anchor or an expansion bolt.
A good, solid surface to fix to is as important as the fixings themselves. Ideally, your builder will be aiming for the centre of bricks or blocks rather than the edges and corners, or the mortar joints where there's less strength.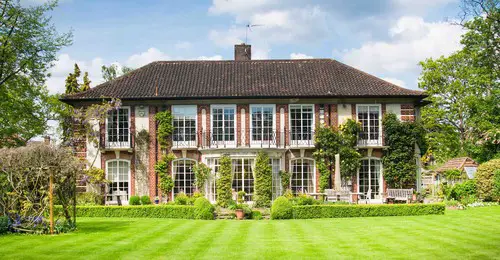 Consider character
With the important practicalities under control, you can now begin to choose your style. It's paramount to look to the character of your home and complement that with your choice, remembering that a Juliet balcony is a feature that's viewed from inside and outside the house.
Period homes will most likely suit a timber-framed door, panelled glazing, and an iron railing with some twists and curves painted black, as shown here. Midcentury properties probably call more for PVCu doors with one-piece glass and a railing that has diamonds or squares, for example. Contemporary Juliet balconies lean towards aluminium doors, with an anthracite or charcoal grey low-profile balustrade, or a frameless glass one.
If the external architecture and interior design of your home are different, be prepared to try a fusion look with your balcony choices.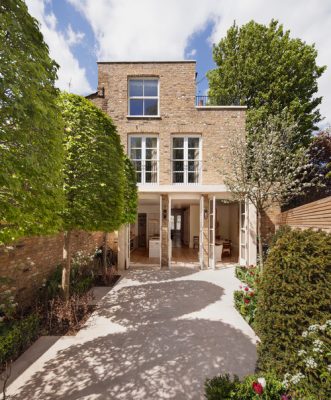 Think forwards
Before finalising your choice, give some thought to the real world application of your new balcony. For example, if this is somewhere you plan to sit and read with some fresh air, but would like some privacy from neighbours when they're in their gardens, perhaps think about frosted, smoked or tinted glass for your balustrade.
For the green-fingered who have window boxes or hanging plants in mind, you may want the top rail to be square rather than round to give basket hooks a better grasp (creepers and hanging plants being another great way to get a degree of privacy while looking good).
Thinking forwards is a rule to live by throughout home design to ensure your choices are ones you'll be happy with for years to come.
Discover more ways to use your Juliet balcony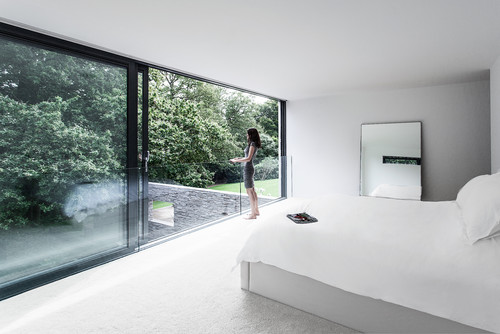 Seek seamless
The modern trend is increasingly towards frameless, seamless glazing, leaving the view completely clear, giving a strong impression of freedom, and making the room very much part of the wider environment.
This is a great example, where the balustrade has been brought to the inside of the doors, allowing the fixings to be concealed in the wall. This may not be possible for a retrofit job, but for a new build or renovation, it's an achievable specification that looks a million dollars.
If you're considering this option, be sure to think about access for cleaning, especially the lower half of the sliding doors – you'll have to leave enough of a gap there.
See 10 more ways to incorporate glass designs and architecture into your home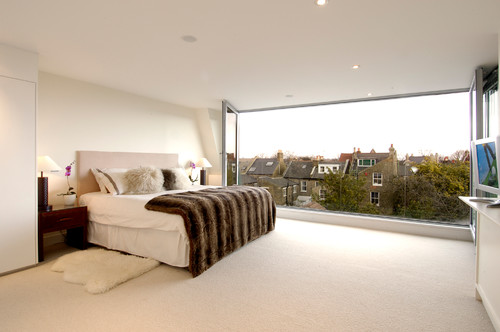 Consider a bifold approach
Continuing on the subject of contemporary design (far from Shakespeare's Juliet balcony), bifold doors can be fitted to open inside as well as out, so can be teamed with a balcony. They are, of course, highly favoured in ground floor rooms, but there's no reason why they can't steal the show upstairs, too.
Here, bifolds open the entire width of the space, accompanied by a practically invisible glass balustrade on the outside, achieving something special that French windows and sliding doors cannot.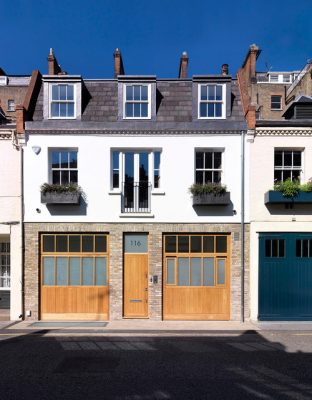 Keep it understated
In contrast to the full-width, gaping bifold, the simple French window with a tidy railing offers all the functionality of a Juliet balcony while remaining proportionate and far less of a sting to the budget.
Here, you can see how effective the symmetrical layout of windows and doors looks with the French windows in the middle. This modest Juliet balcony allows the upstairs to be opened up in the summer, or the owners can use it to see who's at the door without having to lean out of a window!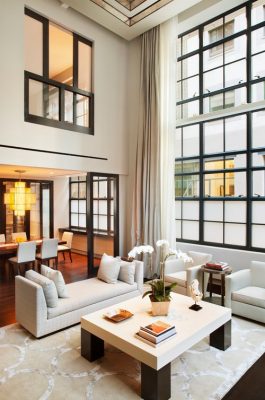 Look inside
If you have a double-height ceiling in a living space, you may have the potential for a Juliet balcony looking over it. An interior Juliet balcony is a beautiful way to tie the home together.
A great feature in a particularly active home with a big family, or one that's a frequent party destination, Juliet balconies enhance the flow of life around the place. This example is a good reminder, however, that thought needs to be given to how the structure will affect details such as cornices or picture rails.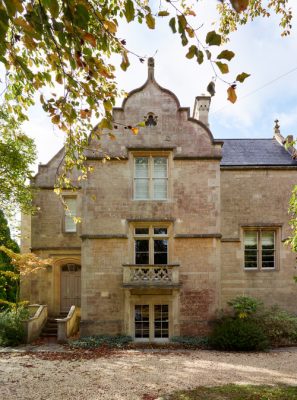 Master materials
While iron railings and glass balustrades are the norm, there are other ways to achieve this architectural design. The example pictured here is a rather grand example of masterful masonry.
Of course, this is a very specific look, but a more accessible alternative to iron or glass is timber. Structural, treated, hardwood beams can be used to create a Juliet balcony that will exude character.
Comments on this Juliet Balcony Design advice article are welcome
Home Design
Rotana Salalah Five Star Hotel, Oman
Design: GM Architects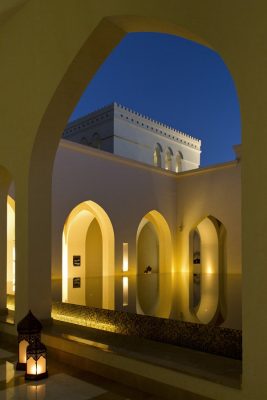 photo from architects
Renaissance Barcelona Fira Hotel, Spain
Design: Ateliers Jean Nouvel
Comments / photos for the Juliet Balcony Design page welcome