Guide to how using a website development company helps, IT tools advice, Online outsource web help
How Using a Website Development Company Helps Your Business
7 Jan 2021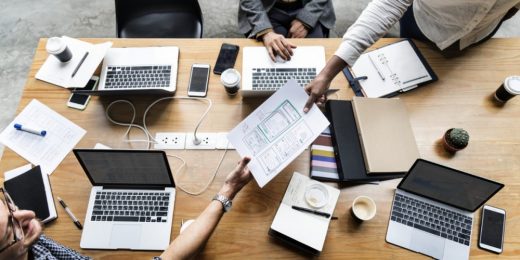 For many businesses, a large portion of revenue is generated via their website, so rather than just being a place for customers to interface with you, it's one of the best marketing tools available. That's why having a website development company in your corner is a great thing.
Whether talking about startups or established businesses, a well-designed, fit-for-purpose website is of prime importance, so it's an aspect that really can't be ignored. Let's take a look at just a few of the compelling reasons how professional website development assistance can help.
A Website Development Company Knows First Impressions Last
Having a great website can majorly improve your sales funnel, but if the first impression offered by your site isn't up to scratch, a large portion of your site visitors will choose not to engage with you. To achieve this, your website needs to have a compelling layout that encourages interaction. For the best results why not outsource web development.
A website development company will know how to arrange all of the visual elements of your site to give you an edge over your competition. Able to work with your in-house team, they'll ensure that leads stay with you, along with the profit that they bring.
Website Design Professionals Help You Bring in New Business
In addition to helping make your website visually appealing, a website development company like Eventige Web Development can study the market and optimize your site in line with the thought processes of potential customers. After studying your needs, development professionals can create code to offer improved site functionality.
What's more, they're there throughout the journey, helping to fine-tune processes and offer post-launch support when required. Their insight can significantly cut time and money out of the web development process – greatly mitigating the cost of employing them.
User Experience Is Key to a Successful Online Business
Another of the many reasons employing a good website development company is wise relates to the user experience your site visitors get. Sure, it needs to be eye-catching and purpose-built to engage potential customers, but it also needs to offer seamless navigation.
Getting everything just right often takes a professional eye and if things aren't 100%, user experience is degraded and all of the other work and investment that's gone into your website can end up being wasted.
A good development company can help you to achieve all of this and ensure an excellent experience whether viewed on a desktop or smartphone. This is particularly important given the fact ⅔ of the time people spend online is on their mobiles.
A Website Development Company Offers Real Competitive Advantage
Whichever way you look at it, professional website expertise offers a competitive advantage in a very competitive online world. Your website is very much your shop window and your business can live or die based on how potential customers view what they see.
Sure, website development costs money, but when compared to lost revenue, it can represent a mere drop in the ocean. That's why savvy business people consider using professional services, as in-house teams can be cost-prohibitive and website user experience is something that needs to be continuously monitored and refined.
If you are considering using a website development company, we'd recommend trying out a firm called Eventige that you can find online. Sure, there are many others out there, but these guys have lots of experience and a reputation in the industry for achieving excellent results for their customers, so they're certainly worth a try.
Thanks for reading all the way to the end. We hope that doing so has illustrated how important website functionality and user experience really is.
Comments on this guide to How Using a Website Development Company Helps Your Business article are welcome.
Building Articles
Contemporary Architecture
Common mistakes of contractor websites
Comments / photos for the How Using a Website Development Company Helps Your Business Advice page welcome