How unique architecture increases home value guide, Southhampton NY property style advice, US residential design
How unique architecture increases home value guide
20 May 2022
Beautiful Homes Need These Fundamentals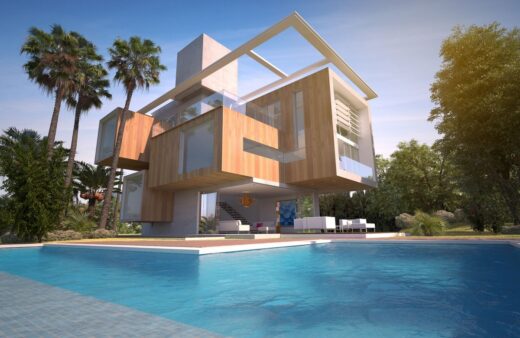 How Unique Architecture Boosts Home Value
Human beings are naturally attracted to beauty. Similarly, anything peculiar tends to catch attention.  And while beauty can be subjective, an extraordinary work of art, more so a towering structure like a home, almost always elicits curiosity and interest.
A uniquely designed home isn't always included in every homebuyer's checklist. Most people don't think about these homes because they think the price may be too high or functionalities have been compromised to build non-traditional home structures.
This article will discover why every home could benefit from an architectural touch, whether in Southhampton, NY, or elsewhere. You'll also find out how unique architecture increases your property's buying price.
Unique Architecture defined
Architecture is often thought of as designing and constructing residential, commercial, and industrial buildings. But it's more than that. Architecture can also be defined as the art and science that merges aesthetics and functionalities to create a highly purposeful structure for humans. In addition, architecture can impact material use and elicit positive feelings in people, creating a productive and safe community. (1)
Unique architecture does these while veering away from traditional designs and aesthetic concepts. As such, homes with distinctive architecture have structures that most may consider "out-of-the-box." And that's the reason why it always stands out without being an eyesore. Take a look at luxury condos Miami, Florida, USA.
A good home design typically increases home value
A study conducted by a real estate firm in collaboration with a property market intelligence firm found that a good home design may increase a home's buying price by up to 12%. The uptick is also higher in more expensive properties, at 19%, particularly in houses valued at more than USD$1.2 million. (2)
While conducted in the United Kingdom, the study reflects market preference in the rest of the world, where buyers define a good design as something that provides them with a great living experience by providing comfort and lifestyle alignment. If you're looking for such properties in the United States, click here to check out homes built with an outstanding balance of beauty and practicality. (2)
Buyers are willing to pay more for unique homes with optimized functionalities
Contrary to popular notions, uniquely designed homes are still functional. Unlike fashion enthusiasts who are often accused of sacrificing comfort over style, architects create a balance of style, comfort, and practicality in every building they design and build.  In most cases, practicalities for homes with distinct architecture may even be optimized compared to traditional homes. In such cases, some buyers may be willing to pay more for a home with increased functionalities and a great design to boot. Check out the best luxury condos Miami, Florida.
In a related yet contrasting concept, modern homes have encouraged the use of open space floor plans. This emerging trend benefits large families and individuals who need a big area to convert into a workspace. A property's flexibility can dictate a home's market value. A residential dwelling can be a lifelong investment; it's crucial that it can quickly adapt to the owner's lifestyle needs.
Kerb appeal attracts more buyers and commands a higher price
Buyers and onlookers often judge the inside of the home. Curb appeal, or how your house looks from across the street, can influence buyers' interest, purchasing decisions, and willingness to pay for a higher buying price. Modernist architecture, which focuses on futuristic yet straightforward designs, can be a suitable property theme to choose for optimal impact.
Research published in the Journal of Real Estate Finance and Economics stated that curb appeal could increase a property's price by up to seven percent. While owners with contemporary homes can make a few changes, such as adding or enhancing outdoor lighting, adding mats and plants, and hiring landscape contractors, a uniquely-themed residential property can have the same impact without spending to change anything. It can be an excellent investment with a guarantee of value appreciation, as long as it's well-kept inside and out. (3)
The unique architecture is art, and art is often expensive
Artworks are often viewed as reserved for the rich and famous because of their prices. Coveted works of art typically command premium prices because of their rarity. And these days, they can be used in several financial-related transactions. For instance, it can be used for tax reductions and investment. Art collectors can hold off paying for capital gain taxes if the proceeds are injected into a similar investment. If they acquire a keen sense of spotting potential talents, they can buy artworks from lesser-known artists at rock bottom prices and sell high when they become famous. (4)
While the property market may not always work similarly, unique architecture helps enhance property value in a niche market that values rare assets. When a product or commodity is rare, they often command higher prices on the market. A home with unique architecture is few and far between, making it a sought-after investment for individuals who want to stand out.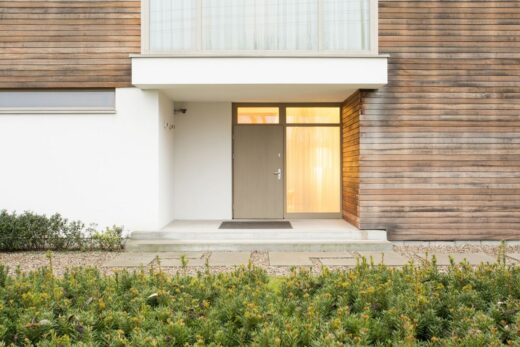 How unique architecture increases home value Concluding thoughts
Architecture is essential in every home as it creates a good synergy between aesthetics and practicality. By successfully merging these attributes, a uniquely-designed home can command higher prices on the market because of two contrasting attributes. At the same time, the structure can be distinct, and it can still conform to every homeowner's changing lifestyle and optimal comfort.
References
Comments on this guide to Beautiful Homes Need These Fundamentals – How unique architecture increases home value article are welcome.
Miami Architectural Designs
Miami Building Designs – architectural selection below:
Miami Architecture Designs – chronological list
Miami Architecture Tours by e-architect : exclusive guided walks
Belle Meade
Architects: SDH Studio Architecture + Design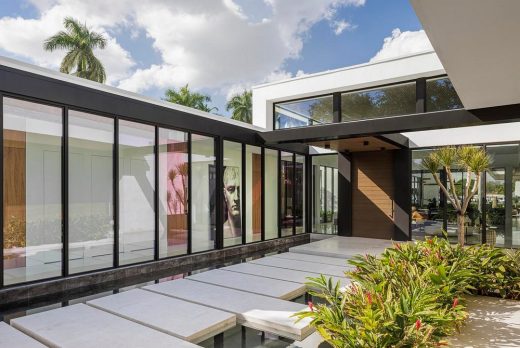 photo : Kris Tamburello
Belle Meade House
La Clara, West Palm Beach, FL, USA
Design: Hariri Pontarini Architects
La Clara Apartments in West Palm Beach, Florida
Norton Museum of Art, West Palm Beach
Design: Foster + Partners Architects
Norton Museum of Art, West Palm Beach
Comments / photos for the How unique architecture increases home value advice page welcome