How to design perfect garage door for your home tips, House car space style advice, Property vehicle store guide
How To Design The Perfect Garage Door For Your Home
July 28, 2021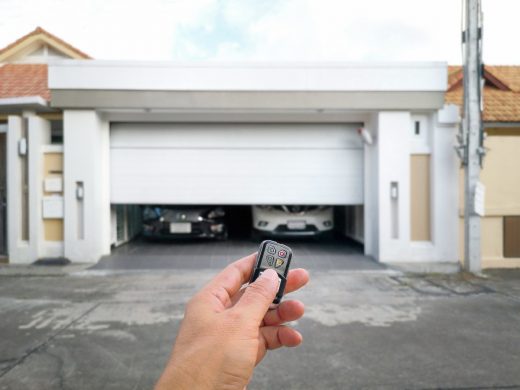 Regardless of whether you're planning to sell your property soon or sometime in the near future, you should always be mindful of its curb appeal, since it affects how people perceive the value of your home. Curb appeal pertains to the appearance of your home when viewed from the street. It may be a subjective approach to assessment, but taking this into consideration is crucial, especially if you want to entice potential clients to buy. (1)
One of the best ways to significantly improve your curb appeal without spending too much on renovations or remodeling is through your garage door.
More than just a door
This fixture is easy to overlook, but it does take up about a third of your home's exterior, if it's an attached garage. That's why you ought to put some thought into its design and style. (2)
If you're thinking about installing or changing up this part of your house, you should make sure to purchase a high-quality garage door from reliable suppliers. After all, the average garage door typically opens and closes between three and five times a day. This adds up to about 1,500 times per year, which is why you should find one that's durable. (3)
More than the quality, though, there are other factors that you should think about. Read on to learn more!
How to design perfect garage door for your home guide
Identify the purpose of your garage
Of course, the garage is the part of your house where you store your vehicles and protect them from the elements. However, it can also function as additional storage space for bikes, other toys, and gardening equipment like lawnmowers. Sometimes, it can also double as a workshop or hobby room.
With that said, you should determine how you'll be using your garage first before deciding on a garage door. Take note of all the activities that you plan on doing as well as the items you'll be storing in this room so you can match the door's style to the garage's overall aesthetic.
Know the different door types
Next, you have to know the different door types to see which one fits your home's style. This process is relatively more straightforward when you're still in the process of constructing your home. However, it can be tricky when you're just doing minor renovations or whole replacements. As such, you should really find a door that complements your home's aesthetic. These are the types of garage doors you can consider:
Sectional – This type is found in most homes. It moves like window blinds that you have to open and shut upon usage. You can even find automatic versions of sectional garage doors.
Swing-out – For this one, the motion is facilitated by hinges on the side of the door and wall. It's a barn type of vehicle storage and is also known as carriage-style garage doors since it was suited to accommodate the previous mode of transportation in years past. There are also automated swing-out doors available in the market today.
Sliding – Sliding garage doors move from one direction to another. It's characterized by horizontal sections that roll up and down a vertical track.
Again, the garage door adds to the curb appeal of your property, so you should choose one that fits your budget and your home's design.
Be meticulous about measurement
You should be thorough when measuring your space so you can ensure that your door fits well into the allotted space in your garage. Be mindful of the additional centimeters or inches needed for the hinges and other peripherals that come with the fixture.
The average height of single garage doors is 8 feet, with a width of 9 feet. For double doors, you may need a space that's 8 feet high and 16 feet wide.
Pick the style that works for your home
As mentioned earlier, the design of your garage door plays a significant role in boosting your home's curb appeal. This is particularly true if you live in a neighborhood where all garages look the same. Not only can you make your house stand out from a sea of white single-panel garage doors, but you also avoid making the mistake of parking in the wrong driveway, which is a common mistake if you just moved into the property.
You can generate visual interest by opting or adding window panes, patterns, lines, and crossbeams. These days, you can find suppliers that can customize your garage door to complement the overall look of your property. Here are some popular styles you could follow:
Ranch – This style is characterized by single-level designs and open-concept layouts. It's ideal if you're looking for a subtle yet modern facade.
Contemporary – You can showcase your creativity through contemporary styles, which typically leverage the use of vibrant colors and striking elements. It also boasts asymmetrical details and promotes natural light.
Tudor – For a more classic feel, you can opt for a Tudor architectural style. With this, your door may feature stucco exteriors as well as decorative half timbering laid out in an overlay.
Craftsman – Another classic is the craftsman, which can be identified through its tapered columns and mixed exterior materials. It's ideal for a minimalistic look.
Modern farmhouse – The modern farmhouse garage door is characterized by crossbeams. It also usually follows the carriage-door type to complete the whole rustic vibe.
Colonial – If you're a big fan of symmetry, geometric shapes, and historic charm, you can opt for the colonial style. This design offers an understated beauty that'll draw the eye subtly without being too overbearing.
Mediterranean – Mediterranean garages typically have wooden doors to complete the aesthetic. If you're worried about maintaining real wood, you can opt for faux wood to get the style without dealing with termites and other potential headaches.
Decide on the material
Speaking of wooden doors, you should also choose the material that works best for your garage door. While wood provides a classic and elegant finish, it can be high maintenance and prone to damage from wear and tear.
Fortunately, you can find manufacturers that can replicate the timeless look of wood on aluminum or steel materials, which are sturdier. One drawback for the latter is that they may cost a bit more. You can also get the best of both worlds through composite materials, which are a mix of wood fibers and plastic resins. Doors made out of this material can give off a wooden look but feel lighter and can withstand external elements better like water and snow.
If you have a contemporary home, you might also want to consider glass for your doors. While it might not be such a good idea to have a garage made entirely out of glass, you can place a few panes on your garage doors to let natural light in.
Determine a realistic budget
As with any other remodeling or construction project, it can be easy to go overboard with your finances. To avoid spending too much, you should be aware of the average cost of installing a garage door and set a realistic budget that can get you the style that you want without breaking the bank.
The average cost of installing standard single garage doors ranges between USD $600 and USD $1,500. Meanwhile, the minimum would start at USD $800 for double doors, with the same maximum amount as their single-door counterpart. (4)
Knowing these figures can help you set a practical budget for the purchase of the doors and installation. You should also do your research and check out how much suppliers and contractors in your area charge for this product and service.
Prioritize safety and accessibility
You should be extra vigilant with automatic garage doors, since one of the most common problems you'll face with these doors is that they shut and open automatically. This can be dangerous if you have pets or young children who might find themselves crushed by the door. It's even reported that approximately 20,000 Americans sustain garage door–related injuries. With that said, you should check out the safety features of the door, such as sensors and auto-stop or auto-reverse systems. (5)
Accessibility is another factor to prioritize. You should be able to reach your garage door with ease from various points like the street, driveway, yard, and inside the home.
Remember insulation
Lastly, consider the insulation that your garage door offers, especially during wintertime. A cold draft can easily seep into any gaps or holes that are a result of your door not fitting well into the space allotted for it. This won't only make you and your family uncomfortable—or, worse, get health problems—but it can also damage your heating systems by making them work harder to regulate the temperature inside your home.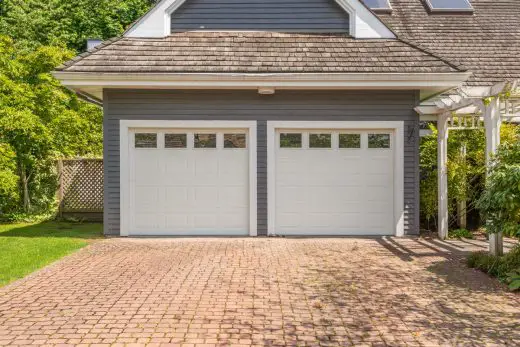 How to design perfect garage door for your home Conclusion
Finding the perfect garage door depends largely on the design of your home. Since it'd make up a considerable portion of your facade, choosing the best one can boost your curb appeal.
Of course, there's no question that you should purchase high-quality doors. Nonetheless, there are other factors that you should consider, such as how it can complement your home's overall aesthetic and the purpose of the garage. It's best to do your research and put some thought into choosing the right garage door for your property.
References
Comments on this guide to How to design perfect garage door for your home article are welcome.
Garage Doors
Garage Door Posts
Garage Door Mechanisms: Torsion and Extension Springs
Motorized garage door screens in your house
Building Articles
America Architectural Designs – latest building updates
Comments / photos for the How to design perfect garage door for your home guide page welcome