How the design of slot machines appeal to us, Casinos buildings, Random number generators advice
How the Design of Slot Machines Appeal to Us
30 July 2020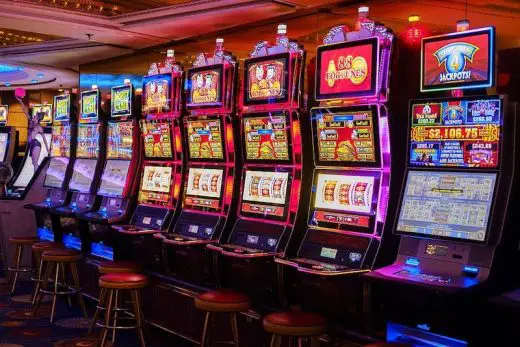 Slot Machine Design
How the Design of Slot Machines Appeal to Us
Playing casino games has been a favourite pastime and a way of earning a coin for most players across the globe. Without a doubt, slot games are some of the most popular games that have evolved and continue to hook players of different ages.
From the beautiful graphics to the lucrative bonus offers, you will agree that slot machines have a significant role to play in attracting players.
Thanks to advancements in technology, slot machines are now lively, they feature unique artwork, and come in amazing colours. Therefore, apart from playing for money, you will find players who are simply hooked to slot machines and slot games for entertainment and relaxation purposes.
We can't forget to mention the booming world of game art for online casino platforms. These games not only make good use of graphics and animations, but they also display a level of artistry and creativity. The developers invest huge resources into creating online slot machine games, ensuring that every spin is an unforgettable experience. Slots games art goes beyond the reels, creating an environment that transports players to different worlds. From intricate symbols to elaborate backgrounds, the attention to detail makes each game a masterpiece. It is this combination of art and play that keeps players staying in the game, coming back for a visually rich gameplay experience that is both aesthetically and financially satisfying.
Slot machines appeal to players because of the beautiful and quality graphics. Imagery in the machines is beautifully represented using the latest innovations. This is to create and provide the best environment for players to explore and enjoy unlimited fun, winning and brand that they support.
You will find slot machines with unique 3D graphics, quality animations, vector graphics, clip art, illustrations and the best sound effects and outstanding visuals among other features that you will hardly get when playing other casino games.
Likewise, most slot machines feature exemplary artwork. They are a focal and selling point for the machines to ensure total fun as you play your favourite slots.
Therefore, even if you take the time to explore different slot games, you will realize that different machines feature unique and creative graphics that suit the needs of different players. There is always something appealing to you right from the art design, creative graphics to the unique slot game features that are highly appealing.
Slot machines are equally aesthetically appealing. They feature an array of beautiful, attractive and captivating colours. These features have been equated by casino experts to the brain chemical dopamine that acts as a player's reward system.
Therefore, as you play slots, you get hooked and you end up playing more and more. The more you experience the satisfaction and results of playing on an appealing slot machine, you will be motivated to come back for more.
Currently, many slot machines are designed creatively with players in mind. As such, you will find a machine with colours that enable you to relate and get drawn to it. With time, you will realize that playing on the same not only enhances your chances of winning but also boosts your overall satisfaction and entertainment levels.
Slot machines also feature themes that most players resonate with. You will realize that game developers incorporate themes such as ancient Egyptian themed slots, horror themes, oriental slots, fairy tale themes, space and alien themes and movie themes in different machines.
You will also find fruit-themed, diamond and gold slots among other themes in slot machines. Each of these themes appeals to different players with unique gaming games. They come in beautiful colours and an array of designs that make slot machines more attractive and classical to play on.
The themes also create a perfect environment that gets your adrenaline pumping. Furthermore, these are further enhanced by music, quality art and many exciting gaming features for every player including female players who are captured by romance and beauty themed slots. Male players are often attracted to cars, diamond and gold themed slot machines among others that spark a feeling of ownership and simple pleasures.
What Makes Players Keep Playing?
Slot machines today offer what players are looking for. From the artwork, amazing graphics on 3D/4D slot machines, touch screens, great colours that sets traditional gaming from modern gaming, you will fall in love, get hooked and have the best interest in a slot machine. You resonate with the themes and characters that can move when you touch the machine. Furthermore, using the latest innovations, game developers have incorporated an array of gif images among other top features that appeal to you. As a result, you don't just play for money, but also fun and entertainment especially on the latest slot machines in the market.
Caesars Fountain at the Palace at Night – Las Vegas: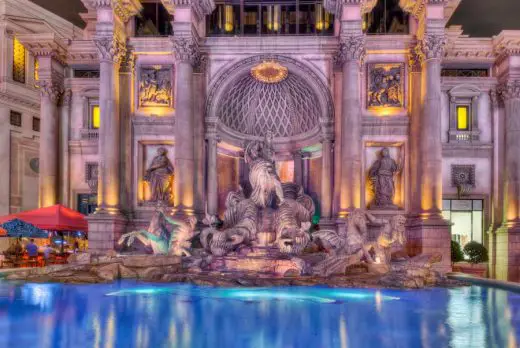 photo © Joe Lekas
Comments on this How the Design of Slot Machines Appeal to Us article are welcome.
Las Vegas Architecture
Contemporary Architecture in Las Vegas, Nevada, USA
CityCenter Las Vegas Development +
American Architect Studios
Online Slots
Gamblng Slots Posts
Some tips for choosing best slot machine
New Online Slots: 2022 edition
Kiwislots due to be biggest NZ gaming guide
Comments / photos for How the Design of Slot Machines Appeal to Us page welcome