How Do I Make My Bedroom Look Modern Guide, Property Decor Tips, Home Style Advice
How Do I Make My Bedroom Look Modern?
9 Feb 2021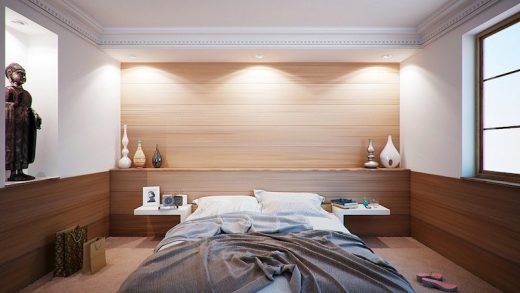 Bedrooms are our sanctuaries, not just where we got to sleep. Not anymore, anyway. They are often extensions of the main living space in our homes. While many people like a more traditional approach to the décor, furnishings, accessories and color scheme of their properties, the modern and contemporary movement is obviously still important. If you are a younger homeowner, perhaps that is why you have looked at this blog and have been wondering about the answer to the question posed in the title.
How Do I Make My Bedroom Look Modern Guide
Perhaps you have managed to modernize most of your home and are stuck on how to do the same with your bedroom. That's where we hope to help you, with some easy to execute tips and suggestions about modernizing your bedroom.
Pick a Modern Style Bed to Elevate the Look and Feel of Your Bedroom
Even though other activities are now often carried out in the bedroom, such as exercise, romance, gaming and writing/work(depending on what you do in either respects), the central focal point to any bedroom is still the main piece of furniture – the bed. So, it makes sense that you should start from that point when trying to modernize your bedroom. Check out EQ3's Canadian designed modern beds. They are all streamlined, minimalist and simplified designs with an exquisite sense of cool.
Minimalize to Maximize the Modernity
We touched on a word above that is often central to most people's ideas of modern design – minimalist. One of the easiest ways to really give your bedroom a minimal look and feel is to remove a lot of the clutter. We're not suggesting that you get rid of all your stuff. After all, you need somewhere to store items like clothes and your valuables.
What we are suggesting, though, is that you look at alternatives to traditional, bulky items and move towards a more open-plan layout.
Add Natural Materials
The beds that we focused on under our first subheading all have one thing in common – they feature natural materials in their construction and design. This is another key to achieving a modern bedroom. A lot of people will go too far into the future and aim for something that looks like it came from a sci-fi film from the 70s. Whereas if you really want a modern looking bedroom, you need to return to nature and add a little heart and soul.
Make the Most of Natural Light
Does your bedroom benefit from a lot of natural light flowing from your windows or doors? If it does, and you really want a modern bedroom, you should make the most of that natural light and maximize it. Consider removing any window dressings that get in the way and choose more subtle, but still elegant touches like plain and streamlined drapes or even practical and slick venetian blinds. You can still have privacy that way, but when it's the middle of the day, you can enjoy a beautiful flow of bright and clean natural light.
Use Neutral and Bright Colors
Along with ensuring you have the most natural light flowing into your bedroom as possible, you need to also think about the color scheme. Neutrals and bright colors are a must, for obvious reasons. Pastels are a very popular choice. Think mint greens, baby blues and refreshing pinks to give your bedroom that contemporary edge.
You can even create a nice contrast using simple and hard-to-beat white walls all around, accented with linen and other furnishings in neutral pastel shades.
As you can see, it is not as hard as you may have thought to give your bedroom a modern makeover.
Comments on this guide to How do I make my bedroom look modern? article are welcome.
Bedrooms
Bedrooms Posts
Tricks to make your small bedroom look bigger
Ways to make your bedroom look like a million bucks
Beautiful wall texture bedrooms renovation design ideas
Homes
Residential Architecture Articles
Comments / photos for the How do I make my bedroom look modern advice page welcome