Architects Drones, Building Aerial Photos, Architectural Filmmaking, Property tips
How Architects Capture Their Work Using Drones
Aerial Photos for Building Construction: Architecture Article
23 July 2019
How Architects Capture Their Work Using Drones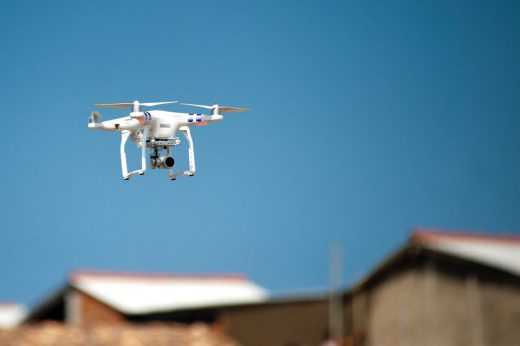 Drones for Aerial Photos
Drone photography has been the greatest progression in aerial cinematography and photography. Drones started having an enormous effect on filmmaking in the mid-2000s. However, tremendous progress in camera and aerial technology have significantly expanded the utilization of aerial film in almost every industry concentrated on digital content.
The construction business has started executing drones on building sites as an approach to get a birdseye view on a task, catch the completed process of structure from a special point of view and even be utilized in the real development of the structure itself. In any case, with regards to building photography, cinematography and drone video editing, we are simply starting to start to expose what's underneath.
Drones have become the latest trend, proven to be useful for one more than one purpose. Nowadays, you can find many drones on the market, with different characteristics such as size, quality, and camera resolution. For instance, Dji Mavic Air 2 Drone, is one of the highest quality drones in the current UAV market. A drone you won't want to miss.
Drones in Architectural Photography
Back then, architects needed to depend on hand-sketched bird's eye view maps or portrays of properties. They even had to use a helicopter to take some photographs of the properties. Though it helped them to take some great photos the process was too inconvenient. So when automatons aka drones came into the spotlight, all the architectural photographers snatched the chance and began utilizing drones for capturing their subjects.
With drones, engineering firms and their customers never again need to employ helicopter administrations or locate the ideal position for getting the correct point. They essentially incorporate the task to the drones and the drone pilot.
It's not only about the convenience, but also many other reasons that architectural photographers are totally into the utilization of drones nowadays. Let's know what are they.
How Architects Capture Their Work Using Drones – Advantages
Drones are very versatile
You can fly to many areas with a drone because they are really small. You can even fly to hard-to-reach places. You can penetrate any area that is really difficult to navigate such as overly wooded places where you can't see from the below because of the woods. Drones help you to take close-ups, continuous shots as well as a perfect framing for your subject.
Not even a bit of noise
Drones are silent. They are not like helicopters. You don't have to bear the heavy whirring or buzzing sound. Moreover, they are the king for taking architectural close-up shots of your house, property, or building. You can use it for your real estate or architectural needs even in exclusive neighborhoods or areas because they are really silent and silence is a must in such places.
Drones allow convenience
Drones are really appropriate and convenient. You can use them without any hesitation. It doesn't take a lot of time to set up and it won't cost you any complicated requirements at all.
You are likely to get the best quality images
Drones are outfitted with the most recent picture innovation, so you are ensured to get high-resolution real estate and architectural photography. You should buy drones that have a 1-inch image sensor such as Phantom 4 Advanced or Professional if you would like to take it up a  notch. DJI Inspire 2 is a great one if you can make up to the budget.
Nothing can provide more flexibility than drones in architectural photography
You can use drones in a lot of ways for your real estate or architectural needs.
In the first place, it very well may be connected for site arranging, before the genuine development begins. Picture takers can make 3D maps utilizing drones.
Second, it can be utilized during the planning stage to give customers a visual direction of the structure or structure being/to be constructed.
Third, you can use it to look after the construction process.
Lastly, you can capture high-quality images of your whole project for a lot of purposes but chiefly for marketing and sales needs.
Drones are surely the best tool for demonstrating the surroundings of a structure, spot, or property from above. They help give these properties importance and setting, consequently giving watchers an increasingly solid feeling of the spot.
Things to Consider Before Utilizing a Drone
You have to consider several things before using a drone. Those considerations will help you to do things in the right way and make you sure that you're not breaking any laws or rules.
The main thing on your rundown ought to be laws and principles. The rules depend on the place where you are shooting. Moreover, a few spots will expect you to get a license before you can utilize an automaton in their zones. Deal with this before you begin chipping away at your venture. On the off chance that you are working with an architectural firm or an architect, you can request help from them.
Complete a visual assessment of the area. This will enable you to make a superior flight plan. Check for cell destinations, tall electrical posts, and power substations. Try not to fly close them.
You shouldn't fly near any military camps, or airports, or any restricted air spaces.
Make sure that you check our gear before incorporating it. Play out a careful pre-flight assessment. Ensure the propellers are fixed, battery unblemished and completely energized, gimbal and camera are working, and so on.
Keep the drone in your line of sight when it's on the air.
Architectural photography is becoming more popular all over the globe with the help of drones. In fact, some top-class photographers and architectural firms use drones for their projects. Not only in the department of architecture, but also in all sectors of photography, the drone has brought a lot of changes. It just helps you take your projects to the next level. It has made the life of photographers more fun and exciting. So, what are you still waiting for?
Image Source: www.pexels.com
Comments on this How Architects Capture Their Work Using Drones advice article page are welcome
Drones Posts
How architects capture work using drones
Building Articles
Comments / photos for the How Architects Capture Their Work Using Drones tips page welcome