From damp to dapper: reclaiming the basement guide, building tips, Online property advice
From Damp To Dapper: Reclaiming The Basement
2 Sep 2021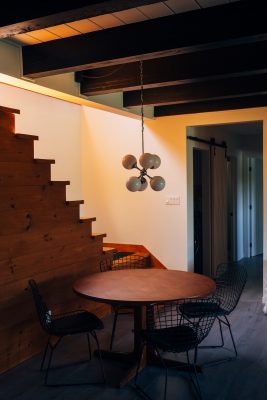 From Damp To Dapper – Basement Design Guide
The basement is disappearing from newly built American homes. According to City-Data, only 30% of new homes are now built with a basement, down from 40% in the year 2000 and higher figures in decades past.
A big part of this is the function of a basement – in many homes, they simply become an area to store belongings, presenting an opportunity for disorganized homeowners to hoard. This is such a shame, because the basement presents a huge opportunity for homeowners, especially in the modern era where more and more time is being spent at home. With planning, even the dankest basement can be converted into the pride of the house.
Fit for purpose
Your basement is perhaps more prone to damp than any other area of the home. The fact that it resides closer to the water table than other rooms means that it's prone to taking on water due to hydrostatic pressure.
This is why many basements become affected by mold and ultimately become havens for ecosystems of their own. According to industry authority Fine Homebuilding Magazine, the water/damp proofing equation can be quite complex, bringing together multiple different technological requirements and the need for several different substrates. Having an expert complete the work is non-negotiable, but will set you up to have full freedom inside when designing the interior.
Innovative design
The basement does not have to be dank, and it doesn't have to be dingy, either. With the necessary work completed to create a sustainable environment inside of the basement, work can begin on the interior.
One common issue with basements is a lack of natural light – Dezeen highlights the work of London-based studio SHH, who have deployed ribbed glass panels to refract light and give the impression of windows. Using something similar is a great way to create the basic layout of your basement and give the impression of something with plenty of natural light and airflow.
Find advice for dealing with damp walls or wet plaster in your home here – https://advanceddamp.co.uk/dampproofing/will-damp-plaster-dry-out/
Designing a use
The classic basement was used for storage, whether that be cleaning goods and old boxes, or something more valuable, such as being used as a wine cellar. The modern basement can be used for something more impactful, and it's an idea to look at the demarcation of levels as an opportunity to split off areas of your day-to-day life.
Consider turning the basement into your home office and productivity area, a place that, once the door is shut, is turned off for the day. Or, flip it on its head, and make it the ultimate rest and relaxation area, a sacred corner of the house that can only be used for unwinding after a hard day's work.
The basement offers plenty of opportunities in this vein. They don't have to be shut-off areas of the home where only the moldiest of boxes are stored; to the contrary, it can be the hearth of your home. All it takes is hard work to lay the foundations, and then creativity to build it up.
Comments on this guide to reclaiming the basement article are welcome.
Basement waterproofing Articles
Basement waterproofing Posts
Thinking of Hiring A Basement Waterproofing Contractor
How to make your basement waterproof tips
How to effectively install basement waterproofing
Building Articles
Residential Architecture
Comments / photos for the From damp to dapper: reclaiming the basement advice page welcome