Fire Safety Building Design, Codes, Engineers, Architecture, Architectural Article
Fire Safety Design : Architecture + Engineering
Architectural Discussion by Michael Woodrow
30 Sep 2012
Fire Safety Design
Article by Michael Woodrow
Through an Architect's Eyes
Designers (architects included) consider every variable associated with the form & function of a building – aesthetics, functionality, cost, environmental sustainability, structural integrity, serviceability and code compliance among a plethora of other variables. There is one variable however that architects do not currently consider and yet it has the ability to fundamentally, and often negatively, alter the design of a building: Fire safety.
Architects do read fire codes and fire safety engineers do work closely with architects to design fire safe buildings, but for some reason fire engineers have never worked for architects – in-house – as part of the design team. The result is an ill-informed, un-coupled approach to fire safety and a design resulting from this process will by definition never be fully optimised.
There was a realisation that this system could be improved.
Jameson House, Vancouver, Canada: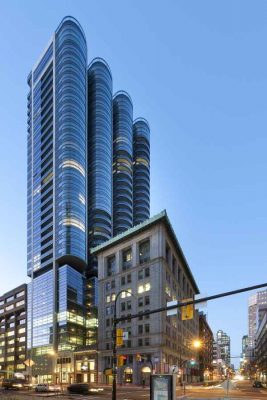 photograph : Nigel Young, Foster + Partners
For the past 8 months one member of the BRE Centre for Fire Safety Engineering at the University of Edinburgh worked at Foster + Partners to help designers create fundamentally fire safe buildings. This unique experience was one of several progressive ideas conceived at the 2011 LRET Conference in Edinburgh and is the latest collaborative initiative between Foster + Partners and the BRE Centre for Fire Safety Engineering.
It was initially thought that the Fire Engineer employed in this role would solve fire safety problems for the design team (including architects and engineers). After all that's what engineers do: solve problems. In fact the individual working at F+P would solve very few fire problems and would do very little 'engineering'. The 'In-House Fire Safety Engineer' would become known as the 'Fire Safety Advisor' or more simply, the 'Fire Guy'.
The reason for the change was simple. If specific fire safety problems were outsourced to a fire engineer – even an in-house one – the lack of integration would mean architects would have to compromise on other parts of the design for the fire strategy to work.
3Beirut, Solidere Masterplan Sector B, Lebanon:



image : Foster + Partners
The Fire Guy needed instead to have three roles, not one, of which engineering was the third and last. The three roles would be:
1) To identify and define problems using fundamental assumptions only i.e. assumptions that remain valid irrespective of the context in which they are applied. Re-defining and explaining why each problem was indeed a problem improved designers' understanding of the criteria they should aim to achieve, and significantly expanded the range of choices available to them.
Foster + Partners designers and engineers previously defined problems purely in terms of code compliance – which was logical in the absence of specialist fire safety knowledge. If a design did not comply with the codes, it was a fire safety problem. However, due to the irregular nature of the structures being designed, the assumptions on which the codes were based were not always valid; a prescriptive solution intended for a 3m-high ceiling would not deliver the same performance if applied to a ceiling 17m high and angled at 70°. Therefore a problem defined purely on the basis of code-compliance was not necessarily a fire safety problem.
30 St Mary Axe, London, UK



photograph © Adrian Welch
2) The second role, once the architects had gained a clear understanding of the fire safety aims, was to give designers the opportunity to achieve the aims autonomously. Architects have to consider every variable associated with the design of a building, all of which must be integrated if the building's design is to be optimised. Once the architects knew what they were trying to achieve, they were able to create some extraordinarily innovative solutions to solve fire safety problems, all of which were optimised for their unique building.
Architects lacked confidence in their own ability to create fire safe solutions and would yield to the recommendations of fire safety 'experts' often despite knowing that their own solutions made sense conceptually. The fire safety advisor was able to assess and criticise solutions put forward by both the architects and fire experts to establish which one would be the most effective. In many cases it was the solution put forward by the architects but in either case the discussion led to increased understanding of the issues involved and greater confidence in the chosen solution.
Crystal Island, Moscow, Russia



picture : Foster + Partners
3) The third and final role of a fire safety advisor was to create a fire-safe solution and 'prove' its effectiveness. In reality this rarely happened. Reviewing drawings and producing fire safe designs was easy; doing it in a way that would create a fully optimised building design was not.
A fire safety engineer has just one variable to work with, and has the luxury to choose from literally thousands of possible solutions. The architect meanwhile must iterate the building's design and compromise between variables, eventually reaching a fully optimised solution. The in-house fire safety advisor was only asked to create solutions if/when the architects were unable to produce viable solutions of their own. This happened just once during the entire 8-month period at Foster + Partners.
The experience demonstrated the potential for a new role in fire safety; a role that requires a global perspective and an ability to understand and relate complex technical information to a diverse design team. A lack of generalist fire safety engineering programs in higher education means there are currently only a handful of individuals in the world (Prof. Jose Torero for example) capable of fulfilling this role.
200 Greenwich Street, New York, USA



picture : Foster + Partners
The addition of a fire safety advisor to the design team would allow every variable associated with the form & function of a building to be considered – including fire safety – and designers will have the ability to fundamentally, positively alter the design to produce a better building.
Michael Woodrow: m.woodrow(at)ed.ac.uk
Architecture Articles – Selection
Fire Safety in Stadiums : article by Wrightstyle. 16 Jan 2013
Fire Dynamics Human Behaviour : article by Wrightstyle. 2 Oct 2012
High Rise Building Fire Risk : article by Wrightstyle. 7 Jun 2014
Architectural Growth : article by Nigel Henbury. 22 May 2012
Sustainable Buildings – Building Issues : article by Adrian Welch
Buildings by Foster + Partners – Selection
Thames Hub, England



image © Foster + Partners
Thames Estuary Airport in London
Apple Campus 2, Cupertino, CA, USA
Foster + Partners with Arup



image from Apple
Apple Campus 2
Comments / photos for the Fire Safety in Buildings – Architecture Article page welcome