High Rise Building Fire Design, Steel Glazing Systems, Skyscraper Architecture Article
Fire Risk in High Rise Buildings
Safe Skyscraper Architecture : Architectural Article by Wrightstyle
7 Jun 2014
Fire Risk in High Rise Buildings Article
Article by Wrightstyle
Wrightstyle looks at fire risk in high rise buildings
Wrightstyle is one of Europe's leading suppliers of advanced steel and aluminium glazing systems, supplying fire and blast resistant systems worldwide.   Tim Kempster, Wrighstyle's MD takes a look at fire safety in the supertall buildings now being built.
The skyscraper is just about to get a whole lot bigger, with a whole lot more of them around.
As of last year there were 57 habitable buildings in the UK of at least 100 metres tall.  45 are in London, four in Manchester, and a small scattering in Birmingham, Leeds, Liverpool, Sheffield, Swansea and Brighton.
The Shard in London is currently the tallest building in both the UK and Europe, topping out at 310 metres with 87 storeys.  It has 11,000 panes of glass and a total surface area of 56,000 square metres.
Its early designs were influenced by a report from the US National Institute of Standards and Technology (NIST) into the collapse of the Twin Towers in September 2001, which were just over 400 metres tall, which found that "the towers withstood the impacts and would have remained standing were it not for the dislodged insulation (fireproofing) and the subsequent multi-floor fires."
While the Shard is the tallest building in Europe, it will be dwarfed by the tallest of them all, the Kingdom Tower in Jeddah, Saudi Arabia – the first habitable building to pass the one kilometre mark.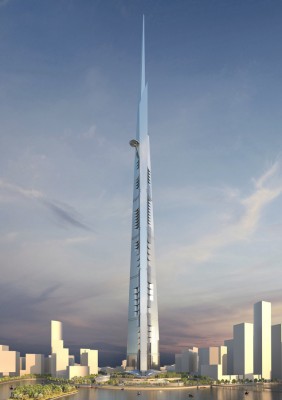 image from architects
The £780 million Kingdom Tower, on which work has just begun, will stand at just over 1,000 metres, will take five years to construct, have 200 storeys, and require some 500,000 cubic metres of concrete and 80,000 tons of steel.
It will be three times higher than the Shard and 173 metres taller than Dubai's Burj Khalifa, currently the world's tallest building – with 160 storeys.
The challenges will be immense, not least how to pump wet cement half a mile upwards.  To erect the Burj Khalifa, cement pumping took place at night to reduce heat.
Langham Place, Hong Kong, China: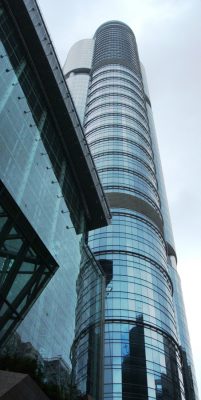 photo from Wrightstyle
But it's China that is setting the pace, with a number of ultra high-rise developments, including the Shanghai Tower which is due for completion shortly, at 632 metres, and has become China's tallest building.
Another is Sky City in Changsha which will be 838 metres tall, again higher than the Burj Khalifa and the developers want to complete construction in 10 months – another record.
The new 541 metre One World Trade Center, the building that replaced the Twin Towers, is the only US skyscraper in the Top 10 tallest buildings in the world – but not for long as other countries build further into the sky.
But it's not just China and the Middle East that are leading the upward march.  According to New London Architecture (NLA), some 236 buildings in the capital of more than 20 storeys are planned or under construction – mostly for residential use, although others will be hotels, offices, mixed use, and an educational institute.
Nearly half of those towers have planning permission and 19% are already being built.  Thirty three of them will have between 40 and 49 storeys and 22 will have more than 50.
In London, with high land prices, the logic of building upwards is inescapable, and creating high-rise residential blocks will help to alleviate the city's chronic housing shortage – if design lessons from the past can be learned.
Glasgow's Red Road flats are a case in point.  Built in the early 1960s, and Europe's highest residential blocks when they were built, they have now all been scheduled for demolition, although a plan to demolish them "live" as part of the Commonwealth Games opening ceremony was scrapped.  The steel-framed buildings were fire-proofed with asbestos, which blighted the flats for years.
But the biggest lesson came over one hundred years ago from the Triangle Shirtwaist Factory in New York, when a catastrophic fire killed 146 garment workers in 1911, and led to new legislation on fire safety in tall buildings.  Leaving aside 9/11, the worst recorded tall building fire was in São Paulo, Brazil in a 1974 blaze that killed 179.
At Wrightstyle, we have worked on a number of high-rise developments in the UK and internationally, building in fire safety and high wind-loading attributes – particularly in the Far East, a typhoon zone.
We have also publicly raised concerns about how fire regulations were being applied across parts of the Middle East, and changed our certification processes , so that a fire certification on one of our glazing systems could not be unilaterally applied on another project.
But we remain concerned that in the headlong rush to build faster and higher, issues of fire safety in some countries may not be adequately addressed or, just as bad, components in that building may not have proper fire-safety characteristics.
For example, in Grozny, Russia last year, fire destroyed the tallest skyscraper in the North Caucus region, a 145-metre tall structure with 40 storeys.  Within two hours, fire had engulfed three sides of the building, with fire spreading so quickly because, it was reported, combustible building materials were used in its construction.  (An apartment is a neighbouring 27-storey residential block belongs to the French actor Gerard Depardieu).
Our primary business at Wrightstyle is the supply of integrated glass and framing systems, whether in steel or aluminium, with each system tested as one unit.  In a fire situation, if one of those components fails, they both fail – with potentially catastrophic consequences.
There is a good summary of firefighting response to fire in high-rise buildings by the London Fire Brigade, a presentation the Service made to the Tall Buildings Fire Safety Network.  Another report published last year on fire safety design in tall buildings was presented to a major Asia-Oceanic symposium.
It concludes that "only once we understand fires in modern compartments can we truly assess the critical components of the fire safety strategy and begin to provide relevant, refined, innovative fire safety that truly reflects the nature of tall buildings."
An informative UK website also brings together many aspects of high-rise fire safety.  The Council on Tall Buildings and Urban Habitat also addresses the issue.  There is also a very useful report on fire safety in tall buildings from the Society of Fire Protection Engineers.
In the new generation of super-buildings, fire safety takes on a whole new dimension, because – beyond sprinkler systems – how do you tackle a fire a kilometre up in the sky?
The answer is: with great difficulty, and there have been several notable cases where a sprinkler system has made things worse, with cold water coming into contact with non-fire rated glass and causing the glass to break and allowing more oxygen to reach the seat of the fire.  The same is true of tempered glass, with a limited fire-rating.
The most effective way of dealing with fire at high altitude is by fire compartmentation: keeping the fire contained in one protected area and preventing it from spreading.  A contained fire can be dealt with; an uncontrolled fire can't.
A rule of thumb for fire safety in supertall buildings is that any fire should be able to burn itself out, without external intervention, and without building collapse.  That allows for a limited evacuation of people on the affected floor and on floors immediately above and below the fire.  Everyone else should be "defended in place" – a realistic strategy when you might have elderly or disabled occupants stranded 200 storeys up.
Wrightstyle's high-performance systems not only have up to 120 minutes of insulation and integrity, they have been tested to the USA's more stringent fire test regime – including the hose stream test, where the glass and framing assembly is subjected to a stream of cold water, to simulate a sprinkler system or subsequent fire fighter response.
Research demonstrates that a combination of a sprinkler system and non-fire rated glass is not a good safety solution.  An "active" sprinkler system needs good maintenance and activation sequences to work properly, whereas "passive" fire-rated glazing systems are guaranteed to work – if the right systems have been specified.  (Sprinkler systems can also be compromised by low water pressure, a particular consideration in very high buildings, and PVC water supply pipes can be damaged by fire and rendered inoperable).
Over the years, we've seen the good, bad and the ugly of fire safety design, and hope that the new cities in the sky pay heed to the absolute need for a whole new level of fire safety and, if the worst does happen, have fire containment strategies to ensure everyone's safety.
Fire Risk in High Rise Buildings article information from Wrightstyle
Fire Safety in Buildings Articles
Fire Dynamics & Human Behaviour : article by Wrightstyle.
Fire Safety Design : article by Michael Woodrow.
Fire Safety in Stadiums : article by Wrightstyle.
Architecture Articles – Selection
Sustainable Building Design : article by Trevor Tucker.
Design Narrative : article by Lee Miles
Cultural and Contextual Identity : article by Nigel Henbury.
Fire engulfs Dubai tower: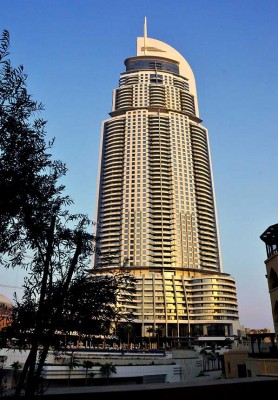 tower image © from Atkins
Dubai Skyscraper Building fire – 31 Dec 2015
Comments / photos for the Fire Risk in High Rise Buildings – Safe Skyscraper Architecture page welcome