English Country Kitchen Interiors Advice, Property Design Guide, Home Decor Style Tips
English Country Kitchen Interiors
May 4, 2020
Unique Vitality and Charm of English Country Kitchen Interiors
Your ideal English country kitchen design may tend toward traditional cottage style or spacious farmhouse simplicity. You may favour rustic country style kitchen decor with touches of shabby chic. Perhaps your preference is a sleek, modern minimalist interior featuring industrial style enlivened with warm, colourful antique ceramic tiling. Whether your home is a country estate, a cozy village cottage or a contemporary apartment complex, a country kitchen fits.
This timeless stylistic mixture of English modern and antique country kitchen modes never ceases to brighten households. It creates an energised yet relaxing and inviting cooking and gathering place. You can create an authentic and timeless country kitchen design of your choice virtually anywhere in any style home. By including favorite items of decor, you can design and decorate a highly fashionable and functional cooking space. You can also create an enchanting interior for enjoying many hours of lively conversation with family, friends and neighbors. No longer will you need to ask, "What is country kitchen design?"
English Country Kitchen Designs to Invite and Entice One and All
It is truly impossible to deny the charm, warmth and attraction of a British country kitchen design. Even those who may favour other styles of decor cannot resist the welcoming cheer and comfort of this design mode. One reason for its popularity among homeowners today is the wide variety of style motifs and fashion nuances combined.
Some of the most creative and inspiring design modality mixes that are currently high on the popularity list are:
1. Country Cottage Kitchen Designs

photo : Camylla Battani
Even a large, rambling kitchen layout can gain colourful warmth and vitality with country cottage decor. An abundance of natural timbre is common in country cottage kitchen design and decor. From floor to ceiling cupboards and cabinetry to open wall shelving and kitchen islands, wood is the leading material. Beautifully grained, wide wooden flooring, doors, wall panels and moulding are typical design elements. This wood may be repurposed, adding a sense of history and vintage appeal to an English cottage style kitchen.
Old English kitchen design often includes traditional tall stone or aged brick fireplaces. These antique structures are frequently used today to house wood-burning stoves that offer extra warmth in winter. In place of the wood stove, large wrought iron cooking vessels may be suspended over a welcoming wood fire. The sturdy metal range and stove-top nearby are used for baking and cooking.
Local English stone tiling or traditional Dutch Delft ceramic tiles in blue and white may serve as splashback tiling. A deep porcelain sink with antique chrome or brass taps are framed by butcher's block, granite or Corian counter-tops. A matching or contrasting top for the rustic oak or pinewood island lends more natural character to the room. A combination of glazed stoneware in whites, greys and bright, vibrant colours line the open wall-mounted wooden shelves.
2. Rustic Country Kitchen Decor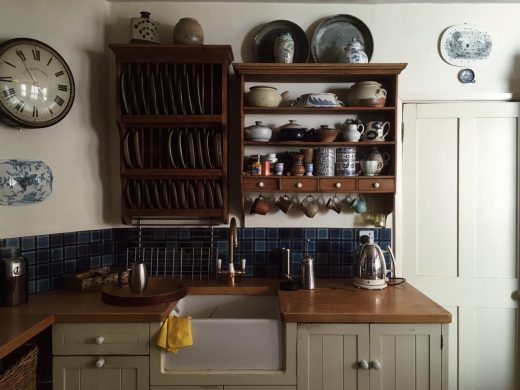 photo : Ellen Auer
Vintage country kitchens with rustic decor are often constructed primarily in wooden country kitchen designs. Their layouts may display beautiful tall oak, ash or maple kitchen dressers and wall-mounted shelves and cabinets. Storage cupboards beneath a rough-edged marble benchtop are handcrafted in matching woods.
Your choice of vintage lantern lighting can be suspended by rustic iron chains from massive overhead timbre beams. Glistening copper pots, pans and utensils hang from a metal rack mounted above a square wooden-plank island. The island counter-top is typically made of rustic marble slab or lightly polished hardwood. Recycled wide wood flooring in aged oak or maple match and brighten the glow of this natural timbre interior.
A charming rough stone wall behind the vintage double-sink enhances the pure natural essence of this kitchen decor. Wide timbre doors and window frames accent the intriguing variety of wood hues and grains on display. Your selection of antique mugs, glassware and pottery dishes on narrow open wood shelves brighten rough beige plaster walls. This kitchen interior has the ideal combination of rustic cottage kitchen style and relaxing country ambiance.
3. British Country Kitchen Allure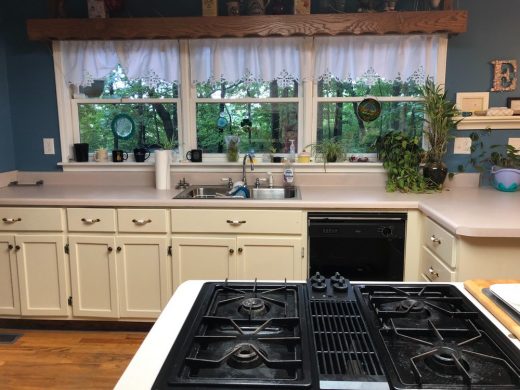 photo : HH E
The crisp elegance of tall cabinets in basic shaker style are frequent elements of decor in British country kitchens. They may have natural wood finishes or be painted in white, dark sand or creamy light yellow hues. MurdochTroon Kitchens are a great example of such design. For a livelier colour scheme, you may even choose robin-egg blue or spring green for your cabinetry shades. Some home dwellers like to paint the kitchen ceiling in sky blue or blue-green hues. This brings the true essence of the natural countryside indoors.
One endearing feature that is often found in a traditional British country kitchen is the long-enduring cast-iron cooker. These AGA stoves have been a reliable staple in British country and cottage kitchens. Once essential for warmth on frosty early mornings and at night, these familiar vintage appliances are now desirable stylistic features. Counters and benchtops of beautifully veined Arabescato marble add the enchantment of vintage quarried stone.
With glazed rustic ceramic tiles made by local artisans decorating walls and counter-top borders, your decor radiates British authenticity. Traditional ceramic pouring bowls and brightly-hued teapots, cups and saucers adorn the natural timbre wall shelving. Brass and copper wall-mounted sconce fixtures offer soft, atmospheric lighting at night. Tall pane windows admit beams of dawning sunlight on clear mornings in pure British country kitchen style.
4. Country Farmhouse Kitchen Comforts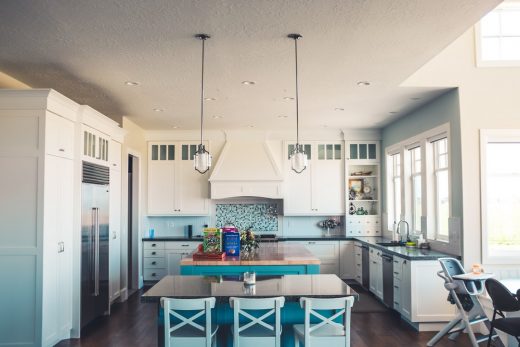 photo : NeONBRAND
Many farmhouse style country kitchens have touches of rustic, cottage and shabby chic design and decor. Yet their most prominent feature is their large, spacious and open layout. These kitchens often have tall windows and vaulted or beamed ceilings. They may have suspended rustic chandelier lighting or rows of spots mounted close to the ceiling. Often long rectangular or L-shaped rooms, they are large enough for preparing party foods and family holiday meals easily.
These farmhouse kitchen designs emphasise relaxing, comfortable living in a leisurely atmosphere. They feature large islands and long work tables with bench seating along both sides. Storage space below island-tops, counters and benchtops may feature open cubbies with pull-out woven basketry. More baskets may hang on wall pegs or from an overhead wooden beam.
Brick or stone fireplaces and surrounds are common, and shelving may be formed from rough-hewn oak or maple. Butcher's block is in popular use for benchtops, counters and island-tops. Repurposed wooden flooring is frequently scarred or cracked, and these imperfections create greater character and appeal. Country farmhouse kitchens are known for their colourful wall hangings, crafted tapestries, plants and flowers and natural stone wall tiles. Bright shades in ceramic pottery, dishes and kitchen towels decorate open shelving.
5. Traditional English Cottage Kitchens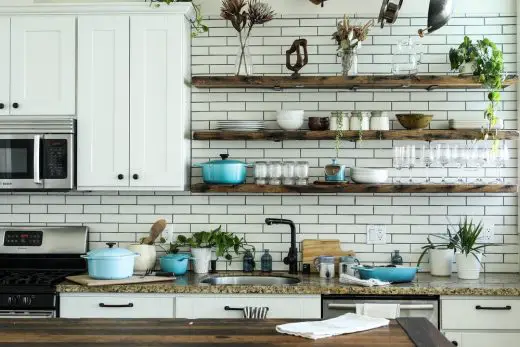 photo : Edgar Castrejon
These classic styles in English cottage kitchens often display skirted under-counter storage. They are also known for hanging displays of vintage utensils and crockery as popular cottage kitchens ideas. Their large, squared ranges and wide cook-tops are dominant essentials complemented by hanging plants and framed embroidered wall hangings. These inviting cottage kitchen interiors are often small and cozy with colourful china and sparkling glassware displayed behind the glass pane doors of freestanding vintage cabinetry.
Split-door designs are often used, with the top and bottom halves of a door opening separately. Glass-pane doors and windows are usually adorned with colourful floral or other nature-themed curtains. Smooth stone tiling or wide-plank wooden floors add natural charm to these welcoming interiors. Antique porcelain or deep metal sinks often have goose-neck spigots and round-knob faucets.
A decorative print tablecloth may cover a hardwood kitchen table-top. It provides the finishing touch for a small breakfast table with antique white legs. The stalwart vintage fridge with squared edges can lend a solid, grounded quality. Fresh herbs growing in baskets on open timbre shelves emphasise the airy, springtime freshness of this appealing kitchen interior. The small size of this colourful kitchen interior will not prevent it from becoming the most popular gathering place in your home.
6. Modern Country Kitchen Motifs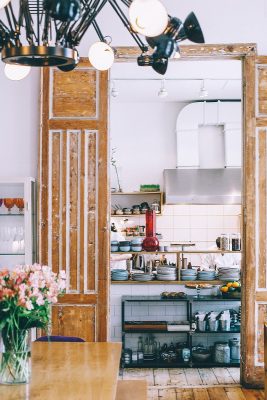 photo : Orlova Maria
Freshen up your kitchen with fresh flowers by Floraly
Modern country kitchens are fun to design. You can be as creative as you like, combining varied styles of decor to make your own fashion statement. Try using distressed white vintage cabinets, cupboards and benches with stylish modern appliances in your modern country kitchen. You may be quite surprised at the pleasing mix of fashionable modes produced. Shiny polished modern tapware on a square vintage porcelain sink can also add character to your appealing mixture of decor.
Try adding glistening, multi-coloured glass tiles for your splashback and a recycled marble benchtop for a pleasing contrast. While the marble absorbs sparkling colours from your splashback, these bright glassy tiles reflect the marble's steady glow. Contemporary copper pendant lights suspended over your hardwood island can brighten and enhance the overall country kitchen decor.
An updated black and white checked tile flooring design will complement this refreshing modern country interior. With two sleek, matching minimalist fountains mounted on a country stucco wall, you can create a novel stylish mix. You kitchen interior will change in appearance and atmosphere from natural daytime beauty to nighttime allure. As daylight fades and the pendant lamps take over, you can bask in the beauty of your new kitchen design. The unique, compelling charm of your versatile contemporary country kitchen creation is radiant in any form of light.
7. Country Living Kitchen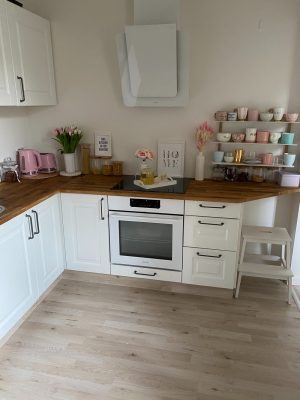 photo : Jelena Mirkovic
Bright, lively country living style kitchens exude a strong sensibility of vibrant, healthy charm. They are usually large square or rectangular rooms that may have enchanting nooks and crannies. These kitchens function daily as food preparation and cooking areas. They also double as open-concept family rooms, often with a large-screen TV and deep-cushioned corner couch. Lively cooking, conversation, TV watching and gaming can take place in this room, simultaneously.
At one end of this spacious room is the large kitchen with full-size appliances and other kitchen furnishings. You can cook and visit with family or neighbors while keeping an eye on the kids watching their favorite programs. The antique stove and refrigerator exteriors conceal modern appliances below their surface style.
The large modern wall-clock lets no one mistake the current time of day. While it chimes brightly on the hour in vintage fashion, this clock possesses contemporary features like auto-winding and a digital date and year display. Antique pottery contains a thriving indoor herb garden. In addition, a sleek mobile island cart rolls easily around the entire space as a service vehicle for relaxing food and beverages. Old and new fashion modes meet and merge, producing a highly pleasing modern country living style kitchen.
English country kitchen designs and decor are charming, inviting and inspiring in their creative mix of fashionable styles. You can choose your favorite stylistic mode or mix and match as you like. The resulting vibrant, creative colours and fashion modalities will enchant and intrigue one and all who reside in or visit your home.
Comments on this guide to English Country Kitchen Interiors article are welcome.
Kitchen Design
Kitchen Articles
Installing Modular Kitchen in Your Home
Selecting the Right Storage Cabinets for Your Kitchen
Natural Stone Countertops in Your Kitchen
Residential Property Articles
Windward House in Gloucestershire, England, UK
Design: Alison Brooks Architects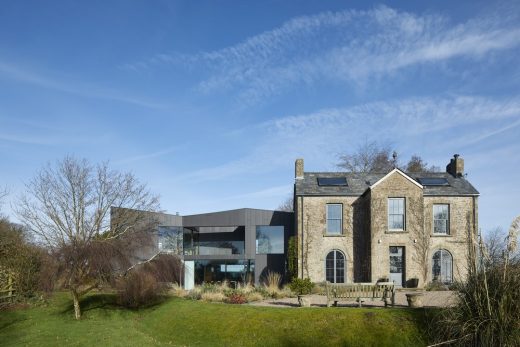 photo © Paul Riddle
Windward House Gloucestershire
Comments / photos for the English Country Kitchen Interiors Guide page welcome