Different types of roof materials and how to pick the right one, Building roofing construction, Solar tiles advice
How To Pick The Right Roof Materials
post updated 13 July 2023 ; 23 Nov 2021
The roof of a home is sometimes the only thing that separates you from the sky. The roof will protect you from snow, sleet, hail, rain, sun rays, wind, dust and filth, insects and animals, moonlight, and noise. If properly constructed and insulated, it will keep cold air in the home during the summer and hot air outside during the winter.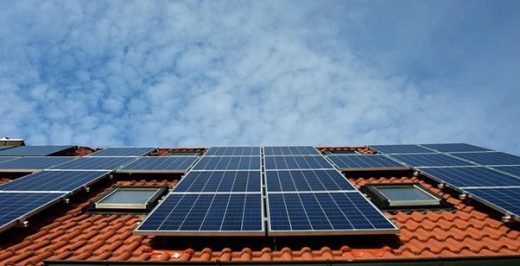 Solar Tiles
Advanced solar collectors blend in with existing shingles and generate up to 1 kilowatt of electricity per 100 square feet. Solar tile roofing is a more recent and attractive roofing solution. Solar tiles can also help you save money by absorbing solar energy that can be transformed into electricity. However, solar tiles are time-consuming to install and quite costly. They're also not a good choice for homes in the shadows, and also a little flimsy in comparison to other solutions.
Metal Roofing
Metal roofing is available in vertical panels or shingles that look like slate, tile, or shake and may last up to 60 years. Metal sheds snow and rain, does not burn, and can endure strong winds. It's light and can be put on top of existing roofs. Metal, on the other hand, can be loud during rainstorms and can be dented by hail. Depending on the kind and design of metal, prices range from $5 to $12 per square foot, which is more than asphalt but less than concrete tiles. It's recommended to have an approximate idea of the metal roof cost which would help in setting total cost expectations for any project before proceeding further. Corrosion is also different depending on the substance.
Metal roofs have a long lifespan and are completely recyclable when they eventually wear out. However, standing seam metal roof installation necessitates specialized abilities, and not every roofing business is equipped to do so.
Asphalt Composite Shingles
All over the country, asphalt composite shingles are the most prevalent roofing material. These three-tab shingles have a fiberglass base with asphalt and mineral granules on top, making them a suitable choice for most residential roofing needs. They usually come with a 20- to 30-year guarantee, and in the case of broken shingles, roofing repairs are a very simple task. Installing these shingles is something that almost every roofing business is acquainted with. Composite shingles are excellent in bending and adjusting to a roof's expansion and contraction. Asphalt shingles, on the other hand, are not the most lasting alternative due to their design. They can endure up to 30 years. However, after the granules on asphalt roofing have worn away, the entire roof must be replaced.
Wooden Roofing
Wooden roofs are appealing, but they are also expensive and come with some limitations. They're also not a good choice in areas with a lot of rain or where wildfires are a risk. They are, nevertheless, among the most aesthetically beautiful of all roofing materials, making them a popular choice for high-end homes.
There is a distinction between wood shakes and shingles, although they are both composed of natural wood, generally cedar or redwood. Shingles are generally thin, wedge-shaped wood pieces that are cut with precision. Splitting wood produces shakes, which are thicker chunks with a rougher structure.
Slate
Slate is one of the most common natural roof materials for homes, whether it's in the form of tiles or shingles. It is gorgeous, extremely durable, and has the potential to last a very long time. Unfortunately, slate is a heavy material, and not all homes are built to sustain it. They're also pricey, and slate roofs necessitate the services of an expert, which might be difficult to come by. Slate tiles and shingles might also be more difficult to repair.
Clay
Clay tiles, created from earthy clay and molded and burned for durability, are another natural roofing choice. It's a popular choice for residences in hot weather, especially along the coast and in desert areas. They also absorb less humidity, which means they need less upkeep.
Clay tiles, on the other hand, have one main disadvantage: they are pricey. While clay tiles are lighter than concrete tiles, they can contribute a significant amount of weight to a home's structure, causing problems. Clay tiles are extremely brittle and can shatter when working on them, although they give some amount of resilience.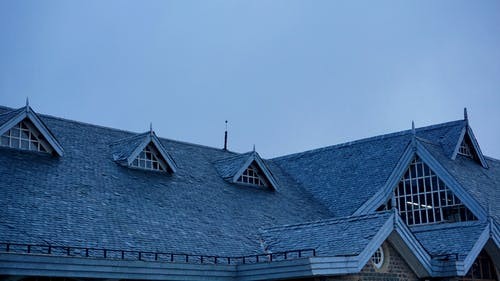 Green Roof
Green roofs, also known as living roofs, are miniature gardens built into the shape of a roof. They're great at regulating water runoff, insulating a home, and reintroducing pure oxygen to the atmosphere. The expense of installing and maintaining a green roof, on the other hand, may soon pile up. It also takes a great deal of upkeep, particularly to maintain the plants alive and thriving. Green roofs may endure anywhere from 30 to 50 years.
There is no easy solution regarding the best roofing material because it is dependent on a variety of elements such as the remainder of the building's design, the location and orientation of the house, the temperature, and the requirement to accommodate additional roof-mounted equipment such as solar arrays.
Understandably, you want to select an option that gives the greatest security while maintaining the aesthetics of your property. You also don't want to spend a lot of money on a roof, especially if the roofing material requires a lot of upkeep and repairs. Before making a decision, thoroughly consider each of these roofing materials.
Comments on this guide to Types Of Roof Materials And How To Pick The Right One article are welcome.
Roofing Articles
Roofing Posts
Signs Your Restaurant's Roof Needs to be Replaced
Pick the right shingles for your roof
Benefits of Seamless Fibreglass Roof Systems
Building Articles
Residential Architecture
Comments / photos for the Different Types Of Roof Materials And How To Pick The Right One page welcome