Designing bathrooms for elderly and handicapped guide, Property Accessibility Advice, Home Access Tips
Designing Bathrooms for Elderly and Handicapped Advice
19 Jan 2021
Elderly and handicapped go fairly well in all the phases of life, but when it comes to going to the most slippery part of the home -the washroom, it's a real-time challenge for them.
The truth is that no one is actually immune to falling or slipping in the washrooms. But the difference is elderly are more prone to severe injuries, bone fractures, and even sequelae when they slip.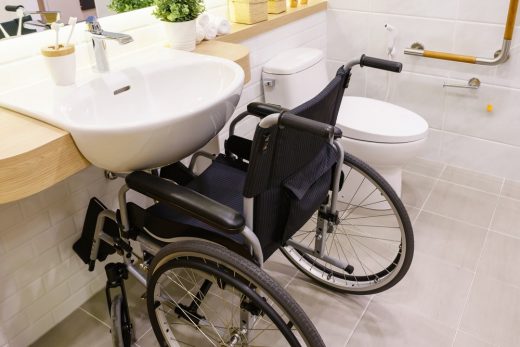 What's the catch, by the way? Well, you can prevent your loved ones from falling by designing a safe and accessible environment around -probably a practical bathroom.
Today, home builders have discovered fascinating bathroom-designing ideas for the disabled and elderly than ever with some long-stay crafting and great functionality.
No matter you're up for retro-fitting your old bathroom or designing a new one for your old parents, a handicapped accessible bathroom is all that you need.
Wait, wait! Here we've got some important things that you have to keep in mind before getting into this whole bathroom-designing process.
Let's get right into the business!
Things to Know Before Designing Bathrooms for Elderly and Handicapped
Bathing Comes First
Shower Accessibility
The most challenging part for the elderly or disabled is taking a shower. If you're going to use a fixed shower or rolling shower seat, things get pretty easy for them.
Once you decide on the shower seat, next, you've to make sure that you fit that to an accessible place. We usually recommend to fit it on the height of 17-19" where you can put a small stool or plastic chair.
If you're designing a washroom for fragile people with a walker or wheelchair, the curbless shower is the best thing you can ever introduce to them.
This shower features a sloped-down opening that is leveling with the floor towards the drain. A 36" wide shower is ideal for a transfer seat, and a 60" is great for a wheelchair to turn around easily.
Tub Accessibility
Let's talk about how you can improve tub designing. Walk-in tubs are far better because they allow easier access. They allow the elderly to walk in the tubs without climbing the sides. And if you install the tub controls beside the front edge, it will prevent long reach.
How about if you install some grab bars in the area where users have to take a shower? Well, it's not a bad idea -in fact, it's the best thing.
We'd recommend installing two bars, one on the sitting range and one on the sidewall at the standing range. Make sure there are grab bars in the roll-in shower too.
An important thing! Introducing a non-slip floor actually prevents anyone from falling. So, a slatted wood tray or a textured, grooved tile can serve this purpose well.
Temperature Balance
Have you ever wondered if your old parents cannot manage the shower temperature and burn their skin? Well, it's even hard to wonder. So don't ever let that happen.
Make sure you install anti-scald mixing valves for maintaining a balanced and safe water temperature. When there are pressure changes, it will maintain the temperature. But, you've to limit temperature up to 120 degrees.
Some More Bathing Accessibilities!
The next thing you've to ensure while designing the bathroom is to keep enough place for storing the essentials. Soap, hair care, shampoo, bathing products, etc., should be placed nearest the tub, so the people on a wheelchair or fragile olds have greater access to them.
Moreover, properly enlightening the shower area can also add a lot to a safer environment. If you use glass walls, some additional light will reach that area too.
Make sure you install the shower controls where they can operate them well without getting wet. If you install a handheld showerhead with a 60" hose, things get pretty easy.
Don't forget to install a hook or towel shelf within accessible range, not too high, nor too low.
Sink and Vanity are Important Too!
Your elders might have faced some problems while doing their things standing beside the sink. The real challenge is for handicapped when their wheelchair doesn't fit around the sink.
Make sure the sink you've chosen is without any underneath cabinet –it's the most practical design for both seated and standing users. Explicitly, seated users get a lot of open knee space.
Keep in mind that the sink should be at the right height –not too high, nor even too low. Keeping it at 27" above the floor with the rim reaching 37" is best for both seated and standing users.
If you're thinking of adding a little more to the sink's accessibility, then install single-handle or hands-free faucets. Single-handed ones are quite easy to handle without grabbing them.
And the hands-free ones feature a hand-detecting sensor that makes the sink quite more accessible.
But wait, there's more!
If you mount the mirror at a lower position or extra-long until reaching the end, it's great for both seated handicapped and standing elderly.
Using a high-end vanity or furniture in the bathroom that's heavy enough to stand in place. One can easily grab that to maneuver any challenge when the grab bar isn't in range.
If you are willing to invest a lot more in designing a well-equipped bathroom, then there's nothing better than a vanity with electrical height adjustment. It offers the best level of accessibility.
What about the Toilet?
Here's the core of the bathroom –a toilet, which needs special attention too. According to the ADA guideline recommendation, the toilet should be 17" to 19" higher. Higher the toilet, easier it's for a handicapped to get up and transfer to it.
If you're not in a mood to change the toilet, you can add thicker toilet seats –that adds a lot to the height. Plus, make sure the paper dispenser is located in an accessible position.
It will be best to install a bidet for the elderly because they get better privacy and good hygiene. The bidet reaches out to you; however, you've to twist and reach to the paper to wipe.
Comments on this guide to designing bathrooms for elderly and handicapped article are welcome
Bathroom Design for Elderly and Handicapped – Bottom Line
From introducing the practical toilet, sink, and shower designs to ensuring the anti-slip floor, that's how you have to design the ideal bathroom for your folks.
Older people of family are precious. To keep them safe and protected and overcome their fears, design the best bathroom design for them.
We've tried our best to provide you with all the necessary information you have to keep in mind before starting this designing process.
All you have to do is make sure in the end that everything in the bathroom is accessible and easy-to-reach.
Comments on this guide to Things to Know Before Designing Bathroom for Elderly and Handicapped article are welcome.
Bathrooms
Bathrooms Posts
Single bathroom vanities designs for small bathrooms
4 bathroom upgrade ideas to improve property value
Home Articles
Residential Architecture
Comments / photos for the Things to Know Before Designing Bathroom for Elderly and Handicapped Advice page welcome