4 Bathroom Upgrade Ideas That Will Improve Your Property's Value Tips, Home washroom advice, Building Guide
4 Bathroom Upgrade Ideas That Will Improve Your Property's Value
Sep 24, 2020
Bathrooms are an important part of any place, whether it's your house or commercial property you own. The design of the bathroom is important as it can have a significant effect on the value of your property, says Archer Management Group. Here are 4 bathrooms upgrades ideas that will improve your property's value.
1. Color Scheme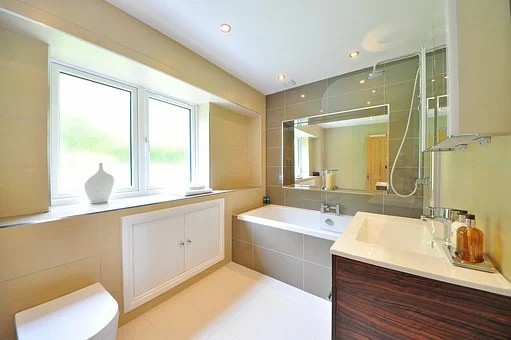 IMAGE SOURCE: pixabay.com
Color schemes are important for your bathroom because you have to pick an independent color that still matches the overall design of the property, which means going for your favorite color might not be the best thing to do. For instance, if you would like to go for a strong color like red or orange, make sure to go for a monochromatic color palette.
A monochromatic color palette means that you pick only one color, and then use all the shades of that color in different areas to achieve a relaxing and soothing look. Complementary colors are also a great choice for your bathroom, complementary colors mean two unrelated colors that complement each other, without overshadowing one another, black and white are a common example of complementary colors.
2. Accessories
Decorating your bathroom with accessories will transform your bathroom completely to make it look interesting, and as a result, add value to it. For instance, finding the right model of hand dryer can be tricky. But reputable online vendors like Fast Accessories will usually be happy to help you find the right kind. You can even use something like a paper towel dispenser, which adds a sleek and chic touch to the bathroom, and it helps keep the paper dry at all times.
Moreover, consider adding a soap dispenser as they help reduce germs and bacteria between uses because of the lack of contact between the soap and the surface. In addition, it protects the soap from climatic effects, and the container helps keep the soap for longer use. Besides that, the range of accessories is vast, and you'll be able to find a number of items that not only make your bathroom look better, but these items will also add in value due to their convenience.
3. Counter Tops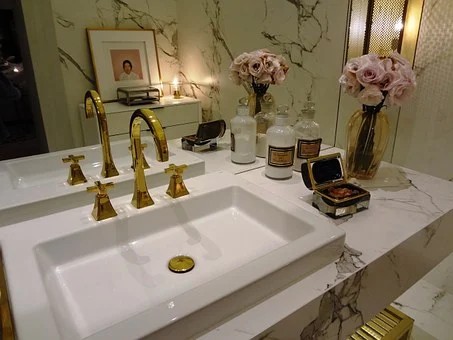 IMAGE SOURCE: pixabay.com
Bathroom countertops are currently popular because not only do they add a design value for the bathroom, but they provide practical functions as well. There are different types of material for countertops, they all depend on your budget and what you are seeking design-wise.
The most popular material is granite because it's more durable, natural, and comes in different colors to match all design preferences. Quartz is another material used for countertops, they are especially helpful for heavy usage. One of the positive characteristics of quartz is that it resists both scratches and stains, they also never need to get polished. If you invest in a high-quality countertop, this will immediately add more overall value to your property.
4. Eco-Friendly Upgrades
People around the globe are moving towards sustainability in every aspect of their lives, which means they are more conscious about water consumption. Bathrooms account for 60% of the total water consumption of all properties, so invest in low flow toilets, sinks, and faucets, as it will significantly reduce your water waste. Anyone would appreciate bathroom fixtures that help them save money as well as assist them in being environmentally friendly.
Now you have a clear idea about how to best add value to your property through the upgrades you add to the bathroom. Just make sure to follow the aforementioned tips to add more appeal to your bathroom. It's important to note that just by paying attention to what you use and place in the bathroom, according to quality and value, this will certainly add much more value to your property.
Comments on this 4 Bathroom Upgrade Ideas That Will Improve Your Property's Value advice article are welcome.
Bathrooms Articles
Bathrooms Posts
Single bathroom vanities designs for small bathrooms
Spoil your bathroom with stylish tiles
Building Articles
Comments / photos for the 4 Bathroom Upgrade Ideas That Will Improve Your Property's Value Guide page welcome