Charlottesville a bastion of history and architecture, Virginia building design, C'ville United States of America
Charlottesville A Bastion of History and Architecture
17 Jan 2022
Charlottesville, VA is currently home to nearly 50,000 residents, the University of Virginia, and Monticello, home of former President, Thomas Jefferson.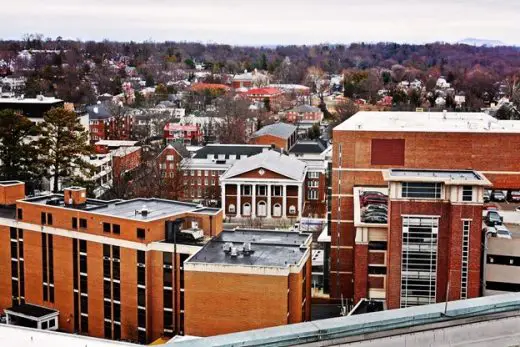 A Bastion of History and Architecture in Virginia, USA
It is an area of the country that is steeped in history, tradition, and rich architecture. It makes perfect sense, considering one of its most famous (or infamous, as the case may be) residents was an architect, a lawyer, a philosopher, a diplomat, and a statesman long before he became the third U.S. President.
Oddly enough, the Charlottesville area is home to not only the third U.S. President (Jefferson), but also the fourth (James Madison), and fifth (James Monroe) Presidents as well. In fact, the homes of these three men are among the top architectural and historic attractions in the area. Fortunately, they are not the only attractions of great interest to people who have a fondness of history and architecture. Here you will learn about a few important points of interest in the Charlottesville area.
Monticello
Monticello, the famous home of Thomas Jefferson, is often listed as both an architectural and historic attraction in the Charlottesville, VA area. What most people do not know is that Jefferson inherited the property from his father when he was only 26. It was at this time that he began designing the marvel that is now known around the world as the home of America's third President.
What makes Monticello stand out above other designs of the time is the powerful combination of classic Renaissance architecture with design elements that were popular during Jefferson's lifetime. Today, the home is maintained by the Thomas Jefferson Foundation and operated as a museum and educational site. It is currently the only private home in the U.S. to be designated as UNESCO World Heritage Site.
Montpelier
Another marvel of design and history, Montpelier is the home of President James Madison. In addition to tours of the beautiful home, visitors can enjoy a wide range of sights and sounds when visiting Montpelier (as well as an entertaining history lesson or two). The top attractions include various historic buildings, archeological sites, the visitor center, a freedman's cabin and farm, and various hands-on activities. For many visitors it is an opportunity to take a step back in time and to see how the other side lived during these formative times in American history.
Ash Lawn / Highland
James Monroe was the fifth U.S. President and Highland was his home and official residence from 1799 until 1823. It was a 535-acre working farm. During that period in American history, slavery was widely accepted and utilized. Highland was no different and many enslaved men, women, and children lived on and worked the property as manual labor, artisans, cooks, domestic staff, builders, and more. We've come a long way since this dark time in American history but touring places, like Highland, serves as an important reminder of how far we've come.
Michie Tavern
Step back in time when visiting this 1784 pub where modern servers dress in period attire to serve lunch to visitors. The rustic setting is true to the history of the pub and guests can even enjoy local beers, wines, and ciders during certain seasons. In addition to the pub, visitors can enjoy four unique shops that harken historical architecture and design, such as the metal smith shop, the general store, and the artisan shop in addition to the tavern shop. Not only can guests enjoy hearty midday meals at the tavern, but they can also order takeout for meals on the go.
University of Virginia
Thomas Jefferson was an architecture of note during his time and particularly talented with the design of neoclassical buildings. In addition to his plantation home of Monticello, Jefferson also envisioned his deal "academic village" which today, lies at the heart of the University of Virginia and is a UNESCO World Heritage Site along with Monticello. The buildings represent important contributions to Neoclassicalism among contemporary buildings and are testaments to Jefferson's talents as an architect.
With a long and strong heritage of architectural excellence it is no wonder that the University of Virginia today consistently ranks in the top 10 percent of U.S. colleges for architecture and is ranked first within the state of Virginia. Students from around the world with interests in studying architecture often have the University of Virginia on the short lists of target destinations.
While architecture has changed a great deal over the years in Charlottesville, the homes in the area are unique works of art in their own rights. Many who first come to the area to tour the attractions listed above, choose to stay, and make this their homes. Don't dive in without researching the best mortgage brokers Charlottesville, VA has to offer before buying a home in the area. The right broker can help you get the best possible rates and terms for your home mortgage needs.
Comments on this Charlottesville – A Bastion of History and Architecture article are welcome.
Virginia Buildings
Virginia Architecture Designs, chronological:
Center of Developing Entrepreneurs, Charlottesville
Design: EskewDumezRipple and WOLF ACKERMAN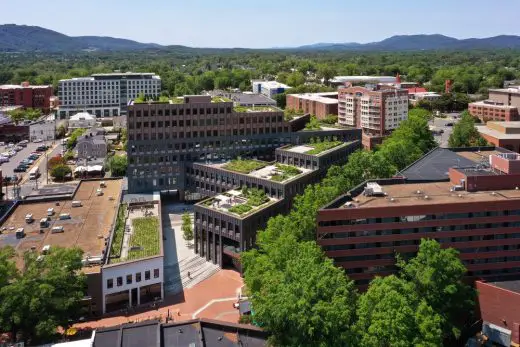 photo : Alan Karchmer
Center for Developing Entrepreneurs, Charlottesville, Virginia
Heirloom Farm Studio, Blue Ridge Mountains, central Virginia
Architecture: Bushman Dreyfus Architects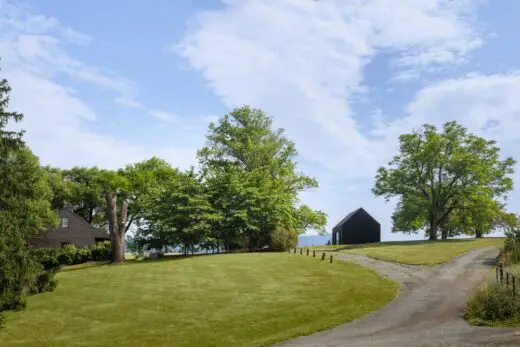 photo : Virginia Hamrick Photography
Heirloom Farm Studio, Virginia Building
American Architecture Designs
America Architecture News – latest building updates
Building Articles
Residential Architecture
Comments / photos for the Charlottesville, VA – A Bastion of History and Architecture page welcome