UN Centres of Excellence for High-Performance Buildings, Construction Scotland Innovation Centre COP26 News 2021
UN Centres of Excellence for High-Performance Buildings
3 November 2021
Location: Construction Scotland Innovation Centre (CSIC)
Scotland joins international nations to commit to UN's high-performance buildings scheme to create a better built environment
Michael Matheson and Olga Algayerova: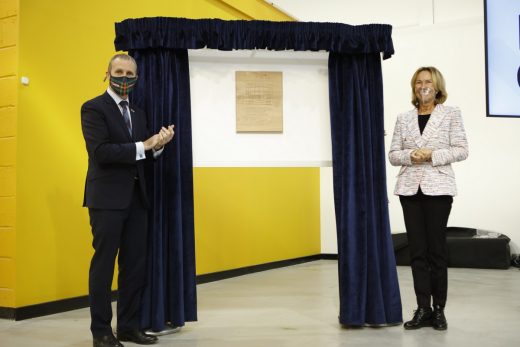 UN Centres of Excellence for High-Performance Buildings Network
CSIC represents Scotland as centre of excellence for next generation construction
A network of International Centres of Excellence for High-Performance Buildings has been launched today (3 November), signalling a global commitment to the sustainable and energy efficient development of buildings in an initiative led by the United Nations Economic Commission for Europe (UNECE).
International representatives were joined by Michael Matheson, Scottish Government Cabinet Secretary for Net Zero, Energy and Transport, and Olga Algayerova, executive secretary of the UN Economic Commission for Europe, for an official signing of the agreement which took place at Construction Scotland Innovation Centre (CSIC) earlier today.
Michael Matheson and Olga Algayerova at the event: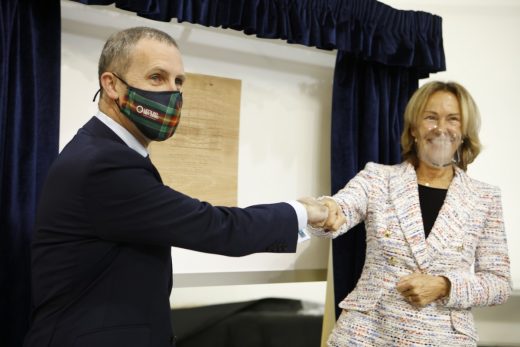 The built environment and construction sector is central to tackling climate change, with buildings consuming as much as 70% of the electricity generated globally and accounting for around 40% of CO2 emissions. High-performance buildings are designed to use minimal amounts of energy for heating, cooling, lighting, and ventilation, with a range of benefits for both the environment and the people who live and work in them.
Providing education, training, and other critical resources the centres will support their local industries to move forward in line with the UN Framework Guidelines for Energy Efficiency Standards in Buildings. They will also collaborate with one another to share resources and knowledge internationally.
The framework largely focuses on three goals: reducing the energy consumed by buildings so that additional requirements can be met using no-carbon or low-carbon energy sources, increasing the carbon stored in buildings, and the greater use of building materials and systems that are low in embodied carbon.
Olga Algayerova and Stephen Good: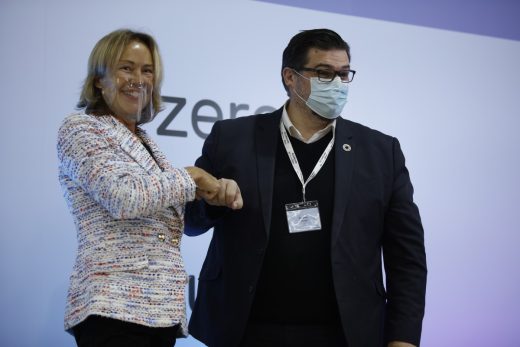 CSIC has been selected as Scotland's centre of excellence, building on the innovation centre's mission to accelerate the built environment's transition to zero carbon. For the duration of COP26, the centre is hosting a showcase of sustainable construction in practice, with events, exhibits and prototypes to demonstrate the possibilities and capabilities of the sector in meeting the net zero challenge.
Stephen Good, CEO of CSIC, said: "This week Scotland is taking centre stage in the climate change conversation and every sector is now looking at what can be done to make meaningful progress. In construction and the built environment, as one of the biggest contributors to emissions, we have a responsibility to drive transformation and mainstream low-carbon innovation. Decarbonising buildings is perhaps the biggest challenge we face and no single nation can tackle the issue alone.
"Collaboration and international knowledge exchange will help to unlock a range of opportunities, with many nations working together for a common cause. It is fantastic to see CSIC recognised as a centre of excellence, and we look forward to working with the wider network to put the built environment commitments made at COP26 into practice."
Olga Algayerova and Stephen Good at the event: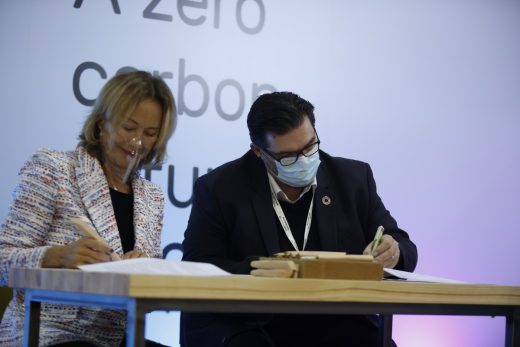 Representatives from the Southwest College InnoTech Centre in Northern Ireland, passivhausMAINE in the United States, EnEffect in Bulgaria, Passive House Canada and the UK-wide Passivhaus Trust also attended the ceremony, while the Building Innovation Hub in Washington, DC, and the Building Energy Exchange in New York joined virtually.
Olga Algayerova, executive secretary of the UN Economic Commission for Europe, added: "Buildings and the built environment must be the highest priority for action by communities and by countries to deliver not only the Paris Agreement, but also the whole 2030 agenda. Buildings are critical across all the sustainable development goals. The goals go beyond decarbonisation, though decarbonisation is the most urgent as the climate crisis is existential. In fact, when we succeed with this initiative, we will have made a major step in breaking the historic link between development and carbon emissions, and that is the game."
Michael Matheson: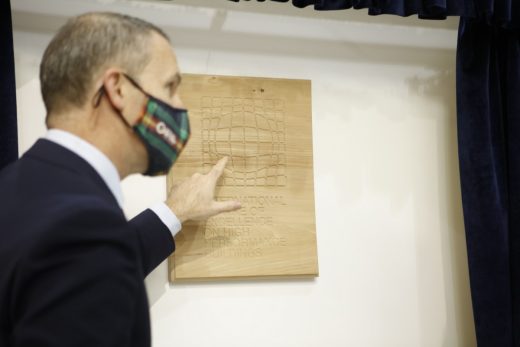 UNECE
The United Nations Economic Commission for Europe (UNECE) is one of five regional commissions of the United Nations. It was established by the United Nations Economic and Social Council in 1947. The UNECE's major aim is to promote pan-European economic integration. UNECE includes 56 member States in Europe, North America and Asia. All interested United Nations member States may participate in the work of UNECE. Over 70 international professional organisations and other non-governmental organisations take part in UNECE activities.
High-Performance Buildings Initiative
UNECE has instituted its High-Performance Buildings Initiative to deliver on the Paris Agreement and the 2030 Agenda for Sustainable Development. Buildings and the built environment are a critical but under-exploited nexus for delivering on both sustainability and development. Failure to exploit that nexus will lock in a built environment that both intensifies the climate crisis and undermines efforts for a globally-shared and basic quality of life.
The High-Performance Buildings Initiative is conceived to deliver at local professional, regulatory, and political levels through a network of International Centres of Excellence, to address research and education gaps through a global building network of academic institutions, to provide proofs of concept and case studies through partnerships with the global buildings industry, and to work with thought leaders in the building space to develop a UN protocol for the built environment.
Construction Scotland Innovation Centre
CSIC is Scotland's national innovation centre for the built environment and one of Scotland's seven innovation centres supported by Scottish Government, Scottish Funding Council and Scotland's Enterprise Agencies. CSIC's mission is to accelerate the built environment's transition to zero carbon, and does this through a range of innovation, R&D, knowledge exchange and service design initiatives. Collaboration partners gain access to CSIC's innovation ecosystem as well as a range of flexible tools and support services including an extensive network of academic experts and the Innovation Factory; the UK's first dedicated digital manufacturing, prototyping and future skills centre of excellence.
CSIC delivers impact across four interlinked programme areas; Digital Transformation, Modern Methods of Construction, Sustainability and Retrofit, and is supercharging change that will help achieve its vision of a better built environment that delivers inclusive and sustainable economic, social and environmental impact for Scotland and the planet.
Comments on this UN Centres of Excellence for High-Performance Buildings article are welcome.
COP26 Conference at Construction Scotland Innovation Centre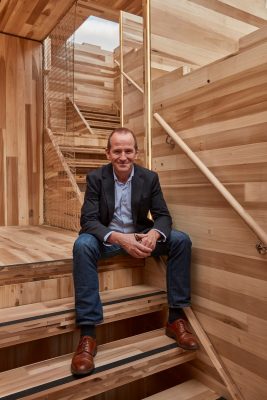 COP26 Conference at Construction Scotland Innovation Centre
Location: Hamilton International Technology Park, Blantyre, Scotland, UK
Architecture in Scotland
Contemporary Architecture in Scotland – architectural selection below:
Scottish Architecture Designs – chronological list
Scottish Architecture News – recent selection
Quarry Studios, Deeside, Cairngorms National Park, the Scottish Highlands, Scotland
Design: Moxon Architects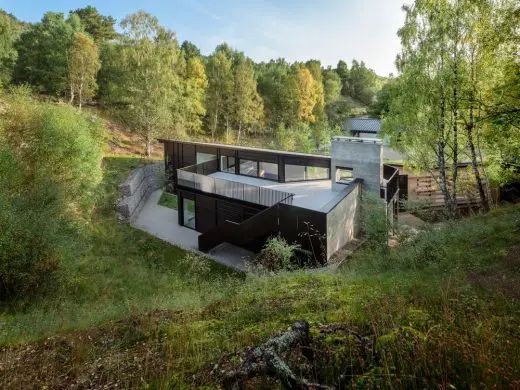 photo © Timothy Soar
Quarry Studios Cairngorms National Park
Spyon Cop, Cairngorms National Park, Northeast Scotland
Architects: Brown + Brown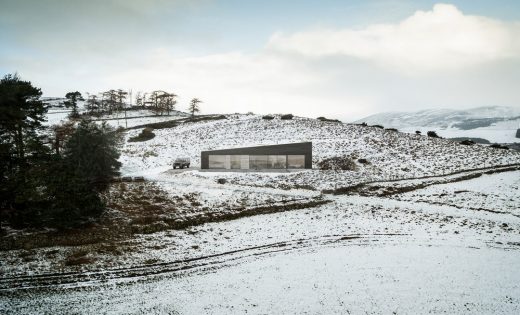 image : Touch 3D
Contemporary Property in Cairngorms National Park
Building Articles
New Architecture
Comments / photos for the UN Centres of Excellence for High-Performance Buildings page welcome