Can an Angle Grinder cut Wood Advice, House Tips, Residential Online Guide
Can an Angle Grinder cut Wood?
11 Apr 2021
You must have been using an angle grinder for so long and now you find yourself wondering if it is able to cut woods or not?
It might be shocking or new for you that YES! Corded Angle Grinders are pretty much able to cut wood based on the quality of disc and speed of the motor you use.
But you might have left with some questions marks regarding how and what to look for in order to prevent any injury or losses.
There are times when we need multi tasking equipment for our daily crafts. But we aren't known to many substitutes available. Moreover, it gets hard how to know the procedure..?
For this all you might be searching on the web for don't know how many hours.
Since you got here, for getting insights, let's have a review of this amazing equipment Angle Grinder invented in 1954 by Germans namely Ackermann and Schmitt.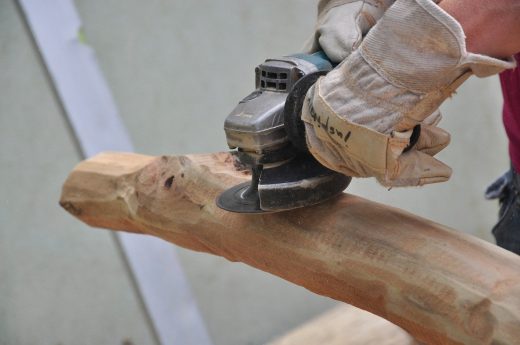 Can an Angle Grinder cut Wood Help Guide
The most usual question that comes to the mind of the readers is,
What is an Angle Grinder in actual?
If you are new to what angle grinder is actually then it might be helpful for you to read what the thing is actually we are talking about before knowing about its usage and overall features.
It is a highly portable machine which can be used easily for various jobs such as cutting, grinding, removal of burrs, including for the purpose of polishing and furnishing.
These are usually electric powered meaning that they can be either corded or battery powered and the other is cordless angle grinder.
Corded angle grinder are very popular among the clients.
This handy equipment has a motor fixed in it which allows a geared head affixed on the front to move with a speed of approx 11000 – 12000 rpm which is highly speedy and enough to cut any material depending upon the blade on the disc used as compared to saws.
The disc is completely exchangeable, one can easily choose between whether to place an abrasive one or a thinner cut off disc.
The gear head is on the right angle and allows the disc to have a full rotation so that it can easily cut or polish the material involved in the craft or construction project.
They have a guard for protecting the user while the motor allows the disc with abrasive sharp edges to cut off the material.
Additionally, it is easy to operate with both hands.
Angle grinders can be used as a multi tasking machine depending upon the gear head revolving speed.
It can be used as sanders by placing the sanding disc in the gear head along with the backing pad.
There are many other choices in discs that can be opted based on your project or construction requirements. But it's highly recommended to check before placing the disc whether the disc is compatible with the shape of the grinder's geared head or not. If it is then you are good to go but if it is not you might need a compatible one.
This backing pad/disc is made up of hard rubber, plastic or phenolic resin. This hard rubber, plastic or resin depends upon the flexibility required by the disc.
It might be exciting for you to know that construction and machine shops have a good variety of angle grinders with varying amounts of features including speed.
The most important thing to look out while purchasing the angle grinder is the size of the disc and speed at which the motor works because these two will affect your work in a good way if it works effectively or bad way if it does not provide the desired result.
Power source and rpm must also be considered while buying the equipment.
These grinders are powerful to tackle with the side forces that cause unnecessary disable-ness to maintain balance of the disc for cutting the wood resulting in smooth performance.
How can it be used to cut wood?
Most people will suggest using a circular saw or band saw for cutting the wood that is pretty much expensive. It gets hard for people to bear such a burden while already carrying a huge burden of loads of construction material.
But this angle grinder provides you all types of services in a less expensive and reliable manner.
The fact it is also popular among the users for cutting woods in the construction industry makes it more convenient for normal people to use it in assisting themselves for wooden jobs.
Mostly people keep it in the garage for any wood related job because it's handy and easy to work with plus it's highly effective for home renovations.
The corded angle grinder has the capacity and strength to be used for this purpose.
The only thing you need to consider while using it is to place the carving and cutting disc compatible to the geared head size.
a 4.5 inch disc would be enough.
Using disc same as for metal will cause hindrances causing the work to delay and results will be poor.
So you must be very skeptical about the type of disc you are using. In metal discs things get hard and need a kickstart which ends up making you feel exhausted.
While the angle grinder completes the task smoothly.
What you need to do to cut the wood with an Angle Grinder?
You need to use a pencil for making the lines from where you have to cut the wood by using measuring tape and by measuring the wood you will be able to keep track of the length that has already been cut off and which needs to be cut.
When you are done with marking, wearing a dirt mask will help you provide safety against the wooden particles.
You should be also wearing goggles and gloves in order to protect your eyes and hands from unnecessary scratches or harm.
As the wood cutting job with any power tool requires the same amount of precautions because of the level of danger involved in the work.
It is highly important to perform work in the presence of an experienced user. It must also be kept in mind that the equipment should be kept away from the hands of children.
Now you only need to place the appropriate disc for the relevant wood cutting task in the Angle Grinder equipment and initiate cutting the wood.
You will notice the smooth performance it will be showing you right away only If done correctly under the supervision of an experienced person.
Final words
Here comes the end of the article, from what angle grinder is, to what are its features we have covered all what you needed to know about the whole wood cutting procedure.
And that's all.
I hope this article might have helped you and most importantly allowed you to be well prepared while cutting the wood to get your task done.
Comments on this guide to can an Angle Grinder cut Wood? article are welcome.
Woodworking
Woodworking Posts
Improve Your Carpentry Skills at Home
Home remodelling Need a reciprocating saw
Everything you need to get started with Woodworking
Building
Residential Architecture Articles
Comments / photos for the Can an Angle Grinder cut Wood Guide page welcome