Building Automation for Enhanced Security and Access Control, Property Design
Building Automation for Enhanced Security and Access Control
Lighting control, Security + surveillance, Mechanical & Electrical systems, HVAC – Design Article
18 Jan 2019
Building Automation for Enhanced Security and Access Control
Building automation is becoming an important management tool in modern commercial premises to deliver effective operations, improve security and reduce operating costs.
Here, we take a look at how building automation can offer enhanced security and more efficient access control.
What is Building Automation?
This term refers to the centralised and automatic control of common building services such as
Lighting control.
Security and surveillance.
Mechanical systems.
Electrical systems.
Heating, ventilation and air-conditioning (HVAC).
Often being monitored and operated through a common Building Automation and Control System (BACS), services can be fully automated, corrected and optimised to maintain performance.
Such systems are becoming more popular in modern commercial building design and offer greater efficiency, reduced running costs and access to important management data.
The Rise of Building Automation Access Control
2018 has seen greater global uptake of new technology that powers 'smart' buildings. Manufacturers of a range of traditional systems and devices are designing interoperability into their products so they can be connected to a client's BACS.
Security is one of the key components of this drive with electronic access control being the most commonly requested service to be integrated.
Hotels are at the forefront of demand and are one of the leading industries to recognise the importance of this technology for their consumers and end-users.
Other sectors including healthcare, education and research are all helping boost further development and 2019 looks set to be another exciting year for the automated access control industry.
The Benefits of Building Automation Access Control
The principle driver behind all advancements in building automation are lower running costs, improvedefficiency and greater occupancy comfort.
The same is true with access control and security with automation negating the need for manned access points.
Automated and remote access control such as turnstile systems, car park barrier systems and door access can be delivered fast and securely with the additional benefits of high-level reporting data. The latter allows management staff to analyse the individual and global usage of key facilities and provides critical data for reviewing security improvements and upgrades.
This kind of data is also useful in providing organisations with the tools needed for compliance with Health & Safety regulations by allowing management to view real-time data of who is in a building at any given time.
Additionally, the data provided at access points can be extremely important information for other elements of a BACS planning. For instance, once an employee has swiped their badge to enter an area, intelligent design of the BACS can automatically adjust climate control, lighting and other aspects of the environment.
All of this contributes to more efficient working, reduced energy costs and lower operational costs.
Lastly, it is the total security offered by automation that makes the technology as appealing to security professionals as it does to the bottom-line of a company's finances. Access control solutions combined with Building Automation can deliver improved lockdown capability in the event of a major security breach and can also assist in identifying areas of weakness in an organisation and/or building's security defences.
On the surface, autonomous buildings and control systems appear to offer all the solutions with only benefits. However, it is important to be aware that the rise of automation can also bring new security concerns; cyber threats.
It is absolutely essential that Building Automation is strategically designed and planned to accommodate the latest in cyber detection, analysis and threat management software to prevent your smart building from being made to look foolish by hackers.
Always choose a partner for your building automation and access management needs that can offer comprehensive support for your IT security.
Types of Automated Access Management
There are many different types of automated access management available, including:
Turnstile Systems
Whilst full-height turnstiles offer high-security for perimeter access, gated turnstiles are becoming increasingly common in commercial offices.
Both types of access control can be centralised with building automation and reduce the requirement for manned entry and exit points.
Car Park Barrier Systems
Car park entry and exit terminals, combined with barrier systems offer additional security to premises that offer car parking or gated vehicular access to their property.
As with door access control, a car park barrier system that is linked to a central and remote BACS terminal can provide high-level reporting data that can inform decisions on car park management.
The automation of this service also reduces the cost of operating a car park and minimises the manpower required to do so securely and effectively.
Door Access Control
As well as affording security for main entrance and exit points, managed door access can be delivered to all secure areas of a building with varying levels of authority being issued to staff.
The data that can be collected from the accompanying door access control software is relevant to security as well as HR departments.
Door access control can also advise management for Health & Safety compliance and, in the event of a building evacuation, provide critical data on the personnel who are in the building.
Electronic Access Lockers
Controlled centrally but with local access, electronic, keyless lockers are a secure and reliable way for businesses to offer safe storage for staff and/or visitors.
They have a wide variety of applications and can be custom-designed to offer secure facilities in a range of commercial environments, including changing room storage, as hotel safe storage for valuables and for personal staff lockers.
Electronic access lockers come with battery power for up to 20,000 cycles of operation and can be installed in a variety of premises, such as:
Health centres
Hotels
Leisure clubs
Swimming pools
Private medical clinics
As well providing important data on occupancy and usage, the centralised monitoring software can also indicate empty lockers or those that have been unopened for a period of time.
Building Articles
Silesian House – Slonsko Chalpa
Design: mode:lina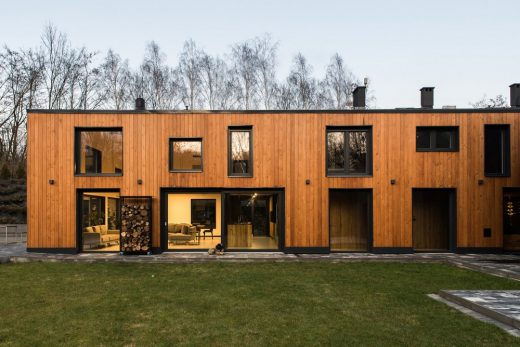 photo : Patryk Lewinski
Silesian House in Poland
Comments / photos for the Building Automation for Enhanced Security and Access Control page welcome
Website: Building Automation