High sleeper kids bed, Vox Furniture, Childresn Play Space Design Help, Rooms Tips
Building a Functional and Creative Kids' Space guide
Cabin bed by Vox Furniture Design Article
8 Apr 2019
Creative Kids Space Design
Building a Functional and Creative Kids' Space
kids furniture
Inspiring and creative kids' spaces foster creativity and contribute to faster cognitive and physical development. Besides, when designing a kids' room, parents must ensure space is good-looking, safe and functional at the same time. While the decorating process itself can be thrilling, it poses challenges, nonetheless.
A room that is an education sanctuary, a play room and a sleeping area. All at the same time, has to be designed with flexibility in mind and developed around some key-elements. Pieces of furniture like the children's bed and desk can be strong starting points in your decorating attempts. However, traditional furniture should be entirely avoided in these areas. They seem to put a break to creativity although they are still functional to a certain degree.
The placement of the room in the general architecture of the home will also influence children's mood, creativity and development. But more on the topic, below.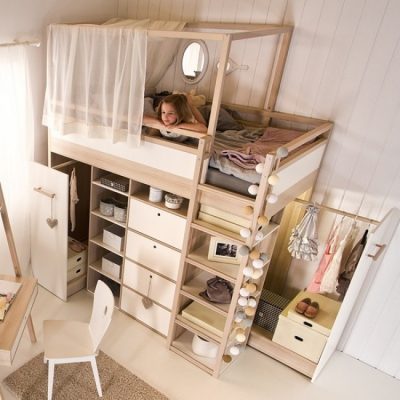 Choose the Best Room in the House
Choosing a child's room should be a decision made in mind with their need for large volumes of natural light. It has been proven that natural daylight can fuel and support cognitive development in pre-schoolers and infants. Infants' social and cognitive development has been strongly correlated with the amount of daylight they receive at home, nurseries and in preschool classrooms.
So, habitable spaces for children should be positioned in such a fashion to ensure high levels of light throughout the day. Natural light is also playing a determinant role in regulating children's circadian rhythm, ensuring proper night time sleep and enforcing more discipline surrounding the sleep time topic. The pre-existing habits and abilities children gain from the living environment classify as big influences on child social and cognitive development. Instead of choosing the best room in the house for their master bedrooms, parents should give in those rooms in their children's favour.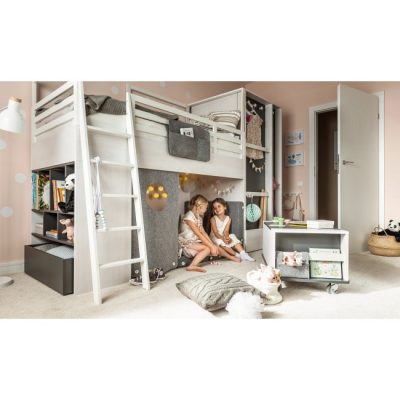 Select a Few Key Elements
Additionally, parents should ensure that all pieces of kids furniture come in creative shapes and designs and show proper levels of functionality. When selecting children's room furniture, parents should start working around several key-elements, like beds and desks, and even storage spaces.
Beds should be selected depending on the child's age and mobility levels. Obviously, new-borns and infants should enjoy cradles, while older children should be allowed to sleep in age-appropriate beds. Creative solutions like high sleeper kids bed blend functionality, creativity and a modern approach on minimalism. Kids' beds like the previously mentioned one incorporate storage spaces and sleeping areas, helping parents tackle in an affordable and convenient way the space problem. Other solutions offer a blend between sleeping areas and studying areas, also helping parents save up a lot of space and ensure proper functionality levels of the room.
Storage areas should also be present in children's rooms, starting from their infancy. What will initially be a great solution for parents looking forward to storing at hand all their babies' necessities, should be later replaced by toy storage solutions, book shelves and proper clothing storage elements. Open storage solutions that allow easy access will increase the room's functionality levels and are due to limit the injury chances significantly. Moreover, areas, where children have the opportunity to explore their creativity through games and toys, should be present in a room. Storage solutions should also offer easy access to such items that encourage play and creative learning.
Studying areas might be futile until a certain age, but even if they are present in a children's room earlier than preschool or school age, they are due to enforce discipline and learning. For parents who don't want to invest in new desks as their child grows and develops, should research adjustable models to ensure proper desk height throughout their childhood and young adulthood. Besides, such areas can reinforce children's creativity by offering a special place where they can explore and perfect a series of skills like drawing or dough play.
The Colour Palette
There is an entire section of child development studies that attest the indisputable influence a child's room colour palette has over cognitive, social and behavioural development. While adults base their colour choices on personal preferences when it comes to their personal spaces, in kid rooms' case, this should be a studied and informed decision. Ideally, children's room furniture should be coordinated to a certain degree with the colour of the walls. Fortunately for parents, furniture pieces, like the cabin bed by Vox Furniture, come in a series of shades.
Warm colours are known for stimulating creativity, neural activity and energizing the body. When used in large and ample spaces, these can boost cosiness levels and create a welcoming atmosphere. However, warm colours are not particularly known for their calming effects and they should be avoided. Especially for energetic children, such colour choices will lower their attentiveness levels and will make bedtime a troubling time. Although preferred by girls' parents, pink should be avoided for this exact reason. Instead, gender-neutral shades should be selected.
Cool colours have the exact opposite effect on children. Children in cool painted rooms tend to be more relaxed and calmer, attentive and eager to get involved in disciplined and structured activities. Cool shades also make a room appear larger, so parents with limited space could apply this tactic to create the illusion of a generous room. Still, parents should mainly turn their attention to lighter shades. Dark shades might create a gloomy atmosphere and impact the child's positivity and happiness.
The Play Corner
Sleeping and studying areas are certainly important, but a beautifully-designed and functional play former should also be present in children's rooms. Parents should try to create a decluttered area with proper sitting elements. Small sets of seats and tables specifically designed for children's play areas are a great element to incorporate if the available space allows.
If not, a comfortable and children-safe carpet should be chosen. Other furniture pieces can also encourage play, spark creativity and learning. We mentioned previously that an open storage space from where children can easily choose and pick up their toys and games will come as a great advantage. Consider such solutions yourself!
Building Articles
Office Architecture Developments
Comments / photos for the Building a Functional and Creative Kids' Space page welcome