Best Hampton bar stools in Australia for kitchen, Home furniture guide, Property interior design, House decor advice
Best Hampton Bar Stools in Australia for Your Kitchen Guide
24 February 2022
The perfect bar stool is an essential piece of furniture that may make or break your kitchen decor. If the kitchen is the heart of the home, and the island bench is crucial to its usefulness, the ideal set of either white or black bar stools will tie the entire appearance together. Many a homeowner has been baffled by the search for the right bar stool, an ideal item to make a design statement, inspire comfortable talking, and service the daily breakfast assault.
Many kitchens have islands that serve as bars or breakfast tables. However, determining whether or not to install a kitchen island is not the only challenging element. After that, you should concentrate on selecting the ideal Hampton bar stools that will complement the décor and design while also being comfortable and practical. For more practical Hamptons furniture ideas for your kitchen check out LaMaison.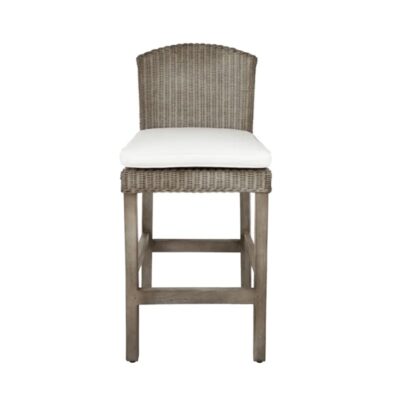 The Best Hampton Bar Stools in Australia Guide
Before purchasing a Kitchen bar stool, you should consider the following precautions.
Your stools' height should be determined by the height of your island bench. Allow 25cm between your seat and the tabletop.
If you're starting afresh, figure out how many stools your family needs and make sure that island bench has adequate space. Allow 50cm to 75cm wide for each bar stool, with an additional 12-15cm for arm room and access for each stool.
If the feet are broader than the seat, as is commonly the case, make sure you measure that width just at base of your bar stools. Although there may be enough area below the bench for the seats, it is not a pleasant fit if the legs and feet become tangled.
A bar stool is one of those items that you should always try before you buy. It may be simple to buying bar stools online since there are so many options, but doing so without first sitting on them to assess their comfort, polish, and construction quality is a risk.
There are several styles of stools that may be utilized in conjunction with a kitchen island. With a basic wooden frame and an upholstered seat, some feature a classic or conventional style. La Maison offers diverse selection of bar stools. The following are some of the most popular kitchen bar stools
Wicker stool
Wicker gives a casual texture to any kitchen and effortlessly integrates into virtually any setting, despite its reputation as a seaside or old material. The stools in this kitchen have low backs, which give just the appropriate amount of comfort without blocking the view from the breakfast room to the stove.
Many outdoor-friendly bar and counter stools are now made of a low-maintenance resin replacement that resembles classic wicker but is more durable. You can count on these stools to survive through many seasons of life and weather, whether you're indoors or outside, at the beach or at the lake.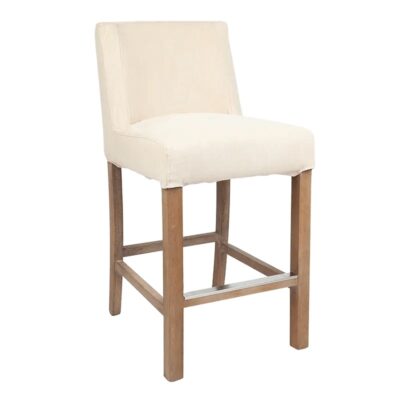 Bistro or Riviera stool
French cafe-inspired decor is ideal for infusing your kitchen with color and a new viewpoint. The stools there assist to bring the kitchen's various finishes together. The frames complement the flooring, while the seats complement the white cabinets and island countertop.
The curves of the bar stools soften the overall rustic sense of the kitchen, which is enhanced by the stained vent hood and sliding barn door. The woven seats and backs are available in a number of patterns, and the tactile focal point they give contrasts with the smooth and polished surfaces of kitchen counters, piping, and appliances.
The strong backs of these stools provide emphasis to an otherwise bland area. This sort of stool is pleasant for almost everyone due to its large size and higher back. Guests will have the impression that they have walked into a Parisian cafe.
Bentwood or X-back Stool
These stools' classic crisscrossing lines provide an homage to the past while remaining comfortable in today's contemporary house. They work well with a "transitional" decor, which has warehouse pendant lighting and more conventional upper cabinets.
The stools are made of bent wood, as the name implies, and they go well with practically any other chair in your room. If you have a breakfast table nearby, you can be confident that an X-back stool will not be in direct competition with its neighbors.
Mixed Material, or Industrial
Combining wood with metal, or metal with upholstery, is a proven way to infuse your kitchen with warmth and charm. These stools, along with the black lighting above, provide interest to an otherwise all-white area. The white bar stool upholstery on top adds a touch of softness and a visual break from the cabinets and countertop's darker tones.
Rustic woods and flawed metals have distinct features that help a place feel more collected over time. Luxury is required and supple leather bar stools with cantilevered iron bases provided the sleek elegance the bar area required.
Final Verdict
The color of your bar stool will depend on your own style and the aesthetic you desire for your bar. Mahogany, walnut, and stain are just a few of the alternatives available. Additionally, barstools are available in a variety of hues, including black and white.
Bar stools come in a variety of costs and styles, but it's important to find one that you like. A bar stool is more than simply a practical piece of furniture. It's also a financial investment in your property that allows you to express yourself. Bar stool wiki tells more about choosing perfect kitchen bar stool
Comments on this guide to the best Hampton bar stools in Australia for your kitchen tips article are welcome.
Furniture Articles
Furniture Posts
Vital rules of bedroom furniture placement tips
How to choose the perfect furniture for your garden
Give your Old Wood Furniture Pieces a New Look
8 tips to help you buy new furniture for your home
Building Articles
Residential Property
Comments / photos for the The Best Hampton Bar Stools in Australia to Elevate Your Kitchen advice page welcome