Best 12 colleges for an Architect Career Advice, Architecture Higher Education Tips, University Guide
Best 12 colleges for an Architect Career
9 Apr 2020
Best 12 colleges for an Architect Career
Studying architecture can be challenging and is definitely time taking. As an architect student, you'd have to put in constant effort and develop your imagination correspondingly to meet the criteria of the degree. More than that, you would have to understand that progress is crucial here and should be your number one priority – if you won't become better at it, then why start in the first place?
You need to work hard for getting better and better and developing outstanding skills. Why? Because there are tons of architects out there that are already great. That doesn't mean that you couldn't surpass their capabilities, but it means that you'll have to work twice harder because they already have the experience.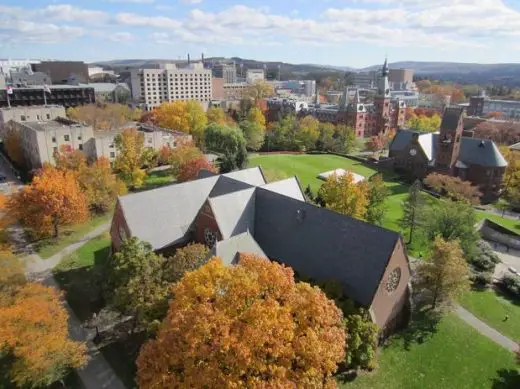 This Photograph by Unknown Author is licensed under CC BY-SA
Best Architecture Colleges
So, all these considered, we put up a list of 12 best architecture colleges to look at. Check them out and stay tuned for more.
Cornell University in Ithaca, New York
One of the best programs to look at in the United States, Cornell's architecture school offers a wide range of possibilities for its students. Some of the architectural celebrities having graduated from Cornell include Richard Meier, the designer of the Getty Center in LA or Peter Eisenman, another famous designer in New York.
The first three years are comprised of the same courses for each student enrolled, while starting the fourth year, students can choose their preferences/concentrations. The program partners with Italy, so students will have a chance to take on projects in Rome during the study.
Columbia University in New York, New York
Columbia University is ranked among top five universities for architect career in the country. The university produces some of the highest paid post-graduation employees and, according to College Factual, provides the best price-value. The university's student body is very diverse and inclusive, turning Columbia into one of the best schools in the United States. This is also a very focused and strict program, so you must be really good to get in, but then even better to stay afloat. So, check it out and if it's for you, don't hesitate to give it a shot; what do you have to lose anyways?
University of Pennsylvania in Philadelphia, Pennsylvania
If you haven't heard by now, UPenn is a non-profit school, which means their goal is not taking your money but providing the right education. UPenn is ranked number three nationwide for its architectural program and is quite popular among students. The uni ranks number three in highest paid grads and #43 in the best value or, as I like to say it, return of investment. Check out customessaymeister.com for good quality custom essays.
University of Florida in Gainesville, Florida
University of Florida is quite popular within this state, which is why you should consider it one of your top options. Website studyclerk.com recommends University of Florida at Gainesville as ranking second for best value and second for "best school for non-traditional students." It is one of the most popular colleges in Florida and ranks #55 in highest paid post-grad students. Fortunately, more than 60% of awards at this school have been awarded to women, which shows the university's support for equality.
Rice University in Houston, Texas
One of the greatest universities in the state of Texas, Rice offers students a 5:1 ratio and is known as one of the best architecture programs in the States. The length of the program is six years, with students pursuing a BA in liberal arts for four out of the six years. The next two years of the program are specially designed and granted completely to studying architecture.
Syracuse University in Syracuse, New York
SU was the first university in the United States to offer a degree in Architecture, which is why it the program at Syracuse is considered one of the best in the north region. The faculty is friendly and helpful; the uni also offers many study abroad programs in cities such as London or Florence, where you can learn how to design accordingly.
University of Texas at Austin in Austin, Texas
There are so many reasons why Texas is your to-go state if you're looking at architecture degrees. First, this university offers cool resources available for its students and nicely designed spaces to study in and be inspired. It also offers an international program that will get you the experience you need.
Rhode Island School of Design in Providence, Rhode Island
The program at RISD is unique in its own way. It is renowned for being very international and comprising a very diverse student body. It is also one of those universities that can offer you a brand new prospective on the world and its design. Checking it out is a must.
Pratt Institute in Brooklyn, New York
One of the things that need to be mentioned about the Pratt Institute is that it offers students the opportunity to take on a Morphology concentration, which no other college offers. This is where math, fabrics, buildings, tech, and computers combine, turning whoever is studying it into a real connoisseur.
Cooper Union for the Advancement of Science and Art in New York, New York
This uni has been around for some good years, training students in various fields of discipline but also promoting a mindful culture. The tech that it detains helps any student succeed.
University of Southern California in Los Angeles, California
This is one of the largest schools in California but it's definitely worth enrolling in it. Every single student at this university has his or her personal workspace and station where they can design however much they need, whenever they need. Pretty cool, huh?
University of Notre Dame in Notre Dame, Indiana
One of the coolest features about this school is that it offers student the opportunity to study abroad intensely; this helps them acquire the right knowledge and create new, sustainable buildings for a greener future.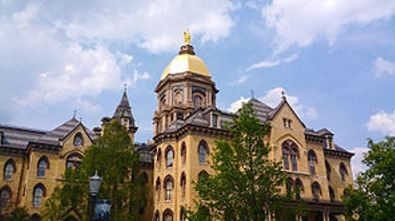 This Photo by Unknown Author is licensed under CC BY-SA
Best 12 colleges for an Architect Career Conclusion
According to Times Higher Education, studying architecture involves knowing design, doing practical work, and last but not least, planning for the future. If you have no clue what your customers will request in one to two years, you won't be able to work on developing those qualities within yourself. So, start now. Good luck!
Author Bio
Alyssa Johnson is a freelance writer and editor. Also, she studied design. Her passion for architecture made her write books and blogs.
Comments on this guide to Ways in Which Architecture Defines the University Brand article are welcome.
Higher Education Buildings
Higher Education Building Articles – Selection
University Building Developments
Fusion Building, Bournemouth University, Fern Barrow, Poole
Design: BDP, architects
Fusion Building, Talbot Campus, Bournemouth University
Arts University Bournemouth Design Studios and Workshops, Wallisdown, Poole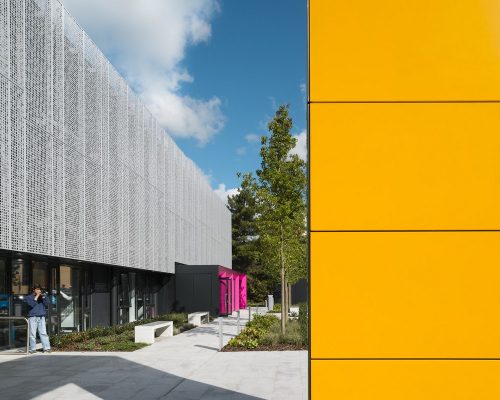 photograph © Jim Stephenson
Arts University Bournemouth Design Studios and Workshops
Comments / photos for the Best 12 colleges for an Architect Career Advice page welcome