Benefits of polycarbonate in building construction Tips, Property guide, Home Advice
Benefits of Using Polycarbonate in Building and Construction
24 Jan 2021
Commonly known as PC in the world of building and construction, polycarbonate is typically used in multiple applications in building and construction. It comes in the form of a sheet is known for its impeccable strength, excellent balance, and high performance. It is also used in LED and light applications due to its electrical properties.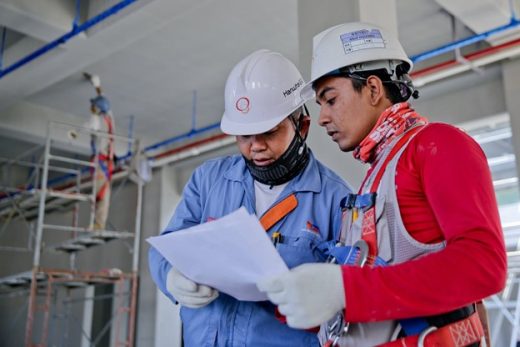 This 'unbreakable material' is thermoplastic and possesses a lot of benefits, which is why it is significantly used in building and construction. From lighting to strengthening structural parts, polycarbonate is an extremely versatile and unique material. Here are some benefits of using polycarbonate in building and construction.
1.   Security Applications
Since this material is extremely strong, it is used in most security applications such as convenience stores, guard booths, hockey rink surrounds, bank teller shields, and hurricane shutters. Most importantly, it is used in strengthening prison applications for security glazing. The impact strength of this material is extremely high, which is why it is often used to make bullet-resistant glass by glazing it. In fact, the material's construction is so strong and clear that it is often preferred over metal screens and wire glass. Additionally, the insulation properties enhance energy efficiency, especially in multi-wall formats.
2.   Used in Paneling
Thanks to its sturdy nature, polycarbonate can be used in paneling and cladding various surfaces, such as skylights, canopies, roof louvers, barrel vaults, and translucent walls. This construction is carried out with the help of polycarbonate sheets that possess immense strength, thickness, and configurations, all of which are needed for proper cladding. You can choose from a wide variety of thicknesses and configurations of these sheets to fulfill specific needs. A specific shaping technique known as thermoplastic or thermoforming shaping is used to produce different shapes, which can then be used in constructing arches and curved features.
3.   Openings and Skylights
Sheets and panels made with polycarbonate are majorly used in skylights, windows, and other opening elements. Whether it's for transparent glazing or allowing only some amount of sunlight in, polycarbonate panels can be used to control the sunlight entering a building. You can either leave it transparent or add a layer of tint on its surface. Since this kind of treatment barely affects the properties of polycarbonate, it can be used in any form. Installing this material over the building's openings reduces costs related to air conditioning and interior cooling. It reflects a major part of sunlight falling on the building's surface, which improves cooling within the building. Eventually, it helps save a lot of money due to reduced energy and enhanced performance.
4.   Illumination and Light Applications
As previously mentioned, polycarbonate panels and sheets can be used for illumination and in LED or Light Emitting Diode lights. Since LED lights are energy-efficient, easy to find and install, and save a lot of money on bills, they are high in demand. The exterior layer of most LED lights is made of polycarbonate. Since the plastic is transparent and crystal clear, it is guaranteed to work for a few years. This increases the warranty period of LED lights, some of which work for up to 2 to 4 years or even more. Additionally, this element helps enhance impact resistance, heat resistance, energy efficiency, low flammability, and transparency.
5.   Shock Resistance
Polycarbonate is often compared to glass due to its transparency and versatility properties. However, it absorbs more shock than glass and is known to have a higher impact. This is majorly useful during the construction phase where materials are mishandled and broken.
Since it is prone to wear and tear fractures, and shock, polycarbonate is highly preferred during construction. When compared to GPR, glass, and acrylic, construction workers prefer to work polycarbonate as it can easily absorb shock and provides better resistance against hard surfaces such as branches and hail. Ultimately, it reduces maintenance and repair costs.
6.   Safe and Easy to Use
Lastly, polycarbonate is extremely easy and safe to use, which is another reason why this material is popular among builders and construction workers. When compared to glass, which emits harmful shards and toxic fumes when drilled, polycarbonate is highly safe and does not pose a threat to its surroundings. It can be easily handled and touched without causing damage to your body parts. With just a saw or a pair of sharp scissors, you can cut and treat polycarbonate at the comfort of your home.
As you can see, polycarbonate is widely used in most building and construction applications due to its strength, flexibility, durability, and versatility. Not only does it provide transparency and electrical properties, but it is also easy and safe to ease. Most importantly, it is available in various thicknesses, sizes, and colors, which gives you the freedom to design pretty much anything you want.
Comments on this guide to Benefits of polycarbonate in building construction article are welcome.
Building Articles
Architecture
The Royal College of Art, London, England, UK
Architects: Herzog & de Meuron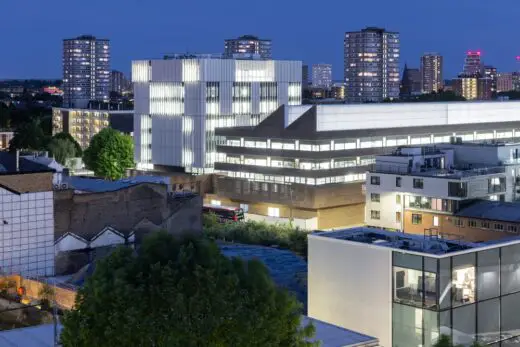 photo © Iwan Baan
Royal College of Art Battersea Campus
Comments / photos for the Benefits of polycarbonate in building construction advice page welcome