Architectural trends to keep space germ-free, Clean property tips, Building Design Online Advice
Architectural Trends to Keep Your Space Germ-Free
14 Jun 2021
The COVID-19 pandemic has impacted virtually every industry — including architecture. While most of the world focuses on stopping the current pandemic, architects and designers are thinking ahead, looking for ways architecture can help prevent or minimize future outbreaks and improve a space's functionality should another one occur.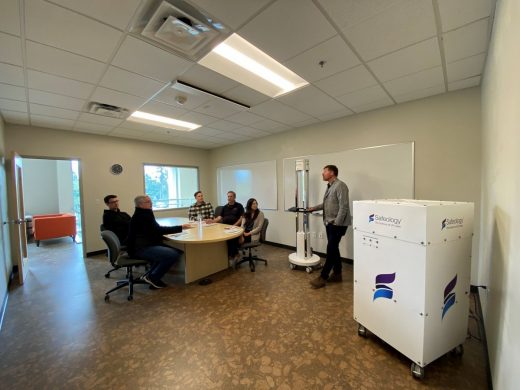 The first and most obvious way the pandemic has influenced design is in the "airing out" of spaces. More room to move, better airflow, and access to continuously circulating fresh air from the outside — these are characteristics we will see in office, hospitality, municipal, and shopping spaces for many years to come.
Airflow is the key. But, another way designers are changing our shared spaces is through technologies that encourage fresher air and eradicate anything unwanted floating around in it. This challenge is met by incorporating ultraviolet-C (UVC) disinfection products into a space's design. This is one practical step – and one the CDC recommends — toward a highly functional yet aesthetically pleasing area that keeps its occupants safe. Ultraviolet-C light is used in many different kinds of spaces. Non-toxic and chemical-free, when used correctly, it's a safe way to ensure the air and surfaces in a high-traffic area remain healthy.
Architectural Trends to Keep Your Space Germ-Free Guide
Upper Room UVC Fixtures Blend In
Upper Room UVC fixtures are sleek and unobtrusive — in fact, they can be barely noticeable — but they provide a proven solution to eradicate pathogens like viruses, fungi, and bacteria. Safe to use even when people are present, these silent, lightweight fixtures can be mounted on walls or installed in drop ceilings, providing continuous disinfection of indoor spaces and environments.
Upper Room UVC fixtures are ideal for commercial spaces such as office buildings, retail establishments, hotels, and even schools. You may have seen them recently and not even realized their function was to protect the air around you from dangerous pathogens.
UVC Mobile Air Purifiers Get Work Done
Ultraviolet-C Mobile Air Purifiers are also safe to use when people are present and offer the added benefit of filters that trap irritants, so they're a great way to disinfect a room's air supply. Providing an average of six to ten air changes per hour (ACH), they eliminate not only pathogens but other irritants like molds and pollen from the air.
When you work with a trusted UVC lighting products manufacturer like Safeology™ with a robust technology background, these mobile air purifiers can also come with cloud based IoT technology that allows you to control and monitor their operation from one central computerized location.
The custom software solution supersizes the effectiveness of these products and ensures they remain efficient, easy-to-use solutions, especially for schools and office buildings which may have 50 or more individual air purifiers to manage simultaneously.
UVC Towers Pack a Powerful Punch
You may have seen these used on airplanes and in airports on the news when the pandemic first started. Traditionally, UVC towers were most often used in hospitals – coupled with deep cleaning — to eliminate surface contaminants. Remember when they used them on Grey's Anatomy to disinfect masks and screens? The pandemic and its effects have encouraged building managers, interior designers, and architects to think outside the box, just as they did on Grey's.
Making this chemical-free UVC light technology available in a sleek tower is just one way the pandemic has influenced design. These towers are now being used in schools, stores, restaurants, hotel rooms, and offices to maintain a higher standard of cleanliness. Like other well-designed UVC solutions, these are movable and easily tucked away. Should people see them when not in operation, UVC towers are sophisticated machinery that evoke confidence in their operation.
With some manufacturers, the towers are connected via the cloud. Just like the air purifiers mentioned above, these UVC towers are often monitored remotely. When you're selecting which features you need, remember that not all products are the same. There are companies like Safeology™ that offer cloud-connected products such as the UVC Mobile Air Purifiers and their UVC Tower Elite that skillfully leverage the science of UVC light to offer proven pathogen protection against 99.9% of germs and viruses. Safeology has perfected the use of UVC light because, of course, the overall efficacy of airborne and surface disinfection is based upon exposure to an exact dosage of UVC light.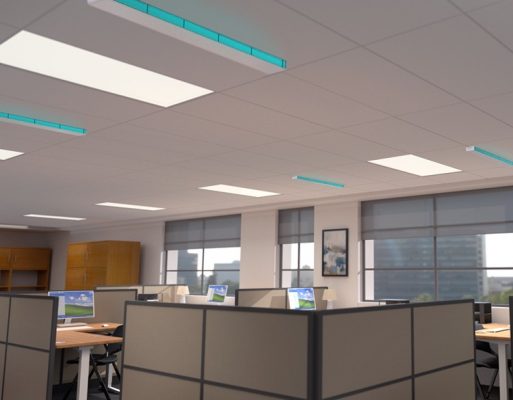 Ultraviolet-C light disinfection, when appropriately used, is a masterful tool. It's at its best when used in conjunction with regular cleaning efforts to ensure a longer-lasting and complete clean. After all, a surface is only as clean as the last person who touched it. Some public or high-traffic spaces don't have the resources to be wiped down after every touch. Further, UVC doesn't take the place of other CDC-recommended safety measures such as masks and social distancing. However, when joined together, cleaning, UVC disinfection, and personal mitigation methods can and will keep us all much healthier in public spaces.
Comments on this Architectural trends to keep space germ-free article are welcome.
Building Articles
Residential Architecture
Comments / photos for the Architectural trends to keep space germ-free page welcome