Adding a water feature to your outdoor space guide, Design Tips, Online Advice
Adding a Water Feature to Your Outdoor Space
26 Apr 2021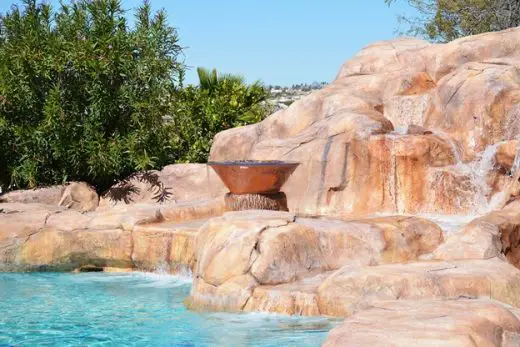 image source : pixabay.com
Many people dream of adding a swimming pool to their backyard to add a sense of luxury and relaxation to their home. Although a swimming pool is an amazing addition to any space, not all homeowners have the space or funds to add this addition. If you have wanted to upgrade your outdoor space with a water feature, there are many creative options available to use space effectively while also not breaking the bank.
Adding a new water feature to your outdoor space adds a luxurious and relaxing feel to your yard. Watching water cascade over rocks from the comfort of home can bring the oasis to you. All you have to do is decide which type of water feature you enjoy the most.
A Backyard Pond Makes for a Serene View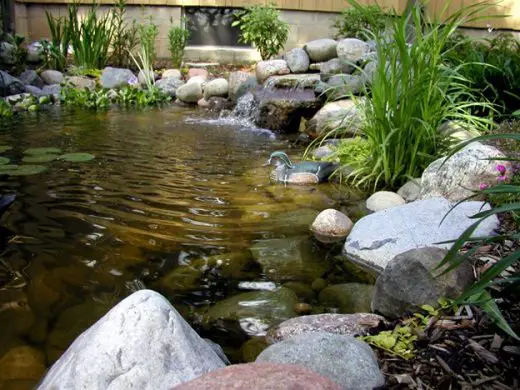 image : https://live.staticflickr.com/76/162142790_2c3f8c0056_c.jpg
Whether you live in a suburb, city, or even further away from neighbors in the country adding a backyard pond will enhance the look and feel of your space. You can choose the shape and size of the pond as well as the animals and plants that will be featured in the pond.
Koi ponds are a popular addition to many outdoor spaces as the fish provide a beautiful addition to any scenery. Many people enjoy the symbolic meaning behind Koi that says they bring good fortune and luck. Plus, their bright and vibrant colors will brighten up any space. Just remember with any animals you add to the pond, it is important to check which plants are safe for the animals to eat.
Depending on how much space you have, a pond is a great tool to support a waterfall as well. You can easily build up over the side of the pond and allow the waterfall to flow into the pond below. Adding a waterfall to a pond enhances any outdoor space.
Use A Trench Drain for Water Flow
When you add a water feature to your outdoor space, it is important to make sure you have proper drainage for the entire space to avoid flooding. The last thing you want to happen is to ruin part of a yard or surface because you didn't have the proper support for water flow. This is where adding a trench drain comes in handy.
The simplest way to understand how a trench drain works is to think of it as a gutter that is underground. You can use it in conjunction with a sump pump or it can be used on its own. The drain will divert excess water to a storm sewer nearby.
You can use a trench drain with any water feature addition and can blend the drain in with the landscape by adding rocks to cover the drain. Trench drains are long and narrow and can easily camouflage into a landscape so you don't have to fear any unwanted pipes in your backyard.
Add a Small Waterfall for Smaller Spaces
The sound of water trickling on a bright sunny day brings about feelings of relaxation and rest. Even if you have a smaller outdoor space, you can still add a waterfall to your home. For a more modern look, you can install a water wall or waterfall blade feature where the water comes straight down. You can even add a spout to an already existing wall for a more simplistic waterfall.
When you install the waterfall, think about putting it near somewhere with seating so that you can sit and enjoy the view. Adding a waterfall to your outdoor space can be as simple or complex as you desire. For a more elaborate project, you may want to hire professionals. But for a simple DIY waterfall addition, you can use rocks and gravel and a pump to filter the water from start to finish.
Showcase Creativity with a Unique Fountain Addition
No matter the size or location of your outdoor space, a fountain is always an excellent option for a new water feature. Fountains come in all styles, shapes, and sizes and add a luxurious look to an outdoor space. There are a variety of fountain options available to fit all types of decor styles as well. If you are looking for a large impact, you can add an elaborate and detailed tiered fountain for a bigger impact.
If you want something on a smaller scale, purchasing a stationary fountain is a good option to give you flexibility with the space and location of the fountain. You can also purchase fountains that have a combined addition of a birdbath as well to enjoy watching birds sunbathe in the flowing water.
Add A Small Stream for Tranquility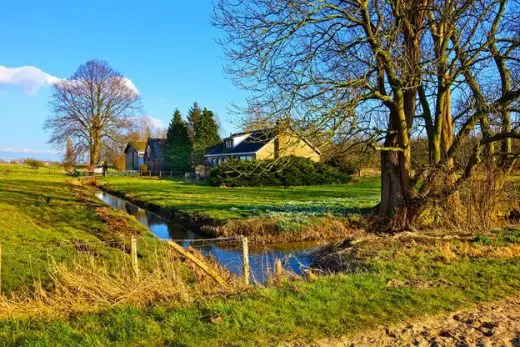 Farm House Building – Free photo on Pixabay
If you have a larger outdoor area or an area that is more rugged in appearance, adding a small stream around the perimeter of the property works well for larger spaces. A stream bordering the property adds both a sense of privacy as well as natural beauty. Many larger property areas already naturally have a place for a small creek, pond, or stream. Just make sure you are using a proper drainage system when you install the water feature.
Depending on the nearby landscape, you can also add a mini waterfall flowing into the new creek or stream. Including a smaller waterfall with the stream adds both aesthetic appeal as well as calming sounds.
Water Features to Upgrade Your Outdoor Space
Water features are an excellent option to enhance and upgrade the look of your outdoor space. No matter the size or shape of the area you are working with, you can always find a way to add in a small fountain or even a waterfall or a pond.
Just remember the importance of proper drainage and consider adding in a trench drain when you install the water feature. Adding proper drainage will also ensure that your new water addition will be built to last, which means you can enjoy it for years to come.
Comments on this guide to Adding a water feature to your outdoor space tips article are welcome.
Gardens Articles
Gardens Posts
Landscaping and garden design ideas for your outdoors
5 benefits of owning a garden room
Building Articles
Residential Architecture
Comments / photos for the Adding a water feature to your outdoor space advice page welcome