Trusted Home Hardwood Floor Cleaning Advice, Real Estate Flooring Tips, Property Maintenance
7 Tips for Cleaning a Hardwood Floor
14 Oct 2019
Cleaning can be fun, but when it has to be done regularly, it can become tedious and tiring. Cleaning floor generally is a task that involves a lot of technicality and carefulness. It is very easy to do it the wrong way, and it is way easier to spot the errors you've made.
No wonder many keep flipping web pages and cleaning guides to find how best to clean. Cleaning hardwood floor is not an easy task. In fact, it requires each cleaner to pay more than the usual attention. So, if you are a professional cleaner dealing with a hardwood floor, this article is for you. If you have a hard time cleaning the hardwood floor in your home, this article is also for you.
In this article, we are going to explore seven amazing tips that will make it easier for you to clean the hardwood floor better. I am sure these tips will help you bring the best out of every hardwood floor you clean.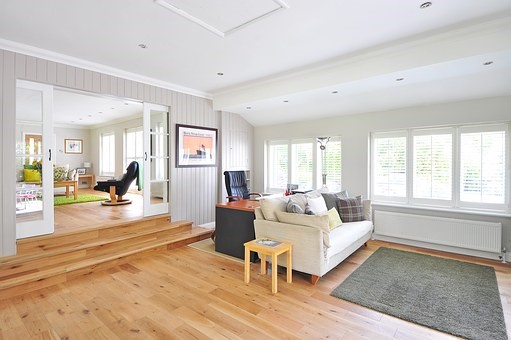 image courtesy of article provider
Essential tools for cleaning
Before going into the cleaning proper, here are some tools you will need for cleaning and the purpose they serve:
You need a broom for gently sweeping the floor before you do any other thing. After sweeping, you need a trash to put the dirt you've just swept.
Another tool you'll need is a vacuum cleaner for hardwood floors and carpets. This machine is designed to help you get rid of dust and dirt your broom fails to pick.
Let's say you gently wash the floor, you'll need to mop it dry, with the help of a microfiber mop with swivel head and fluffy pads, you can easily keep your work zone dry.
If you are using a cleaning solution for your hard floor, you will need one with a pH level of 7. You can also try cleaners that are matched to cured poly. If the solution pH level is lower than 7, it won't work well on a hardwood floor. And when excessively higher than 7, it becomes too alkaline.
Before you start any cleaning, make sure you have a pair of gloves in your tool bag for safety purposes.
7 Tips for Cleaning Hardwood Floors
Having known the required tools for cleaning hardwood floors, here are seven practical tips that will make it easier and comfortable for you to clean the hardwood floor:
1.     Vacuum the floor
If every cleaning session will be successful, you have to vacuum the floor regularly. The process of cleaning becomes hard when the dirt is huge and has been piling up for long. As long as people work with their shoes where you clean from time to time, it is only normal to have dust all around the area. Trust me; these specks of dust will be very fine and smooth.
You can try sweeping the floor, try and make use of soft brush broom that will not affect the finishing of the floor. Even after cleaning, chances are still high that dust will still be hiding on the hardwood floor.
At this point, the best tool to use for getting rid of even the smallest particle of dust is a vacuum cleaner. Unlike broom or other cleaning tools, vacuum cleaner won't affect the floor finishing. Instead, it will help you maintain the appearance of the floor finish. Make sure you are using an attachment that has a brush, or felt surface as they will cause no harm to your floor. Your goal is to get rid of dust and give your floor a sparkling look.
2.     Clean Hairspray and Furniture Polish
Even after sweeping the floor and removing all dust, the floor might still carry a poor look. Why? This is because of hairspray can affect the appearance of the hardwood. When you make use of hairspray in an environment that contains a hardwood floor, there is no way you can prevent the particles from touching the floor. And this affects both the look and appearance of the floor.
The next thing you need to do for you to get rid of these particles and give your floor a sparkling look it should have. You need to wipe the hairspray. Wiping off the hairspray should be done with a wet or damp cloth. You can make use of the solution mentioned above, or find ones that contain zero ammonia.
Wipe gently, and make sure the cloth is not dry to prevent it from removing the finishing on the floor and changing the overall appearance.
3.     Use Zero-wax wood floor cleaner for removing residue
The reason why many spend hours cleaning the floor is that they let heavy stains stay on the floor for a long time before cleaning them off. It is best always to remove stains immediately they appear on the hardwood floor. At this point, it will be easier to remove and won't need serious scrubbing.
Try and keep a floor cleaner that contains no wax; this will make cleaning the floor easier for you. Let it be placed in a convenient spot where you can easily reach. Always use a wet or damp cloth while removing stains to prevent damage to the hardwood floor finish. Remember, cleaning quickly will help you get rid of dirt easily without putting in much effort.
4.     Make use of area rug for high traffic area
The best way to reduce the impact of walking on your hardwood floor is to make use of area rug. When a certain part of the hardwood floors is walked on regularly, this part quickly wears off, and loses its sparkling and shining look. A good rug will help you retain dust and add more beauty to the floor.
When you make use of area rugs, it will reduce the need for sweeping, washing, and vacuuming. This will prolong the lifespan of the floor and prevent the floor from getting damaged.
You should be careful when selecting an area rug for high traffic areas like a hallway or entryway. Choosing the wrong option can ruin the beauty and look of your rug. Hence, you should make use of rugs that has no backing. When the rug you pick has a vinyl or rubber backing, they trap humidity, and these can ruin the finish of your floor or stain them. They can also cause permanent damage to the floor when not quickly noticed.
If you will select a rug with a backing, make sure that it features a woven backing that will allow air to pass through its surface.
5.     Prevent water and rain from touching the surface
Always ensure that you have a mop with you while cleaning the hardwood floor. Even if the floor looks like water cannot destroy, it will be bad for the floor health to leave water on its surface. Water will change the appearance and might cause the finishing to be washed off.
So, when washing the floor with a solution, ensure you wipe the floor dry with the mop you are holding. Make sure there are no traces of water on the floor, as this will prevent the floor from accommodating dust and sand, and it will help the floor retain its beautiful look.
Make sure that rain does not also touch the surface of the hardwood floor. Keep your windows closed to prevent rain from entering, if you have pot plant in your home, always remember to put a tray under to prevent water dripping from this pot from affecting the floor.
6.     Use Doormat
Another excellent thing that will have an impact on the success of your cleaning is to put a doormat at your entrance. Many often prefer using two, one outside, and the other one inside. This is to ensure that no dirt follows anyone inside.
While cleaning, vacuuming and sweeping is essential, you need to ensure that dust and dirt are not always on the floor, and a foot mat or doormat will help you reach this goal. It is best to get long mats; this will help everyone be more conscious of their need to clean their legs.
7.     Wax and restorer
Don't use a wax cleaner on a wax finish. If you are cleaning hardwood with a wax finish, it will be bad if you clean it with a wax solution. Surface with a finish of shellac, polyurethane or varnish won't appreciate cleaning with wax.
The floor will become slippery, and it affects the hardwood finish. You should first test the restorer on the different surface before using it on your hard floor. Otherwise, you will end up ruining the life of the floor instead of beautifying the floor.
7 Tips for cleaning hardwood floor Conclusion
There you have it, the seven amazing tips for cleaning hardwood floor. Your main goal should be how you will retain the sparkling look and amazing touch of the floor while ensuring all is clean. If you apply the information in this article, I'm sure you'll reach your goals quickly.
Comments on this 7 Tips for Cleaning Hardwood Floor advice article are welcome.
Building Articles
Edison Lite, Paris, France
Design: Manuelle Gautrand Architecture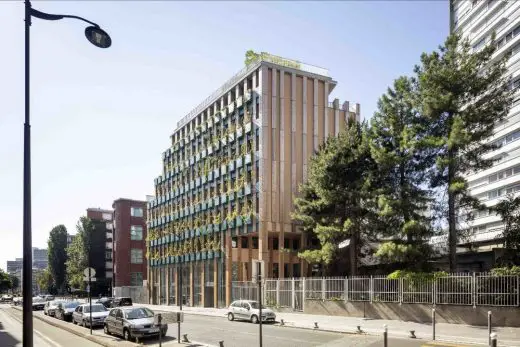 photo © Luc Boegly
Edison Lite Homes Paris
Comments / photos for the 7 Tips for Cleaning Hardwood Floor page welcome