Most Beautiful Sustainable Buildings in World Tips, Green Architecture Guide
5 of the Most Beautiful Sustainable Buildings in the World
21 May 2020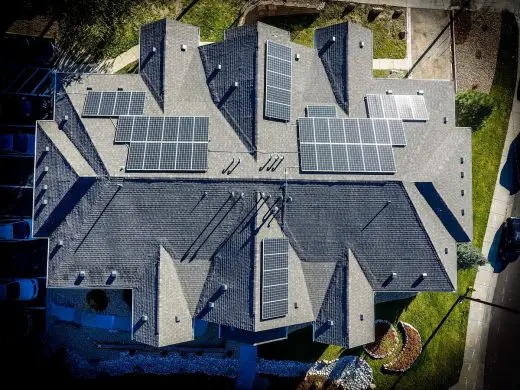 We live in an age where the environment has become one of the most important issues when we talk about safety, health, and the prolongation of life. There are a lot of movements that try to make people understand how important sustainability is while targeting multiple aspects of people's lives.
Architecture might seem like a domain that is not so much related to keeping the environment safe, but it can make a lot of difference when we talk about energy and how we can conserve it and use alternatives that are available to help the environment.
A sustainable building is a building that reduces the carbon footprint and has a low environmental impact. A sustainable building has the ability to do this at the same time as offering the user the features they need to function well while using the space. For example, a building of this type can be made really fun for children, but still be really sustainable.
There are a lot of architects who, together with engineers, have designed one of the most sustainable buildings around the world and most of them are impressive when we talk about size, as well as about new technologies. The Shanghai Tower, for example, aside from being highly sustainable, is also the second tallest building in the world.
Micro Emission Sun-Moon Mansion, China
In 2012 the dream of building the largest building in the world that has a solar structure came true for the architects working on this project. Located in Dezhou, China, this building measures 2,460,629 square feet and was designed to be used as a hotel as well as for hosting conferences, meetings, exhibitions, but also for research facilities.
The roof is covered with solar panels measuring over 16,404 square feet and uses advanced technologies that involve photo-electricity sun-shades and photovoltaic panels. The great thing about how this building saves energy is the fact that it saves more than 8.6 tons of emissions that are really toxic to the environment.
Apple Campus 2, Silicon Valley, USA
This beautiful building has gained its name, 'the spaceship', because of its beautiful circular design. It measures about 2,800,000 square feet and more than 12,000 people work there. It is a neo-futuristic building that is composed of 8 floors. It has an inner ring and an outer one that both have been designed as open spaces where people can take walks.
It is considered one of the buildings with the highest efficiency when it comes to energy consumption due to its solar roof which is considered to be among the biggest in the world. It has natural ventilation and is the place that hosts one of the largest research and development facilities.
One Angel Square, Manchester, UK
Manchester is one of the cities that is the home to an amazing building called One Angel Square. Its construction took 3 years to complete, from 2010 to 2013, and is considered to be one of the most sustainable buildings in the world.
It is 237.8 feet tall and its atrium faces south so that it uses all of the heat from the sun and takes advantage of the changing of the UV rays that transform into infrared waves and generate heat while passing through the glass. Among other wonderful features that this building has is that it has a system that reuses water and it also harvests rainwater.
4. Shanghai Tower, Shanghai, China
The Shanghai Tower comes second when it comes to the highest buildings in the world. It is around 2000 feet tall and is also one that took sustainability to another level. At the top of the building, there are wind turbines that have the job of powering the nearby park areas and also the outer lightning system.
The building has a lot of windows that use natural light to reduce the use of artificial light and also to transform UV radiation into heat. While the building is really large, due to its high sustainability, its carbon footprint is reduced by over 34,000 metric tons every year.
5. CIS Tower, Manchester, UK
Manchester stands really well when it comes to the most sustainable buildings in the world and it is the home for another one of these precious architectural pieces, the CIS Tower. The CIS tower was built in 1962 and, even if it has been built so long ago, over 8.4 million US dollars have been invested to make the building one of the most sustainable ones.
When it comes to the tallest buildings in the UK, it is the highest if we compare it with buildings that are outside London. Furthermore, its facade is covered with 7,000 photovoltaic cells that ensure enough energy to be able to call this building highly sustainable.
Comments on this guide to 5 of Most Beautiful Sustainable Buildings in World article are welcome.
Sustainable Building Articles
Apple Campus 2, Cupertino Building, California, USA
Design: Foster + Partners with Arup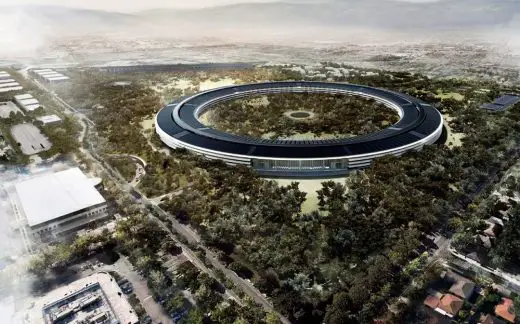 image courtesy of architects
San Francisco Architecture Offices
Angel Meadow Skyscraper Building, Manchester, England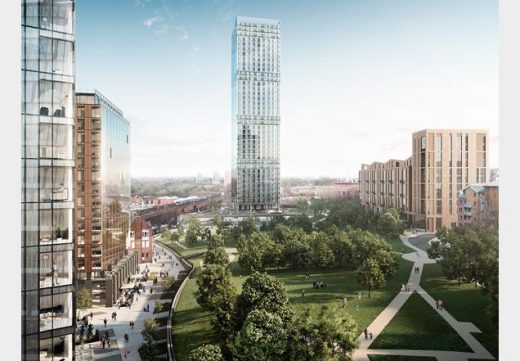 image courtesy of architects
Angel Meadow Manchester Buildings
CIS Tower, Manchester, England
Architects: Sir John Burnett Tait & Partners with GS Hay



photo © Adrian Welch
CIS Tower Manchester Building
Comments / photos for the 5 of Most Beautiful Sustainable Buildings in World Guide page welcome