Guide to 5 Influential Architects Who Changed the World, Advice, Design Help
5 Influential Architects Who Changed the World
15 Dec 2020
When it comes to some of the greatest artistic minds of history, people think of visionaries like Picasso, Rembrandt, and Dali. Rarely are architects given the spotlight – yet their artworks are the ones that have given life to and shaped the modern world.
The value of good architecture cannot be overstated. It can provide a haven, a comforting space, and a thoughtful and awe-inspiring edifice. This is all thanks to those ambitious architects who brought their ideas to life throughout modern history. Their work stands as monuments to modern life and ideas in art, philosophy, and psychology. Let's honor them by taking a look at some of their most important work today.
1. Frank Lloyd Wright
As probably one of the most well-known architects of the modern 20th century, Frank Lloyd Wright has many notable stars in his portfolio. He had more than 1000 projects, of which over half were built and are still standing today.
Taliesin West desert laboratory, Arizona, USA, by Frank Lloyd Wright: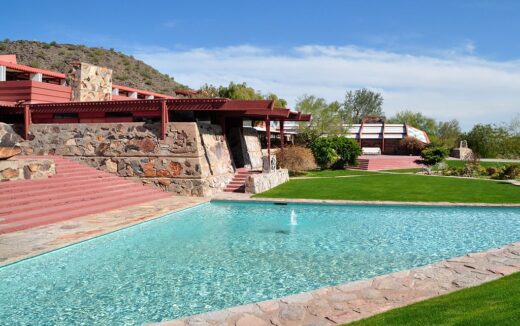 photo : Jwagg0309 / CC BY-SA (https://creativecommons.org/licenses/by-sa/3.0)
Taliesin
He is the creator of and a big advocate for organic architecture, which has come to be known as an intrinsic American style. The idea behind this style of the building is that it harmonizes well with its surroundings and the people who will use it. One of Wright's most recognizable projects is Fallingwater – a house situated in southwest Pennsylvania's Laurel Highlands.
2. Louis Sullivan
Louis Sullivan is known as the father of modern architecture for being the creator of the modern skyscraper. He was one of the first to adopt the column-frame construction technique in his projects, which let him create taller buildings with bigger windows.
Sullivan believed in a simplified style where the building produces minimalist ornamental details. He also favored the Art Nouveau theme and added many of these types of details to his work. Some of Sullivan's most well-known works include the Auditorium Building in Chicago, The Sullivan Center, and the Bayard-Condict Building in New York City.
3. Oscar Niemeyer
Building the first state-sponsored skyscraper in the world is no small achievement, and it's probably what Oscar Ribeiro de Almeida Niemeyer is most famous for. That building is seen as the first structure built in the Brazillian Modernism style.
But really, he's a pioneer for using reinforced concrete for aesthetic reasons instead of just for structural implications. He helped design the UN headquarters in New York and was also instrumental in some of the most well-known buildings in the Brasilia skyline.
4. Ieoh Ming Pei
Ieoh Ming Pei is recognized as one of the masters of modern architecture, having contributed many artworks infused with his unique vision. The designs Ieoh Ming Pei came up with were abstract geometrical forms and traditional Chinese styles.
After moving to America to pursue architecture, he contributed to some of the most significant projects in the country and the world. Including the glass pyramid at the Louvre, JFK Airport, the Kennedy library, and the Rock and Roll Hall of Fame. Much of his work also drew inspiration from the garden villas at Suzhou, where he grew up.
5. Zaha Hadid
Zaha's revolutionary deconstructivist approach to design earned her the title of being the first woman to win the Pritzker Architecture Prize. Her main focus is on creating transformative spaces, but she works in all sectors, including corporate, residential, and cultural.
Some of Hadid's most famous projects include the San Francisco Museum of Modern Art, the Opera House in Guangzhou, and the London Aquatics Centre. Her approach to design is also uniquely different. She was influenced by Suprematism and the Russian avant-garde, leading to her adopting painting as a design medium.
5 influential architects who changed world Conclusion
Keep in mind that, while browsing lots of different websites in search of beautiful architecture is fun, the web is also a dangerous place right now. Cyber threats like SSL stripping and man-in-the-middle attacks have surged recently, so it's crucial to take protective measures. Use tools like anti-virus software, Two-Factor Authentication, and a VPN for added safety. A NordVPN coupon can be very beneficial if you want to secure your connection and protect your data.
Each of the above-mentioned architects has changed modern history and the buildings people use today in their unique way. They serve as inspiration for the many architects who strike out with breathtaking designs of their own now and in the future.
Comments on this guide to 5 Influential Architects Who Changed the World article are welcome.
Building Articles
Contemporary Architecture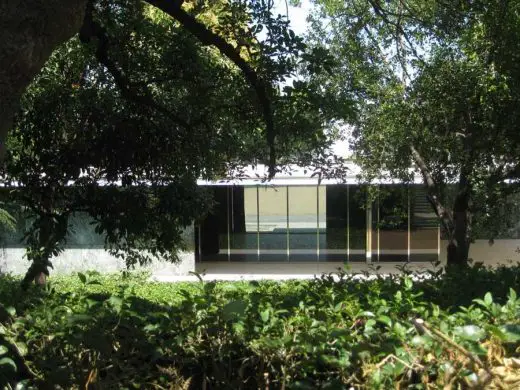 photo © Adrian Welch
Comments / photos for the 5 Influential Architects Who Changed the World Advice page welcome