ZEDpod at BRE Innovation Park, Affordable Home England, Info, Design, Project, Office
ZEDpod BRE Innovation Park
Sustainable Architecture in England, Affordable Homes UK – design by Bill Dunster Architects / ZEDfactory, London
28 Nov 2016
ZEDpod BRE Innovation Park News
£65k ZEDpod aims to shake up affordable homes market
Design: Bill Dunster Architects / ZEDfactory
Pioneering new housing solution for cities joins BRE Innovation Park's family of trailblazing buildings.
ZED Pods Limited, a new independent UK company, is providing a clever solution to the challenges of building affordable city homes where land is scarce or expensive.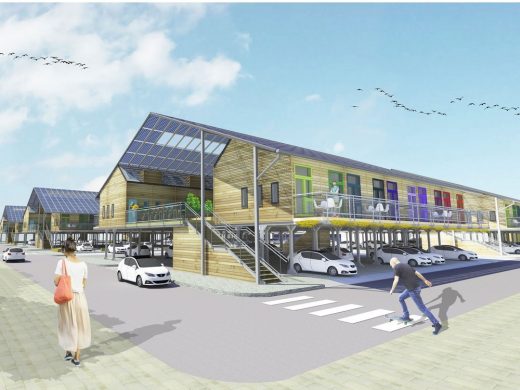 The ZEDpod is a low cost, prefabricated, super energy-efficient micro home that requires absolutely no land. Designed to sit on an elevated platform above existing outdoor car parks, the highly inventive pods utilise otherwise unused space and require only air rights, with no need for land.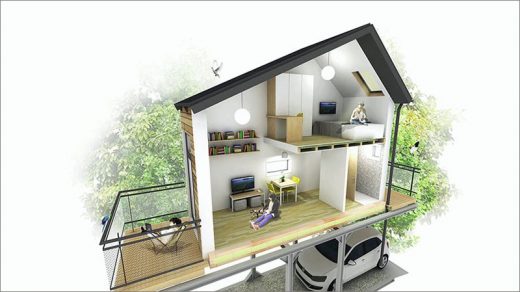 ZED Pods has been funded via the Government's Enterprise Investment Scheme (EIS) with the objective of manufacturing and erecting the pods across the UK.
Designed by RIBA award-winning zero carbon design and development company, ZEDfactory, ZEDpods offer an affordable starter home for young singles or couples, and a housing solution for key workers, student accommodation and general needs. With a durable, permanent construction, the pods can be installed as singles or doubles and as a 'community' cluster.
The entry level model of the fully installed homes costs just £65,000 and can be bought outright if air rights are signed over or can be installed then let for about £650 a month. Importantly, the company has a funding partner that will build, maintain and lease pods back to local authorities and NHS trusts for use as key worker housing in exchange for long-term leases for air rights above their car parks. They can also be easily relocated at low cost and with minimal wastage.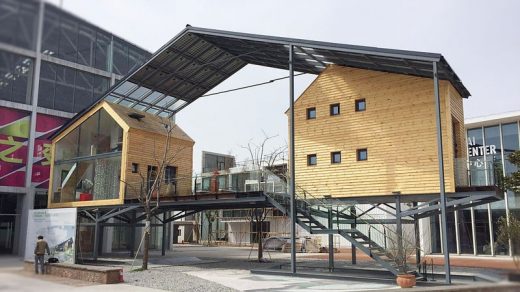 The ZEDpod is built to extremely high energy-performance standards, far in excess of building regulations, and the external envelope is designed to be around 20 years to first maintenance. With super insulation inside and out, integrated roof-mounted solar panels that charge a battery store, heat recovery ventilation and large triple glazed windows, it has inherently low running costs. Along with minimal demand for energy and water, by placing a translucent waterproof solar canopy over the space between the homes, ZEDpods also have the potential for zero net annual energy bills and for providing zero emissions electricity to charge points integrated in parking spaces.
Featuring significant daylighting, each pod accommodates a balcony, micro kitchen and dining table, bathroom, sofa space and a mezzanine floor with a desk, double bed and wardrobe. They are constructed off-site and can be erected in a matter of days, and as they do not rely on a centralised factory facility, assembly sheds can be set up locally to meet housing demand whilst creating local employment.
Tom Northway, Director Zedpod Ltd "Zed Pods is a unique solution to the UKs housing crisis. By utilising unused air space above carparks we can provide 1000's of homes for key workers across the UK "
Bill Dunster, Principal of ZEDfactory said "The ZEDpod is an exceptionally cost-effective way of building, and the scope is huge. They can be installed at any large surface car park, such as those owned by local authorities, supermarkets, universities, schools and hospitals, and as all these locations tend to have good transport links, they come with in-built work and leisure accessibility.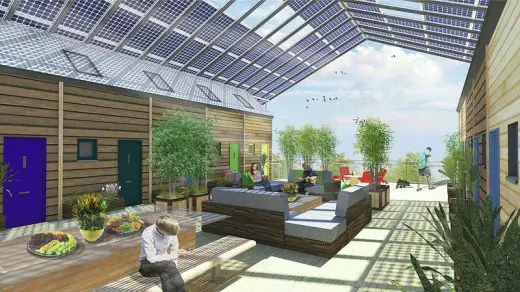 "We are very pleased to welcome the ZEDpod to the Innovation Park", added Miles Watkins, BRE Business Development Director "We need to look far beyond the conventional if we are to tackle the UK's housing crisis and this concept is an outstanding example of what can be achieved by thinking creatively."
The ZEDpod is sited at the BRE Innovation Park car park, with car park owners encouraged to consider making their air rights available to ZEDpod to help reduce the affordable housing challenges faced by key workers.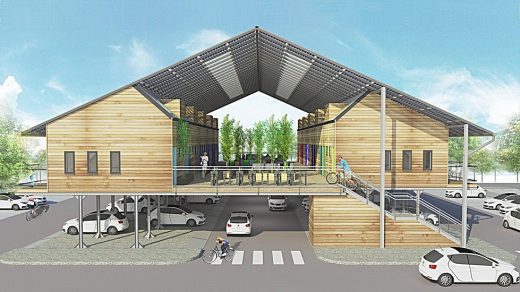 BRE Innovation Park
BRE is an independent and impartial, research-based consultancy, testing and training organisation, offering expertise in every aspect of the built environment and associated industries. The ZEDpod is one of the ground-breaking demonstration buildings of the future on the world renowned BRE Innovation Park in Watford. The buildings address a number of challenges faced by the built environment including climate change mitigation and climate adaption, fuel poverty and energy efficiency. www.bre.co.uk
ZEDfactory
A UK company, ZEDfactory Ltd has been set up with the main purpose to build and market innovative microhomes, called "ZEDpods", to sustainably contribute towards a solution for the UK housing shortage, particularly in the Key Worker and Starter Homes sector. www.zedpods.com/
For more information about ZEDpod visit http://www.zedpods.com
Bill Dunster Architects / ZEDfactory
24 Nov 2016
Bill Dunster Architects News
Response to Autumn statement on affordable housing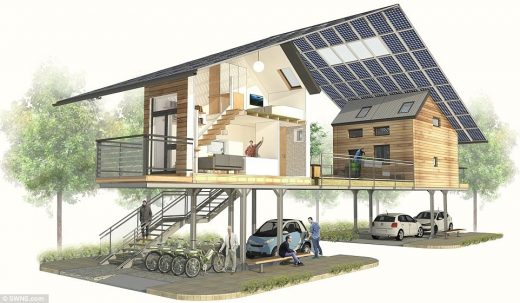 'ZEDpods are designed as permanent buildings sitting on an elevated platform above existing outdoor car parks; they can be relocated, utilising unused space and require only air rights, with no need for scarce land already allocated for housing.
ZED Pavilion Shanghai Expo 2010, China
Design: ZEDfactory Architects



photo : www.zedfactory.com
ZED Pavilion Shanghai
Website: BRE Innovation Park
BRE Watford, Bucknalls Lane, Watford, Hertfordshire, WD25 9XX
Location:Bucknalls Lane, Watford, Hertfordshire, WD25 9XX, UK
Sustainable Architecture



photo © Ally Taylor / Panyaden School
ZEDfactory Architects : London Architect Office
London Architecture : news + key projects



photo © Adrian Welch
Sustainable Timber Architecture
Comments / photos for the ZEDpod in BRE Innovation Park by Bill Dunster Architects / ZEDfactory page welcome
ZEDpod BRE Innovation Park buildings – page
Website: Building