ZED Pavilion Shanghai Expo 2010, Images, ZEDfactory Architects, Bill Dunster Design
Shanghai Expo ZED Pavilion
Architecture Information China – design by ZEDfactory
11 May 2010
ZED Pavilion at Shanghai Expo 2010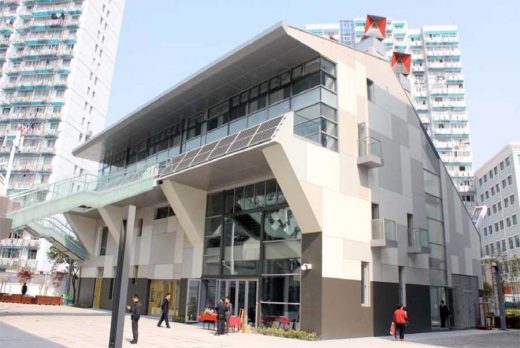 photograph : www.zedfactory.com
The ZED Pavilion opens, Shanghai Expo 2010
Keywords: Architecture, China, Zero Carbon, Sustainability, Expo 2010, ZEDfactory
Shanghai and London – May 2010
This week marks the opening of the Shanghai Expo 2010 – an international event expected to attract 70 million visitors over the next 6 months.
ZEDfactory, an award-winning Architectural practice based in London, is proud to have designed the building and exhibition that is The ZEDpavilion – having won an international competition to build a legacy section of street within the Urban Best Practice Area of the Expo. The ZED concept (Zero Energy Development) was pioneered by Bill Dunster and the ZEDfactory in the construction of BedZED in South London, which opened in 2002.
The ZEDpavilion showcases a holistic approach to urban sustainability, highlighting a range of key strategies, technologies, and components that The ZEDfactory believe are key to meeting our global commitments to a low carbon future. The ZEDfactory also now has a satellite office in Shanghai to work with the Chinese construction industry and continue to develop low carbon solutions for a wide range of climates and densities.
The building is an exemplar of low carbon design – Super-insulated with high levels of thermal mass, an airtight construction and passive solar orientation. A large Photovoltaic solar panel array provides the building with green electricity and a ventilation system, complete with rotating wind cowls, provides fresh air with coolth recovery.
The pavilion houses exhibitions designed by The ZEDfactory, London Development Agency (LDA) and The University of Nottingham and there is an extensive programme of events for the duration of the Expo. The building also contains a restaurant, bar, lecture hall, 6 showflats and even a catwalk set to host the latest Chinese eco fashion design shows. This is all based on the themes of Better City, Better Life – showcasing innovative and holistic solutions to Zero Carbon Urbanism. When the Expo ends in 6 months the plan is for it to be retained as a permanent Zero Carbon Museum of Shanghai.
Bill Dunster – ZEDfactory founder and principal:
"Imagine you are the mayor of a Chinese city, considering how to deliver a low carbon regeneration or urban extension, and you have come to find out how to create a better city and a better life. The ZEDpavilion shows how to build super energy efficient family homes or flats over a two storey commercial street frontage that is designed to recreate the lively mix of medium density shops, showrooms and office space that makes the pedestrian prioritised arts quarter of old Shanghai so desirable today. Integrating generous private roof terraces for both home and workspace – with green roofs to attenuate rainwater, maximize biodiversity, and reduce the problematic urban heat island effect – this small city component can be easily scaled up to provide near zero carbon urban districts."
"Powered by durable monocrystalline solar electric panels, manufactured by the largest renewable energy production line in the world, the ZEDpavilion shows how to integrate meaningful renewable energy systems into the urban streetscape. This strategy does not require the unaffordable up front investments in centralized engineering infrastructure that has made many of the larger scale ecocities so hard to deliver across the globe. The ZEDpavilion has been entirely made by Chinese industry, collaborating with London to develop special components such as the passive heat and coolth recovery windcowls with solar powered dehumidification optimised for the Shanghai climate."
"The spectacular economies of scale achieved by Chinese investment in volume production of both energy efficient building components and renewable energy systems, mean that the ZEDpavilion strategy of first minimising energy and water demand then meeting these reduced loads from the sun, wind, and rain falling on the site – is now economically viable in many parts of the USA and Europe. The ZEDpavilion showcases a wide range of low and zero carbon technologies and components that can significantly reduce air pollution and noise. These range from electric personal transportation, to the innovative production of Hydrogen gas from agricultural crop waste; providing clean energy for higher density urban developments whilst sequestering agricultural carbon emissions from the atmosphere and returning nutrients back to the soil."
"The ZEDpavilion moves beyond architecture and engineering to discuss climate change art, low carbon furniture, local organic food and even alternative fashion. This is a relaxed vision of a fun, workable lifestyle powered by renewables, with fresh design principles, a fresh aesthetic – housing a future zero carbon/, zero waste population that have no need to fight for dwindling international supplies of carbon accelerating coal, oil, gas or uranium. The ZEDpavilion shows one vision of a better city and a better life. Now all you have to do is ask for it."
Shanghai Expo ZED Pavilion images / information from ZEDfactory
Bill Dunster Architect, London, UK
Location: Shanghai, China
Shanghai Architecture
Shanghai Architecture Designs – chronological list
Shanghai Architectural Walking Tours
Shanghai Building – Selection
Danish Pavilion, Expo 2010
Shanghai Expo 2010 Danish Pavilion
British Pavilion Shanghai Expo 2010
Shanghai Expo British Pavilion
Spanish Pavilion Shanghai Expo 2010
Shanghai Expo 2010 Spanish Pavilion
Comments / photos for the Shanghai Expo ZED Pavilion 2010 Architecture page welcome
Shanghai Architecture Designs – chronological list