Vanessa Brady London interior designer, English Design Studio, Office, News
Vanessa Brady interior designer
Contemporary Architecture Practice in London, England, UK
17 Nov 2015
Vanessa Brady OBE
Vanessa Brady OBE receives honorary Doctorate
Vanessa Brady OBE is receiving an honorary degree titled Doctor of Design from Southampton Solent University today, in recognition of her contribution to the industry. During its annual graduation ceremonies, Southampton Solent University awards honorary degrees to academics and industry professionals who have made an outstanding contribution in their field of expertise:
International multi-award-winning interior designer, Vanessa Brady OBE, has received an honorary degree of Doctor of Design from Southampton Solent University in recognition of her contribution to the industry.
Vanessa has more than 30 years' experience in the design industry and has amassed an award-winning portfolio of projects such as Hard Rock Café, the Design Council, the Kabaret Club, the British Luxury Club, Unilever, high-security government offices, head of state palaces and the private residences of numerous diplomats.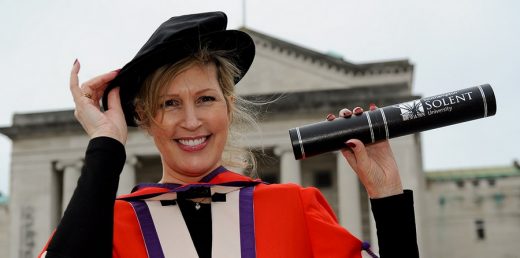 She has also worked with global business brands and private clients including Hilton Hotels, Sheraton Hotels and InterContinental Global Hotels across Europe.
On receiving her award, Vanessa says: "I am thrilled to be honoured as an industry representative. The fulfillment that education provides is experienced throughout the lifetime of a career, especially in the realm of the arts.
"It all starts with the idea; the solution to a problem and then the measured process of how to achieve the solution before aspiring to inspire and improve well-being by aesthetics. This journey is lifelong and never ending."
A business consultant with a London-based design practice, Vanessa is also a founder of the Society of British and International Design (SBID).
She helped SBID become the UK's national representative organisation of the European Council of Interior Architects and the creation of a British standard of education, competence and practice has, for the first time, put the UK on a level playing field with equivalent organisations both in Europe and worldwide, creating an opportunity to develop new markets.
When asked what advice she would give to today's graduates, Vanessa says: "For the first time, the global world is listening and watching the value of design; there is a real opportunity for graduates as they enter the world of commerce.
"With a degree, you unlock your competitive edge in the elimination process of suitability for roles, jobs, tasks and assignments and your role is to use this university and all that it offers throughout your career as a reference point for the profession of design."
Recognised with business and design achievement awards including Woman in the City and Woman of Achievement Award for the Built Environment, Vanessa was awarded an OBE for her services to the design industry and the UK economy in 2014.
Vanessa represents the interests of interior design at cross-party meetings at the House of Commons and the House of Lords and also represents risks and current trading conditions in the interior design industry for small and medium-sized enterprises at the Bank of England.
Written by Southampton Solent University
Location:90 Queens Drive, London, N4 2HW
Brady Mallalieu Buildings
Phoenix Heights / Mastmaker Road, Canary Wharf, London



photo : Brady Mallalieu Architects
Phoenix Heights
Laycock Street, Islington, London



photo : Brady Mallalieu Architects
Laycock Street Housing
Brady Mallalieu Architects London
Surface Design Awards
2014 Surface Design Awards are to be co-chaired by Will Alsop, All Design and Vanessa Brady, President of the Society of British Interior Design.
Vanessa Brady at Surface Design Awards
Website: Vanessa Brady OBE – Southampton Solent University post
English Architecture



building photo © Adrian Welch
London Architecture Designs



building photo © Adrian Welch
Comments / photos for the Vanessa Brady interior designer page welcome
Vanessa Brady interior designer buildings – page
Website: www.bradymallalieu.com