Holzer Kobler Zurich, Swiss Design Office, Architectural Studio Switzerland
Holzer Kobler Architects
Swiss Architecture Practice – news, exhibition, event : Practice Information
6 Oct 2011
Holzer Kobler Architects – Exhibition News
First Beijing International Design, China
28 Sep – 17 Oct 2011
The exhibition GOOD GUYS, curated and designed by Barbara Holzer, Tristan Kobler and Li Degeng, at the First Beijing International Design Triennial, is becoming a point of attraction for the public.
Triennial – REN: GOOD DESIGN
The First Beijing International Design Triennial with the general theme "Ren: Good Design" takes place from September 28 to October 17, 2011 in the National Museum of China, located on Tian'anmen Square in Beijing. It intends to display the best of contemporary design so as to help Chinese public to have a better understanding of it, to recognize the significance of design in meeting the daily needs and improving quality of life.
The exhibition venue, covering around 6,000 square metres, consists of five halls where exhibitions with the individual sub-themes GOOD GUYS, INTERNATIONAL CREATIVE JUNCTIONS, RETHINKING BAMBOO, REASON DESIGN EMOTION and WHAT IF will be shown. Barbara Holzer and Tristan Kobler have worked with Li Degeng to design and curate the sub-theme GOOD GUYS.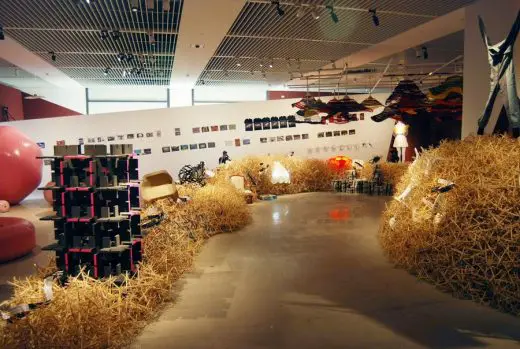 image © Holzer Kobler Architekturen
GOOD GUYS
Barbara Holzer and Tristan Kobler have worked with Li Degeng to jointly develop, design and curate the sub-theme GOOD GUYS. The exhibition foregrounds contemporary designers concerned with finding new ways to create objects that deal with ostensibly complex social issues filled with both compatibilities and contradictions. The designers demonstrate that regionalization and globalization are not in binary opposition, that modern manufacturing is not necessarily a replacement for traditional artisan craftsmanship, and that the unspoken words which underpin the future do not exclude the past. It is the shared responsibility of designers and consumers to seek out sustainable, fair trade, recycled and individualized products.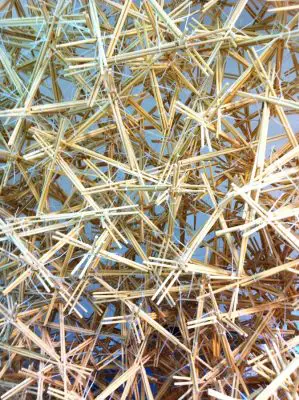 image © Holzer Kobler Architekturen
The exhibition takes into account eleven design categories. The pieces on display, in the form of objects, models and installations, create a comprehensive visualization for the public to see what inspires worldclass design minds and underlies their particular attitudes toward life. What is clear is that without good designers, the so-called GOOD GUYS, good design is impossible to achieve.
The exhibition's structure groups the individual works together spatially to create a lasting impact on visitors. The theme of GOOD GUYS will be translated into a visual image, with a dragon made up of some 600,000 chopsticks running through the exhibition area. The waves of this intricate spatial structure will carry the various design objects through the exhibition space, offering a look ahead to the future of design.
Holzer Kobler Architekturen is led by Barbara Holzer and Tristan Kobler. The studio focuses on the intersection between architecture and scenography, developing thematic concepts of space based on the criteria of environment, function and atmosphere. In 2008 Holzer Kobler Architekturen was awarded the Grand Prix Design by the Swiss Confederation for its work in the field of exhibition design.
The First Beijing International Design Triennial (BIDT)
www.bidt.org
Exhibition Theme:
Ren: Good Design
Sub-theme exhibitions:
Creative Junctions
Rethinking Bamboo
Reason Design Emotion
Good Guys
What If
Hosted by:
Ministry of Education of the People's Republic of China
Ministry of Culture of the People's Republic of China
China Federation of Literary and Art Circles
People's Government of Beijing Municipality
Organised by:
Tsinghua University
Beijing Gehua Cultural Development Group
Beijing Industrial Design Center
Exhibition Period:
Sept. 28 – Oct. 17, 2011
Venue:
National Museum of China
www.chnmuseum.cn
Holzer Kobler Architekturen : main page with news + key projects
3 Sep 2010
Holzer Kobler Architects – Studio News
Besucherzentrum Grube Messel, "Zeit und Messel Welten", Germany
Scenography and Interior Design: Holzer Kobler Architekturen



image © Holzer Kobler Architekturen
Grube Messel
s-o-a-p
Holzer Kobler Architekturen is happy to advise that they, together with the internationally renowned curator and cultural director Cornelia Faist, have launched the agency s-o-a-p. s-o-a-p is a production firm for cultural projects. With this addition Holzer Kobler Architekturen has supplemented its creative field of activity in the arts, culture and the sciences. Through this addition they are now able to offer more comprehensive solutions in the fields of exhibitions and events. For more information please visit the following website: www.s-o-a-p.org
More studio information re Holzer Kobler Architects online soon
Location: Zurich, Switzerland
HKA Practice Information
Holzer Kobler Architekturen
Swiss Architecture office – Contact details, Holzer Kobler Architects
Holzer Kobler Architekturen was founded in January 2004 by Barbara Holzer and Tristan Kobler, who have worked together since 2001. It concentrates on the interaction between architecture, exhibition and media design. The focus of their work lies in the scenographique approach and cultural embedment. Holzer Kobler Architekturen company has 25 employees (architects and designers). In 2008 it was awarded the Grand Prix Design by the Swiss Confederation for its work in the field of exhibition design.
Barbara Holzer & Tristan Kobler:



image from Holzer Kobler Architekturen
Some of the recently completed projects by Holzer Kobler Architekturen include the residential site Cattaneo (2008, Dietikon, CH), the exhibitions "In heikler Mission" (on a delicate mission) (2007, Swiss National Museum, Zurich, CH) and "All we need" (2007, Luxembourg – European Capital of Culture 2007, Esch-Belval, L), the structural renovation of the shopping center Schönbühl (2006, Lucerne, CH) and the visitor center with observation tower and exhibition "Arche Nebra" (2007, Nebra, D). Other projects currently in planning or under construction are among others the mall design of the Outlet Center Wigoltingen (2010, Wigoltingen, CH), the residential site Thun (2012, Thun, CH) and the permanent exhibitions in the German Army Museum of Military History (2009, Dresden, D) and the Swiss National Museum (2009 Zurich, CH).
Barbara Holzer (dipl. Arch. ETH/SIA) has a long experience working as an architect in Switzerland and Europe. From 1994 to 2008 she worked for the Studio Daniel Libeskind on different international projects with focus on cultural buildings and exhibition design. She has realized the Felix Nussbaum Haus in Osnabrück and the exhibition Berlin-Moscow in Berlin, and was, among other projects, involved in the work of The Jewish Museum in San Francisco. Since 2001 she has been in charge of the shopping and leisure center of Westside in Bern which opened in October 2008. In 1999 she opened her office d-case with focus on interiors, exhibitions and scenography.
Barbara Holzer had the architectural responsibility for the leisure and shopping center Westside, Bern, by Daniel Libeskind, which was inaugurated in October 2008.
As architect, curator and scenographer in cultural and commercial settings Tristan Kobler (dipl. Arch. ETH) has developed and realized more than 70 exhibitions. All projects have been the product of a close co-operation with experts, scientists, artists and clients – many of them with Martin Heller for the Museum of Design (Museum für Gestaltung) in Zurich (among them "Herzblut", "Mehrwerte" and "Zeitreise"). Since 1996 he has worked independently as architect and curator. In 1999 he founded the company Morphing Systems, whose exhibition projects attracted attention in Switzerland and abroad. With Morphing Systems he initiated the cultural project KLINK which earned much praise and realized several projects for the Swiss national exhibition Expo.02.
Website: https://holzerkobler.com/
Swiss Architecture
Architectural Design
Comments / photos for the Holzer Kobler Architects page welcome