Gustafson Guthrie Nichol Seattle, GGN Studio Washington, Design News, Planting Images
Gustafson Guthrie Nichol GGN Landscape Architects
Seattle Landscape Architecture Practice News, Washington, USA
post updated Apr 21, 2021
Main page for this studio, with current news:
Gustafson Guthrie Nichol Landscape Architects
2012
Gustafson Guthrie Nichol National Mall Design News
National Mall Design competition, Washington DC, USA
Gustafson Guthrie Nichol has been selected to advance to Stage III of the National Mall Design Competition for Union Square. GGN and Davis Brody Bond will lead the team that includes Robinson & Associates, Space Syntax, Tillotson Design Associates, CMS Collaborative, Magnusson Klemencic, WSP Flack + Kurtz, Robert Silman Associates, Mueser Rutledge Consulting Engineers, Poulin + Morris, Gorove/Slade, and Faithful+Gould. The team's Design Concept for Union Square will be presented to the public in April, 2012. http://www.nationalmall.org/news/trust-national-mall-announces-national-mall-design-competition-stage-ii-results
Gustafson Guthrie Nichol Seattle Design
UW School of Medicine, Seattle, USA
2011-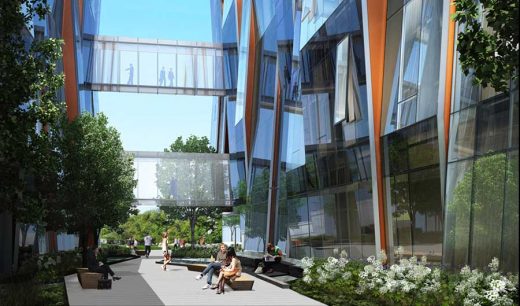 photo © Gustafson Guthrie Nichol + Crystal CG
UW School of Medicine Seattle design
Gustafson Guthrie Nichol (GGN) is pleased to announce their role as landscape architects for the third phase of UW Medicine's research hub in Seattle's South Lake Union neighborhood, which broke ground earlier this month.
Gustafson Guthrie Nichol Award in 2011
GUSTAFSON GUTHRIE NICHOL RECEIVES COOPER-HEWITT'S 2011 NATIONAL DESIGN AWARD IN LANDSCAPE ARCHITECTURE
Gustafson Guthrie Nichol (GGN) is pleased to announce that it has received Cooper-Hewitt's 2011 National Design Award in Landscape Architecture. Cooper-Hewitt Director Bill Moggridge announced the winners and finalists of the 2011 National Design Awards on Thursday, May 26th. This year, the Smithsonian's Cooper-Hewitt, National Design Museum is celebrating its 12th year of outstanding achievement in design.
Seattle City Hall Plaza:



photo : Gustafson Guthrie Nichol
"We are grateful for this distinction and very proud of our team. We have been fortunate to collaborate with extremely professional and visionary clients who have had faith in our spatial and conceptual approach to landscape architecture," said Shannon Nichol, one of the partners at GGN.
The Seam at Lurie Garden Chicago:



photo : Juan Rois
GGN's current clients and upcoming projects include The Bill and Melinda Gates Foundation Campus, CityCenterDC, Nashville Centennial Park, Cleveland Medical Mart and Convention Center, the National Museum of African American History & Culture, and several projects at the University of Washington.
Kreieksheimer Promenade, Seattle:



photo : Gustafson Guthrie Nichol
Other finalists in the Landscape Architecture category for Cooper-Hewitt's National Design Award were Tom Leader, principal of Tom Leader Studio, a collaborative design office based in Berkeley, California, with a focus on building communal places for real people, and Margie Ruddick, whose work integrates ecology and culture, infrastructure and art, as realized in benchmark projects such as the Shillim Institute and Retreat in India and the Living Water Park in China.
The Seam at Lurie Garden Chicago:



photo from Gustafson Guthrie Nichol
"As the nation's design museum, Cooper-Hewitt raises awareness that design is everywhere," said Bill Moggridge. "The work of this year's National Design Awards winners represents extraordinary solutions to the design problems central to the landscape of daily life, from how we dress, shape our personal and private spaces, frame communication and interact with the world at large."
Robert and Arlene Kogod Courtyard:



photo : Nigel Young, Foster + Partners
About the Cooper-Hewitt National Design Award
First launched at the White House in 2000 as a project of the White House Millennium Council, the National Design Awards were established to promote excellence and innovation in design. The awards are accompanied each year by a variety of public education programs, including special events, panel discussions and workshops.
The call for National Design Award nominations was extended this year to the general public, broadened from the select committee solicited in past years. Nominees must have at least seven years of experience in order to be nominated, and winners are selected based on the level of excellence, innovation and public impact of their body of work.
This year's jury of design leaders and educators from across the country convened by Cooper-Hewitt reviewed the nominations and chose Lifetime Achievement and Design Mind recipients, and selected winners and finalists in the Corporate and Institutional Achievement, Architecture Design, Communication Design, Fashion Design, Interaction Design, Interior Design, Landscape Architecture and Product Design categories.
Cooper-Hewitt's sixth annual National Design Week will be held Oct. 15–23. Educational programming surrounding the 2011 National Design Awards, which includes the Educator Open House, the Teen Design Fair in New York and the Teen Design Fair in Washington, D.C., are sponsored in part by Target.
National Design Week is made possible in part by the generous sponsorship of Target.
About Gustafson Guthrie Nichol (GGN)
Gustafson Guthrie Nichol (GGN) is a landscape architecture practice based in Seattle, Washington. Founded by partners Kathryn Gustafson, Jennifer Guthrie, and Shannon Nichol, GGN works throughout the Americas and Asia. Its projects are developed by designers with professional backgrounds in landscape, architecture, engineering, graphics, ecology, and other sciences, express the sculptural qualities of contextual landscape.
GGN offers special experience in designing high-use landscapes in complex, urban contexts. GGN's landscapes are widely varied in type and scale, but they share qualities as healthy settings for diverse and ever-changing activities. The landform of each space is carefully shaped to feel serenely grounded in its context and comfortable at all times — whether bustling with crowds, offering moments of contemplation, or doing both at once.
GGN's recent project awards include multiple ASLA National Design Excellence Awards, Tucker Architectural Awards, and AIA/ASLA Honor and Merit awards for Design. GGN's prominent projects include the Lurie Garden of Millennium Park in Chicago, the Robert and Arlene Kogod Courtyard at the Smithsonian American Art Museum and National Portrait Gallery in Washington, DC, and the new Bill and Melinda Gates Foundation Campus in Seattle.
Kathryn Gustafson is also a partner in the UK design firm, Gustafson Porter. For more information on Gustafson Guthrie Nichol, please visit www.ggnltd.com.
Gustafson Porter – Key Projects
Old Market Square, Nottingham, central England, UK



photo : Dom Henry www.domhenry.com
Old Market Square Nottingham : English square
Singapore Waterfront Competition, Singapore



photo from Gustafson Porter
Singapore Gardens : Singapore Waterfront Competition design
Swiss Cottage Park, London, UK



photo from Gustafson Porter
Swiss Cottage Park : Swiss Cottage landscape
Venice Biennale Installation, Italy



image from Gustafson Porter
Venice Biennale installation
More design projects by Gustafson Guthrie Nichol online soon
Location: Seattle, Washington, USA
Design Practice Information
In 2000 Kathryn Gustafson, with partners Jennifer Guthrie, and Shannon Nichol, established the practice Gustafson Guthrie Nichol Ltd in Seattle, with current projects predominantly located within the US and Asia.
Together, the US and UK offices are engaged in projects across Europe, Asia, the Middle East and the United States, winning international acclaim for a growing portfolio of dynamic and exciting work.
Kathryn Gustafson established her landscape architecture practice in Paris in 1980 working as a sole practitioner and in collaboration with architects, artists and engineers. Her completed work in France encompasses a wide range of landscape projects from parks such as Fragments of Garden History (Les Jardins de l'Imaginaires) in Terrasson, landscapes associated with major buildings including the headquarters for Shell, Esso and L'Oréal near Paris and urban squares including The Square of Human Rights in Evry and Square Rachmaninov in Paris.
Gustafson Porter Ltd was founded by Kathryn Gustafson and Neil Porter in 1997, with Mary Bowman joining the partnership in 2002. Gustafson Porter has projects in the UK, Europe, Asia and the Middle East.
Completed projects range from the 1km long Westergasfabriek Culture Park in Amsterdam to the interior landscape of the Great Glass House at the National Botanic Garden of Wales. Gustafson Porter is currently working on landscapes for the cities of Singapore, Jeddah, Beirut and Liverpool, all with varying needs and contexts that require innovative and unique solutions.
London Architecture
Swiss Cottage Park in Northwest London, UK:



image from Gustafson Porter
The Botanist Restaurant
Architects: Ste. Marie Art and Design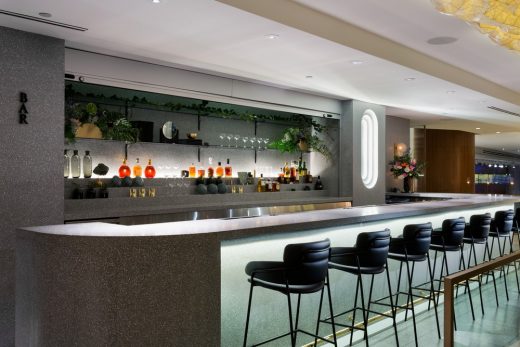 photography : Ema Peter and Ian Lanterman
The Botanist Restaurant
Comments / photos for the Gustafson Guthrie Nichol : GGN Landscape Architects page welcome
Website: www.ggnltd.com