Gabrielle Bullock Perkins + Will Architects, US Design Studio, Architecture Office News
Gabrielle Bullock, Perkins + Will Architects
Contemporary American Architectural Practice – IIDA International Board President
Jun 13, 2018
Gabrielle Bullock, Perkins + Will Architects New York News
Perkins+Will Names New Managing Director for its New York Office
Perkins+Will's Director of Global Diversity Sworn in as IIDA International Board President
Gabrielle Bullock Inducted at IIDA Annual Meeting in Chicago, Becomes First African-American Woman to Take Helm of Interior Design Industry Association
CHICAGO—June 12, 2018—Gabrielle Bullock, principal and director of global diversity at architecture and design firm Perkins+Will, was sworn in Sunday as president of the International Interior Design Association (IIDA)'s international board of directors. She is the first African-American woman to preside over the world's leading industry group for interior designers.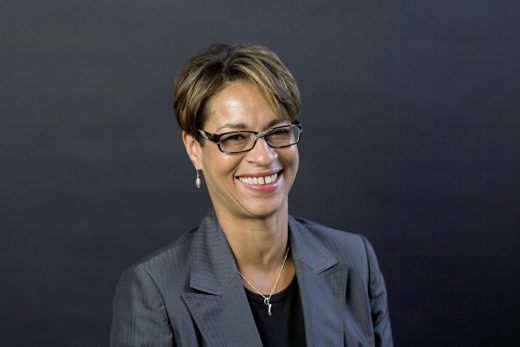 photos courtesy of architects
Bullock, who served as vice-president of IIDA's international board from 2017-2018, has made significant contributions to the architecture and design field over the last three decades, tirelessly advocating and creating opportunities for the underrepresented.
"As one of 430, or 0.2 percent, of black female licensed architects in this country, it is my passion—and, I would argue, my moral obligation—to pursue social justice and equity through my work," Bullock said. "I am honored, yet humbled, to serve as president of IIDA's international board. I look forward to using this platform to continue to be a change agent, to advance the value of interior design, and to further our industry's commitment to diversity, inclusion, and engagement."
A Change Agent
Bullock's role as director of global diversity for the world's second-largest architecture and design firm, when announced in 2013, was an industry-first. It quickly set off a wave of similar roles, programs, and initiatives across the design profession designed to support and promote diversity on both a micro and macro level—both in and out of the studio. Since then, Bullock has become a sought-after speaker and educator on issues related to social equity in design, including race, ethnicity, gender, sexual orientation, religion, and physical and mental ability.
"The work we do is directly tied to cultural differences," Bullock said Sunday at her induction ceremony during the IIDA's annual meeting at the Museum of Contemporary Art in Chicago. "That's why the design profession should mirror the community and clients we serve. We change what we design by who designs it."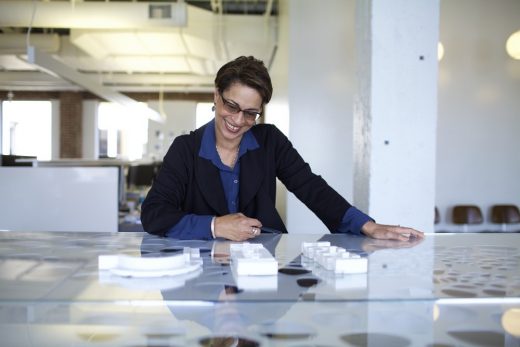 A Distinguished Career
Before becoming Perkins+Will's director of global diversity, Bullock was the managing director of the firm's Los Angeles office from 2005 to 2013. She was the first African-American—and first woman—to rise to the position of managing director at the firm. Prior to that, she worked in Perkins+Will's New York studio. Over the course of her career, she has led numerous complex projects, including the Ronald Reagan UCLA Medical Center, one of the largest building projects ever completed for the University of California system.
"I learned and developed my skill in the built environment by focusing on the exterior (of buildings) and planning. But at the same time, I acknowledged and embraced the importance of interior designers, and (understood) that their talent was different," Bullock said. "I'm not one of those architects who thinks we can do it all, that we can do both architecture and interior design. I recognize the unique skill that interior designers have, and the magic of the interdisciplinary approach."
The ability to bridge the divide between the two design professions is one of the many distinguishing characteristics that made Bullock an ideal candidate for the role, says IIDA CEO Cheryl Durst.
"Throughout her time on the IIDA international board, Gabrielle has contributed in-depth industry knowledge, a distinct perspective, and an enduring passion for interior design and its practitioners. As the new board president, her leadership and commitment to diversity will be instrumental in our continued effort to cultivate a strong culture of inclusivity within the profession as a whole."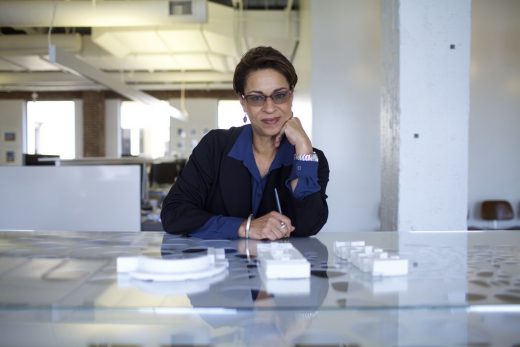 Personal and Professional Accomplishments
Bullock graduated in 1984 from the Rhode Island School of Design with degrees in fine arts and architecture, becoming the second African-American woman to earn an architecture degree from that university. In 2014, she was elected by her peers as a fellow of the American Institute of Architects (AIA), and now serves on the AIA's Equity in Architecture Commission. She is a member of the National Organization of Minority Architects (NOMA), a past board member of the Girl Scouts of Greater Los Angeles, a board member of the Center for Architecture and Urban Design Los Angeles, and a LEED Accredited Professional.
As IIDA international board president, Bullock's responsibilities include enforcing the IIDA's bylaws, presiding over all board of directors meetings, ensuring all orders and resolutions are carried out, and carrying out the purpose and mandate of the association. She was appointed president-elect last October, and her presidential term runs through 2019.
She has served on the IIDA board since 2016.
Perkins + Will
About Perkins+Will
Perkins+Will is an interdisciplinary, research-based architecture and design firm established in 1935. Founded on the belief that design has the power to transform lives and enhance communities, we collaborate with clients all over the world to create healthy, sustainable places in which to live, learn, work, play, heal, move, and explore. More than 2,200 professionals across over 20 Perkins+Will design studios include some of the brightest minds in architecture, interior design, branded environments, urban design, and landscape architecture.
Clients consistently turn to us for our leadership in areas like sustainability, resilience, health and wellness, and mobility. Additionally, our Research Labs innovate design technologies and solutions that result in better, smarter, more competitive built environments.
In 2018, were named one of the World's Most Innovative Companies in Architecture by Fast Company, and we are consistently ranked among the world's top design firms. Our family of partner companies includes retail strategy and design consultancy Portland; sustainable transportation planning consultancy Nelson\Nygaard; healthcare technology planning firm Genesis; and luxury hospitality design firm Pierre-Yves Rochon (PYR). For more information, visit www.perkinswill.com.
About International Interior Design Association (IIDA)
IIDA is the Commercial Interior Design Association with global reach. We support design professionals, industry affiliates, educators, students, firms, and their clients through our network of 15,000+ members across 58 countries. IIDA advocates for advancement in education, design excellence, legislation, leadership, accreditation, and community outreach to increase the value and understanding of interior design as a profession that enhances business value and positively impacts the health and well-being of people's lives every day. www.iida.org
More information for Perkins + Will Architects online soon
Location: Dallas, Texas, USA
Recent Buildings by Perkins + Will
House Built Around a Tree, Alto de Pinheiros, São Paulo, Brazil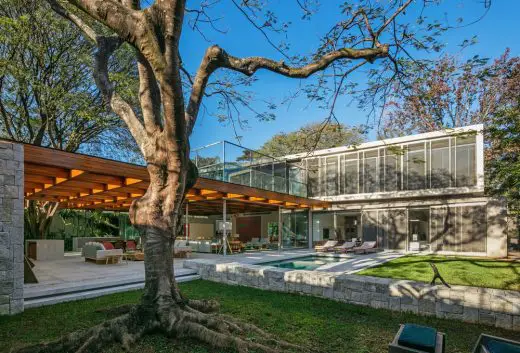 photograph : Nelson Kon
House in Alto de Pinheiros
Floatyard, Charlestown, Boston Harbor, MA, USA



image from architect office
Floatyard Boston Harbor
ENfold pavilion, Boston, MA, USA



picture from SHIFTboston
ENfold pavilion
Cofco Research And Innovation Campus, Science City, Changping District



image from architects
Cofco Research And Innovation Campus
University of Florida Clinical Translational Research Building, Florida, USA



image from architect
University of Florida Clinical Translational Research Building
NCBC – office & conference addition, Research Triangle Park, North Carolina, USA



picture from Perkins+Will
North Carolina Biotechnology Center Building
Perkins+Will Office – Interior fit-Out, North Carolina, USA



picture from Perkins+Will
Perkins+Will Architects Office
235 Van Buren, Chicago, USA



photo from architect
235 Van Buren Chicago
Al-Birr Foundation Office Tower, Riyadh, Saudi Arabia



picture from architect
Al-Birr Foundation Office Tower Building
US Buildings



photograph © Andrew McRae
Chinese Architecture



photo © Arup_Ben McMillan
Comments / photos for the Gabrielle Bullock, Perkins + Will Architects Practice News page welcome
Website: Perkins + Will