David Chipperfield Architect London, England, Architecture Office UK, Design Studio News
David Chipperfield Architects Practice
DCA: Contemporary British Architecture Practice: UK Design Studio Information
post updated 10 Apr 2021
David Chipperfield Architects News
David Chipperfield Architect News
23 May 2016
Sir David Chipperfield Selects Architect Simon Kretz
David Chipperfield – Rolex Mentor and Protégé Arts Initiative 2016
Sir David selected Kretz, the first Swiss protégé, from three finalists, including one from Colombia and one from Spain. They were singled out by a nominating panel comprised of architectural experts who scoured the world for the most likely candidates, talented young architects who have begun to make a name for themselves in their own country and beyond, and who would benefit from working with a world-renowned architect.
6 Feb 2016
DCA wins Morland Paris, France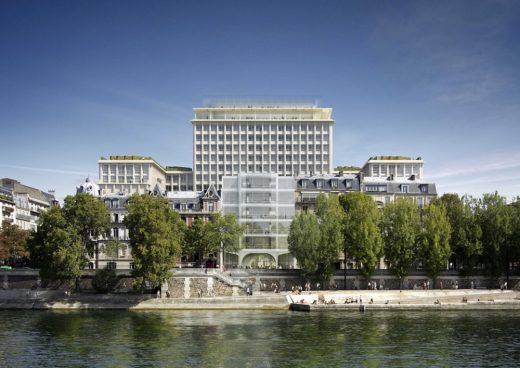 picture © Imaging Atelier
Boulevard Morland Paris
The winning scheme for the Boulevard Morland site both extends and opens up the existing structure which was originally built from 1957 to 1964 as a city administration building. The two top floors will integrate an inhabitable artistic installation designed by Studio Other Spaces that will house a bar and restaurant.
17 Sep 2013
David Chipperfield Architects Practice News
David Chipperfield announced as Architectural Laureate of the Praemium Imperiale 2013
David is announced as the Architectural Laureate for the 2013 edition of the Japan Art Association's Praemium Imperiale. The award will be presented by HIH Prince Hitachi, brother of Emperor Akihito, at a ceremony in Tokyo on 16 October 2013.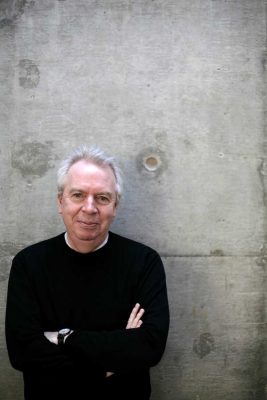 photo of the architect © Martin Godwin
Established in 1989, the Praemium Imperiale is a global arts award given annually by the Japan Art Association in recognition of outstanding contributions to the development, promotion and progress of the arts. Laureates are chosen in five fields: Painting, Sculpture, Architecture, Music and Theatre/Film. The other laureates for the 2013 edition of the award are the Italian Arte Povera painter Michelangelo Pistoletto; British sculptor Antony Gormley; Spanish tenor and conductor Plácido Domingo and American film director, producer and screenwriter Francis Ford Coppola.
The Japan Art Association was founded in 1879 by the Emperor Meiji in order to revive and promote Japanese art and culture. Subsequent governors of the Association have all been members of the Japanese Imperial Family.
Previous laureates for the architecture award include James Stirling, Tadao Ando, Alvaro Siza, Richard Rogers, Jean Nouvel and Toyo Ito.
Praemium Imperiale Architecture Laureate
10 Nov 2011
David Chipperfield to curate Venice Biennale
Chipperfield is to curate the Venice Architecture Biennale. David also has a connection to the city via his San Michele Cemetery Extension, located on an island between Venice and Murano.
11 Apr 2011
Neues Museum Wins, Berlin



photograph : Ute Zscharnt
Mies van der Rohe Awards 2011 Winner
22 Mar 2011
Neues Museum Berlin
Mies van der Rohe Awards 2011 Finalist
9 Feb 2011
Royal Gold Medal 2011
Chipperfield was announced as the RIBA's 2011 Royal Gold Medallist on 7 October 2010. The medal will be presented at the Royal Gold Medal ceremony to be held at the Royal Institute of Architects in London on 10 February 2011.
5 Nov 2010
World Architecture Festival – Day 2 Winner
City of Justice, Spain, by DCA and b720 Arquitectos wins World's Best Civic and Community Building at WAF Awards 2010
20 Oct 2010
David Chipperfield Architects – Form Matters : Questioni di forma
An exhibition of DCA' work, spanning the last 25 years, will be presented at the Arsenali Medicei, in Pisa, 27 Oct 2010 – 16 Jan 2011



image from architects office
The exhibition includes a large amount of primary material: original sketches, drawings and working models. It includes the new projects Masterplan for the City (PIUSS) and the Regeneration of the Santa Chiara Area for the City of Pisa.
The accompanying catalogue, revised edition published by Electa, includes a number of essays by David Chipperfield and an introduction written by Fulvio Irace.
6 Oct 2009
David Chipperfield receives the Order of Merit of the Federal Republic of Germany



photo © Nick Knight, from DCA
David Chipperfield has been awarded the Order of Merit of the Federal Republic of Germany by the Federal President Horst Koehler. The ceremony took place at the Schloss Bellevue in Berlin on 5 October 2009.
The Order of Merit is the highest tribute the Federal Republic of Germany can pay to individuals for services to the nation. Around 40 people were honoured, including the English conductor Sir Simon Rattle and the German concert violinist Anne-Sophie Mutter.
Empire Riverside Hotel : BDA Hamburg Architektur Award 2008
DCA win 1st prize



photo © Ralf Buscher
David Chipperfield architect, receives Cubo d'Oro Prize in Naples
Architecture Prize presented annually to architects by Annali dell'Architettura Foundation to recognize contribution made by architecture professionals towards development of architecture and urban and territorial planning in the region. Past architect winners include Dominique Perrault, Zaha Hadid, Peter Eisenman and Massimiliano Fuksas.
German British Forum Award 2008 : Chipperfield is the winner
RIBA Awards
DCA win three RIBA Awards
BBC Scotland headquarters building + Am Kupfergraben 10 + Empire Riverside Hotel
Stirling Prize 2007
DCA were a Stirling Prize Awards winner in 2007
David Chipperfield Architects : main page with news + images
David Chipperfield Buildings : Projects up to 2010
Location: London, England, UK
RIBA Awards
David Chipperfield Architects Practice Information
David Chipperfield Architects : Background
The architecture designed by this British architects studio could be characterised as austere – simple forms of generally massive scale with simple detailing.
There is a relationship with the work of people like Tony Fretton but Chipperfield's architecture practice is large and international.
The work is typically in Europe and involving buildings such as art galleries. David's Rowing Museum at Henley made a large impact – certainly for UK architects – when it opened.
Address: David Chipperfield Architects, 1a Cobham Mews, Agar Grove, Camden Town, London, England, UK (offices designed by the practice)
Contact: +44 (20) 72679422 fax: +44 (20) 72679347 [email protected]
David was born in 1953, in London
David Chipperfield Books
David Chipperfield
D. Chipperfield, K. Frampton Princeton Architectural Press; 2003 David Chipperfield Architectural 1990-2002 D. Chipperfield, J. Keates, K. Frampton
Birkhäuser publishing house; 2003 – in cooperation with Ediciones
Polígrafa. 48 s/w, 284 colored-images and 96 stroke drawings.
David Chipperfield Theoretical Practice
D. Chipperfield, J. Rykwert ellipsis; 1994 David Chipperfield Theoretical
Practice D. Chipperfield Artemis publishing house for architecture; 1994 2G: David Chipperfield, 1992 D. Chipperfield, K. Frampton Foundation of David Chipperfield Architects.
David Chipperfield studied at the Architectural Association, London.
Chipperfield worked in the architecture practices of Douglas Stephens, Richard Rogers and Norman Foster, all London. DCA began 1984 in London, 1987 in Tokyo.
Teaching positions
Visiting professor at Harvard University, Cambridge
University of Naples
Royal College of Art, London
University of Graz
Polytechnic Lausanne
Stuttgart
Positions
Foundation member & director of the 9H Gallery, London
Member of the Architectural Foundation, London
Competitions
1997
Neues Museum, Berlin: reconstruction
competition winner
1998
San Michele Cemetery, Venice, Italy: Extension
competition winner
1999
Clothing Company Administrative building, Coesfeld-Lette, Germany
competition winner
New Palace of Justice, Salerno, Italy
competition winner
New Museum of Art in Davenport, Iowa, USA
competition winner
DCA Awards
RIBA Award; Stirling Prize shortlist
1999 – River & Rowing Museum, Henley-on-Thames, England
Heinrich Tessenow Gold Medal
1999
Andrea Palladio Prize
1993 – Toyota Auto Kyoto building in Japan
RIBA Award
1995 – First Church of Christ Scientist
RIBA Award
Office building, Düsseldorf
Royal Fine Art Commission Building of the Year Award
1999 – River & Rowing Museum, Henley-on-Thames, England
BBC Scotland Building
The BBC Scotland section ie the stepped foyer – bears close comparison to Harnosand Library, Sweden, by FFNS Arkitekter
To the west of the BBC HQ site is Glasgow Science Centre by BDP Architects
The BBC Scotland project was won through an Architecture Competition.
Richard Rogers Partnership and Allan Murray Architects were critical of the competition having not won due to the issue of copyright being retained by BBC Scotland.
RIBA European Award 2007 : Museum of Modern Literature Marbech + America's Cup Building Valencia – DCA win an award
Comments / photos for the David Chipperfield Architect page welcome
Website: www.davidchipperfield.co.uk