SABIC Home of Innovation, Riyadh LEED Certified Buildings News, KSA Demonstration Center Images
SABIC Home of Innovation in Riyadh, Saudi Arabia
KSA Sustainable Architecture – net zero energy building in the Middle East
16 Dec 2019
Home of Innovation, Riyadh
Demonstration Center & Innovation Home
Design: Zuhair Fayez Partnership Consultants
Location: HOI, Riyadh Techno Valley, King Saud University, Riyadh, Saudi Arabia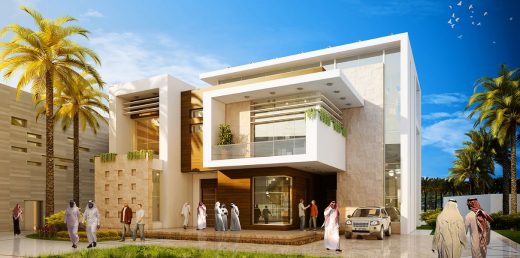 images courtesy of SABIC Home of Innovation
This green building project is the design of SABIC's Home of Innovation in Riyadh.
The buildings are Leadership in Energy & Environmental Design (LEED) certified with the two buildings making up the Demonstration Center being Gold Certified and the Innovation Home building being Platinum Certified.
The High Performance Demonstration House at the SABIC's Home of Innovation is the first residential building in the Middle East to receive LEED Platinum certification from the U.S. Green Building Council.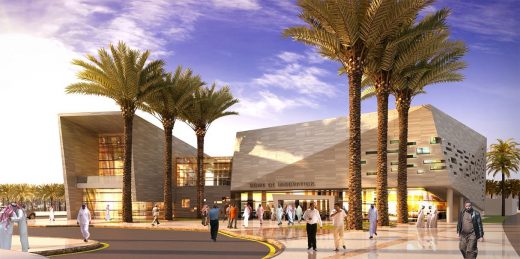 The Innovation Home building runs on solar energy and requires zero energy from non-renewable resources (net zero energy use) as well as reduced water consumption in the entire building by up to 50%. Thus the project is a Net Zero Building (NZB).
The Demonstration Center has a gold level LEED certification and will contain energy and water efficient appliances, home automation, energy management system, as well as LED lighting for internal and external use.
The building is located beside SABIC's Plastic Applications and Development Center in Riyadh.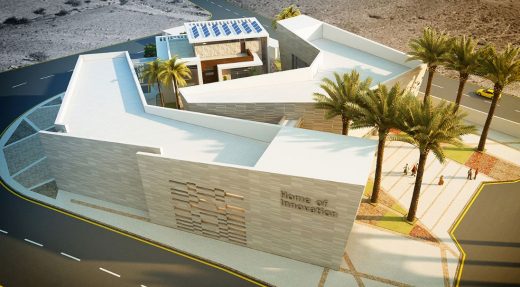 Guardian Glass supplied high performance coated solar control glass – Guardian SunGuard SuperNeutral 30 double silver-coated solar control glass – in all the windows and applicable doors of the Demonstration house.
The new glass has saved 8% from the house's HVAC energy consumption.
The 800-sqm demonstration house at Riyadh Techno Valley, King Saud University is designed and built to generate more electricity than it consumes over a 12-month period, to achieve a surplus of zero net energy balance.
The highly insulated home is built around a thermally massive structure, suitable for the Middle East climate.
It exploits Insulating Concrete Form (ICF) in the structural system. This is a system of formwork for reinforced concrete usually made with a rigid thermal insulation. Instead of being removed post-construction like normal, this type of formwork remains as a permanent interior and exterior substrate for walls, floors, and roofs. The forms are interlocking modular units that are dry-stacked and filled with concrete.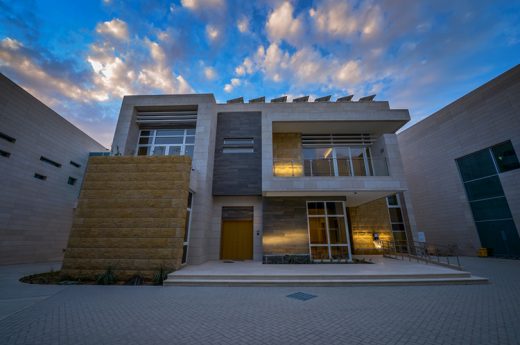 The home showcases a full range of the latest commercially available MEP technologies that yield net zero energy use, water conservation and environmentally responsible building materials and techniques.
The Solar PV system is designed as Grid Connected with Battery Back-up. The system operating principle defines that power generated from the Solar PV system will fully charge the battery bank, with any surplus exported to the utility grid.
Saudi Arabia currently faces the challenge of rapidly diminishing water supplies and unsustainable demand. To address the challenge, the government is targeting reductions in water consumption. KSA must harness the benefits of the latest pump technology if they are to meet the set targets.
For example the new generation of Grundfos "intelligent" pumps combine new design features with advanced digital connectivity to provide constant water pressure and deliver considerable energy savings.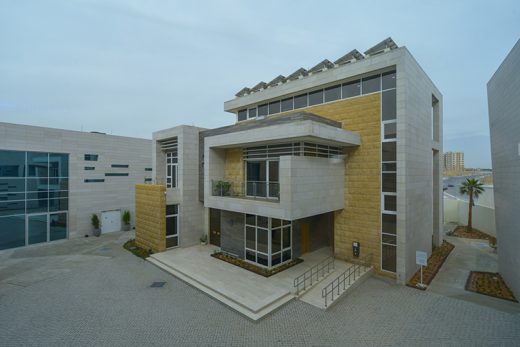 Key Home of Innovation, Demonstration House Sustainable Features
• 28.8kWp Solar PV System (Grid-Connected with Battery Back-up), supporting net-zero energy consumption.
• Conditioning of the HOI Demonstration Home, as well as water heating and other energy using systems is controlled by a computer-based building management system that gives precise control, immediate response to demand changes and real-time tracking of all variables and performance.
• Two high-efficiency central heat pump systems, augmented by a Variable Refrigerant Flow system (VRF) with seven mini-splits serving multiple zones throughout the home.
• Insulated Concrete Form (ICF) exterior walls and roof, providing enhanced insulation values and a thermally massive structure to resist outdoor temperature swings.
• High performance insulated windows feature an exceptional solar heat gain coefficient, reflecting most infrared radiation heat away from the interior, while permitting visible light entry.
• Reduced Air infiltration, controlled at a low 1.6 air changes per hour (ACH), providing fresh air without sacrificing energy performance.
• High-efficiency bath exhaust fans.
• Home energy recovery ventilator (ERV), providing continuous tempered fresh air plus a further reduced cooling load.
• Solar hot water system which requires very little energy compared to conventional tanks.
• MERV 13 air filters, reducing Allergens.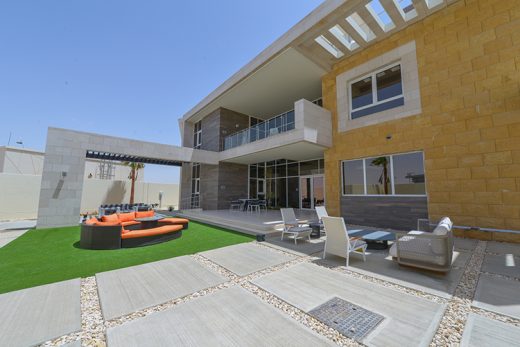 SABIC – Home of Innovation, Demonstration Home in Riyadh – Building Information
Location:
Riyadh Techno Valley (RTV), Riyadh, KSA
Owner:
Saudi Basic Industrial Corporation (SABIC)
Client:
Joannou & Paraskevaides (Saudi Arabia) Limited
Project Team:
• Building Innovation- IBACOS, Pittsburgh, PA USA
• Project Architect – Zuhair Fayez Partnership Consultants, Jeddah, KSA
• Interior Design – theOtherDada, Beirut, Lebanon
• LEED & Sustainability Consultant – Green Technologies FZCO, Dubai, UAE and Sol Design + Consulting, Cincinnati, Ohio, USA
Sustainable Goals:
• Net Zero Home
• Improved Indoor Air Quality
• Reduced Water Consumption
• Reduced Energy Consumption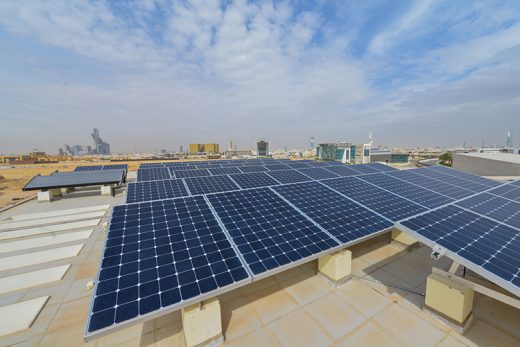 Website: SABIC – Home of Innovation, Demonstration Home in Riyadh
Location: Riyadh, Saudi Arabia, the Middle East
Architecture in Saudi Arabia
KSA Architectural Projects
Saudi Arabia Architecture Designs – chronological list
Saudi Arabia Architecture News
Addiriyah Contemporary Art Center
Design: Schiattarella Associati, Architects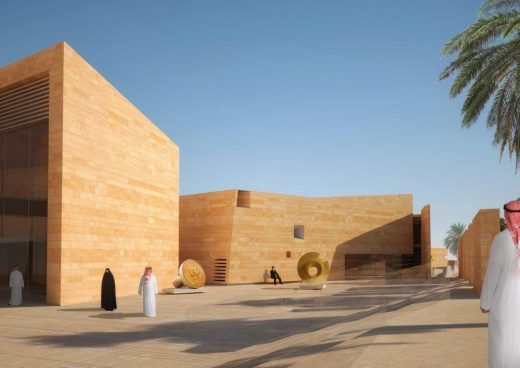 image courtesy of architects
Addiriyah Contemporary Art Center KSA
Saudi Arabia Buildings – Selection
Al Faisaliah Complex, Riyadh
Design: Foster + Partners
Al Faisaliah Complex
King Abdulaziz Library
Design: Snøhetta
King Abdulaziz Library
King Abdullah Financial District Hotel
Design: Goettsch Partners
King Abdullah Financial District Hotel
Museum of the Built Environment
Design: FXFOWLE
Museum of the Built Environment Saudi Arabia
Alrriyadh Ritz Carlton Tower, Riyadh
Design: ECHO Architecture
Alrriyadh Ritz Carlton Tower Building
Comments / photos for the SABIC – Home of Innovation, Demonstration Home in Riyadh, Saudi Arabia page welcome