C-Laboratory Architects, Building Photos, Finland Design Projects, Taiwan Office News
C-Lab Architecture News
Contemporary Finnish Architecture Practice led by Marco Casagrande
C-Laboratory News
C-Lab Architecture News – latest additions to this page, arranged chronologically:
8 Oct 2013
International Committee of Architectural Critics CICA 2013 Award for Marco Casagrande
International Committee of Architectural Critics / Comité International d'Critiques d'Architecture CICA has awarded Finnish Architect Marco Casagrande their 2013 main award based on "conceptual and artistic architecture". The jury consists of Trevor Boddy (Architectural Record, Bauwelt, Globe and Mail etc.), Manuel Cuadra (Documenta, University of Kassel) and Kieran Long (Victoria & Albert Museum, Evening Standard, Architectural Review etc.)
Architect Marco Casagrande: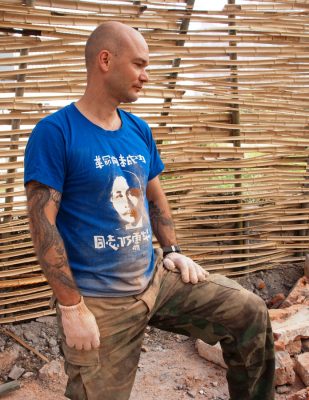 photo from Marco Casagrande
CICA brings together critics, theorists and historians from all over the world. The members of CICA share the conviction that criticism and the theoretical discourse of architecture in general are integral parts of the architectural process. Consequently, CICA and its members see themselves as working towards a better architecture and better cities alongside the architects.
The award was given in the 2013 Buenos Aires International Biennial of Architecture where Casagrande is currently having an extensive exhibition of his work.
European Prize Architecture Winner in 2013 – 11 Sep 2013
Europe's Highest Architecture Award to be Presented at the 14th International Biennial of Architecture in Buenos Aires. Marco Casagrande, the Finnish architect, environmental artist, urban philosopher, architectural theorist, writer, and professor of architecture has been named as the recipient for the 2013 European Prize for Architecture.
Oystermen, Kinmen Island, Taiwan – 30 Aug 2013
Design: Marco Casagrande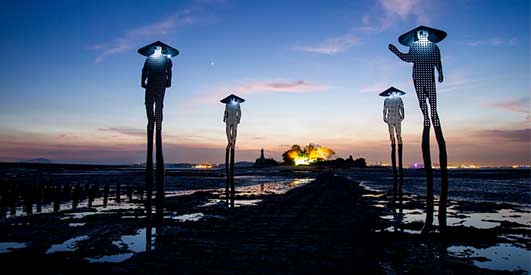 photo from architect
Oystermen is an environmental artwork at a tidal beach in Kinmen Island, Taiwan. The men are standing 6 meters high from the sand surface during low tide and are walking on water 3 meters high on top of waves as the ocean deepens on high tide. Gradually the legs will be covered by oysters. The Chinese hats of the Oystermen are working as solar energy collectors an illuminating the seascape at night.
Apelle : House in Karjaa, south west Finland
Design: Marco Casagrande / C-LAB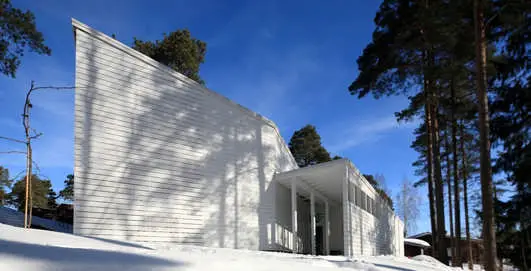 photo from C-LAB
House in Karjaa – 23 May 2013
Apelle is a wooden one family house located in Karjaa – Finland. The building rests in a natural harbor like a boat in a sheltering pocket surrounded by bed rocks and trees. The interior space of Apelle is a continuous tube that grows gradually along the house and through the main opening and terrace into the forest. Along this axis the collective and private actions are tuned according to the times, functions and needs of the day and night.
Sandworm, Wenduine coastline, Belgium
Marco Casagrande / C-Laboratory



picture : Marco Casagrande
Sandworm – 5 Apr 2012
Sandworm is an organic structure/space/creature realized on the dunes of the Wenduine coastline, Belgium. The 45 meters long and 10 m wide and high installation moves freely in-between architecture and environmental art and is constructed entirely out of willow following the local knowledge of a continuing interaction between work and environment.
C-Laboratory – Recent Design
CICADA – Urban Acupuncture, Taipei City, Taiwan



photo : AdDa
CICADA – Urban Acupuncture – 20 Jan 2012
The Cicada is an open form based organic space inside the mechanical reality of Taipei City. The simple bamboo structure reaches a 12 meter span with 8 meter height and is 34 meters long in total. The construction method is local knowledge from South China and Taiwan. By time the structure will be covered with vines, which seem to explode from the ground. The urbanized river basin of Taipei is extremely fertile.
C-Lab – Finnish Co-operative
C-Laboratory is a Finland based research – design & build co-operative of architects, artists and social scientists working freely in-between architecture and other disciplines of art and science within then general framework of built human environment. We realize ultra-ruins, cross-over architecture and finally the Third Generation City.

Key C-Laboratory Projects
Bug Dome, Shenzhen – Hong Kong Biennale



photo © Marco Casagrande
Bug Dome
Chen House, north Taiwan



photo : AdDa
Chen House
Public Attic, Helsinki, Finland



photo : Yehia Eweis
Public Attic
Treasure Hill, Taipei City, Taiwan



picture from C-Laboratory
Treasure Hill Taipei
C-Lab Texts
Marco Casagrande
Burning Passion
– Catherine Slessor. The Architectural Review, 1999
Architecture´s Claim on the Future: The Blob
– Herbert Muschamp. The New York Times, 2000
Casagrande & Rintala
– Nathalie Pozzi. Arch´it, 2001
Art with something to say
– Monty DiPietro. The Japan Times, 2001
Casagrande & Rintala
– Yokohama Triannial, 2001
Little Top – temporary summer theatre construction
– Catherine Slessor. The Architectural Review, 2001
Finnish work of art torn down during anti-globalization demo in Florence
– Helsingin Sanomat, 11.12.2001
III Biennale Internazionale
– Firenze Biennale, 2001
Real Reality
– Marco Casagrande. Urban Flashes Linz, 2002
Dallas-Kalevala
– Demeter, 2002
When Attitudes Become Form
– Adam Mornement, 2002. Contemporary Magazine
Casagrande & Rintala
– Biennale de Montréal, 2002
Anarchist Gardener
– Marco Casagrande. PR02, 2002
Risk and Trust
– Paula Toppila. PR02, 2002
Anarchist Gardener
– Jorge Rigau. PR02, 2002
Artfully pushing the boundaries in Anchorage
– Hadani Ditmars. The Globe and Mail, 2003
Halki Euraasian mantereen
– Marco Casagrande. Tekniikan Maailma 5, 2003
The Paratrooping Finn
– David Frazier. POTS Magazine, 2003
Treasure Hill
– Hsieh Ying-Chun, 2003
Finland-Russia-Japan
– Marco Casagrande. EGG Magazine, 2003
Organic Layer
– Marco Casagrande. EGG Magazine, 2003
Human
– C-Laboratory. Independent newspaper for London Architecture Biennial 2004
AK/MC Interview
– August Künnapu. Human, 2004
Caveman Style
– Tommy Plummer. Human, 2004
Fermentation Cemetery
– Marco Casagrande. Human, 2004
Imperialism of Pollution
– Marco Casagrande. Human, 2004
Urban Acupuncture
– Marco Casagrande. Tamkang University, 2004
Greetings from London
– The British Architecture Foundation, 2004
Camp For Oppositional Architecture
– C-Laboratory. Weimar, 2004
Ihminen
– C-Laboratory. Independent newspaper for Helsinki 2005
This Is This and This Ain't Something Else But This Is This
– Marco Casagrande. Tamkang University Department of Architecture 4th year Design Studio, 2005
The powerless are heard
– Susan Kendzulak. Taipei Times, 2005
Russia – The Diesel Engine of Art
– Marco Casagrande. Taiwan Performance Arts Magazine, 2005
A hive of activity at Treasure Hill
– David Momphard. Taipei Times, 2005
Chamber of the Post-Urbanist 104
– Taipei Museum of Contemporary Art, 2005
Design Expo Attracts Curious
– Gavin Phipps. Taipei Times, 2005
Human Layer_Taipei
– Marco Casagrande. Epifanio 1, 2005
Con-fronting the Edge of Modern Urbanity – GAPP at Treasure Hill
– Kang Min-Jay. Asian Culture Symposium, 2005
Being and Becoming
– Marco Casagrande. Danshui, 2005
PePo
– Nikita Wu, edit. Independent newspaper for Taiwan Design Expo Future Pavilion 2005
Future Pavilion
– Marco Casagrande. Taiwan Design Expo, 2005
Post Industrial Fleet
– Marco Casagrande. Taiwan Architect, 2005
My Video Collection
– Marco Casagrande. Epifanio 3, 2005
Can´t Push a River
– Marco Casagrande. Taiwan Architect, 2006
CityZen Garden
– Marco Casagrande. Tamkang International Workshop, 2006
Altered Space: Squatting and Legitimizing Treasure Hill, Taipei
– Kang Min-Jay. Cultural Development Network's Forum, 2006
The "Art" of Community Preservation – Treasure Hill
– Chang Shih-lun. Taiwan Panorama, 2006
Going to Taipei
– Matt Gross. New York Times, 2006
An Architect Takes Care of a stone Garden in the City of Water
– Hannu Pöppönen. Helsingin Sanomat, 2006
Il Uomo
– Casagrande Laboratory. Free newspaper for Venice Biennale 2006.
My video collection
– Marco Casagrande. Epifanio 3, 2006
Tulevikupaviljon
– Marco Casagrande. Epifanio 3, 2006
Bering Sea – Bristol Bay
– Marco Casagrande, 2006
Maailman suurin apaja
– Marco Casagrande, 2006
Il Uomo
– C-Laboratory. Free newspaper for Venice Architecture Biennale, 2006
Urban Acupuncture
– Marco Casagrande. Taiwan Architect, 2007
Finnish Design – The Crisp Voice of Nature
– Marco Casagrande. Finnish Design, 2007
Police, protesters clash at Treasure Hill
– Taiwan Headlines, 2007
Third Generation Eco-City
– Marco Casagrande. Taiwan Architect, 2007
Ikuisuuden rakennustyömaa
– Antti Antinoja, Marco Casagrande, 2007
Changing Heads
– Marco Casagrande. Epifanio 6, 2007
7-11 Sauna
– Marco Casagrande. 7-11 City, 2007
Third Generation City
– Marco Casagrande, 2007
Ultra Ruin
– Marco Casagrande. Ruin and the Beaury in Shadow, 2007
Every Corner Has a King
– Antti Antinoja, Marco Casagrande, 2007
Vilen Künnapu foreword
– Marco Casagrande. Temples and Towers, 2007
City Must Be a Compost
– Marco Casagrande, 2008
Marco Casagrande
– Chinese Pavilion, Venice Biennale 2008
Trans-Saccadic Perception
– David Melcher and Carol L. Colby, 2008
Cross-over Architecture and the Third Generation City
– Marco Casagrande. Epifanio 9, 2008
More projects by C-Laboratory online soon
Location: Finland
C-Laboratory Discussions
C-Laboratory – Discussions by marco casagrande
Post Industrial Meditation Park, Nakasato Village, Niigata prefecture, Japan
2003
Casagrande & Rintala



image from C-Lab
Post Industrial Meditation Park – project for Echigo Tsumari Art Triennial 2003
Chamber of the Post Urbanist



image from C-Lab
Architectural Design
Casagrande & Rintala operated from 1998 to 2003 : Sami Rintala
Comments / photos for the C-Laboratory Architecture page welcome
Website : www.clab.fi