RUR Architecture Exhibition TAAC Tribeca / E. Tay Gallery, New York Architects Taiwan Projects
Building Beyond Place: RUR Exhibition
Current Taiwan Projects by Jesse Reiser + Nanako Umemoto Architects, NYC, USA
Oct 18, 2019
Reiser + Umemoto Exhibition News
New York Exhibition by Jesse Reiser & Nanako Umemoto
Building Beyond Place: RUR Engages Taiwan's Architectural Cosmopolitanism
Exhibition at TAAC Tribeca / E. Tay Gallery, New York
Taipei Music Center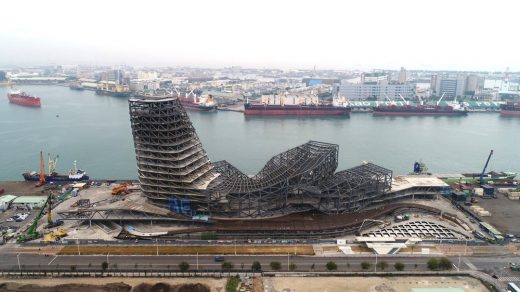 New York—The architecture exhibition Building Beyond Place: RUR Engages Taiwan's Architectural Cosmopolitanism at TAAC Tribeca/ E.Tay Gallery in New York ran from September 19 until October 17.
Presenting three projects by New York-based architecture firm Reiser +Umemoto (RUR) – the Taipei Music Center, Alishan Tourist Routes, and Kaohsiung Port Terminal – it explores how the architects responded to three geographically diverse post-industrial sites in Taiwan: urban Taipei, rural Alishan, and maritime Kaohsiung.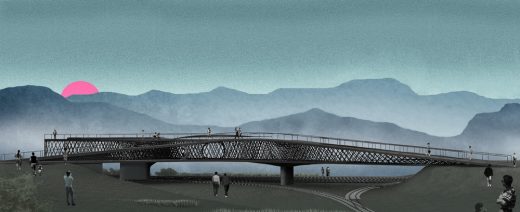 Through large-scale drawings, photography, models and videos, Building Beyond Place demonstrates how RUR approached these three projects, addressing the specific briefs for the buildings while simultaneously engaging Taiwan's broader cosmopolitan ambitions. Collectively, they show how its historical and geographical heritage is key to resisting the homogeneity and placelessness that has overtaken many nearby post-industrial nations.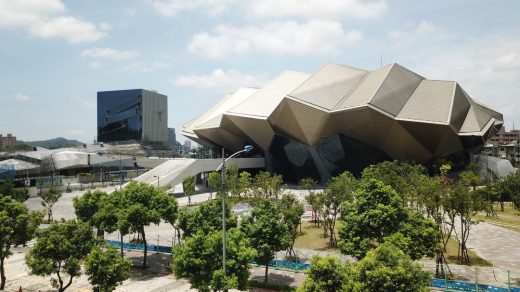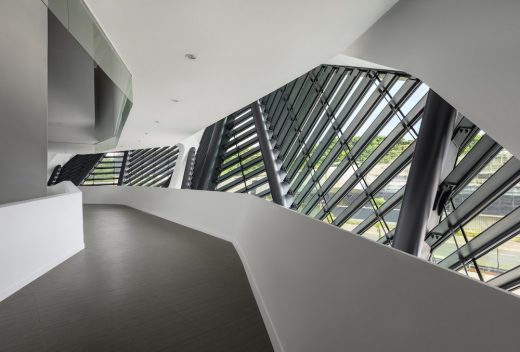 Jesse Reiser, Principal at RUR, comments that "the three projects in this exhibition – in Taipei, Alishan, and Kaohsiung – were opportunities for us to radically redefine what a cosmopolitan architecture could be. Rather than looking towards international or more regional architectural styles, contemporary technology allowed us to utilize archaic, pre-industrial techniques – such as basket-weaving and ceramics – which appear everywhere in the world and nowhere in particular. In this manner, our ambition is that the work will resonate within and beyond Taiwanese culture."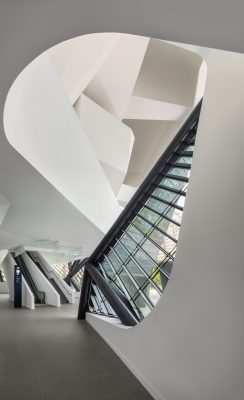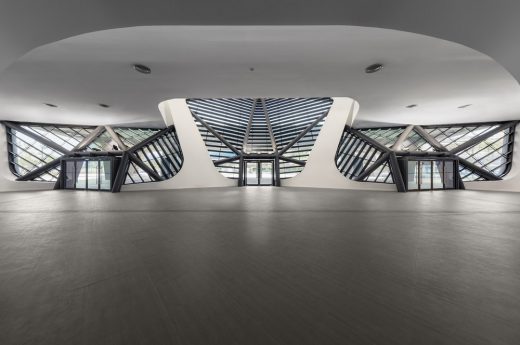 In Taipei, the Taipei Music Center, scheduled for completion in 2020, grants the Taiwanese music industry a new urban precinct while enmeshing itself within its immediate urban and natural surroundings. In Alishan Mountain, a former logging railway that spans 86 kilometers and rises through three climatic zones is harnessed environmentally as an intermodal corridor of tourist infrastructure and landmarks, supplying a series of specialty restaurants and a microeconomy of taste tourism.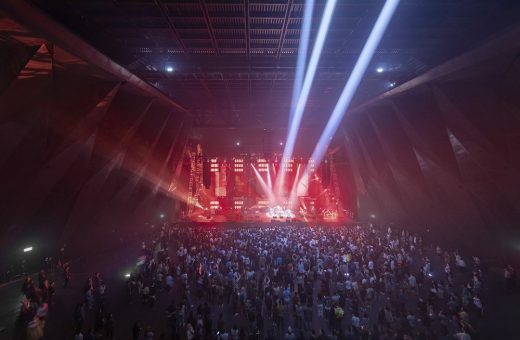 In Kaohsiung, a port terminal and tower, scheduled for completion in 2020, utilizes a three-dimensional urban strategy to hold industrial, service, and public functions in close yet discrete proximity along the city's waterfront.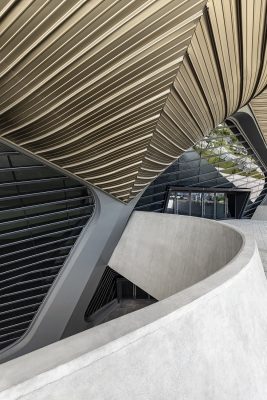 The three projects each respond to a unique site condition created by industry – a linear cut through a forest, a jagged, polluted waterfront edge, and an industrial valley between hills. RUR's designs focus on integrating the structures into these specific environments while staging an oftentimes breathtaking encounter between new architecture and nature. Building Beyond Place demonstrates RUR's role in the current and ongoing transformation of Taiwan, with these three projects serving as vital models for its future as a post-industrial and cosmopolitan nation.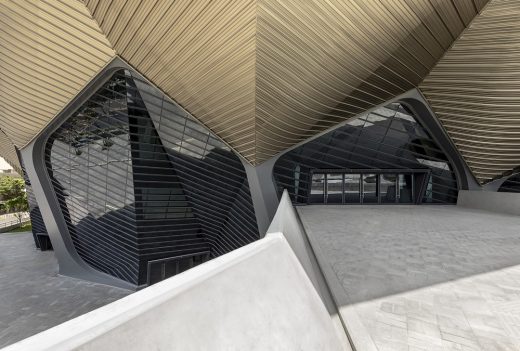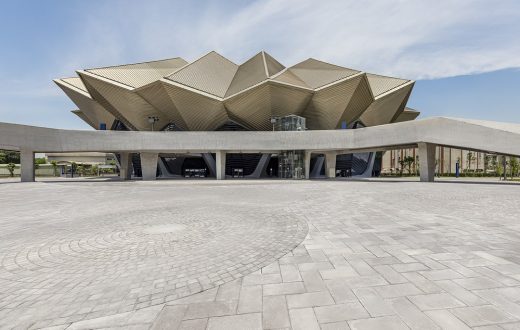 Luchia Meihua Lee, Executive Director and Chief Curator of TAAC, says "The three projects on display not only introduce RUR's award-winning designs, but also reflect Taiwan's social culture and international trends, and alternative contemporary architectural patterns. The country's diverse historical background, trade-based economic model, and island geography have created a contradictory but unique cultural landscape. Taiwan's historical landscape is a legacy and also key to unlocking its uniqueness."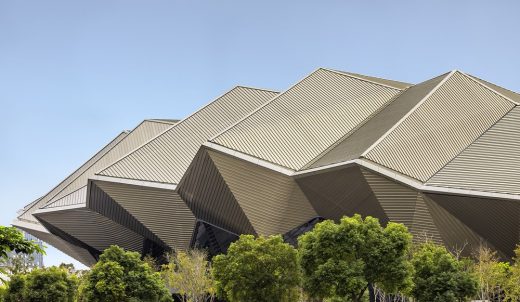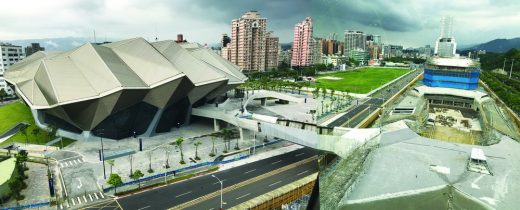 Details for Building Beyond Place: RUR Engages Taiwan's Architectural Cosmopolitanism
Dates: September 19-October 17, 2019
Location: TAAC Tribeca / E.Tay Gallery, 39 White Street, NY
Opening Hours: Tuesday-Saturday, 12-6pm
More information: Building Beyond Place: RUR Engages Taiwan's Architectural Cosmopolitanism at TAAC Tribeca / E.Tay Gallery.
About RUR Architecture DPC
Founded in 1986, Reiser + Umemoto, RUR Architecture DPC, is a multidisciplinary design firm operating at a wide range of scales: from furniture design, to residential and commercial structures, up to the scale of landscape, urban design, and infrastructure. Jesse Reiser and Nanako Umemoto have received numerous awards for their speculative work and built projects, including the Chrysler Award for Excellence in Design, the Academy Award in Architecture by the American Academy of Arts and Letters, the Presidential Citation and John Hejduk Award from the Cooper Union, and the USA Booth Fellowship from United States Artists for Architecture & Design. The firm's first comprehensive monograph, Projects and Their Consequences, was published in 2019 and traces thirty years of innovative, multidisciplinary investigations of form, structure, technique, and planning.
About TAAC
The Taiwanese American Arts Council (TAAC) was established in 2014 to carry forward the mission of the Taiwanese Art Endowment Fund which spurred the creation of a named Taiwan Gallery by the Queens Museum of Art. Dr. Lung Fong Chen and Taiwanese community leaders Thomas Chen and Patrick Huang had the vision to create an organization to provide a platform for Taiwanese American artists.
Professional curator Luchia Meihua Lee, with the pioneer of Taiwan modern printmaking, Prof. Liao Shiou Ping, provided the expertise and art resources to realize this dream. The TAAC aims to provide assistance to Taiwanese artists, scholars, and specialists in the arts, and will support cultural and art leaders in different fields and in all states in the US and all counties in Taiwan; it is expected to expand annually. TAAC is a registered 501(c)(3) organization in the United States.
Location: New York City, USA
Reiser + Umemoto Architecture
Taipei Pop Music Center Building, Taiwan, Republic of China
Design: Reiser + Umemoto / ARUP
Taipei Pop Music Center Building
Taipei pop music center, Taiwan
Taipei Pop Music Center Design Competition : Reiser + Umemoto Win
O-14 tower, Business Bay, Dubai, UAE
O-14 tower
Kaohsiung Port Terminal Competition, Taiwan
Kaohsiung Port Terminal Competition
Shenzhen Airport, China
Shenzhen Airport : winning design by Massimiliano Fuksas Architects
Comments / photos for the Building Beyond Place RUR Exhibition NYC – Reiser + Umemoto Architects page welcome
Website: www.reiser-umemoto.com