Buckminster Fuller Architecture, US Building Image, Geodesic Dome, 20th C USA House Design
Richard Buckminster Fuller Architecture
Modern Architect / Engineer, 20th Century United States of America Built Environment
page updated Mar 17, 2021
Buckminster Fuller – Key Projects
Major Building by this world=famous building designer:
Wichita House, Kansas, USA
Date built: 1947
Famous for geodesic dome designs
More information re Bucky Fuller online soon
Bucky Fuller Exhibition, Spain
Ivorypress Art + Books, Madrid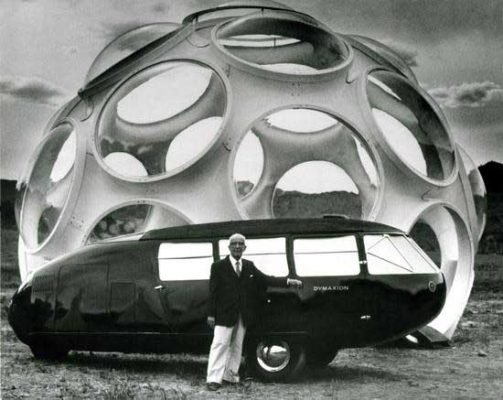 picture from Ivory Press
Richard Buckminster 'Bucky' Fuller (1895-1983) was an American genius who defied categorisation. Buckminster could be described variously as a green environmentalist, a prophetic visionary, a poet, architect, mathematician, map-maker and teacher, although he is most popularly known for his geodesic domes.
In 1951 Buckminster Fuller drew attention to the ecological issues of today when he referred to 'spaceship earth' and the fragility of the planet, as such his work and observations are even more important now than they were in his lifetime.
Curators: Norman Foster and Luis Fernández-Galiano
Dates: 1 Sep – 30 Oct 2010
Venue: Ivorypress Art + Books
C/ Comandante Zorita 48, 28020 Madrid, Spain
Contact: T +34 91 449 09 61
Location: Massachusetts, USA
US Architecture Practice Information
Former architecture practice based in USA
He was the RIBA Gold Medal winner in 1968
Fuller was born on July 12, 1895, in Milton, Massachusetts, USA. The American architect, systems theorist, author, designer, inventor, and futurist, styled his name as R. Buckminster Fuller.
He published more than 30 books and coining or popularizing such terms as "Spaceship Earth", "Dymaxion" (e.g., Dymaxion house, Dymaxion car, Dymaxion map), "ephemeralization", "synergetics", and "tensegrity". He attended Milton Academy in Massachusetts, and after that began studying at Harvard College, MA, USA.
He taught at Black Mountain College in North Carolina during the summers of 1948 and 1949, serving as its Summer Institute director in 1949. Fuller had been shy and withdrawn, but he was persuaded to participate in a theatrical performance of Erik Satie's Le piège de Méduse produced by John Cage, who was also teaching at Black Mountain.
During rehearsals, under the tutelage of Arthur Penn, then a student at Black Mountain, Fuller broke through his inhibitions to become confident as a performer and speaker. At Black Mountain, with the support of a group of professors and students, he began reinventing a project that would make him famous: the geodesic dome.
American Architecture



photo © Robin Hill
Modern Architecture



photo : Biff Henrich / courtesy MHRC
American House Designs
Residential Architecture USA, chronological:
Sands Point Residence, Long Island City, Queens, New York City, USA
Design: Mojo Stumer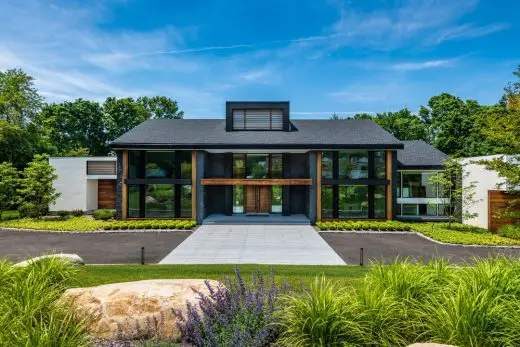 photo courtesy of architects studio
Sands Point Residence, Long Island
The renovation of this 90's modern Sands Point Residence, NY, focused primarily on maximizing the transformation's visual impact. The underlying structure and geometry of the home were to remain. Still, the homeowner's central goal was to create what would appear to be an entirely new modern residence, with its own unique styling and a clear separation from the original architecture.
Comments / photos for the Buckminster Fuller Architecture page welcome