Design: Broadway Malyan Architects Office, Building, Design Studio News, UK Architecture Practice
Broadway Malyan Architects
International Architecture Practice – Design Studio Information
post updated 13 Apr 2021
Broadway Malyan Architects News
18 Nov 2013
Broadway Malyan appoints new Director
Singapore-based Director of Masterplanning Ed Baker has been promoted to main board Director by global architecture, urbanism and design practice Broadway Malyan as part of its regional growth strategy.
Ed joined the practice in 2002, originally being based in London, UK, and worked on large-scale projects in Europe, the Middle East, North America, Africa and China. He joined the practice's Singapore team in 2010 to develop its masterplanning and urbanism offering.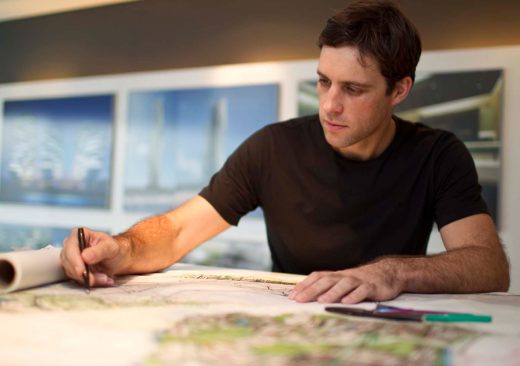 photo : Broadway Malyan Architects
His recent achievements include leading the team that won the Bandar Malaysia design competition, for a 200 hectare site in central Kuala Lumpur, which is set to create a blueprint for future development in SE Asia – promoting innovative transport solutions, economic incubators, affordable housing and SMART city principles.
He also led the vision for Health City Novena, the 17-hectare mega healthcare city recently launched in Singapore, and following a closed competition win he is currently leading the planning of a 700-hectare sustainable new town in Iskandar, South Malaysia.
Managing Director Gary Whittle said: "This strategic appointment is a sign of our intent to consolidate the growth of our practice in SE Asia on the back of recent project wins and reinforce our successful regional business strategy, which is seeing us firmly focus on growing our project portfolio in Malaysia, Indonesia and the Philippines.


photograph : Broadway Malyan Architects
"Ed has a wealth of international experience, he will add weight to our senior leadership team and management credentials in the SE Asia region and help our integrated team of expert architects, masterplanners and designers, unrivalled in diversity, partner with clients to deliver world-class places and sustainable communities with social and economic purpose."
Ed's philosophy is that all projects should be based on high-quality planning and design, that planners and designers should continually evolve their skill set to enable them to create unique proposals and solutions for clients, that integrated and multi-disciplinary team working is key to successful masterplanning and that design teams should better understand their audience – to guide proposals and also communicate with the multiple stakeholders on larger-scale projects.
The first masterplan that Ed delivered out of the practice's Singapore studio, for the high-profile Cilandak Bisnis Square (CIBIS) project in Jakarta, Indonesia, is due to become a reality with ground breaking in early 2014. Meanwhile, several other projects with which Ed has been involved are due to complete onsite next year – including Trump Tower Manila, the National Heart Centre (Singapore) and a 300-key Amari resort in Bali.
The Singapore studio is targeting growth across its core residential, retail, workplace and hospitality sectors, new opportunities to increase its portfolio of mixed-use projects on the back of its diverse skills, expertise and experience, while also capitalising on recent successes in healthcare and developing its services for education sector clients.
Distinguished by its global reach with 16 studios across world centres, unrivalled diversity with over 450 design experts and distinctive client focus with over 85 per cent income from repeat business, Broadway Malyan creates world-class and fully-integrated cities, places and buildings to unlock lasting value and deliver a 'return on design'.
16 Apr 2012
Broadway Malyan Architects – Latest Building
Oxygen House, Exeter, Devon, south west England
Prominent HQ building completed for Exeter-based researchers
Oxygen House, a major new 40,000 sqft landmark building on Exeter Business Park in Exeter, Devon, has completed and is set to open in May as the new headquarters for pioneering statistical research company, ATASS Group.



images : Broadway Malyan Architects
Designed by global architecture, urbanism and design practice Broadway Malyan and occupying a prestigious gateway site which is highly-visible from the north-bound M5 motorway, the landmark building draws upon stadia and yacht design in reference to the work of ATASS Sports, a subsidiary of ATASS Group that will also occupy Oxygen House, as well as Exeter's maritime history.
The building was awarded the prestigious BREEAM rating of 'Excellent' at design stage, reflecting the client's strong commitment to environmental and social responsibility and design team's track record in sustainable building design and place-making and is testament to the highly-flexible and sustainable development. Passive sustainable features include external solar shading, increased thermal mass, night-time cooling and Green Guide-rated materials, while low and zero carbon technologies include solar hot water, rainwater harvesting and photo-voltaic panels.
Developed according to best workplace design principles, the practice responded to ATASS Group's desire to promote health and well-being for all, with the building set in landscaped grounds and featuring facilities such as a restaurant, gym, 'trim trail' and flood-lit all-weather pitch with spectator facilities for football, tennis and volleyball.
Practice director David Anderson said: "The completion of Oxygen House marks a major chapter in what is one of the most prominent new-build workplace projects in Exeter. It is testament to close partnering between our expert designers, which also designed the adjacent Met Office, with the client and wider project team. The exemplar design reflects the nature of the client's sports-focused business, as well as the city's nautical heritage and will provide a dynamic business with a flexible platform for future growth."
Oxygen House was developed by Summerfield Developments (SW) Limited and constructed by Midas Construction.
Broadway Malyan : news + building images
31 Oct 2011
New BM Chairman
Broadway Malyan installs new chairman, bolsters China team and secures Shanghai brief
Global architecture, urbanism and design practice Broadway Malyan has appointed director Stuart Rough as its new chairman. Stuart has led award-winning retail and workplace projects in China, Southeast Asia and Europe, including the Forum Coimbra, Forum Barreiro and Espaço Guimarães retail centres, and BASF, Sony and Roche headquarter buildings.
Stuart Rough:



image from Broadway Malyan Architects
Stuart said: "As part of the practice's senior management team I will focus on developing the global reach of our 15-strong network of bases from São Paulo to Shanghai, enhancing the unrivalled diversity of our 500+ sector experts, increasing our distinctive client focus, with 80 per cent of 2010 income from repeat business, and widening our portfolio of world-class projects."
Stuart will focus on the practice's organic international growth strategy by developing its global hubs and the three offices it opened in 2011, with view to further office openings in the near future, to target emerging countries and new markets to continue to grow the business, and enhance its reach and ability to support clients.
He will enhance the unrivalled diversity of the practice's global team of expert designers, to ensure it serves the widest range of clients and remains as diverse as its clients, by developing its expertise in new directions and making strategic hires, to position the practice as a first-choice design project team leader in emerging markets, and deliver consultancy at higher, strategic levels.
Stuart will increase the practice's focus on long-term client partnering, by strengthening its ability to deliver a 'return on design' for clients by improving the reach, range and quality of its services, to develop the practice to be the best possible design partner, and secure increased business with global developers.
In a coordinated move the practice is bolstering its team in China headed by director Jeremy Salmon, to provide additional platforms for the export of its world-class skills, expertise and experience in the planning, design and delivery of high-quality, inspirational and future-proofed cities, places and buildings of all types from concept to physical operation.
It will see director Melvin Davis, who has come to the end of his tenure as chairman, relocate in the practice's Shanghai office from 2012, with the office having just relocated in central Shanghai.
Jean Wu has also been appointed as director of architecture in the practice's Shanghai office. Jean has over 12 years' experience as lead designer of large-scale planning and architecture projects, and joins from Hyder Consulting, having previously held senior roles at practices including RMJM.
The bolstering of the practice's local team follows its success in securing an appointment with the Minhang District Government to deliver a high-profile strategic planning review of the Minhang District in the heart of Shanghai. The 130 square kilometre site includes a large length of the city's main river, the Huangpu river, is close to the famous 'Shanghai Expo' site, and takes in one of China's heartland industrial zones.
The practice is the international contributor to a group including three Chinese planning teams, which will work in collaboration with the District and Shanghai City Governments to prepare the strategic study for the city district by the end of 2011, before delivering masterplanning and regeneration proposals for a number of zones by early 2012.
Director Jeremy Salmon said: "This high-profile project has been secured on the back of the growing reputation of our diverse team of expert designers for world-class skills, expertise and experience in the delivery of masterplanning.
"It is an example of the speed and intent of China's transition from a production-based economy to a sustainable and liveable city agenda, and our team will balance a diverse range of existing land uses, including agriculture and various scales of industrial activity, with a sustainable vision, to deliver a design for a modern and future-proofed city."
1 Sep 2011
Broadway Malyan Turkey
Broadway Malyan opens 15th global office to deliver world's second-tallest tower


render from architects
Global architecture, urbanism and design practice Broadway Malyan has opened an office in Istanbul, Turkey, as part of its continued international growth strategy, meaning the practice now boasts a global network of 15 bases, stretching from São Paulo to Shanghai. The new office will be led by Director Peter Vaughan, who will spearhead the practice's strategic push into Turkey, on the back of recent project wins in the country, including the world's second tallest tower which will stand at 571 metres, as well as other major mixed use schemes, including a 525,000 sq m project in Seyrantepe, 250,000 sq m scheme in Beylikduzu, and 100,000 sq m project in Florya.
20 May 2011
Broadway Malyan Indian Office News
Broadway Malyan India
Broadway Malyan enhances international network through Mumbai office opening
Broadway Malyan has enhanced one of the world's most geographically-spread network of architecture, urbanism and design offices by opening in Mumbai, as part of its continued international growth strategy, meaning the practice now boasts 14 international bases and a network stretching from São Paulo to Shanghai.
The Mumbai office will be led by Director Ian Simpson and Associate Director Shweta Ranpura, who will spearhead the practice's strategic push into India, and targeting of the masterplanning, mixed use, hospitality, residential, healthcare and retail sectors.


picture from Broadway Malyan
The move follows the practice's appointment to design the 250 key 'Double Tree' Hilton hotel in Hyderabad, for a joint venture client comprising Hilton Hotels and Saptrishi Hotels, with construction starting in Autumn 2011.
The new office will also support the practice's existing projects across the country, including masterplanning, mixed use and hospitality schemes in Bangalore, Chennai, Delhi and Hyderabad, including two Novotel hotels – a 400 key hotel at Delhi International airport, for a joint venture client of ACCOR and Interglobe Hotels, which is onsite and due to open in 2012, and a 170 key hotel in Chennai, for a joint venture client of ACCOR and Accent Hotels, which is scheduled to open in 2013.
Managing Director Gary Whittle said: "The new office will support our international growth strategy, further enhance our global network, which now includes 14 bases and spans from São Paulo to Shanghai, making us one of the world's most geographically spread practices, and provide an additional platform for us to export our expertise, experience and skills.
"It is a clear sign of our commitment to international clients, a response to growing client demand in India and evidence of our continued investment in the practice, for our own benefit and clients' businesses, to ensure that we continue to be a long-standing design partner of choice, with over 80 per cent of our 2010 income from repeat business.
"On the back of our long-standing track record for residential-led and mixed use schemes, we've built a diverse team of world-class sector experts who are delivering a diverse portfolio of projects, including a wide range of masterplanning, mixed use and hospitality projects across India."
Location: Riverside House, 2A Southwark Bridge Road, London, SE1 9HA, England, UK
BM Architects Practice Information
Numerous design offices across the globe.
London Architects design firm listings
Architecture in London
Contemporary Architecture in London
London Architecture : news + key projects
Comments / photos for the Design: Broadway Malyan Architect Office page welcome