Brad Cloepfil Architect, Allied Works Architecture Portland, Oregon Design Studio
Brad Cloepfil Architect, USA : Allied Works Architecture
Contemporary American Architects – design studio based in Portland
Brad Cloepfil Biography
Brad Cloepfil studied architecture at the University of Oregon and went on to earn an advanced degree from the Columbia University Graduate School of Architecture. After more than a decade of work and teaching in Los Angeles, New Orleans, New York and Switzerland, Cloepfil founded Allied Works Architecture in his native Portland, Oregon in 1994. The New York City office followed in 2002.
Cloepfil's earliest influences lay outside the field of architecture. While studying at the University of Oregon, he drew inspiration from the vast landscape and monumental works of civil engineering in the Pacific Northwest. While studying in New York he was introduced to the simple yet profoundly resonant gestures of land and installation artists of that time.
His body of work is as informed by the land and the history of place as it is by formal training, and it is one that cuts a clear line through much of the infatuation with rhetoric and formal novelty surrounding the practice today. The approach to design combines a research-intensive focus on the specific character of each project with an understanding of the profoundly affecting possibilities of building.
In addition to leading all aspects of creative work at Allied Works, Cloepfil has held visiting professorships at Syrcause University, UC Berkeley, Rice University, and University of Minnesota. From 1987-1996 he was a faculty member at University of Oregon and is actively involved in the Board. In the Fall 2011, Cloepfil will act as the Ruth and Norman Moore Visiting Professor at the Sam Fox School of Design & Visual Arts at Washington University in St. Louis.
Brad Cloepfil is also a frequent lecturer at leading universities, cultural institutions and creative companies throughout the world. Most recently, Cloepfil has lectured at Apple, the Architectural Association in London, Atlanta Contemporary Art Center, the New York Public Library, the Royal Institute of Dutch Architects, and Taliesen West – the Frank Lloyd Wright Foundation. In the Fall 2011, Cloepfil will lecture at Google New York and The Hammer Museum in conjunction with Zócalo Public Square. In January 2011, Christopher Hawthorne, architecture critic of the Los Angeles Times, named Cloepfil as a 'Face to Watch in the Arts' along with two other international architects.
In 2007, Metropolis' Andrew Blum described Clopefil as "an elementalist in an architecture culture in which image is king… a leading American architect of a new type: not a showman or a theorist, not a regionalist or a corporate architect, but a high-art practitioner with a burgeoning reputation for powerful, if subtle, buildings."
Brad Cloepfil information from Allied Works Architecture
Allied Works Architecture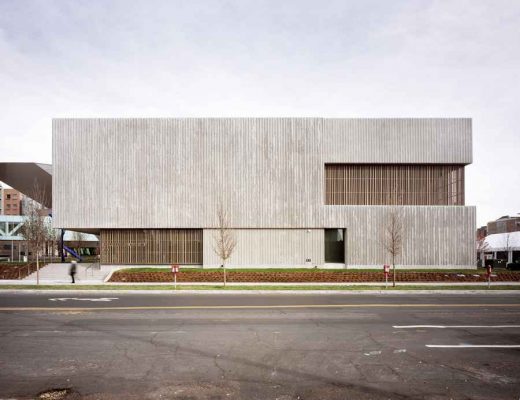 photograph : Jeremy Bittermann
More buildings / design projects by Brad Cloepfil / Allied Works Architecture online soon
Location: Portland, Oregon, USA
American Architecture
American Architect – Listings on e-architect
Brad Cloepfil Practice Information
Founder of Allied Works architects studio based in Portland, Oregon, USA
The defining project of Allied Works is the Maryhill Overlook in the Columbia River Gorge, completed in 1998, the first of a series of five installation designs in diverse landscapes across the Pacific Northwest. It was followed by the design for Wieden + Kennedy Agency (2000), the transformation of an historic warehouse in Portland's Pearl District into a world headquarters that has become a benchmark for adaptive reuse and workplace architecture.
In recent years the practice has gone on to complete a number of critically acclaimed projects, including the Contemporary Art Museum St. Louis (2003); the Dutchess County Residence Guest House (2007); the re-design of 2 Columbus Circle for the Museum of Arts and Design in New York City (2008); the Booker T. Washington High School for the Performing and Visual Arts in the Dallas Arts District (2008); the award-winning University of Michigan Museum of Art (2009); and a new feature animation studio in Emeryville, California (2011).
Current commissions include the Clyfford Still Museum in Denver, Colorado; the National Music Centre of Canada; a private residence with a major installation by artist Doug Aitken located on 350 acres in Stanfordville, New York; the design of the East River Walk in New York City; a masterplan and new studio building for the Pacific Northwest College of Art; and the Vancouver Community Connector, a major civic space and structure, in Vancouver, Washington.
Allied Works has been the recipient of several honor awards recognizing the firm's innovative and holistic approach to design, including a 2011 National Honor Award in Architecture from the American Institute of Architects for the University of Michigan Museum of Art.
In 2010 leading architecture critic and historian Sandy Isenstadt defined Cloepfil's work as "aiming to create oases of legibility, spaces that can look out upon the simultaneous contrasts of the modern world to appreciate them from a place no less complex, but one that unfolds over time, with repeated visits, rather than at the speed of a camera shutter, thereby rewarding continued occupation rather than just dazzling the eye."
In May 2011, the firm released its first publication, Allied Works Architecture Brad Cloepfil: Occupation, which explores the ideas, processes and projects of the firm.
Portland Architecture
University of Oregon Department of Architecture



image from KTISMAjournal
University of Oregon Department of Architecture
Portland State University – PSU Department of Architecture
PSU Department of Architecture Events
Buildings / photos for the Brad Cloepfil Portland Architect page welcome