baukuh, Architects, Italy, Building, Genoa Design Studio, Photos, News, Projects, Office
baukuh : Contemporary Italian Architecture Practice
baukuh architects, Italy – Genoa architecture studio: Italian Design Office News
18 Sep 2017
baukuh News
Chapel for Scenes of Public Life at Chicago Architecture Biennial
(STUDY FOR) CHAPEL FOR SCENES OF PUBLIC LIFE THE MEETING OF ENRICO MATTEI AND THE QUEEN OF SHEBA
The Chapel for Scenes of Public Life is a pavilion designed by baukuh and Stefano Graziani for the II Chicago Architecture Biennial "Make New History", curated by Sharon Johnston and Mark Lee. The project is presented through a large wooden model in scale 1:2. The model measures 3×12 m, and is 4,5 m high and is located in the Exhibition Hall of the Chicago Public Building.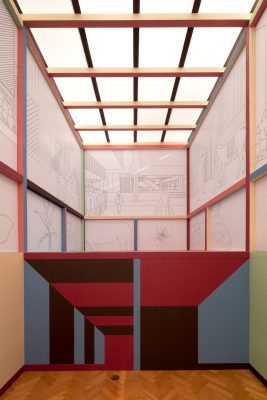 image courtesy of architects
The Chapel for Scenes of Public Life tries imagining how to produce spaces, so that gestures happening inside of them could acquire public meaning. The chapel is made of images of spaces distributed on the internal surfaces of a room. The images describe the scenes (the places, the spaces, the volume occupied by human bodies) of an imaginary event that is explicitly "staged" in order to produce a "spatial figure".
This "spatial figure" is meant as visual evidence of a political project explicitly addressed to a public audience. The chapel delimits a plain rectangular room and produces an ample vertical surface decorated with images. The images are photographs taken inside the Palazzo del Lavoro in Turin, built by Pier Luigi Nervi for the Expo Italia 61 and now abandoned.
The photographs document a performance staging the impossible meeting of the queen and the oil czar. The (very large) model presented at the Chicago Architecture Biennial is a study for the chapel. It is 1:2 scale. Here the photographs are replaced with line drawings, done by hand, and based on collage views realized starting from photographs of the location of the performance.
More info at Chicago Architecture Biennial 2017
18 Jun 2016
baukuh Event News
AE Foundation Event in Edinburgh, Scotland
'Values'
With Angela Deuber (ADA, Switzerland), Adrien Verscheure (Baukunst, Belgium), Andrea Zanderigo (Baukuh, Italy) and Lee Ivett (Baxendale, United Kingdom) Chairs: Penny Lewis, Samuel Penn and Rowan Mackinnon-Pryde
2 July
Evolution House, Edinburgh College of Art, 78 West Port, Edinburgh
"What drives the architect and what is architecture? These question have engaged the passions of the profession since its birth."
Website: Edinburgh Architecture Events
baukuh – Key Projects
New library of the Genoa Chamber of Trade, Palazzo Tobia Pallavicino, Genoa, Italy
Date built: 2009
Architect : baukuh with sp10studio



image from architects
Genoa Chamber of Trade Library – Competition, 1st prize
"The new library of the Genoa Chamber of Trade is located inside of palazzo Tobia Pallavicino, adding up to the system of cultural institutions aligned along strada nuova.
The library joins the musea of palazzo Bianco, palazzo Rosso and palazzo Doria Tursi, and the city hall at palazzo Tursi. As such, the new library -even if entirely enclosed in the existing building- has to be a public building."
Hatlehol Church, Ålesund, Norway
Date: [2009]


image from architects studio
Hatlehol Church – Norwegian Architecture Competition entry
Shanghai Expo 2010 Italian Pavilion
Date: [2008]


image from architects office
Shanghai Expo 2010 Italian Pavilion
"The pavilion we propose makes explicit reference to a classic tradition, based on roman and Renaissance architecture. This classic tradition assumes value with regards to the contemporary city for two reasons: as effectiveness and fine mechanics of the space, it defines a whole of architectural possibilities at disposal of the city; as public and universal grammar, it gives a code open to new evolutions and independent from personal predilections."
Xezhmy Delli str. Apartments, Tirana, Albania
Date built: 2006-09


image from architects
Tirana Apartment Block
This Albanian residential building is the product of this singular condition: banal regarding technologies, bizarre regarding volume, surprisingly generous regarding space. It is a prism aggresively excavated in order to match with building regulations, almost a cast that crystallize in the city the abstract rules of its legal apparatus, discovering how alien these rules are inside of the concrete body of the city.
More architecture projects by baukuh online soon
Location:Genoa, Italy
baukuh Genoa – Practice Information
baukuh – Genoa architect studio, Italy
baukuh Architects : Italian Architecture Office
baukuh was founded in January 2004 by Paolo Carpi, Lorenzo Laura, Silvia Lupi, Vittorio Pizzigoni, Giacomo Summa, Pier Paolo Tamburelli, Francesca Torzo and Andrea Zanderigo. This Italian design studio "produces architecture. Design is independent from personal taste. No member of baukuh is ever individually responsible for any project which goes out from the office."
In order to work together without a hierarchical structure and without a stylistic dogma, baukuh developed a rational and explicit design method. This method is based on the critical de-coding of the architecture of the past and on the logical re-coding of this knowledge into contemporary design.
The knowledge encoded in the architecture of the past is public. Starting from this heritage it is possible to solve every architectural problem.
The design practice has offices in Genoa, Italy and an Asian office in Hong Kong.
Selection of completed projects:
2015- House of Memory, Milan
2015- SuperSuperstudio, PAC Padiglione d'Arte Contemporanea, Milan
2015- Fausto Melotti, Nouveau Musèe National de Monaco, Monaco
2010- Apartment building, Tirana
2009- Mixed use building, Tirana
2007- Masterplan Bakemabuurt-Geuzenveld, Amsterdam
2006- Foucault's Pendulum at Palazzo della Ragione, Padua
Selection of upcoming projects:
Seminar School in Hoogstraten
Pavilion for Poretti Brewery in Induno Olona
Masterplan of the Pupillen site in Aalst
Strategic plan for the Student City of Tirana
Pineider store concept
Comments / photos for the baukuh Architecture page welcome
baukuh Building