aLL Design UK, Alsop Lawrie Ltd, Architects, News, Appointment, Europe, London
aLL Design – Will Alsop + Scott Lawrie : Practice Information
Architecture Practice led by Will Alsop + Scott Lawrie
aLL Design News
aLL Design Architects News
9 Mar 2018
Planning Permission for Great Northern Warehouse, Square and Deansgate Terraces, Manchester, UK
Architects: SimpsonHaugh ; Masterplan: aLL Design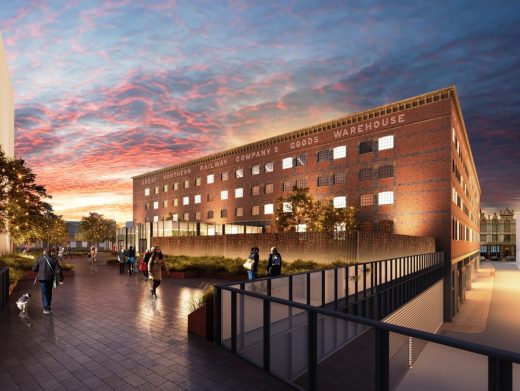 image : SimpsonHaugh
Great Northern Warehouse and Square Project
Trilogy Real Estate and Peterson Group win planning consent for the transformation of Manchester's Great Northern Square, Great Northern Warehouse and Deansgate Terraces.
9 Aug 2017
Great Northern Warehouse, Square and Deansgate Terraces, Manchester, UK
Architect: SimpsonHaugh ; Masterplan: aLL Design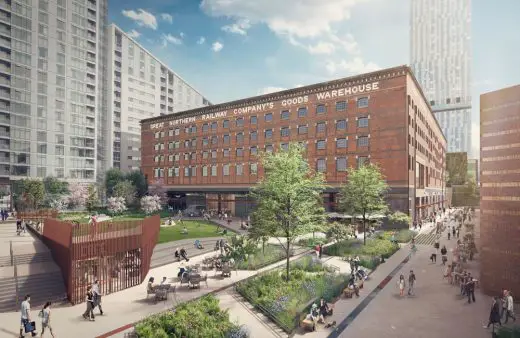 image courtesy of architects
Great Northern Warehouse and Square Masterplan
Public exhibition held at Great Northern Warehouse to showcase plans to create a new urban quarter.
2 Feb 2012
ALL Design – Past News
ALL Design announce Director of the practice
WILL ALSOP AND SCOTT LAWRIE'S NEW PRACTICE ALL DESIGN APPOINTS DIRECTOR
Will Alsop and Scott Lawrie's new multidisciplinary studio, ALL Design, has appointed Marcos Rosello as a Director of the practice. In previous roles at John McAslan & Partners and PRP Architects Marcos worked on projects in Europe, Russia, North America, the Middle East, Southeast Asia and North Africa. His extensive experience will contribute to ALL Design's global development.
ALL Design – Director of the practice, Marcos Rosello:



photograph from ALL Design
Since the practice launched in August 2011 ALL Design has opened studios in Toronto and Chongqing both of which will also focus on interiors, landscape, product and graphic design as well as architecture. Rosello commented: "I feel privileged to take on the role of Director at ALL Design. We're really excited about developing the brand not only in the UK, but also to international markets. The studio has some great things lined up that I'm really pleased to be a part of."
Sustainable design lies at the heart of Rosello's architecture and his areas of expertise include mixed use, commercial, hospitality, educational and residential sectors. Experienced in project management, business development, and international office set up, Marcos will also be involved with the operational side of ALL Design.
Scott Lawrie commented: "It's really great to have Marcos on board. ALL Design is growing into a studio with an exceptionally diverse mix of nationalities, personalities and talents. This gives a dynamic mix of energy and creativity. Every individual is contributing to making ALL Design an outstanding brand."
At the heart of the ALL Design studio complex in Battersea is Testbed1, a creative and experimental arts venue. Testbed1 and The Doodle Bar also facilitate collaboration with a wide range of different creative companies, practices and young artists. These collaborations are part of ALL Design's core strategy.
18 Aug 2011
ALL Design – Will Alsop + Scott Lawrie
Alsop and Lawrie announce new practice name
Will Alsop and Scott Lawrie are pleased to announce that the name of their new architecture and design practice is Alsop Lawrie Ltd, trading as ALL Design.
ALL Design – Will Alsop + Scott Lawrie:



photograph from ALL Design
ALL Design will be based at Elcho Street in Battersea, London, from where the team will work on projects across the world. Up to fifteen staff are transferring over from WA at RMJM with additional external appointments bringing staff numbers to around twenty.
ALL Design has a number of projects under development in the Far East, Europe and the UK. At the same time ALL will be working in partnership with RMJM to carry through a number of on-going projects in London, China and Canada.
Will Alsop said: "The new studio will encompass a much more diverse range of activities including a public face at Testbed. We feel this is an appropriate new context for architects where they can embrace consultation, experimentation and fun."
ALL Design – Will Alsop + Scott Lawrie:



photograph from ALL Design
Scott Lawrie said: "We are very happy to work on anything from a tea spoon to a city, sometimes in collaboration with designers from other fields. The focus of the practice will be to ensure that forward thinking innovative design is married at all times to commercial common sense and delivery. The structure of the new office and its partners has been carefully considered to achieve this."
ALL Design information received 180811
Will Alsop – News
Will Alsop to set up design studio with Scott Lawrie
Will Alsop and Scott Lawrie are to leave international architectural practice RMJM to form their own practice. The new company will retain some of the RMJM staff and will continue to be based in Battersea, London.
The new practice will be formed around a design studio concept embracing architecture, masterplanning interiors, landscape, product and graphic design.
An important part of the concept is Testbed, a performance space within the Battersea studio complex which provides a platform for events and debates, and which forms the hub of a creative design-led community.
Will Alsop



photograph : Jason Alden
Scott Lawrie said "It became apparent that our vision of an inter-disciplinary design studio functioning as the hub of an experimental creative community was not a priority for RMJM. This move gives us the freedom to transform our vision into reality and I am delighted to announce that we are being supported by a group of senior businessmen in the creative industries. Not only does this give us a secure financial base but the group are fully involved with our objectives and will give our new practice access to emerging technologies and new skills".
Will Alsop said "There has been much to enjoy at RMJM and their people are of the highest quality. The culture at RMJM has given us a free rein to produce an extremely high standard of work but Scott and I feel the time is right to develop our own studio. But we are also looking forward to maintaining a relationship with RMJM and working together in the future.
The new practice with Scott will focus on integrating art, architecture and design. It is where I have been heading for 35 years and it feels very exciting. We are going to be inclusive and work with our neighbours, other practices, all kinds of creative minds and technical innovators, and with different clients all over the world. We have a number of project opportunities in the pipeline".
RMJM chief executive Peter Morrison said: "We have been in discussion with Will and Scott for some time and all parties feel that this is the best way forward. Will and Scott have played an important role internationally for the firm and are undoubtedly architects with enormous talent and an excellent reputation.
"We are extremely grateful for their contribution to the business over the past two years and whilst I understand their desire to start something new, our intention is to continue to work together on a number of ongoing projects."
Further reports in the Press at the weekend that Will Alsop is to leave RMJM – we await confirmation on this. Back on the 24th of June the AJ reported Will Alsop OBE was due to depart RMJM but the architect told BD he was staying. 8 Aug 2011
Will Alsop at RMJM – Building Design
La Fosca Beach Hotel, Palamos, Spain



photograph : Piers Alsop
La Fosca Beach Hotel
Will Alsop Exhibition, London, UK



picture from architect
Will Alsop Exhibition – Royal Academy of Arts
Will Alsop at RMJM
1 Oct 2009
Will Alsop to take the reins at RMJM in London with new studio
Will Alsop OBE, one of Britain's most renowned architects and winner of the coveted Stirling Prize, has announced he is to create a studio called 'Will Alsop at RMJM', as part of the RMJM worldwide architectural firm.
Alsop's appointment completes the recent management reorganisation at RMJM's base in London, where he will take pole position, aimed at creating a flagship office within the RMJM global network.
Image of Peter Morrison, Group Chief Executive of RMJM with Will Alsop



photograph : Jason Alden
Comment:
This is a really interesting development. Just like fellow maverick Peter Cook working with a larger international practice here we have artist and none-mainstream Will Alsop teaming up with a major worldwide studio. It is only a few weeks since we announced Will Alsop's 'retirement', from former practice – Archial and previously SMC Alsop.
Will Alsop – Key Projects
The Public, West Bromwich, England
2008



photo from architect
The Public Art Centre
Glenwood Waterfront, Yonkers, USA
2007-



picture from architect
Yonkers buildings
Palestra office, Southwark, south London
2006



image © Adrian Welch
Palestra
Professor Will Alsop OBE
Internationally renowned architect, artist and lecturer Will Alsop approaches all his projects and ventures with the unwavering belief that individual and creative design can change and improve lives. Schooled at London's Architectural Association, Alsop belongs to a generation of modern British architects who follow no single school of theory. His guiding principle is the notion that joy must be allowed to pervade every sector of his work.
Following parallel research paths as an artist, product designer, film-maker and writer, Alsop's architecture develops through an inseparable dialogue with sculpture, painting and drawing. He was a tutor of sculpture at Central St. Martins College of Art & Design, London, for several years and has held many other academic posts including his long-term post as Visiting Professor of Architecture (from 2002). Alsop actively promotes the artistic contribution to the built environment his paintings and sketches have been exhibited alongside his architectural projects in dedicated exhibitions at Sir John Soane's Museum, Milton Keynes Gallery, Cube Gallery, Manchester and the British Pavilion at Venice Biennale. His works have been exhibited by the Canadian Centre for Architecture and the Royal College of Art along with many other prestigious institutions.
Will Alsop at RMJM images / information from RMJM 011009
Location: London, south east England, UK
ALL Design – Will Alsop + Scott Lawrie – Practice Information
ALL Design – Will Alsop + Scott Lawrie office based in London, England, United Kingdom
ALL Design London Architects Office
London Architecture : news + key projects



photo © Adrian Welch
Buildings / photos for the ALL Design – Will Alsop + Scott Lawrie page welcome
ALL Design page
Website: Architectural Walking Tours