Alan Dunlop Architect, Glasgow Buildings Projects, Scottish Designs Studio, Office News
Alan Dunlop Architect, Scotland
Contemporary Scottish Architectural Practice, Glasgow, UK
Post updated 6 November 2022
Alan Dunlop Architect News
19 Jan 2019
Royal Institute for Deaf and Blind Children in Sydney, New South Wales, Australia
Alan Dunlop has completed a detailed design brief, draft design and study for the Royal Institute for Deaf and Blind Children in Sydney, New South Wales. On a site of great interest at Macquarie University campus.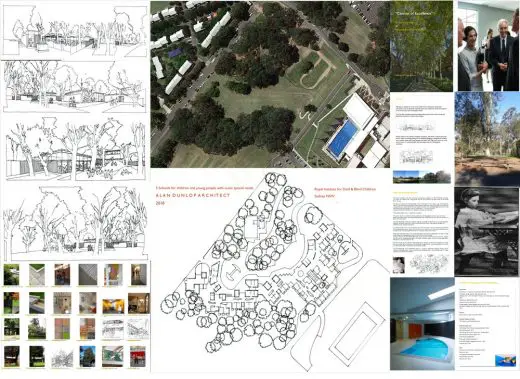 image courtesy of architect
The five schools were for children and young people who are deaf and blind or with acute vision and hearing loss and cognitive impairment. Many of the pupils also have physical impairment and require electric wheelchair and mobility assistance. The schools required an enhanced teaching and working relationship, similar to Hazelwood School with secure access to outdoor garden and teaching spaces and separate playgrounds, that includes provision for bikes and scooters, for junior and senior pupils.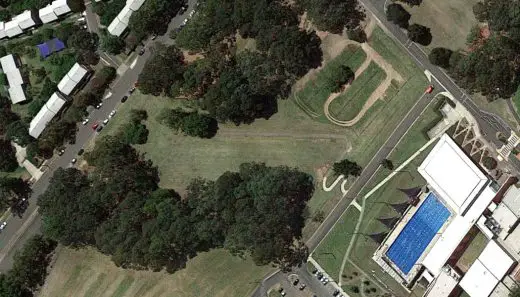 image courtesy of architect
Throughout, Dunlop focused on creating a safe, stimulating environment for all pupils, teachers and staff and set also out to eliminate an institutional feel and work to avoid conventional/standard details to create a bespoke design that incorporates visual, sound and tactile clues. As many of the pupil's trail and use canes, navigation and ease of orientation through the school environment was critical, as was studying the advantages, challenges and the environmental conditions offered by the chosen site.
He considered orientation, sun path, breeze, shade and connections to the exceptional external landscape, for the wellbeing and benefit of pupils, staff, parents and visitors. "Parents and other visitors should be made to feel welcome, as soon as they enter the site campus but particularly at reception entrances and throughout the school environment and parents encouraged to become fully involved in the life of the school." Alan Dunlop
4 Oct 2017
HundrED Listing for Hazelwood School, Glasgow, Scotland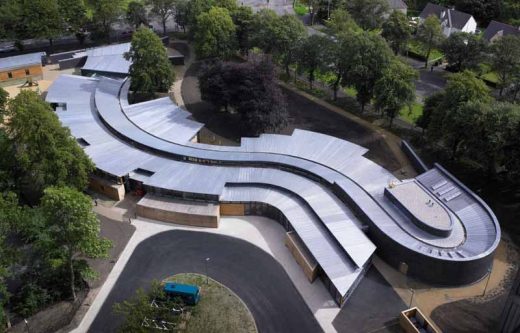 photograph : Andrew Lee
4 Oct – The multiple award-winning Hazelwood School, Glasgow was today included among an international list of "Inspiring Innovations in Education" 100 Global Inspiring Innovations of 2017 by HundrED.
16 Sep 2016 – Three articles from the USA and UK, all recognised and featured Hazelwood School in Glasgow as among the world's best.
On September 15th CNN broadcast and published globally the American Institute of Architects 8 world best school designs. Hazelwood features:
Hazelwood School Glasgow – CNN article re AIA publication
On the 13th The Smithsonian Institute in New York published a Q+A on best classroom design for the 21st Century, again Hazelwood has pride of place.
"Jane, as a designer, which design on the site have you found to be the most interesting?
Zhang: I find the Hazelwood State School compelling as a collaborative and landscape-oriented design. It is a school in Glasgow designed by Alan Dunlop and built specifically for students with complex special needs. The building and surroundings were designs for tactile experiences, both with the wall materials and natural plant life around the school. The different areas of the school are also segmented by color".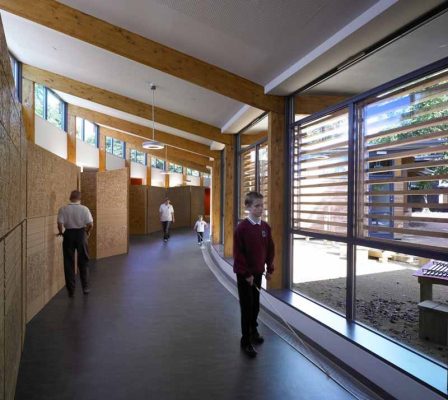 photo : Andrew Lee
Last week the Royal Institute of British Architects in the UK listed Hazelwood as one of the top five school buildings in the world
Alan Dunlop News
Alan Dunlop Appointed Visiting Professor at Liverpool
4 Dec 2014 – Alan Dunlop has been appointed as visiting professor at Liverpool University School of Architecture. He will lead a Master of Architecture studio, with the responsibility of guiding final year students through their thesis design. He will be supported by architect Ben Devereau, a recent award-winning graduate of the school.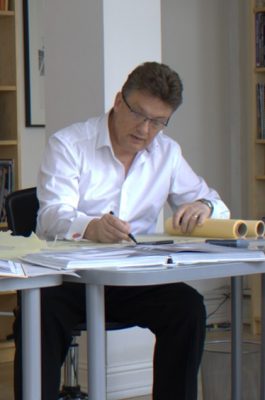 The Liverpool University School of Architecture was established in 1894 and became the first University in the UK to award a RIBA accredited degree in architecture and is part of the Russell Group . "The school is very highly regarded in the UK and internationally" says Dunlop. The faculty are exceptional architects, teachers and communicators and the students talented and motivated. Liverpool is also a great city, much like Glasgow and I'm looking forward to the challenge."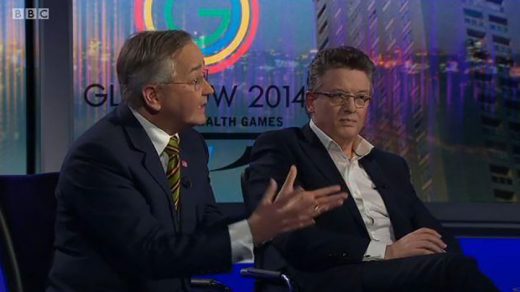 Head of School Andrew Crompton adds " Liverpool University is the oldest accredited school of architecture in the world. Alan joins our MArch team after the successful completion of his role as external examiner at XJTLU University, our joint venture university in Suzhou China, where he helped guide the new school of architecture toward RIBA validation in October. We are very pleased to have him on board."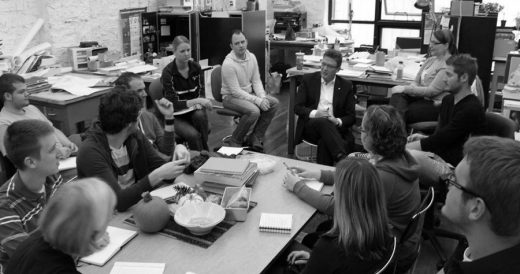 Professor Dunlop will continue in his position as visiting professor at Scott Sutherland School of Architecture, Robert Gordon University.
House for an Art Lover Exhibition : Drawing Counterpoints
House for an Art Lover, Café Gallery, Glasgow, Scotland, UK
Alan Dunlop & Peter Murray
16 Sep – 27 Oct 2014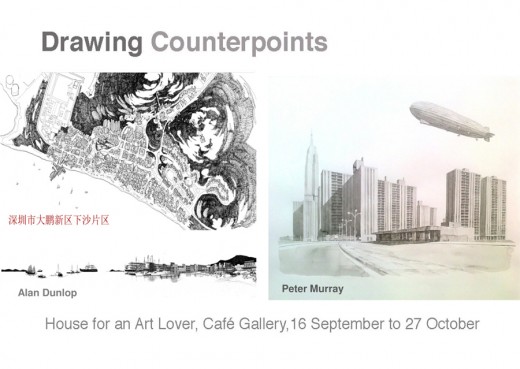 This joint exhibition of work by the architect, Alan Dunlop and artist, Peter Murray features new drawings and paintings that explore their individual approaches to the urban landscape.
House for an Art Lover Exhibition by Alan Dunlop – 27 Aug 2014
2 Jun 2014 – Since Barcelona, Alan has been invited to present his work at the AIA International Convention in Chicago later in June 2014 and at the Salk Institute in September 2014.
AIA CAE International Conference Barcelona: D*mn that Gaudi – talk at the University of Girona.
The architect will be presenting his recent work and drawings and focussing on three projects for children and young people with special needs, including autism and dual sensory impairment (blind and deaf) at the American Institute of Architects CAE Conference in Barcelona, April 27th to 30th 2014.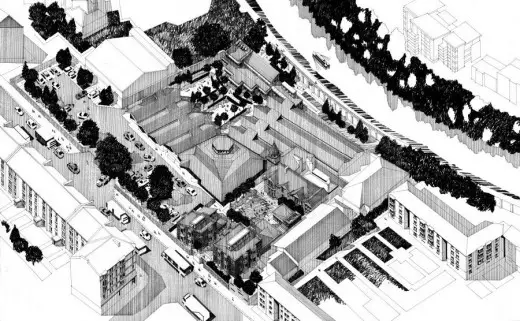 Presentation at the University of Girona on the 29th April.
Details: http://network.aia.org/CommitteeonArchitectureforEducation/Home/SpringConference/details
Alan Dunlop Architects – Contact Details
Alan Dunlop Architect Ltd
Slioch Studio
Duchray Road
Aberfoyle FK8 3XB
tel. +44 (0)7814 509 013
[email protected]
www.alandunloparchitects.com
Alan Dunlop Architect News 2013
Key updates from past years:
East Park, Glasgow, Scotland – 15 Nov 2013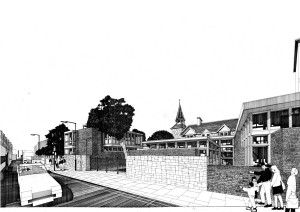 drawing © Alan Dunlop
The first major project by Alan Dunlop, his first Scottish building design since the break up of gm+ad architects.
Oxford Architecture Society – 1st Lecture of 2013/14


image from Alan Dunlop
"The computer is a design tool but in architecture it is supplanting creativity. Alan Dunlop will discuss the central role sketching and hand drawing plays in the design and development of good architecture. Using his own work and the drawings of past masters, including Paul Rudolph, Louis Kahn, Frank Lloyd Wright and Charles Rennie Mackintosh, as well as artists Ed Ruscha and Patricia Cain."
Shenzhen Project News
30 Jan 2013 – This shortlisted design has not won the competition
Design: JTP, ADA, Gillespies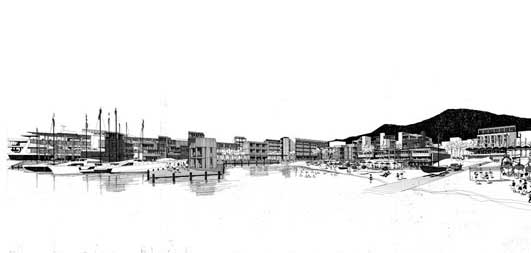 drawing by Alan Dunlop
Shenzhen Xiasha Project Masterplan
Shenzhen Project Shortlist News
26 Nov 2012 – Dapeng New District, Shenzhen Detailed Blueprint and Urban Design Project


photo from Alan Dunlop
JTP China, Alan Dunlop Architects and Gillespies have been shortlisted, as one of three, to develop design proposals for the Dapeng Peninsula of Shenzhen in Guangdong, China.
Shenyang Project
14 Nov 2012 – JTP Architects in Shanghai, Alan Dunlop Architect and Gillespies have made a significant bid for a large commercial, hotel and residential development to the north of Beijing, China.
The brief requires 450m high residential towers, Dunlop says "admittedly our group does not have many of those but our bid looks very strong. JTP Architects and Gillespies have an international reputation for excellence in urban design and landscape and it has encouraged me to think I too have enough in my own portfolio of past work, awards and experience to make a serious bid for projects in China".
So far, client reaction to the bid has been strong "Your Company has extraordinary strength in the field of architectural design and has many outstanding design projects, both domestic and abroad, and this really impressed us all. Your Company's outstanding design team is great enough to carry a number of important architectural design tasks".
Hazelwood School: New Publication
New publication featuring 29 of the best schools and educational projects from:
USA, Japan, Finland, Holland, Spain, Portugal, Norway, France…and Glasgow, Scotland.
By architects including:
Henning Larsen Architects
Arquitectonica
ah asociados
Kazumi Kudo
NAC/Architecture
Mecanoo
Joao Luis Carrilho da Graca Architects
Elliott and Associates
Dalian University of Technology Press
K-12 Educational Architecture International
Featuring plans, hand drawings, sections and photographs of Hazelwood School
ISBN 978-7-5611-7334-3
Masterplanning the Future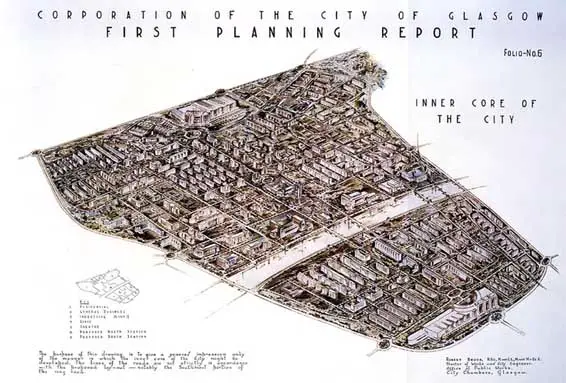 image from Alan Dunlop
22 Oct 2012 – Professor Alan Dunlop has returned from the Masterplanning the Future Conference in China: over 500 participated including a few of China's top architects and professors from the top schools. Professor Alan Dunlop has accepted an invitation to go to Liuzhou Urban Planning Bureau, Guangxi Autonomous Region and Nanning to talk about his work and exchange ideas. This will happen in early 2013.
17 Oct 2012 – Professor Alan Dunlop is in China at the moment lecturing and preparing to present a paper on Glasgow and Suzhou at the Masterplanning the Future Conference. He will also speak and chair a couple of public sessions.
"Devastation was, however, proposed by Glasgow itself. The Bruce Plan of 1945 by the City Engineer reflected the utopian arrogance of the time by proposing the phased replacement of every single building in the city centre, which was to be surrounded by a box of new highways. Two decades later, the urban motorways that carved up the fabric of the city were on the lines drawn by Robert Bruce, but otherwise his Plan was mercifully forgotten." The Glasgow Story
Guangxi Zhuang Autonomous Region Committee and 21st Century Settlement Suzhou
Urban development in China is progressing at a remarkable pace. The last twenty years have seen extraordinary changes to the country's physical and social landscape and infrastructure that are astonishing.
In early October, Professor Alan Dunlop will meet a senior delegation from Guangxi Zhuang Autonomous Region to tour new regeneration projects in Edinburgh and Leith. Guangxi Zhuang Autonomous Region is located in southern China, next to Vietnam. The local government has embarked on a major infrastructure upgrades in hopes of bringing more business and industry into the province. China's current five year plan calls for an investment of 2.6 trillion RMB in the Beihu Gulf Economic Zone over the next five years as way of boosting the local economy as well as improving trade and ties with Southeast Asia. Growth in exports from this region have helped boost confidence in the economy.
In the coming new semester, his March. studio at Scott Sutherland School of Architecture will be embarking on a new three year master-planning, infrastructure and design programme to create a new settlement for the 21st century in Suzhou, north west of Shanghai. The purpose of the unit will be to explore how we create 'new places' in contemporary society. The students will address this question at a theoretical and practical level through debate, planning, master planning and detailed urban design. The ambition of the unit is to go beyond the conventional attempts to create 'a sense of place' by resorting to pastiches or traditional models for public places and buildings. The unit will the question of authenticity and continuity and the place of tradition in the development of any contemporary culture.
Drawn to China
Professor Alan Dunlop has returned from a successful ten day trip to Suzhou and Shanghai.
XJTLU's Department of Architecture
I M Pei's Suzhou Museum finished in 2006:



image © Alan Dunlop
During his trip he made contact with a number of studios in Shanghai run by architects from the UK and USA to discuss opportunities for Scottish architects. "The pace of change is incredible and the opportunities are there for Scots architects if they can negotiate the system" adds Dunlop.
Professor Dunlop will be returning to Suzhou in October to teach and present his work at the Masterplanning the Future Conference and is currently working with Austin Williams to bring talented Chinese architects to Scotland to speak about their work and exchange ideas. His own M Arch course at Scott Sutherland school will be working on a two year project in China, starting in September 2012.
Family of Schools Exhibition
A+DS at The Lighthouse, Glasgow, Scotland
25 Apr – 20 May 2012


image : Alan Dunlop
The Lighthouse building
"Explore examples of context driven school design in Scotland in this short exhibition. The Family Of Schools exhibition looks at how related school designs can respond to their environment and surroundings, while a section of the exhibition looks specifically at creating new ideas in old buildings through innovative uses of interior design where the key stakeholders, the students, take centre stage in creating their spaces at James Gillespie's in Edinburgh and Campbeltown Grammar. The exhibition also highlights some of the core design qualities we aspire to in all Scottish schools captured in drawings by Professor Alan Dunlop." – see Events for details
Indian Architecture Journal
SPANDREL spring-2012 issue on 'Social Sustenance' features an article by Alan Dunlop on Hazelwood School in Glasgow, a building he designed for sensory-deprived children in the west fo Scotland.
Working Drawing Alan Dunlop


drawing : Alan Dunlop
Alan Dunlop lectures and teaches internationally and is the architect behind the designs of some of Glasgow's most striking buildings, including the Radisson Blu Hotel and Sentinel. He has won over 40 national and international architecture awards for his work. "I will be exhibiting a range of my Glasgow projects" says Dunlop. "It is an honour to be invited by HAL to exhibit and I am looking forward to the challenge".
The exhibition will focus on his original hand drawings, many of which have not been seen fully before, including the 8m long Broomielaw perspective done for the Glasgow Tradeston Bridge competition and Hazelwood School. Drawings of new work and the recent South Rotunda drawings and limited edition signed silk screen prints, will also be included. Drawings, new silk screen and digital prints will be for sale.
A drawing workshop with artist Patricia Cain, whose brilliant "Drawing on Riverside" was staged in Kelvingrove in 2011 is also being planned. The workshop will take place during the exhibition period.
Alan Dunlop FRIAS
Alan Dunlop : China Position
Professor Alan Dunlop has accepted the post of External Examiner within the Architecture Department at Xi'an Jiaotong-Liverpool University, a young and independent Sino-British university in the greater Shanghai area.
His appointment, which is anticipated to last for four years will be to assess the new school of architecture and monitor the standards of the university's awards and verify that the awards are appropriate with UK benchmarks for architectural education. He is also tasked with ensuring that assessments are rigorous, fairly operated and in accordance with the University's regulations, policies and procedures.
XLarch's home is the historic city of Suzhou which is also called the "Venice of the East", whose classical gardens are recognized as UNESCO World Heritage Sites. "I am delighted to accept the post and look forward to visiting the school and Suzhou" says Dunlop, " I have already heard much about it from contacts in China and the high standards of teaching and the commitment of the faculty to excellence in architectural education".
Professor Dunlop is currently visiting professor at Scott Sutherland School of Architecture at Robert Gordon University in Aberdeen. He has just completed his position as the Victor L. Regnier Distinguished Chair of Architecture and visiting professor at the School of Architecture Planning and Design at Kansas State University and as the Mahlum Endowed Lecturer at the University of Washington.
He is a Fellow of the Royal Incorporation of Architects in Scotland and has established an international reputation as an architect for innovation and urban design and won multiple awards, including RIAS, RIBA RIAI, Civic Trust and Europa Nostra.
Alan Dunlop Architect – About us
Alan Dunlop Architect studio based in Glasgow, Scotland, UK.


drawing : Alan Dunlop
Design Philosophy:
Creating evocative architecture is the essence of my work and each building a consequence of deep thinking about the site, programme and context.
The most important element for me is the site and although sometimes dramatic, my output is often times restrained and contextual.
My architecture can be playful and decorative and occasionally symbolic.
In design, it is important to explore possibilities and take risks, particularly with materials and colour.
Architecture is how we frame our perception of place. It can be playful, decorative and occasionally symbolic. Design is the conduit through which we explore possibilities and take risks, particularly with materials, colour, light and space.
The architect is the master of the design and construction process. We have a duty to clients and to society. It is the challenge and the privilege of the architect to improve the quality of place, cities and the public realm.
Practice Philosophy:
My aim is to be innovative and professional. As an architect, I offer a rigorous understanding of the design and construction process and I have an absolute commitment to my client to be dedicated, thorough and creative.
I lead a small design team who are passionate about building and place making and who have drive and ambition to deliver quality responses to a range of architectural challenges. We have access to and collaborate with a range of experts who share these views.
The studio is at the forefront of technical advancements in construction and is responsive to client demands on issues affecting the environment.
We operate internationally but cherish each commission individually.
Design Experience
Alan Dunlop was formerly a partner at gm+ad architects
Alan Dunlop is a practising architect and a respected educator. He is the Distinguished Victor L. Regnier Visiting Chair in Architecture at Kansas State University and Visiting Professor at Robert Gordon University, Scott Sutherland School of Architecture in Aberdeen. Alan Dunlop has taught at schools of Architecture in Manchester, Liverpool and Glasgow and lectured internationally. Widely published in the architectural press and in national broadsheets, he is an established commentator on Architecture, Design and Social Issues.
A Fellow of the Royal Incorporation of Architects in Scotland and the Royal Society of Arts, Alan Dunlop was educated in London and at the Mackintosh School of Architecture in Glasgow.
In practice Alan Dunlop has won over fifty national and international awards, including:-
Europa Nostra; Royal Institute of British Architects Awards; the Scottish Design Awards: Grand Prix for Architecture; a Special Award from the Royal Institute of the Architects of Ireland; a British Construction Industry: Best Practice Award; a Designshare Honor Award and two International Architecture Awards from the Chicago Athenaeum. His project for Hazelwood School was listed as one the top five schools of the 21st Century by Architectural Record.
A gifted draughtsman and artist his drawings have been exhibited at the Royal Academy in London and since 1996 at the Royal Scottish Academy. In 2008, Alan Dunlop was awarded the Royal Gold Medal in Architecture from the Royal Scottish Academy. His work has been exhibited at the Royal Institute of British Architects, the Royal Scottish Academy, the Royal Incorporation of Architects in Scotland, the Lighthouse in Glasgow, in Europe and at the Venice Biennale.
Alan Dunlop regards the education of young architects as both an obligation and a privilege and brings enthusiasm, ambition and authentic commitment to the task.
Architecture Awards
2009
British Council For School Environments Award
2009
IDA International Design Award
2009
Royal Institute of the Architects of Ireland Award
2009
WAN Awards: World Education Building of the Year, Second Placing
2008
Royal Scottish Academy: Royal Gold Medal for Architecture
2008
Civic Trust Award
2008
Design Share ; Honor Award
2008
Premio Internazionale Dedalo Minosse Alla Committenza di Architettura (selected)
2008
Chicago Athenaeum Museum Of Architecture and Design International Award
2007
Royal Institute of British Architects Award
2006
British Construction Industry Award
2006
Royal Institute of British Architects Award
2005
Royal Institute of British Architects Award
2003
European Hotel Design Awards: Best Hotel
2003
Joint European Union/ Europa Nostra Cultural Heritage Award
2003
Scottish Design Awards; Grand Prix for Architecture
2003
Royal Institute of the Architects of Ireland: Special Award
2000
British Construction Industry Award
Architectural Projects
South Rotunda, Glasgow, Scotland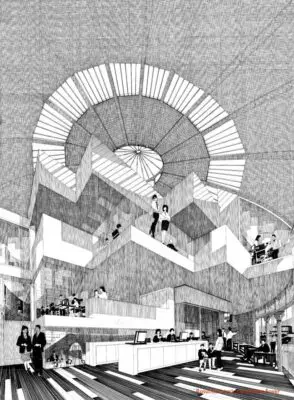 image : Alan Dunlop Architect
Cornerstone Project, Glasgow, Scotland



photograph : John Barr
Glenroy Specialist School, Australia



drawing : Alan Dunlop
Hazelwood School Glasgow, Scotland
Radisson Glasgow, Scotland
Bewleys Hotel, Glasgow, Scotland
Clydebank rebuilt, Glasgow, Scotland
Sentinel building, Glasgow, Scotland
All projects above completed by Alan Dunlop whilst at gm+ad
Directors
Architect Studio led by Alan Dunlop with his wife Kate Dunlop as a fellow Director.
First project to be unveiled by Alan Dunlop Architects, 12 Aug 2010:
House in Corstorphine, Edinburgh, Scotland, UK
Location: formerly at 13 James Morrison Street, Glasgow, G1 5PE, Scotland – now located at home
Architectural Design
Glasgow Architect Practice : Contact Details
Scottish Contemporary Architectural Designs
Alan Dunlop – further information
Alan Dunlop Lecture : Bauhaus, Dessau – PDF, 190kb
Comments / photos for the Alan Dunlop Architect – Scottish Architecture Practice page welcome
Website: www.alandunloparchitects.com