Adolf LoosArchitect, Vienna Building Photos, House, Austrian Design Projects, Info, Images
Adolf Loos Architecture : Austrian Architect
20th Century Designer, Vienna, Austria: Modern Architectural Designs
post updated 10 Apr 2021
Adolf Loos – Key Projects
Architecture Projects by architect Adolf Loos, alphabetical:
American Bar, Vienna, Austria
Date built: 1908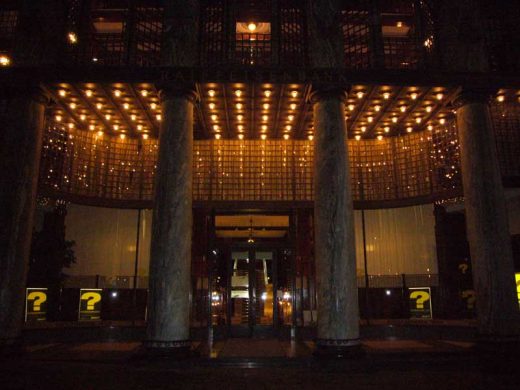 photo © architect Mint Orr
Vienna Building Photos
Khuner Villa, Kreuzberg, Austria
Date built: 1929
Looshaus – Goldman & Salatsch Building, Michaelerplatz, Vienna
Date built: 1910



scanned photo © Adrian Welch
Rufer House, Vienna
Date built: 1922
Steiner House, Vienna
Date built: 1910
Tristan Tzara House, Montmartre, north Paris, France
1925-27
Adolf Loos lived in Paris from 1922 to 1927
For French Dadaist – artist
Villa Moller, Vienna, Austria
1926
Villa Mueller, northwest Prague, Czech Republic
1928/30



photograph © architect Adrian Welch
Villa Müller
This is a famous Modernist house, a key building by architect Adolf Loos
Adolf Loos pupil : architect Richard Neutra
Adolf Loos – The Architect
1870-1933
born in Brno, Moravia
died in Kalksburg, nr Vienna, Austria
Famous Essay by this architect : "Ornament and Crime"
American Bar Vienna



photograph © architect Mint Orr
Unbuilt Project by this architect:
House for Josephine Baker, Paris, France
Date built: 1927
Related work:
Wittgenstein House
Date built: 1928
Paul Engelmann & Ludwig Wittgenstein (philosopher)
Location: Vienna, Austria, central Europe
20th Century Architect in Vienna, Austria
Adolf Loos was based in Vienna, Austria
Adolf Loos Exhibition
Learning to Dwell: Adolf Loos in the Czech Lands
24 Feb – 3 May 2011
Galleries 1& 2 and RIBA Library, RIBA, 66 Portland Place, London, UK
"Loos swept right beneath our feet, and it was a Homeric cleansing — precise, philosophical and logical. In this Loos has had a decisive influence on the destiny of architecture." Le Corbusier
The Royal Institute of British Architects (RIBA), with the City of Prague Museum, Czech Centre London and Austrian Cultural Forum London, is pleased to present an exhibition on the work of one of the pioneers of European Modern architecture, Adolf Loos (1870-1933). Born in the Czech Republic, the exhibition will examine Loos' house designs in the cities of Prague, Pilsen and Brno. Originated by the City of Prague Museum, the exhibition will also highlight the rich interiors of his buildings and will feature drawings, models, original furniture and glass, never before seen in Britain.
Villa Müller:



photo : Martin Polak
On display in Gallery 1 will be a selection of Loos' designs for private houses and apartments, such as the Villa Müller (1928-30) and the house for Josef Winternitz in Prague (1931-32). The Gallery 2 exhibits will focus on the restoration of the Villa Müller in Prague, now a National Cultural Monument, and one of the finest examples of Loos' 'Raumplan' technique – the development of split-level living.
The exhibition will be extended by previously undisplayed material from the collections of the Royal Institute of British Architects whose Library helped save the Adolf Loos Archive (now in the Albertina, Vienna) when it was brought to London in 1938 by Loos' literary executor, the Austrian art historian Ludwig Münz, during the War. A special display of RIBA – held photographs of Loos' buildings in Austria and France as well as Loos' polemical books and documents will be available to view in the RIBA British Architectural Library.
Adolf Loos furniture:



photo : Martin Polak
The architect studied architecture in Bohemia and Dresden and was influenced by a three-year stay in the United States (1893-96) where he was impressed by the innovative efficiency of American industrial buildings. He then lived in Vienna where he wrote many controversial essays, notably 'Ornament and Crime' in which he expounded a lack of ornament in architecture as a sign of spiritual strength. As well as his private houses he is perhaps best known for his projects in Vienna such as the Goldmann & Salatsch building on Michaelerplatz, the Café Museum and the Kartner (American) Bar.
Speaking about the development of his Raumplan design in 1930, Adolf Loos said: "My architecture is not conceived in plans, but in spaces (cubes). I do not design floor plans, facades, sections. I design spaces. For me, there is no ground floor, first floor etc…. For me, there are only contiguous, continual spaces, rooms, anterooms, terraces etc. Storeys merge and spaces relate to each other. Every space requires a different height: the dining room is surely higher than the pantry, thus the ceilings are set at different levels. To join these spaces in such a way that the rise and fall are not only unobservable but also practical, in this I see what is for others the great secret, although it is for me a great matter of course."
Modern Architecture
Comments / photos for the Adolf Loos Architecture page welcome
Website: Vienna, Austria