24H>architecture Holland, Rotterdam Architects Office, Dutch Design Studio News
24H>architecture Rotterdam : Architects in The Netherlands
Dutch Architecture Practice: Design Office in Holland
post updated 15 February 2022
24H>architecture – Rotterdam Design Studio
27 Apr 2021
24H – Inspired by Nature
Working with ingredients from nature, the theme of Art d'eco has been developed as one of the main design philosophies of the office. With this the ambition is to support the environment as well as to create beauty: this makes the art of ecology.
Other themes developed over the years within the office that form a base for inspiration are:
Evolution: adaptable structures in time providing multi program use in a single space.
Natrufied: Abstract interpretations of nature petrified into building materials.
Organism: Growing additions transform existing buildings into new compositions.
Sensibility: to arouse the senses, a building should age beautifully by using materials with a natural ability to transform during its lifetime.
In the past 10 years 24H> architecture has been involved in various scale projects. One of the first projects was the summerhouse Dragspelhuset at Övre Gla, Sweden. Various signature designs in housing, exhibition and hotel projects have since then been realized.
The 16 person international team of 24H currently works on a broad scope of design tasks like schools, housing and hotel developments in Europe, Asia, Africa and the Americas.
24H>architecture
24H – the architects
Maartje Lammers
Nationality Dutch
Date of birth 13.02.1963 Assen
Education
1982-1988 Technical University Delft, Faculty Bouwkunde
Graduation project: Extension Artis ZOO, Amsterdam
Experience
2001-present 24H TWENTYFOUR HOURS, Rotterdam
1995-2000 (EEA) Erick van Egeraat associated architects, Rotterdam
1990-1995 Mecanoo architekten, Delft
1988-1990 Office for Metropolitan Architecture(Rem Koolhaas) Rotterdam
Teaching/committees
2005-2009 . Member Rotterdamse Raad Kunst & Cultuur
2004- 2009 . Architecture Committee Stimuleringsfonds Architecture
2002-2008 . Chairman of College voor Welstand, Haarlemmermeer
2000/2002 . Jury member 'bouwkwaliteitsprijs Rotterdam'
1997-present . Teacher Academie voor Bouwkunst Rotterdam
1995-2002 . Member of College voor Welstand en Monumenten, Rotterdam
1995-1996 . Guestteacher Technische Universiteit Delft
1994 . Guestteacher Centre the Cultura Contemporana, Barcelona
Boris Zeisser
Nationality: Dutch/German
Date of birth: 29.04.1968 Alkmaar
Education
1989-1995 Technische Universiteit Delft, Faculteit Bouwkunde
Graduation project: Fields of mobility, Los Angeles, honourable mention
1994 University of Illinois, Chicago, exchange programme
Experience
2001-present 24H TWENTYFOUR HOURS, Rotterdam
1996-2001 (EEA) Erick van Egeraat associated architects, Rotterdam
1992 Min 2 Produkties, Bergen
Teaching/committees
2001 – present . Various lectures around the world
2007-present . Teacher Academie voor Bouwkunst Rotterdam
2005 . Jury member Groningen Architecture Prize
1996 . lecture 'Fields of Mobility', Instituut voor Architecture, Hogeschool voor de kunsten, Utrecht
Panyaden School, Thailand: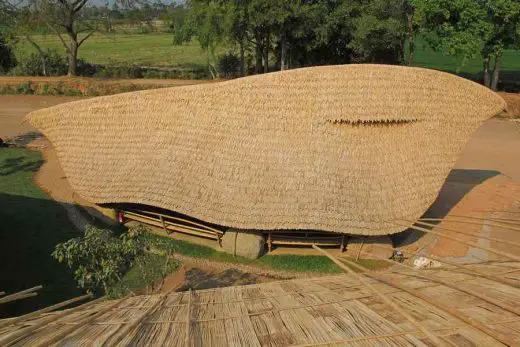 photo © Ally Taylor / Panyaden School
Architectural Awards
24H Awards
. Limited competition primary school, Haarlemmermeer 2001 (joint 1st prize)
. Limited competition city museum Schlossberg Böblingen 2002 (honourable mention)
. Limited competition Parkhousing Schoterburcht, Haarlem 2004 (2nd prize)
. Design 100, 100 best designs of the world, Dragspelhuset, Sweden, 2005
. Limited competition Arts pavilion Peckham, London 2005 (2nd prize)
. Limited competition Thermen Holiday, Sluis 2006 (1st prize)
. Limited competition Thermen Holiday, Haarlemmermeer 2006 (1st prize)
. Limited competition Eco holiday resort Soneva Kiri, Koh Kood, Thailand 2006 (1st prize)
. Top 3 architecture in Holland award, 2010
. World ExpoShanghai Bamboo and Rattan Product Ideas Competition, 2nd place
Rijkswaterstaat Office, Netherlands:



photograph : Christian Richters
Architectural Exhibitions
24H Exhibitions
. Exhibition summerhouse Dragspelhuset, Arvika, Sweden
. Exhibition summerhouse Dragspelhuset, Årjäng, Sweden
. Exhibition summerhouse Dragspelhuset at WILD, fantasy and architecture, Turku, Finland
. Exhibition Ankara University, Turkey
Hatert Tower, The Netherlands:



photograph © Boris Zeisser
24H Projects – Selection
Public buildings
. Extension Ichthus Hogeschool, Rotterdam
. Limited competition primary school complex, Haarlemmermeer
. City museum Schlossberg Böblingen, Germany
. Refurbishment former Spinnerij Oosterveld, Enschede
. Icecastle, Hönefoss Norway
. Limited competition Arts pavilion Peckham, London
. Rudolf Steiner College, Rotterdam
. Marecollege, Leiden
. Primary school & Kindergarten, Chiang Mai, Thailand
. Rijkswaterstaat Drenthe Groningen, Assen
. Envirionmental Education Centre, Assen
Commercial developments
. Courthouse hostel, London
. Limited competition Thermen Holiday, Sluis
. Eco holiday resort Soneva Kiri, Koh Kut, Thailand
. Thermen Holiday, Haarlemmermeer
. River Resort Domburg, Surinam
. Salt Cay resort for Six Senses, Turks & Caicos islands, Caribbean
Housing
. Dragspelhuset, holiday house, Sweden
. Poortgebouwen deelplan 12-14 Getsewoud, Nieuw Vennep
. Housing Zuid Brink, Eiland 7, Floriande, Hoofddorp
. Social housing Eiland 7, Floriande, Hoofddorp
. Limited competition Parkhousing Schoterburcht, Haarlem
. Housing Sciencepark, Amsterdam
. Refurbishment former Watertower, Domburg
. Housing tower Hatert, Nijmegen
. Housing for musicians, Hoogvliet
. Housing Besançon, France
. Housing Monza, Italy
Urban design
. urban planning Kop van West, Purmerend
. development vision Zeeburgereiland, Amsterdam
. urban scheme Harbour Industrial Terrain, Goes
. urban scheme Plot I, Beukenhorst zuid, Hoofddorp
. Shell terrein, Amsterdam noord
. Aprisco kavel, Hoofddorp
Interior
. Hotel Ashlee House, London
. Shop in shop concept Mart Visser
. Exhibition Romantiek, KunstHAL, Rotterdam
. Exhibition Dinos, KunstHAL, Rotterdam
Soneva Kiri Resort, Thailand:



photo from 24H > architecture
Location: Hoflaan 132, Rotterdam, The Netherlands, western Europe
24H>architecture Practice Information
24H>architecture are based in Rotterdam, The Netherlands
Main page on this Dutch design studio with key project information



photograph © Boris Zeisser
Website : www.24h.eu
Rotterdam Architecture Studio – design firm listings
Rotterdam Architecture
Masterplan Marktkwartier, Amsterdam, North-Holland, The Netherlands
Architects: Mecanoo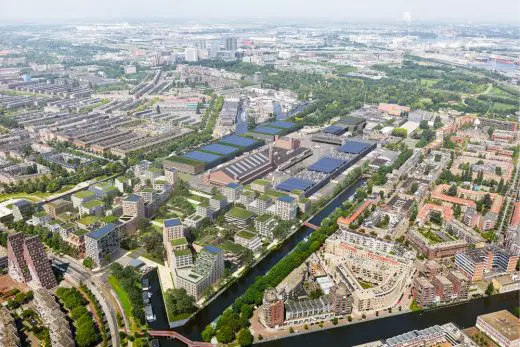 images : GVd Werff, Bank Amsterdam and Mecanoo
Masterplan Marktkwartier Amsterdam
Zaanstad Sports Centre
Design: UArchitects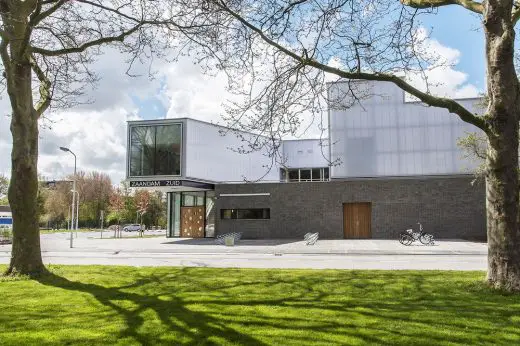 photograph : Daan Dijkmeijer
Comments / photos for the 24H>architecture Netherlands – Contemporary Architects Office Holland page welcome