Booking.com HQ Campus Connector Spaces in Amsterdam, Oosterdokseiland office development, Dutch commercial property photos
Booking.com HQ Connector Spaces in Amsterdam
13 July 2023
Architect: UNStudio ; Lead Interior Architect: HofmanDujardin
Location: Oosterdokseiland, Amsterdam, The Netherlands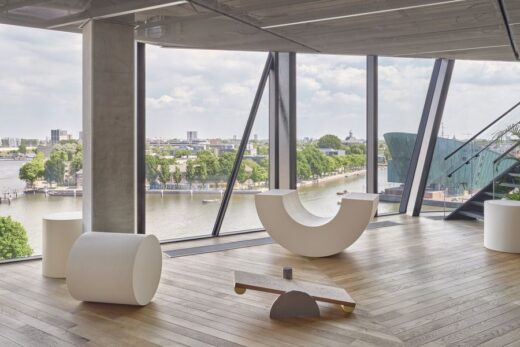 Photos by Maarten Willemstein
Booking.com HQ Campus Connector Spaces, Netherlands
At 65,000m2 the Booking.com Campus in the heart of Amsterdam is one of the largest urban projects in Western Europe. It's situated on the tip of Oosterdokseiland, a small island nestled between Central Station and the river IJ.
The building was designed by UNStudio, with HofmanDujardin as lead interior architect. To match the client's ambition for an inclusive and diverse environment, HofmanDujardin embarked on a collaborative approach, in which they developed the masterplan for the interior and invited other designers to fill in individual areas. Studio Modijefsky was commissioned to carry out two projects, including the Connectors, three areas that double as meeting room and spaces to unwind on the 6th, 7th and 8th floors.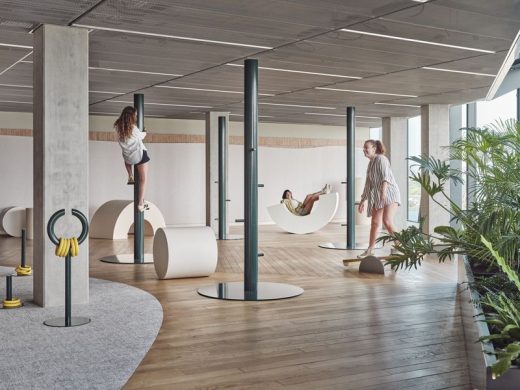 The Connectors positioned on the southeast edges of the building are bright spaces with direct sunlight and expansive views over East Amsterdam. Their dual function reflects the fact that an office is no longer just a place to work, it is somewhere to be at your best. What might have been plain meeting rooms close to staircases have been transformed by Studio Modijefsky into dynamic spaces that challenge employees to break out of their routines: to reboot by switching off their minds and moving their bodies instead.
But these aren't gyms: fun is the goal here. By filling the Connectors with unusual but enticing tools for movement, play and interaction, employees are just a hop, skip and a jump from a positive and physical mindstate. As with every area in the campus, each Connector is named after a different travel destination, which has been recreated with a haptic texture palette and clean lines.
In addition to the interior design, Studio Modijefsky was asked to curate the styling for the Connectors. Each Connector has objets trouvés sprinkled throughout. These are both aesthetic and functional in purpose, inspiring employees with beauty and tactility to either simply admire or play with.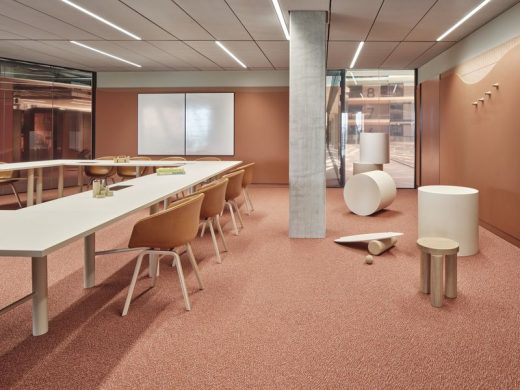 6th floor Connector: Tuscany
Picture Tuscany, and images come to mind of golden fields marked by tall green cypress trees, rolling hills dotted with bales of hay and picturesque villages filled with terracotta houses. This iconic landscape is recreated in the 6th floor connector along a curved line outlined by parquet flooring.
Walls in both parts of the Connector are finished with warm earthy colours and layered textures that mimic the region's sloping hills. Bricks made from construction waste material and recycled felt panels are also used in the meeting area, where deeper-coloured terracotta shades are used on the floor and wall claddings. Foil in the windows blends in with the surrounding colours and obscure the view of the play area, giving the meeting room a more intimate character and enabling the Connector to fulfil both its functions simultaneously.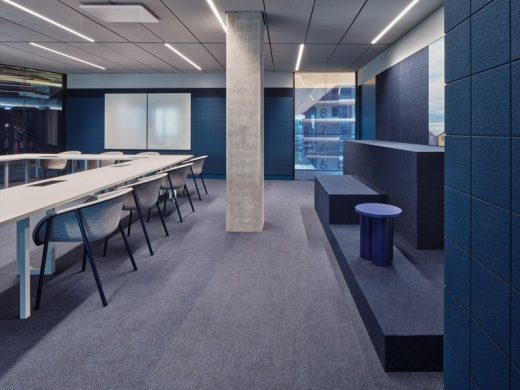 The tools for play include geometric seating elements that can be interpreted however you want as you stand, stretch, roll, balance, or lay upside down on them. The shape of the playground area furniture returns in the meeting room, where half circle units join to form the big round meeting table. Further tests of your balance await on a slack line and custom-designed balancing tools that stimulate the imagination and promote creative movement.
If you're feeling more playful there are rings to throw, and seating elements resembling bales of hay to sit jump or lie on. A further Tuscan touch is present in the vertical dark green poles, inspired by cypress trees, which grow from the floor until the ceiling and you can climb, hang on and jump between.
7th floor Connector: Cape Town
Taking the staircase up one floor transports you from tranquil Tuscany to buzzing Cape Town. This urban playground is the most physical of the three Connectors, with a punch bag and a bouldering wall looking right over Amsterdam and the water surrounding the building.
This Connector is a colourful urban landscape of geometric apartment blocks, concrete playgrounds, painted facades and bright city lights. Just as in Amsterdam, water is never far away in Cape Town and the energy of the city pulses everywhere you look. Employees can let their energy loose on a bouldering wall, benches for pull ups and a gymnastic structure made out of a grid of bars that they can climb and play in, do pull ups or hang upside down.
Peach rubber flooring with dark blue and red accents forms a canvas for the bright yellow gymnastic structures and purple blocks. Recycled blue marine felt, sustainable wooden waste panels. Thick structural-plywood walls with colourful grips and the gymnastic bars on one side, and a giant checkers board integrated into the wall on the other side of the space, awaken the senses for play and amusement. Ping-pong and football tables pop up in the middle of the space, while the deep blue palette is extended into the meeting room. Here orthogonal modules compose the meeting table, while the wooden waste panels turn into steps, which serve as a platform for anything from informal conversations between colleagues to company presentations. Pin boards, screens and toolboxes are seamlessly integrated in the design to support creativity.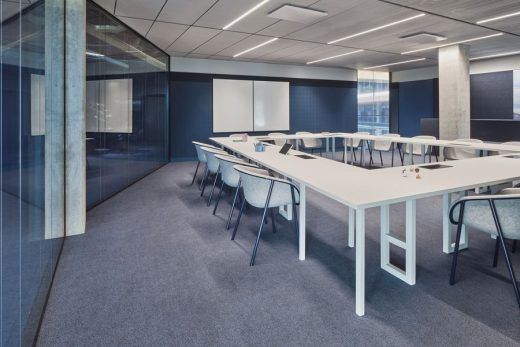 8th floor Connector: Dead Sea
The third and final Connector designed by Studio Modijefsky captures the unique feeling of floating in the Dead Sea while drinking in its dreamy landscape. The focus here is letting go and transcending to a meditative state while putting your body to work.
Calm and comfort emanate throughout thanks to pastel colours, graceful round shapes and linear patterns, with an undercurrent of playfulness represented by skippy balls. White lines make abstract water ripples on the floor simulating a circular wave emanating from the sea surface. Soft rugs and rubber flooring recur throughout the interior.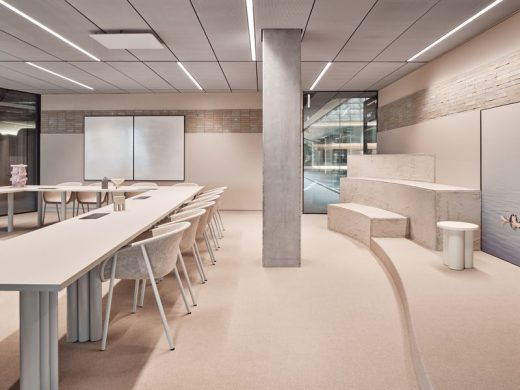 While the Dead Sea Connector might look less physically demanding than Cape Town, it challenges your body to move in new ways. There's an aerial hoop (which is not as easy as it looks to master) and a series of rings, poles and gymnastic devices that inspire employees to find a new way to unwind or try some more advanced exercises. For those seeking to clear their mind, this bright and elevating area offers space for contemplation and relaxation.
The flooring is paired with recycled felt panels and anthracite bricks made from waste materials. Together they form a palette of soft-hued colours laid out linearly on the walls. Large curved smooth shapes mould steps as seating that connect the playground with the meeting room. A sense of calm reigns here as well, with a high degree tactility area including a sculpted oval table.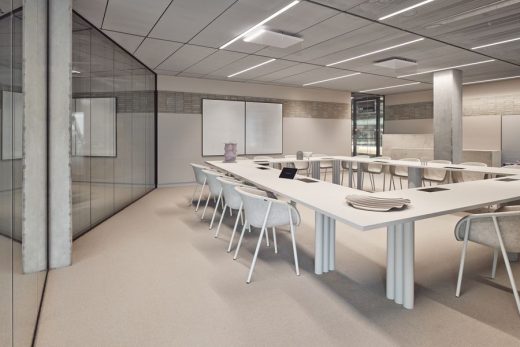 Booking.com Connector Space, Amsterdam, Holland – Building Information
Project: Booking.com HQ Campus – Connector Spaces floor 6/7/8 Location: Amsterdam
Program: Office environment; meeting rooms and spaces to connect Assignment: Interior design
Status: Realised June 2023
Size: Connectors 6th Floor 335m2, 7th Floor 375m2 and 8th Floor 305m2 Client: Booking.com
Design Connectors: Studio Modijefsky; Esther Stam, Natalia Nikolopoulou, Nancy Katri, Agnese Pellino, Martyna Nicolson, Christel Willers
Architect: UNStudio
Lead Interior Architect: HofmanDujardin Architects
Interior Area designers: CBRE Design, HofmanDujardin, i29 interior architects, Linehouse Design, UNStudio, Studio Modijefsky
Interior Layer Designers: Mijksenaar, MOSS, Powerplant, Scholten and Baijings, Studio Rublek Photography: Maarten Willemstein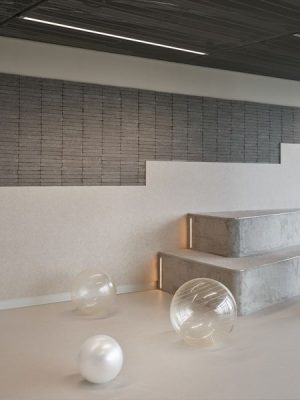 About Studio Modijefsky
Studio Modijefsky is an interior architecture studio founded by Esther Stam in 2009. Its home in the center of Amsterdam hosts an international team of interior architects who provide a total creative service for spatial interventions for clients that range from restaurants, hotels, houses, museums, offices, boutiques and bars to spas. The ten women that currently form the studio carefully design everything that is seen, passed and touched by a visitor for the duration of their stay whether it's five seconds or five hours.
This results in custom made interiors that vary in scale, discipline and execution. Studio Modijefsky has an extensive portfolio with over 50 projects, such as the public spaces of Museum Arnhem, flagship store Wolford Amsterdam and stores Paris, Polly Goudvisch and Restaurant floor 5 and Connectors floor 6-8 at the new Booking.com HQ Campus in Amsterdam.
Every Modijefsky project is unique thanks to a rigorous creative process that's rooted in each location. The site – not just the building but also the local environment – is carefully researched and analyzed to reveal and embellish the location's story. An equal amount of attention is given to the brand or inhabitant of the new space in determining how their attributes, character and heritage can be translated into a relevant, appealing spatial design and experience.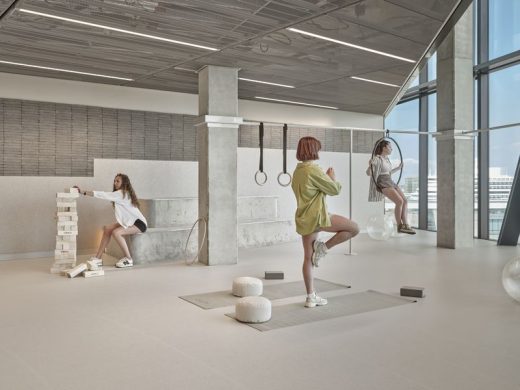 The next step is to consider how the space could and should be used. Height, width, lines of sight, routing, light and sight are explored and optimized in a spatial design in which everything is related to the location and brand's unique character. Finally, the entire creative process is presented to the client in a book that tells the history of the location and its future design.
The worlds Studio Modijefsky creates need to make sense until the very last detail. Achieving this level of quality requires a large team of professionals – not just designers but painters, electricians, craftsmen, light makers, shop fitters, and contractors – pushing their limits to perform at their best. This level of collaboration is only possible with regular contact, so Studio Modijefsky regularly visits building sites and workshops where the interior and its contents are made to ensure optimum quality.
It's part of the studio's ultimate goal to reinvent the way people interact with an interior. By relating design to the location's context (whether natural or urban) and playing with the composition of texture and materials, light and routing, height and depth, sight and tactility Studio Modijefsky creates spatial experiences that surpass all expectations and create valuable new memories.
UNStudio / HofmanDujardin Architects
Booking.com Amsterdam workplace building, Holland images / information received 120723 from UNStudio Architects and Lead Interior Architect HofmanDujardin
Location: Oosterdokseiland, Amsterdam, The Netherlands, western Europe
Amsterdam Buildings
Amsterdam Architectural Designs : links
Major New Dutch Capital Building Designs
Brink Tower
Architects: Mecanoo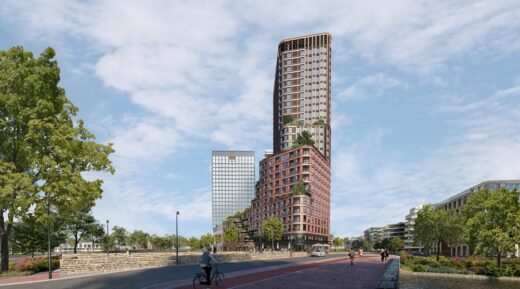 image : Mecanoo
Brink Tower Amsterdam
Sluishuis IJburg Building in Amsterdam
Design: BIG – Bjarke Ingels Group and Barcode Architects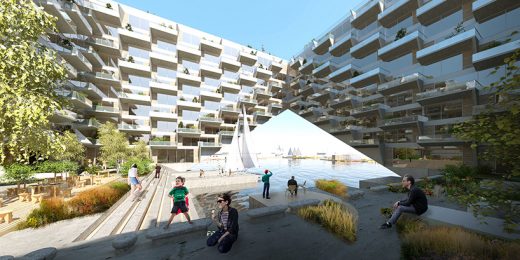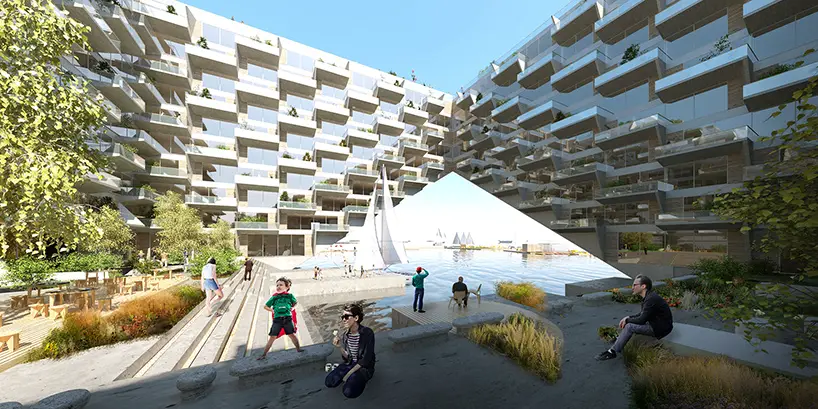 image courtesy of architects
Sluishuis IJburg Building
Valley Towers at Amsterdam CBD Zuidas
Architects: MVRDV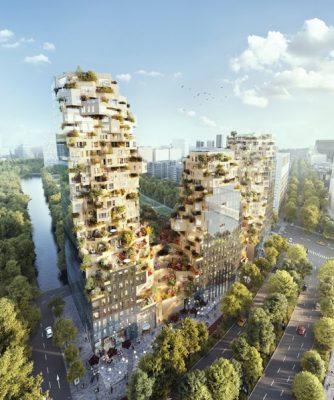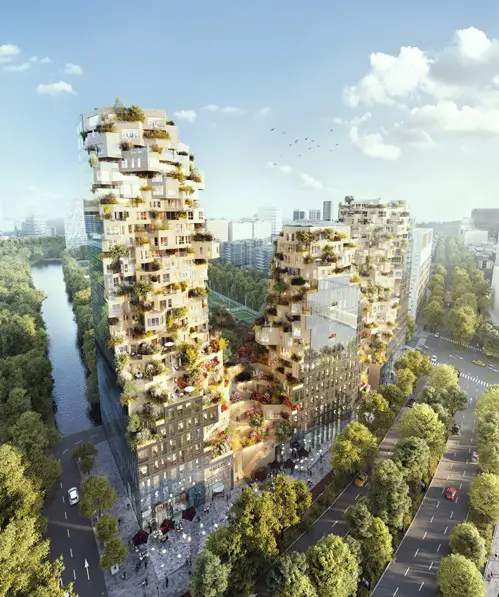 picture : Vero Visuals
Valley Towers Amsterdam
Residential Complex on Zeeburger Island, Amsterdam, the Netherlands
Design: Studioninedots Architects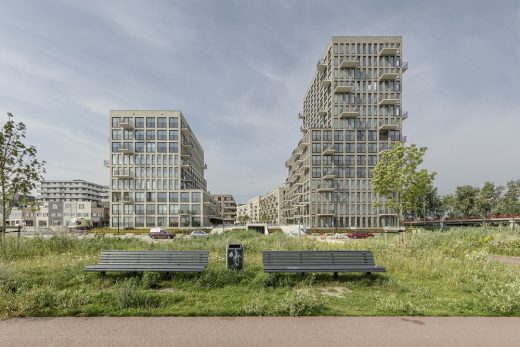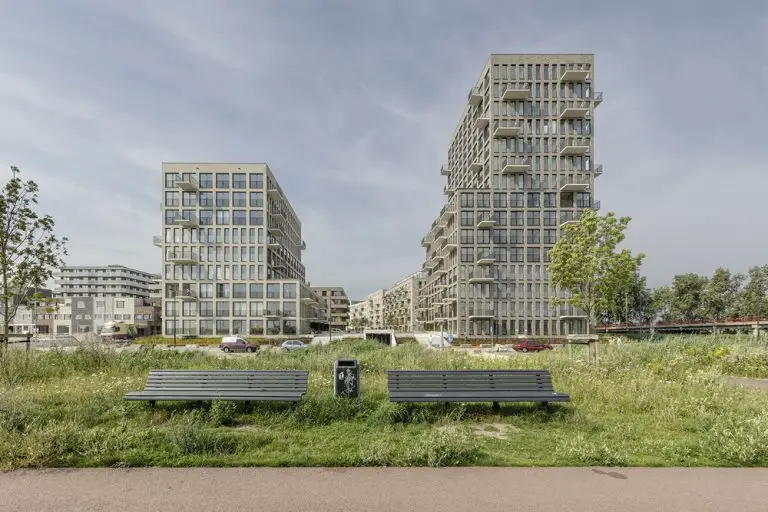 photo : Peter Cuypers
Residential Complex on Zeeburger Island
Moos, West Amsterdam
Design: Studio Modijefsky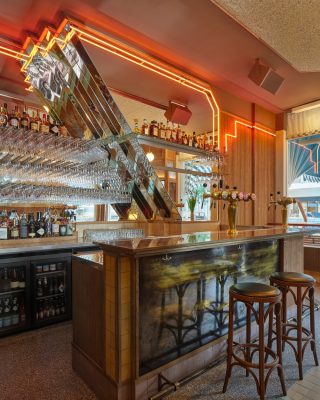 photo : Maarten Willemstein
Moos Bar, West Amsterdam
Jonas Kavel 42A IJburg Building
Dutch Architecture
Amsterdam Walking Tours by e-architect
Amsterdam Architecture – contemporary building information
Amsterdam Buildings – historic building information
Comments / photos for the Booking.com Amsterdam workplace building, Holland design by Architects UNStudio and Lead Interior Architect HofmanDujardin, NL, page welcome