Tippet Rise Art Center Buildings in Montana, Stillwater County Architecture, Opening News
Tippet Rise Art Center Buildings
New Architecture in Montana, United States of America design by various including Ensamble Studio
Jun 14, 2016
Tippet Rise Art Center Buildings, Stillwater County
Tippet Rise Art Center Buildings, Montana
Location: Tippet Rise, Stillwater County, Montana, USA
Design: various, incl Ensamble Studio (Antón García-Abril and Débora Mesa)
A NEW FRONTIER FOR EXPERIENCING ART IN NATURE,
TIPPET RISE ART CENTER OPENS TO THE PUBLIC ON JUNE 17
UNDER MONTANA'S BEARTOOTH MOUNTAINS
Seven Weeks of Classical Music Performances Are Wed to Scenic Indoor and Outdoor Venues,
In a Landscape of Large-Scale Sculptures and Structures by Ensamble Studio, Stephen Talasnik, Patrick Dougherty and Mark di Suvero
Domo, designed by Ensamble Studio, installed at Tippet Rise Art Center: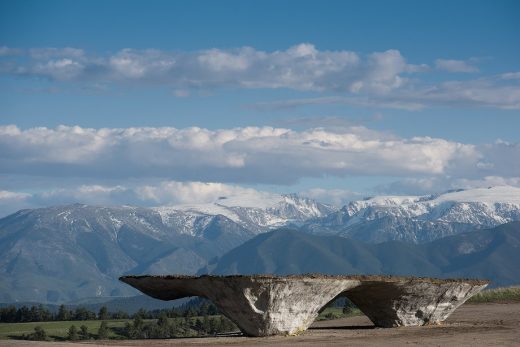 photo by Erik Petersen. Courtesy of Tippet Rise Art Center
Two Major Works by Alexander Calder, on Loan from the Hirshhorn Museum and Sculpture Garden, Are the Latest Additions to the Landscape During the Inaugural Season
Fishtail, MT, June 14, 2016—Set beneath the big sky of Montana, Tippet Rise Art Center will welcome the public beginning June 17, 2016, offering local residents and international visitors a uniquely resonant experience of great classical music among sculptures and buildings that hug the land like natural formations. Founded by life-long philanthropists and artists Cathy and Peter Halstead on an 11,500-acre working sheep and cattle ranch, Tippet Rise celebrates the union of land, art, architecture, and music, bringing concerts by world-renowned musicians and large-scale contemporary sculpture to the hilltops and rolling meadows of Fishtail, Montana, midway between Billings and the edge of Yellowstone National Park.
The inaugural performance season at Tippet Rise will kick off on Friday, June 17 at 6:30 pm with a two-part recital by pianist Nikolai Demidenko in a rare U.S. appearance. The program, featuring a selection of waltzes and mazurkas by Chopin and the Ballade No. 1 and B minor Sonata of Liszt, will be performed in the rustic-looking and acoustically enveloping Olivier Music Barn.
The Olivier Music Barn at Tippet Rise Art Center: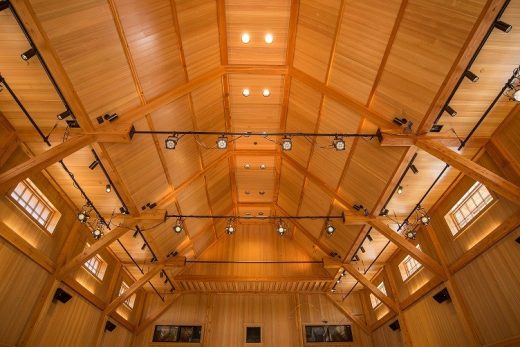 photo by Andre Costantini. Courtesy of Tippet Rise Art Center
Adding to the opening's sense of occasion, Tippet Rise has augmented its own permanent collection of outdoor sculptures and structures with the temporary installation of two major works by Alexander Calder, on loan from the Smithsonian's Hirshhorn Museum and Sculpture Garden in Washington, D.C. The dark steel arches of Calder's monumental Two Discs (1965), a cornerstone of the Hirshhorn's collection, is installed on an alluvial bench near the Olivier Music Barn. The 15-foot mobile The Stainless Stealer (1966) is installed in the barn.
Cathy and Peter Halstead said, "After six years of planning and work and a lifetime of dreams, we are about to have the pure joy of opening Tippet Rise by adding the only element that's still missing: the public. This has been the goal of everything we have done with our many colleagues and partners—to make Tippet Rise a place where people feel the profound connection between their own inner nature and the natural world around them, a place where great music collaborates with the big sky and art is rooted deeply in the land.
We are profoundly grateful to everyone who has built Tippet Rise with us, everyone who animates this landscape with music and art and everyone who comes to share in the experience. We are especially grateful to the Hirshhorn Museum and Sculpture Garden for recognizing our aspirations, and helping us realize them, through the exceptional loan of the two magnificent sculptures by Alexander Calder that will add so much to our inaugural season."
"Tippet Rise presents unique opportunities for the display of sculpture," said Hirshhorn Director Melissa Chiu. "At a time when art is being experienced as much in the digital realm as in person, it is wonderful to be able to welcome a breathtaking new physical destination that is devoted to the private contemplation of solitary works—and the landscape that enfolds them. As part of its mission, the Hirshhorn maintains a robust loan program through which we share the national treasure that is our collection with institutions around the country and around the world.
We are honored to be part of the inaugural installation at Tippet Rise and to introduce these works to its visitors. The Hirshhorn looks forward to many more curatorial and programming collaborations with Tippet Rise in the months and years to come."
The opening programs will continue on Saturday, June 18 at 2:00 pm, with the Ariel String Quartet in a performance celebrating Stephen Talasnik's work Pioneer, featuring Aaron Jay Kernis's Musica celestis and John Adams's Phrygian Gates. The concert will take place at the Olivier Music Barn and will be preceded by a pre-concert discussion at the open-air Tiara, a wooden acoustic shell of innovative design. Saturday evening's performance at 6:30 pm will feature Demidenko with the Ariel String Quartet in a program including the Brahms C Minor Piano Quartet. Pre-concert talks will be a special element of every performance at Tippet Rise.
Additional highlights of the inaugural season, led by Music Director Christopher O'Riley, include a piano recital series including Stephen Hough, Konstantin Lifschitz, and Yevgeny Sudbin, as well as Tchaikovsky Piano Competition Laureates George Li and Lucas Debargue (the latter in his US debut); a rare performance of John Luther Adams's monumental Inuksuit; and the world premiere of a Tippet Rise-commissioned vocal work by prominent Spanish composer Antón García Abril performed at Domo, one of several sculptural structures commissioned from the composer's son, also named Antón García-Abril, principal architect for the cutting-edge practice Ensamble Studio. For more information about the music season, visit http://tippetrise.org/events.
Olivier Barn exterior, at Tippet Rise Art Center:



rendering courtesy of Gunnstock Timber Frames
Performance Spaces at Tippet Rise
Design concepts and acoustics for the Olivier Music Barn and Tiara were developed by Tippet Rise Director Alban Bassuet in collaboration with a team of engineers from Arup and locally based architects Gunnstock Timber Frames.
Alban Bassuet said, "In Montana, nature's scale overwhelms the senses and we are always reminded that the wildlife, the landscape, and the weather tell us what to do. In creating Tippet Rise, we worked tirelessly to pay homage to the land. The siting of each artwork was calculated so that artists could develop their own engagement with nature. The result, we hope, will be very personal, multi-sensory and immersive performances in a range of indoor and outdoor venues, and large expanses of unencumbered land, available for the exploration of large-scale artworks offering an unlimited number of personal interpretations. We hope this will create experiences that are deeply meaningful and utterly unique for our community members and beyond."
The scale and proportions of the 150-seat Olivier Music Barn are inspired by the powerful performance spaces where Haydn and Mozart expected their works would be performed. A contemporary innovation—a high ceiling suspended above the boxlike space—lends an elevated, ethereal character to the deeply resonant acoustics, but is designed to mimic the pitched roof of a traditional wood barn. The Olivier Music Barn also houses Tippet Rise's visitor center, which includes a state-of-the-art screening room equipped for 4K high-definition film projection and 3D immersive sound installations. It is designed to achieve LEED Platinum certification. The 100-seat Tiara serves as an acoustic shell without walls, featuring a partial ceiling whose corners re-direct sound toward the audience, creating vibrant and enveloping acoustics. The design allows for 360° views of the rolling hills, with the Beartooth Mountains above. Performances will also showcase Tippet Rise's growing collection of extraordinary pianos, which includes the recently acquired CD-18, the concert piano of Vladimir Horowitz and Eugene Istomin.
Christopher O'Riley said, "Tippet Rise offers a wholly unique performance environment, with lovingly designed concert spaces born of a passion for spontaneity and perfection of acoustic and psychological resonance, indoors at the Olivier Music Barn, and outdoors at Tiara and Domo. With one of the most impressive collections of concert instruments anywhere in the world, breathtaking vistas and inspiring, monumental art of our time, I have every confidence our world-class performers will find Tippet Rise a perfect home for their artistry."
In addition to its performance venues, Tippet Rise features three commissioned raw-surfaced, quasi-architectural gateway structures and shelters created by Ensamble Studio (led by Antón García-Abril and Débora Mesa). The structures include the 98-foot-long, 16-foot-tall Domo, an undulating horizontal form that contains a series of three caverns; the 25-foot-tall Beartooth Portal, composed of two vertical rocklike forms that stand approximately 25 feet apart at ground level and lean together at the top; and the similarly designed 26-foot-tall Inverted Portal.
Tippet Rise, the design of which began in 2010 with a master plan by the Halsteads, Alban Bassuet and Arup, also includes:
• Creation of more than 3.5 miles of walking trails.
• Construction of underground utilities and geothermal systems designed by local civil engineers DOWL and MKK Engineering.
• Construction of an 80,000 watt solar canopy to power and charge the electric vehicles that will comfortably transport visitors and staff throughout the ranch.
• Preservation and habitat restoration efforts to benefit the flora, fauna and creeks of Tippet Rise.
Olivier Barn interior rendering: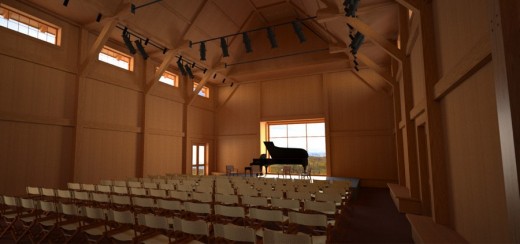 rendering courtesy of Gunnstock Timber Frames
Contemporary Art in the Landscape
At Tippet Rise Art Center, there is no clear line between the performance venues, contemporary sculpture, and landscape. Tippet Rise has commissioned the site-specific Daydreams from sculptor Patrick Dougherty, for which he collaborated with JXM & Associates LLC and CTA architects, both based in Bozeman, to build a base structure resembling a 19th century-style prairie school. Using compositions of locally sourced willow saplings and sticks, Dougherty's Daydreams wraps across the outside of the school, resembling imaginary students leaning against the walls, and evoking the dreamlike atmosphere that sometimes settles over a class.
Tippet Rise also commissioned sculptor Stephen Talasnik to create a series of nomadic wooden structures, collectively titled Satellite, that will be sited throughout the art center. The first in the series, Pioneer, named for the 1973 space-probe project, serves as an expression of Tippet Rise's mission of exploration. Pioneer, for which Talasnik collaborated with Gunnstock Timber Frames on the fabrication, sits in a natural amphitheater. The site will be used to stage performances in connection with the artwork, such as John Luther Adams's Inuksuit, played by 45 percussionists including members of the Billings Symphony, the Excelsis Percussion Quartet, and others, coordinated by Douglas Perkins.
Tippet Rise is also home to two monumental works by the internationally renowned sculptor Mark di Suvero: Beethoven's Quartet (2003, steel and stainless steel, 24 9/16 ft. x 30 ft. x 23 1/4 ft.) and Proverb (2002, painted Cor-ten steel, 60 ft x 17 11/16 ft. x 31 1/2 ft.). Each is sited within its own valley to give visitors the exceptional opportunity to view the work in a pristine natural environment, enjoying the primal resonance of Beethoven's Quartet (which may be played with mallets, like a steel drum) and the inherent motion of Proverb (which has a pendulum element that moves like a metronome, creating a steady tempo between nature and art).
Sheep at Tippet Rise Art Center: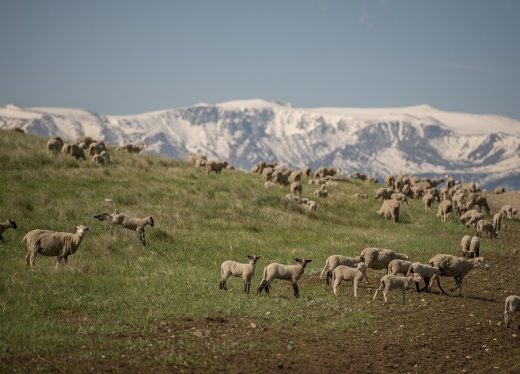 photo by Erik Petersen. Courtesy of Tippet Rise Art Center
Education and Programs
Tippet Rise recently welcomed in more than 450 members of its community for a sneak peak of the center, with a program that included Bach's six Brandenburg Concertos played by members of the Billings Symphony led by Christopher O'Riley.
As an institution founded to serve its neighbors in Montana as much as visiting musicians, artists, and audiences, Tippet Rise Art Center is developing and supports year-round education programs in schools at the K-12 level, local colleges and universities and other organizations, and recently launched its first course with the University of Montana, focused on land art.
The art center has already begun to bring visiting artists together with community residents, offering opportunities for the artists to share stories and background information about their work and form a reciprocal relationship with the audience. Tippet Rise is also exploring possibilities of partnerships with universities elsewhere in the United States, to carry forward the themes established by the center with research projects focused on artistic experiences and architecture connected to the natural environment, and issues surrounding sustainability and the stewardship of a modern-day working ranch.
Getting to Tippet Rise Art Center
Located in Stillwater County, Tippet Rise is approximately one hour southwest of Billings, two hours southeast of Bozeman, and two-and-a-half hours north of Yellowstone National Park. Tippet Rise is free to visitors and open Fridays, Saturdays and Sundays from 10 am-6pm with prior registration. Concerts are priced at $10, with revenues dedicated to the art center's education programs, and free for guests 18 and under. For more information about preregistering to visit Tippet Rise and nearby accommodations, please visit http://tippetrise.org/plan-your-visit.
Tiara acoustic shell: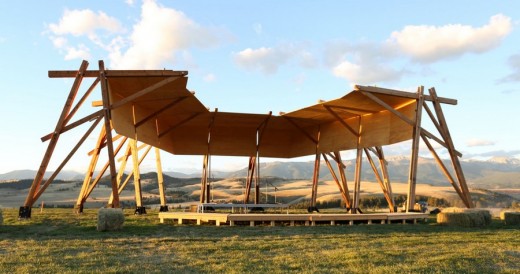 Design by Alban Bassuet and Willem Boning, with Arup Engineers.
Lead Architect: Gunnstock Timber Frames
Photo by Alban Bassuet
Design for Tabula Acustica, by Ensamble Studio: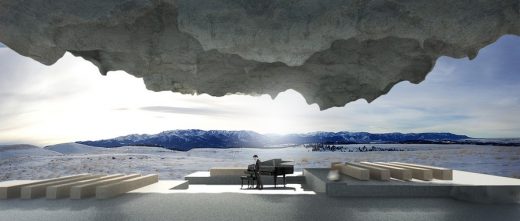 Rendering courtesy of Ensamble Studio
To be built at a later phase in the development of Tippet Rise, this open-sided structure will be part-performance venue, part-installation space
Mark di Suvero, Beethoven's Quartet, 2003, Steel and stainless steel, 24 9/16 ft. x 30 ft. x 23 1/4 ft.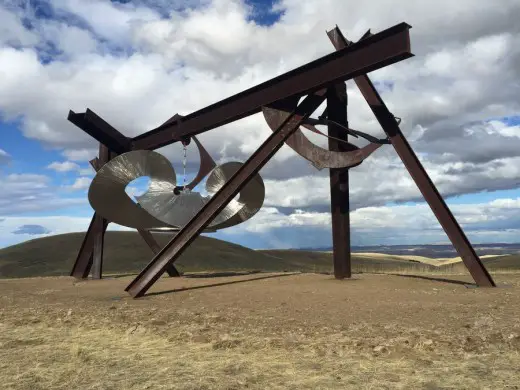 Photo by Alban Bassuet
Patrick Dougherty, Daydreams, 2015, locally sourced willow saplings and sticks
School house in collaboration with JXM & Associates LLC and CTA architects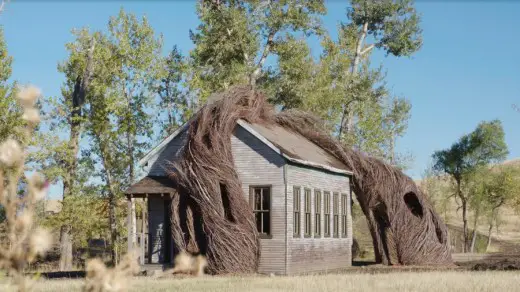 Photo by Djuna Zupancic
About Cathy and Peter Halstead
Artists, entrepreneurs and philanthropists Cathy and Peter Halstead founded Tippet Rise Art Center as a way to share all the things they love—music, art, books, nature — in one place, so everyone can enjoy them.
They are trustees of the Sidney E. Frank Foundation, named for Cathy's father, which makes more than ninety grants annually to non-profit organizations in the United States and England, mainly in the areas of art, education and the environment. Grantees include the Guggenheim Museum, Juilliard, Manhattan School of Music, Curtis Institute of Music, the La Jolla Playhouse, Hawaii Opera Theater and the San Francisco Symphony.
Cathy and Peter have also funded extensive recording and archival work for organizations such as the Aspen and Vail music festivals, the Cleveland Orchestra, England's National Theatre, the Glyndebourne Opera and the Royal Shakespeare Company. Recorded and archived works include David Tennant's version of Hamlet, the 2013 Glyndebourne production of Le Nozze di Figaro, and Brian Bedford's The Importance of Being Earnest on Broadway.
Getting to Tippet Rise
Located in Stillwater County, Tippet Rise is approximately one hour southwest of Billings, two hours southeast of Bozeman, and two-and-a-half hours north of Yellowstone National Park.
For more information about Tippet Rise, please visit www.tippetrise.org.
Design for Domo, by Ensamble Studio, at Tippet Rise Art Center



Rendering courtesy of Ensamble Studio
Tippet Rise Art Center Montana – Nov 23, 2015
Tippet Rise Art Center Building Design by Francis Kéré architect – May 17, 2018
Location: Tippet Rise, Stillwater County, USA
Montana Buildings
Contemporary Architecture in Montana
Cookhouse, Whitefish, Rocky Mountains, northwest Montana
Design: Fernau and Hartman Architects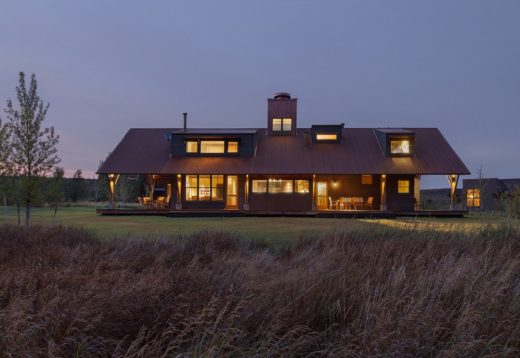 photograph : Richard Barnes
Cookhouse in Park County, Montana
Bigfork High School
Architects: Cushing Terrell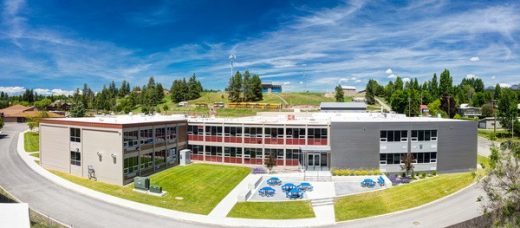 photograph : Heidi Long
Bigfork High School
Confluence House, Whitefish, Rocky Mountains, northwest Montana
Architects: CTA | Cushing Terrell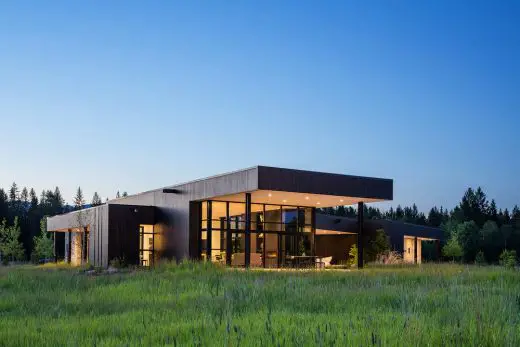 photograph : Richard Barnes
Confluence House, Whitefish
Big Timber Riverside House
Design: Hughesumbanhowar Architects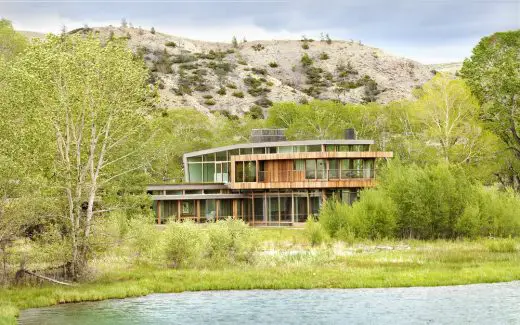 photograph : Gibeon Photography
Big Timber Riverside House in Montana
Confluence House in Whitefish, Montana
Developments in Neighbouring States to Montana
Casper College Wyoming – Installation
Balmond Studio
Casper College Wyoming
Performing Arts Hall, Jackson
Stephen Dynia Architects
Wyoming Performing Arts Hall
Buildings / photos for the Tippet Rise Art Center Architecture page welcome
Website: Tippet Rise Art Center