Tippet Rise Art Center Building Montana, Stillwater County Architecture News, Pavilion
Tippet Rise Art Center Building Design by Francis Kéré architect
Contemporary Architecture in Montana, United States of America design by Francis Kéré architect
May 17, 2018
Tippet Rise Art Center Building in Montana
Location: Tippet Rise, Stillwater County, Montana, USA
Design: Diébédo Francis Kéré architect, Berlin, Germany
Tippet Rise Arts Center in Montana is adding a new design, a structure by Francis Kéré.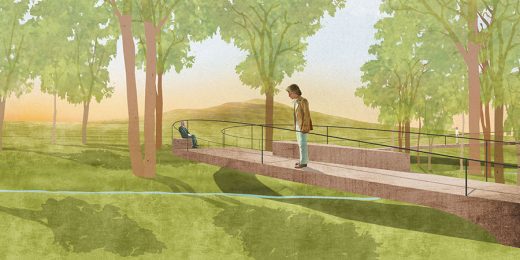 images Courtesy Tippet Rise Art Center / Francis Kéré architect
Tippet Rise Art Center Building by Francis Kéré architect
Conceived as a 1,900-sqft, open-air pavilion, it will join monumental sculptures, artistic buildings, and large-scale works of art on the former sheep ranch's 10,260 acres.
Tippet Rise founders Cathy and Peter Halstead discovered Kéré's work online. Then, says Cathy, "We started leaning about what an incredible human being he is, and what his values are, and we realized what an astonishing partnership working with him could be for Tippet Rise."
May 16, 2018
Known around the globe for his beautiful, innovative, and sustainable structures, the West African architect Francis Kéré will create Tippet Rise's newest structure: a 1,900 square-foot pavilion, scheduled to open at the start of the summer 2019 music season.
Kéré's pavilion will serve as a communal gathering space nestled in a grove of aspen and cottonwood trees between the Olivier Music Barn and Daydreams, the willow-clad schoolhouse created by sculptor Patrick Dougherty. An evolution of Kéré's celebrated 2015 canopy structure for the Louisiana Museum of Modern Art near Copenhagen and his 2017 Serpentine Pavilion in London, the pavilion will be built with logs from local ponderosa and lodgepole pine.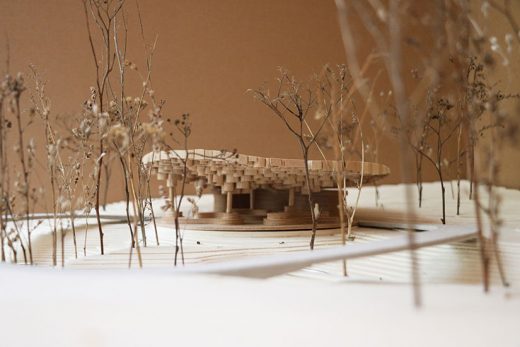 Imagine a round structure with seating areas beneath a log canopy that filters and dapples the sunlight. Visitors can gather within, or climb onto a platform sculpted at the canopy's top to take in the landscape through aspen and cottonwood leaves. For children, there will be a carved "color cave" tunnel. The shape of the seating area—an irregular loop—is inspired in part by a series of paintings, created by artist and Tippet Rise cofounder Cathy Halstead, based on the lyrical, abstract forms of microscopic life.
Laura Viklund of Gunnstock Timber Frames, responsible for the Olivier Music Barn and Will's Shed at Tippet Rise, will collaborate with Kéré and his team as the local project architect.
Born in the village of Gando, Burkina Faso, Kéré studied at the Technical University of Berlin. As a student, he established the Kéré Foundation to help improve the lives of people in West Africa by building community infrastructures, such as schools, libraries, housing for teachers, and women's centers. Every Foundation structure combines the region's traditional building methods and materials with modern engineering techniques. Based in Berlin, the award-winning architect has held professorships at various universities, including the Harvard School of Design.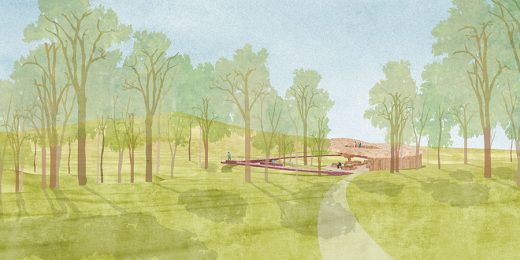 In keeping with the educational mission of Tippet Rise, the Tippet Rise Fund of the Sidney E. Frank Foundation is supporting the construction of a new Kéré-designed school in Burkina Faso. The Naaba Belem Goumma Secondary School is set to be completed in 2019. As with all of the Kéré Foundation's structures in the region, it will be a weaving-together of local tradition and innovation.
Of the new pavilion, Kéré said, "Standing on the high meadow of Tippet Rise Art Center, looking out at the mountains under a vast sky, people can face nature at its widest scale. But with this pavilion, Tippet Rise offers a more intimate experience of its landscape within a quiet shelter, where people can access the most secret part of nature: the heart of the trees. I am honored that Peter and Cathy have invited me to contribute to their magnificent art center, and I am deeply grateful for their generosity in linking the creation of this pavilion to the construction of a new school in my home of Burkina Faso."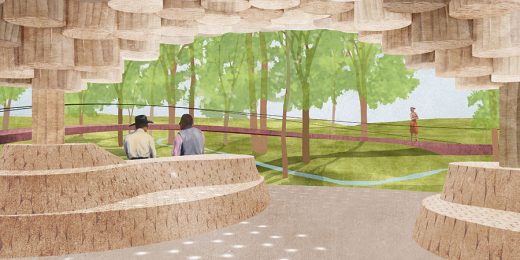 We, too, are grateful for these exciting new developments and will update you with words and photos as the Kéré pavilion grows! For more information about the Kéré Foundation's incredible work, click on the link below.
Website: Tippet Rise Art Center
Website: Francis Kéré architect
14 Jun 2016
Tippet Rise Art Center Buildings
Tippet Rise Art Center Buildings, Montana
Location: Tippet Rise, Stillwater County, Montana, USA
Design: various, incl Ensamble Studio (Antón García-Abril and Débora Mesa)
Domo, designed by Ensamble Studio, installed at Tippet Rise Art Center: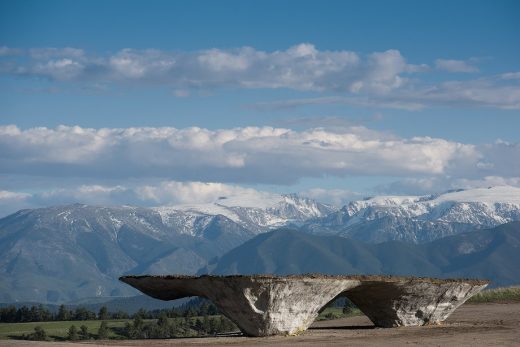 photo by Erik Petersen. Courtesy of Tippet Rise Art Center
The Olivier Music Barn at Tippet Rise Art Center: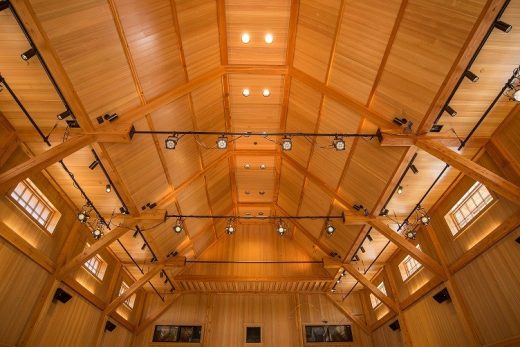 photo by Andre Costantini. Courtesy of Tippet Rise Art Center
Tippet Rise Art Center Buildings in Montana by architects Ensamble Studio
Design for Domo, by Ensamble Studio, at Tippet Rise Art Center



Rendering courtesy of Ensamble Studio
Tippet Rise Art Center Montana – Nov 2015
Location: Tippet Rise, Stillwater County, USA
Developments in Neighbouring States to Montana
Casper College Wyoming – Installation
Design: Balmond Studio



photo © 2011 Balmond Studio
Casper College Wyoming
Performing Arts Hall, Jackson
Design: Stephen Dynia Architects



photo : Ron Johnson Photography
Wyoming Performing Arts Hall
Diébédo Francis Kéré Architectural Designs
Francis Kéré Exhibition, Aedes Architecture Forum Berlin, Germany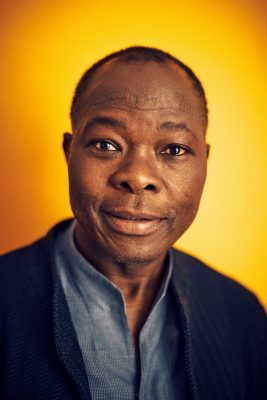 photograph © Urban Zintel
Francis Kéré Exhibition at Aedes Architecture Forum Berlin
Serpentine Pavilion 2017 Building design by Francis Kéré, Kensington Gardens, West London, England, UK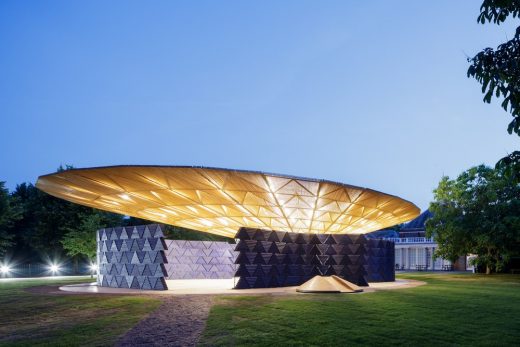 photo by Iwan Baan, Courtesy AECOM
Serpentine Pavilion 2017 by Francis Kéré Architect
Diébédo Francis Kéré Lecture, UB Buffalo, NY, USA



images from UB School of Architecture & Planning
Diébédo Francis Kéré Lecture
Buildings / photos for the Tippet Rise Art Center Building Design by Francis Kéré architect, in Montana, USA page welcome