Museum of Contemporary Art San Diego Building, MCASD La Jolla Campus, California Architecture Photos
Museum of Contemporary Art San Diego
November 10, 2021
Design: Selldorf Architects
Location: San Diego, California, USA
Museum of Contemporary Art San Diego (MCASD) Announces Reopening of La Jolla Campus with Major Expansion by Selldorf Architects
"Art with a View"
Coming April 2022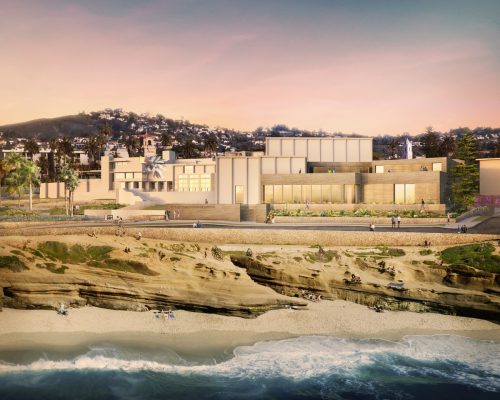 Renderings of MCASD's new La Jolla flagship Courtesy of Selldorf Architects
Museum of Contemporary Art San Diego MCASD Building
November 10, 2021 – San Diego, California) – The Museum of Contemporary Art San Diego (MCASD) is pleased to announce the reopening of its La Jolla flagship location in April 2022, which over the past four years has undergone a $105 million renovation and expansion by world-renowned Selldorf Architects. The expanded Museum will offer four times the current gallery space, two levels of light-filled galleries, a public park, and new seaside terraces offering dramatic views of the Pacific Coast. The new design includes the renovation of 28,000 square feet of existing spaces as well as the addition of 46,400 square feet of new spaces to MCASD, effectively doubling the Museum's existing square footage.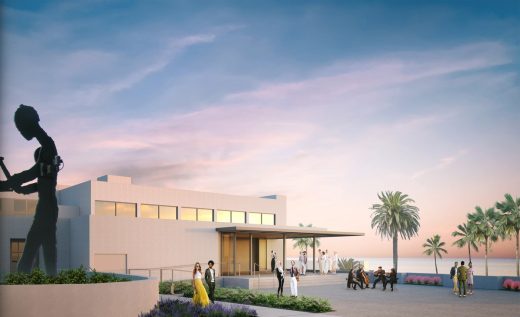 Since the Museum's founding in 1941 as The Art Center in La Jolla, MCASD has evolved into a leading visual arts organization with two distinct locations, situated in the coastal community of La Jolla and in the heart of downtown San Diego. MCASD provides an unprecedented variety of exhibition spaces and experiences for the community, showcasing an internationally recognized collection and a dynamic schedule of exhibitions and public programs. For the first time in its eighty-year history, MCASD's La Jolla flagship will be able consistently display its collection alongside curated exhibitions. For its inaugural exhibitions, the Museum will present Niki de Saint Phalle in the 1960s, a major traveling survey of rare early works by the late artist, who spent her final years in San Diego, co-presented with The Menil Collection; alongside Selections from the Collection, which will showcase the Museum's rich ties to the California Light & Space movement and leading artists of our time.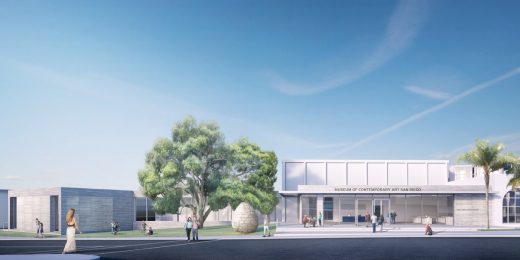 Kathryn Kanjo, David C. Copley Director and CEO of MCASD, noted:  "With the Selldorf expansion, MCASD's flagship building is, at last, scaled to showcase the work it has collected over the past decades. Soaring ceilings and natural light allow for inviting displays of the collection alongside lively changing exhibitions. The design honors the Museum's rich architectural history as it frames distinctive views of the village and the coast, providing an updated space for the art and for today's audience. We look forward to inviting the public to explore our world, our region, and ourselves through the prism of contemporary art."
Principal Architect Annabelle Selldorf noted: "Our goal for the museum was to allow the fantastic site and views of the Pacific Ocean to guide a coherent circulation path and instill a generous and inclusive spirit to bring people to the great collection of MCASD."
80 YEARS IN THE MAKING
MCASD traces its origins to philanthropist Ellen Browning Scripps, whose modern oceanfront dwelling in La Jolla, completed in 1916 by noted architect Irving Gill (1870-1936), served as the Museum's first location in 1941. From many names such as La Jolla Art Center to La Jolla Museum of Contemporary Art, and now Museum of Contemporary Art San Diego, the property has undergone several architecturally distinct expansions. Mosher & Drew completed a series of expansions in 1950, 1960, and again in the late 1970s; and a 1996 renovation of the La Jolla property by Venturi, Scott Brown and Associates restored the Scripps House façade, added Axline Court, and enhanced the garden and café.
As the new millennium arrived, MCASD opened the Jacobs and Copley Buildings at the Santa Fe Depot in San Diego in 2007. Designed by Gluckman Mayner Architects, the Depot venue, with its central location, draws an energetic audience to its vast gallery spaces, and allows the Museum to stage simultaneous exhibitions across two locations. However, as the Museum's art collection expanded, the building's galleries became inadequate to display its holdings.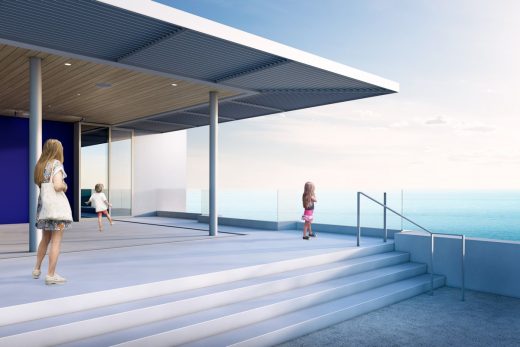 In 2014 Selldorf Architects was tasked with developing new architecture that would expand and enhance spaces for art and the public. Selldorf Architects' new plan quadruples the size of the existing gallery space from almost 10,000 square feet to 40,000 square feet, providing space to simultaneously exhibit MCASD's permanent collection as well as rotating exhibitions. In addition to providing  significantly more gallery space for the collection, the new design creates a more welcoming and clear entry, and gives greater coherence to the site enhancing the Museum's connection to its spectacular coastal setting. Many of the new galleries have high ceilings and the former Sherwood Auditorium has also been repurposed as a 7,000 square foot gallery with 20' ceilings. Skylights and vertical windows bring the site's distinct natural light and coastal views into the new spaces. LPA Inc. of San Diego is executive architect on the project.
Continued Selldorf, "The addition to MCASD provides new gallery space to the south of the existing buildings.  In shifting the center of gravity and entry sequence, we were able to knit together different geometries and achieve an overall volume of the museum that reads as one and nevertheless respects the presence of architectural expressions of multiple generations of the institution."
Continued Kanjo, "Built on the bluffs of the La Jolla coastline and located fifteen-miles from an international border and two-hours south of Los Angeles, our identity is quintessentially Californian. Yet, over nearly a century, we have grown from a small community art center to a global art destination, just as San Diego itself has evolved from a small seaside community into a dynamic metropolitan region. Our expansion coincides with the debut of the San Diego Symphony's The Rady Shell at Jacobs Park and the renovation of the Mingei International Museum, enhancing the cultural infrastructure of our city."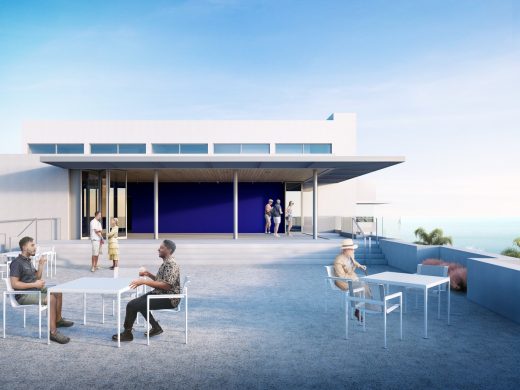 SELECTIONS FROM THE COLLECTION
MCASD's collection demonstrates pride of place: the West Coast, broadly, and San Diego specifically. Two towering figures of contemporary art, John Baldessari and Robert Irwin, are associated with San Diego. Baldessari was born in National City, and Irwin has claimed San Diego as his home for decades. Both are distinguished in MCASD's collection with key works, including Irwin's site-specific wonder, 1⁰2⁰3⁰4⁰ (2007). MCASD also acts as a hinge for the region's complex cultural and economic exchange by exhibiting and acquiring work by artists from the border area—from Álvaro Blancarte and Marta Palau to Mely Barragan and Marcos Ramírez ERRE.
John Valadez, Pool Party, 1986. Oil on canvas, 107 x 69 in. (271.8 x 175.3 cm). Collection Museum of Contemporary Art San Diego. Gift of the Cheech Marin Collection, 2016.31: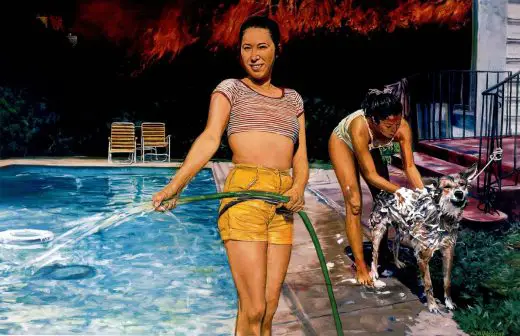 photograph © John Valadez
Today, the MCASD collection numbers more than 5,600 works from 1950 to the present, roughly capturing the dates of the Museum's existence. The Museum's inaugural collection exhibition at the expanded La Jolla building, Selections from the Collection, will highlight this rich history and display several works that have rarely been on view, including works by John Baldessari, Larry Bell, Sam Gilliam, Robert Irwin, Barbara Kruger, Bruce Nauman, Helen Pashgian, Martin Puryear, and Marcos Ramírez ERRE, to name a few.
The exhibition will be accompanied by a printed 460-page handbook, highlighting the distinction and strength of a collection formed over time with multiple voices: those of artists, Museum leadership, and philanthropic collectors. Kanjo comments: "Our collection includes some of the greatest artists from the past century that represent diverse geographies, aesthetics, genders, races, and often reflect the Museum's position by the Mexico border. With this added space we can consistently present these objects to a curious public."
Niki de Saint Phalle, Madame, or Green Nana with Black Bag, 1968. Courtesy of the Niki Charitable Art Foundation: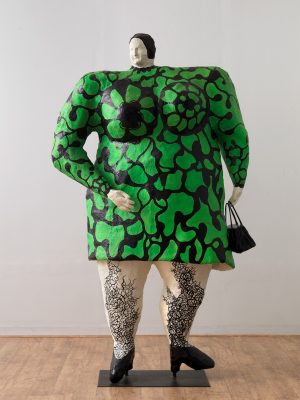 photography : All rights reserved/Artists Rights Society (ARS), New York/ADAGP, Paris; Photo by André Morain
For its inaugural curated exhibition, MCASD will present Niki de Saint Phalle in the 1960s, the first exhibition to focus on the experimental and prolific work of French American artist Niki de Saint Phalle (1930–2002) during this pivotal decade. On view through July 2022, the presentation features numerous works from European collections, many seen in the United States for the first time, and explores a transformative ten-year period in Saint Phalle's work when she embarked on two of her most significant series: the Tirs, or "shooting paintings," and the exuberant sculptures of women she called Nanas. Affirming the artist's place in postwar art history, this show highlights these prescient works of performance, participatory, and feminist art, as well as her many transatlantic projects and collaborations.
"While local audiences are familiar with Saint Phalle's later fantastical works of public art, we in Southern California have had less exposure to her radical work of the 1960s, which put into circulation strikingly original representations of female agency and volition that resonate strongly in our own moment," explained Jill Dawsey, Curator, the Museum of Contemporary Art San Diego. She added, "Saint Phalle had an important relationship to this region. In the early 1960s, she staged several shooting sessions in Los Angeles, in what were among the earliest instances of performance art in Southern California. She would eventually settle in San Diego in the 1990s."
Says Kanjo: "Having spent the last years of her life in La Jolla, many of Saint Phalle's fantastical creatures and visionary environments cover our landscape and resonate with the community. This rare presentation from a pivotal period in the artist's career is a gift to our public and a homecoming for the artist."
Co-curated by Jill Dawsey, PhD, Curator of MCASD, and Michelle White, Senior Curator, the Menil Collection, the exhibition is accompanied by a catalogue distributed by Yale University Press that will be released this Fall.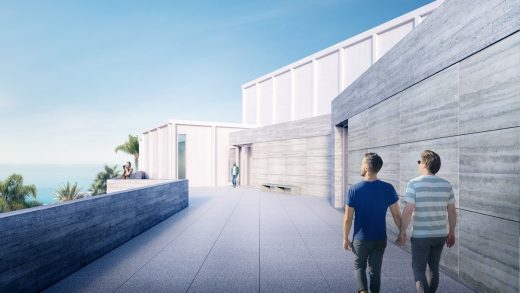 A MUSEUM IN NATURE
As part of Ellen Browning Scripps' first home, the lush formal garden now known as the Edwards Sculpture Garden was designed by landscape artist Kate Sessions, who created many of San Diego's most beautiful gardens in the late 1800s. In 1986, architect Robert Venturi expanded the Edwards Sculpture Garden by adding new stairs, ramps, retaining walls, and paths to accommodate the stylized natural landscape. The renovation was completed in 1996 and included the addition of what Venturi refers to as the "art wall," where Ed Ruscha's Brave Men of La Jolla is presently displayed.
After Venturi's renovations were complete, MCASD commissioned local landscape architectural firm Garbini & Garbini to preserve Ms. Scripps' vintage garden, which features an array of specimen cactus, palms and succulents, and accent shrubs dating back to the original 1930s. The garden overlooks the ocean, and is enhanced by site-specific sculptures from the Museum's permanent collection, including works by Vito Acconci, Stephen Antonakos, Jonathan Borofsky, Richard Fleischner, Andy Goldsworthy, Gabriel Orozco, Marcos Ramírez ERRE, Nancy Rubins, and Niki de Saint Phalle.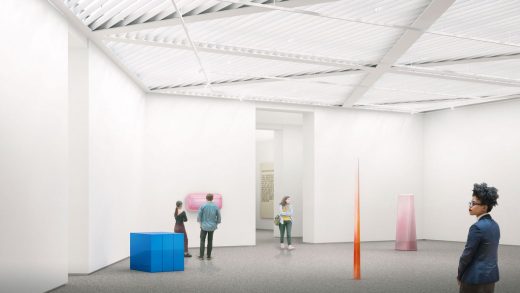 Selldorf Architects' expansion further enhances MCASD's green footprint, and transforms an existing parking lot on the north end of campus into a publicly accessible art park. New outdoor terraces wrap around the building and offer dramatic views of the Pacific Coast from two levels, further enhancing the connection of the overall complex to nature.
Continues Kanjo: "The architecture connects the experience of art to the experience of nature in a way that didn't previously exist. The design rejects the notion of the hermetically sealed white cube and instead brings the outdoors into the museum space. Selldorf Architects has opened up MCASD and let in the light."
Video Preview of MCASD's La Jolla Expansion by Selldorf Architects
MCASD: Join Our Journey from MCASD on Vimeo.
MCASD
The Museum of Contemporary Art San Diego (MCASD) is the region's foremost forum devoted to the exploration and presentation of the art of today. Open since 1941, we welcome all audiences to reflect on their lives, communities, and the ever-changing world through the powerful prism of contemporary art. Between two MCASD locations — one in the heart of downtown San Diego and the other in the coastal community of La Jolla — we showcase an internationally-recognized collection. MCASD's dynamic exhibition schedule features a vast array of media in an unprecedented variety of spaces, along with a growing dedication to community experiences and public programs. As a cultural hub, MCASD seeks to catalyze conversation in our region.
ABOUT SELLDORF ARCHITECTS:
Founded in 1988, Selldorf Architects, an architecture design firm of 70 people, has achieved an international reputation for work that is sensitive to context and program and thoughtful in execution. Clients include cultural institutions and universities such as the Frick Collection, The National Gallery in London, Smithsonian American Art Museum, High Museum, the Clark Art Institute, Neue Galerie New York, and Brown University. In addition, the firm has created numerous galleries for David Zwirner, Hauser & Wirth, and Gladstone Gallery among others, and designed exhibitions for the Whitney Museum, Jewish Museum, Frieze Masters, and the Venice Biennale.
VISIT:
MCASD (Opening April 2022)
700 Prospect St, La Jolla, CA 92037
https://www.mcasd.org
CONNECT
Instagram | Facebook | Twitter | YouTube
Museum of Contemporary Art San Diego MCASD images / information from Selldorf Architects
Address: San Diego, CA, United States of America
San Diego Buildings
Contemporary San Diego Buildings – recent selection:
Formation Installations, San Diego, CA, USA
Artist Mark Reigelman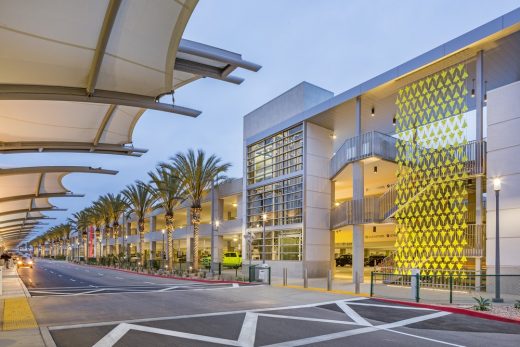 photography : Pablo Mason / Mark Reigelman II
Formation Installations at San Diego International Airport
The Rady Shell at Jacobs Park, Embarcadero, San Diego waterfront
Design: Tucker Sadler Architects ; performance shell design: Soundforms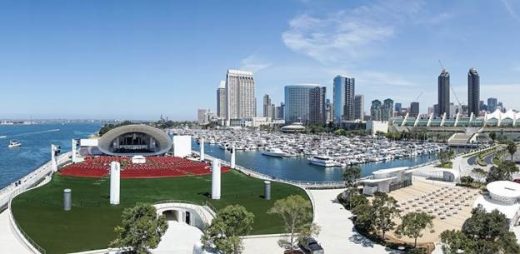 image courtesy of architects practice
The Rady Shell at Jacobs Park
Del Mar Civic Center, Del Mar, California, USA
Architects: Miller Hull Partnership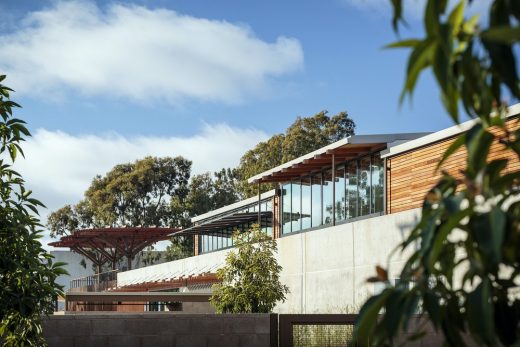 photography © Chipper Hatter
Del Mar Civic Center in San Diego County, California
US Fish and Wildlife Service Administrative Headquarters
Design: Line and Space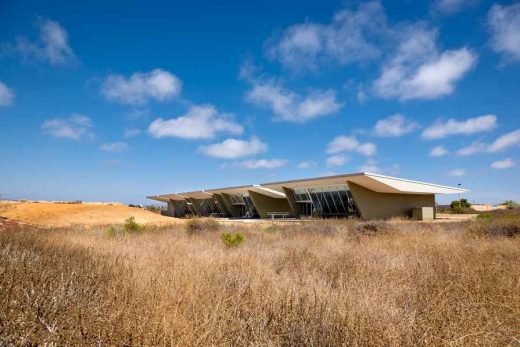 photo : Mike Torrey
San Diego National Wildlife Refuge Building
Architecture in California
Contemporary California Buildings
Orum Residence, Bel-Air, Los Angeles, California, USA
Design: SPF:architects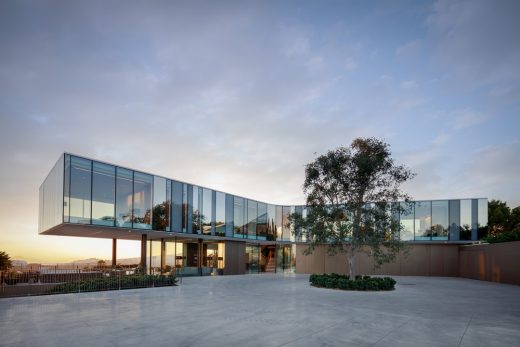 photo © Matthew Momberger
New Residence in Bel-Air
Comments / photos for the Museum of Contemporary Art San Diego MCASD, California design by Selldorf Architects page welcome